Tuna Noodle Casserole from Scratch
This darned tasty Tuna Noodle Casserole from Scratch is not your mom's tuna casserole! Ditch the canned soup and the bargain-basement tuna, and make a casserole the whole family will love.
Every year, when Lent arrives, the hubby begs for his mom's Tuna Casserole Recipe (my mom's, too!). I finally decided to make a version that every palate will enjoy!!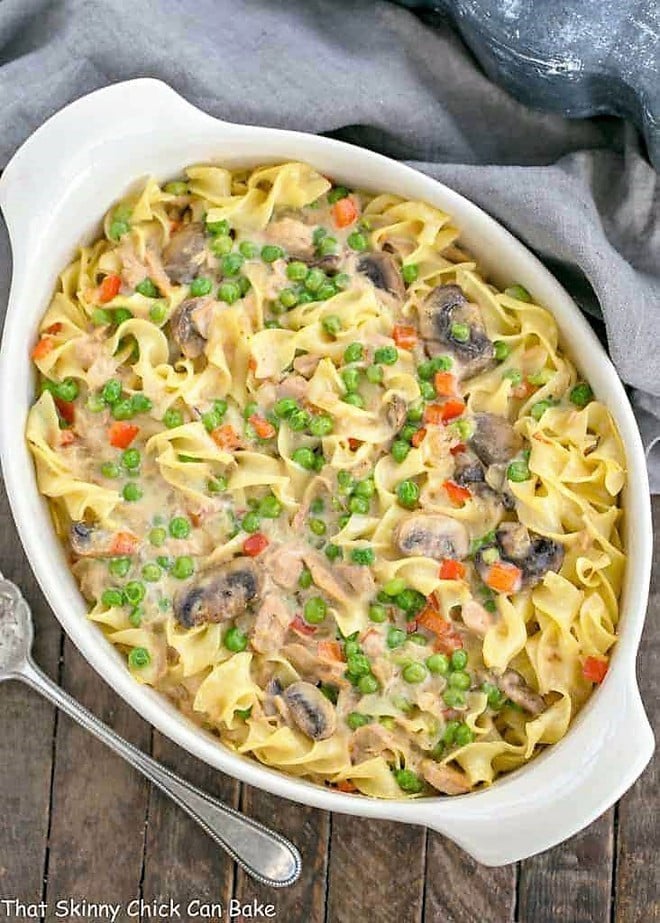 Why You Must Make
This tuna casserole doesn't use canned soup.
It's chock full of colorful veggies.
It tastes even better when made from scratch!!
Bill grew up on the same tuna casserole that my mom made and served with a canned tuna, canned cream of mushroom soup, and a topping of crushed potato chips. It was one of only two seafood items that he would eat when we got married. The other was made from a can of salmon.
Quite the seafood connoisseur, eh? I couldn't handle all the sodium and finally drew the line and only made tuna casserole on rare occasions during Lent. That is until I started making a tuna noodle casserole from scratch AKA tuna casserole without canned soup! This Cheesy Tuna Casserole is so much better.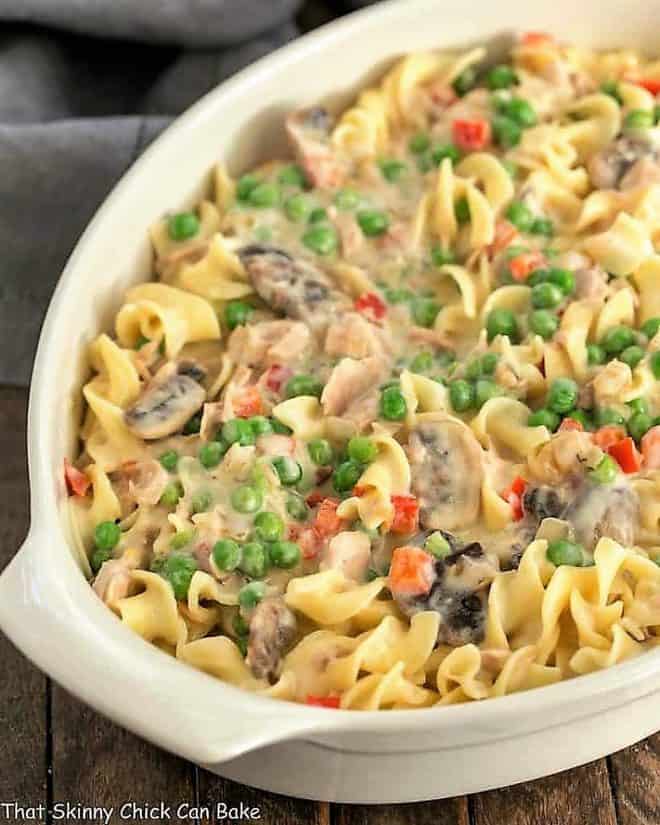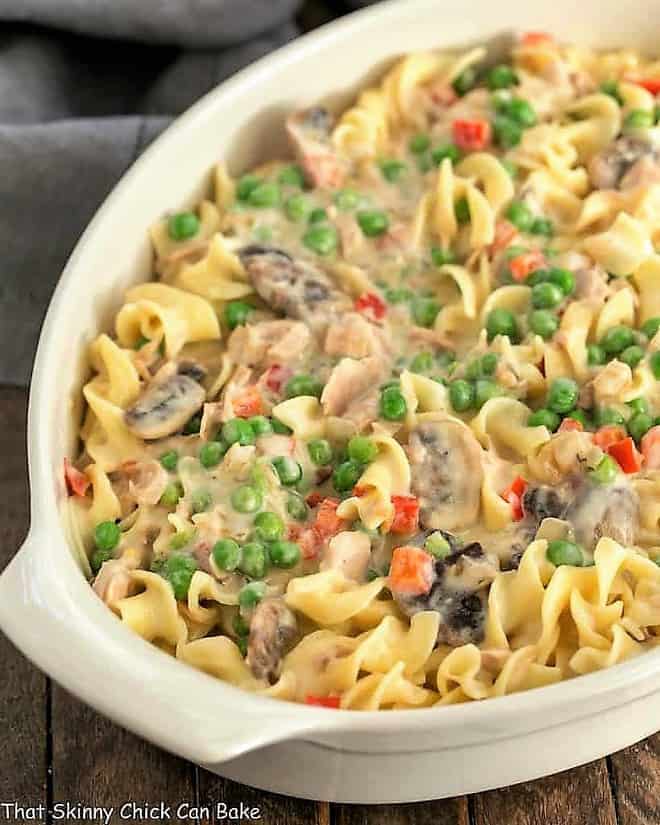 No Soup Tuna Casserole
Ironically, when my parents were newlyweds, my mom made her tuna casserole many, many times. Being Catholic, back in the day, they had to abstain from meat every single Friday. Eager to please his new wife, my dad threw her a compliment or two and she made this dish nearly every Friday from then on.
He finally couldn't bear it anymore and told her to cease and desist! Thank goodness there are many more Lenten dinner options available to home cooks these days. I bet my dad would have enjoyed this pasta tuna bake chock full of mushrooms and veggies.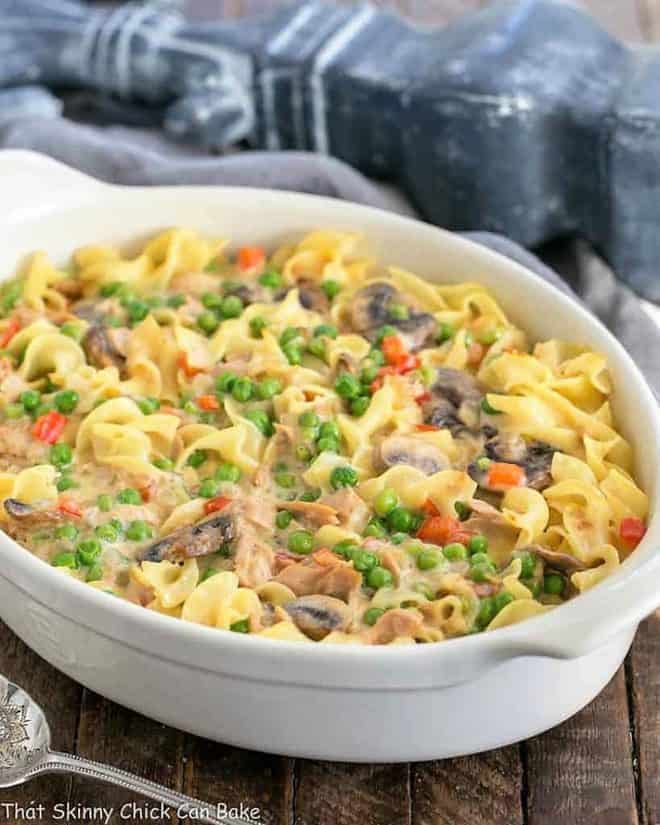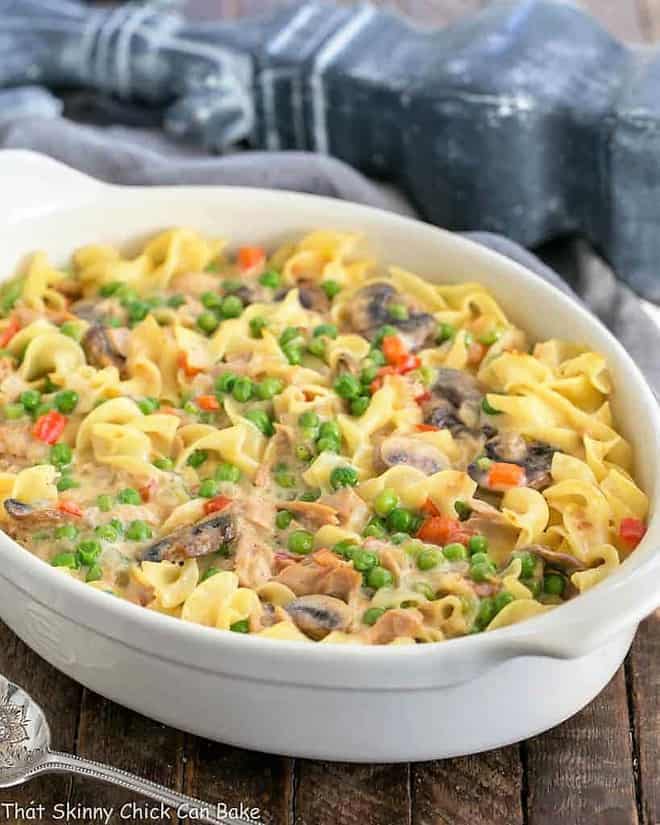 Recipe Tips
PRO-Tip: Buy the best tuna you can afford. I purchase jarred tuna in olive oil instead of cans. It's a little pricey, but the quality is definitely a notch or more better.
Ditch the cream of mushroom soup and instead make a creamy sauce from scratch. I use Wondra flour, a granular flour made by Gold Medal, as it's way less likely to make a lumpy sauce, cream for added richness, then two types of grated cheese to push it over the top.
Since we're not using the cream of mushroom soup, I like to add sliced mushrooms to the mix. Frozen peas, and diced red bell pepper add some color to a dish that would be awfully bland looking without them.
PRO-Tip: Feel free to top with crushed buttery crackers or buttered bread crumbs before baking if that's your preference. My mom used crushed potato chips and French's Crispy Fried Onions are delicious, too! And I also love sprinkling the top with extra cheese in lieu of a crumbly topping.
I used this lovely Emile Henry Oval Baker to bake and serve.
All links are Amazon affiliate links.
Frequently Asked Questions
How Do You Store Homemade Tuna Casserole?
Let it cool, then cover the casserole with foil or plastic wrap or place the leftovers in an airtight container. Refrigerate it for up to 4 days as long as the dish has not been left out at room temperature longer than 2 hours.
How Do You Reheat Tuna Casserole?
You can microwave the whole casserole (if in a microwave-safe dish) or single portions on the reheat setting. You can also cover the casserole with foil and reheat it in a 300° oven until hot.
You May Also Like:
The Recipe:
Tuna Noodle Casserole from Scratch
Prep Time 20 minutes
Cook Time 35 minutes
Total Time 55 minutes
Yield 6
 I've ditched the canned soup and bargain basement tuna, and whipped up a darned tasty Tuna Noodle Casserole from Scratch.
Ingredients
4 tablespoons butter, divided
1 cup diced onion
1/2 of a red bell pepper, diced
8 ounces white mushrooms, sliced
Salt and pepper, to taste
2 tablespoons white wine, I use vermouth if I don't have a bottle open
2 (6.7 ounce) jars tuna filets in olive oil, drained
1 1/2 teaspoons freshly squeezed lemon juice
8 ounces egg noodles, about 4 cups
2 1/2 tablespoons flour, I used Wondra
1 cup heavy cream, warmed
2 cups chicken broth (use vegetable broth during Lent)
3/4 cup shredded Monterey Jack cheese
3/4 cup shredded sharp cheddar cheese
1 cup frozen peas
Instructions
Melt 2 tablespoons butter in a large saute pan over medium-high heat. Add onions and cook until they start to soften, then add bell pepper and mushrooms.
Season with ¼ teaspoon salt and a few grinds of black pepper and cook until liquid evaporates. Add white wine and cook until that evaporates. and mushrooms are browned, 6 to 8 minutes.
Add mixture to a large bowl.
In a medium bowl, add drained tuna and lemon juice. Using a fork, break the tuna into bite-sized pieces and gently mix so the lemon juice is distributed. Set aside.
In the same pan, melt 2 more tablespoons of butter. Add flour and whisk to combine and cook for about a minute.
Whisk in warm cream and cook until flour is incorporated, then add chicken broth and continue to cook until the mixture thickens. Whisk in both cheeses.
Cook pasta in well-salted water until just al dente. Drain and add to bowl with vegetables. Add peas and tuna. Gently toss to combine. Taste and add salt and pepper to taste, if needed.
Preheat oven to 350º.
Place in a greased. 2-quart baking dish. Cover with foil.
Bake for about 25 minutes or until heated through. Uncover and broil for 2 minutes or until the top just starts to brown. Serve hot.
Notes
Taste before adding additional salt as some brands of broth are very salty.
If you'd like a crunchy topping, add buttery bread crumbs, crushed potato chips, or French's crispy fried onions.
Recommended Products
As an Amazon Associate and member of other affiliate programs, I earn from qualifying purchases.
Nutrition Information:
Yield:
6
Amount Per Serving:
Calories: 1107
Total Fat: 98g
Saturated Fat: 29g
Trans Fat: 0g
Cholesterol: 136mg
Sodium: 851mg
Carbohydrates: 42g
Fiber: 4g
Sugar: 7g
Protein: 18g
Note: This post may contain affiliate links; view
my Disclosure Policy
for details. I earn a small percentage from any purchase you make by clicking on these links at no extra cost to you.