Baked Garlic Shrimp
This tasty Baked Garlic Shrimp is spicy, buttery and ready to go in 30 minutes! Plus the bonus is an amazing garlic butter that's perfect for bread dipping.
I was thrilled when the picky hubby decided he actually liked shrimp. Our meatless, Lenten Friday meals could go beyond cheese pizza and tuna casserole. This yummy Garlic Shrimp Recipe was a hit!
Baked Garlic Shrimp
Last month, as another Friday in Lent was approaching, I had the usual dilemma of what meatless entree to serve. When my friend, Lee, posted this spicy shrimp casserole recipe, I knew I would be a fan. With garlic, a little heat from red pepper flakes, and a bread crumb topping? What's not to love? It was marvelous.
Lee cut down on the fat by only using half the oil and butter, but those juices are wonderfully flavorful. Plus, if you serve this baked shrimp with French bread slices, you can use them to soak up the buttery goodness.
Tips for Making This Spicy Shrimp Casserole
Garlic and shrimp pair together deliciously. But here are a few pointers to help you out before baking shrimp in the oven.
The worst thing you can do when cooking shrimp is to over bake it. Baking this shrimp just a minute too long can make it rubbery and unappealing.
PRO-Tip: Use your eyes and watch for the shrimp to turn from translucent to opaque, meaning raw looking, to perfectly pink.

Shrimp that is cooked properly will curl into a loose "C" shape. Over cooked shrimp will be tightly coiled.
It's even more difficult to tell when your shrimp is done when it's covered with breadcrumbs and baked instead of sauteed. Since this shrimp is turned over part way through the cooking process, the look of the shrimp at that point will cue you in to if it's almost fully cooked or if you can continue with the additional baking time.

Remember, all ovens cook a bit differently, so you may want to peek in at your shrimp a couple minutes before the timer goes off.
This spicy shrimp casserole recipe is based on using large shrimp, so if your shrimp are a different size, the timing needs to be adjusted. There are 31-35 large shrimp per pound.
A few red pepper flakes add a touch of heat and a bread crumb and Parmesan topping add a bit of crunch. A wonderful combination.

This is a pretty speedy shrimp recipe, but to streamline your dinner prep on a busy night, toast your bread crumbs and mix together the garlic parsley topping ahead of time. Then it won't take long to get this spicy baked shrimp in the oven!
If your mouth isn't watering just thinking of this combination, you'll just have to to trust me. This is Baked Garlic Shrimp is a divine entree!
More Wonderful Seafood Recipes:
Ingredients Needed for this Spicy Shrimp Casserole:
Kitchen staples: olive oil, black pepper, crushed red pepper flakes, butter
2 dozen large fresh shrimp
Fresh garlic
Fresh Italian parsley
Fresh bread crumbs (process fresh baguette pieces in a food processor)
Grated Parmesan cheese (look for Parmigiano Reggiano)
This post was first shared in May, 2011. The text and photos were updated in 2019.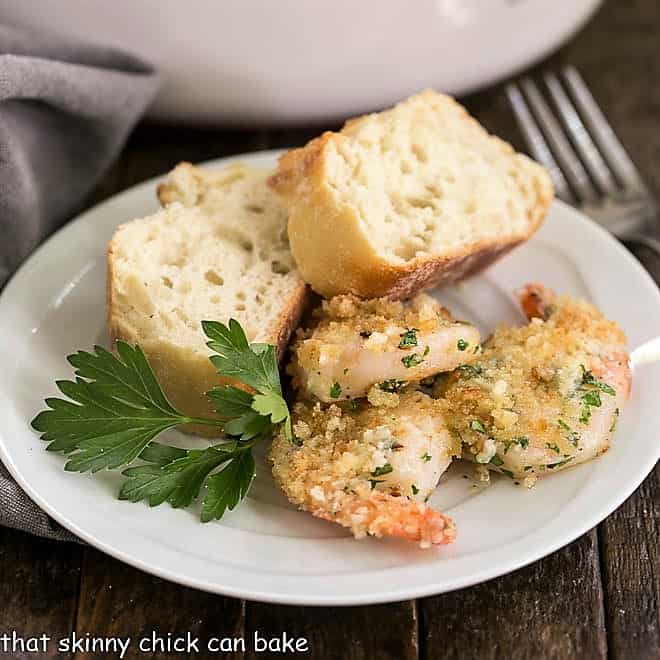 The Recipe:
Baked Garlic Shrimp
Prep Time 20 minutes
Cook Time 15 minutes
Total Time 35 minutes
Yield 4 servings
Garlic Shrimp baked with a drizzle of butter plus a topping of breadcrumbs and Parmesan
Ingredients
2 dozen large, fresh shrimp
1/4 cup olive oil
1/4 cup chopped, fresh Italian parsley
2-3 cloves garlic, finely minced
1/2 teaspoon crushed red pepper flakes
1/4 teaspoon freshly ground black pepper
1/4 cup melted butter
1/2 cup fresh bread crumbs, toasted in skillet with 1-2 teaspoons butter till nicely browned
1/2 cup grated Parmesan
French bread to soak up the delicious juices.
Instructions
Preheat oven to 300º.
Peel and devein shrimp if needed, leaving tails on if desired. Arrange in a single layer in shallow baking dish. Pour olive oil over shrimp. Combine parsley, garlic and peppers. Sprinkle over shrimp. Cover and bake for 15 minutes.
Remove dish from oven, uncover and flip shrimp. Drizzle with melted butter and top with bread crumbs and Parmesan. Bake uncovered 10 minutes or less, till shrimp is just cooked through.
Serve with French bread to soak up the delicious juices.
Notes
Recipe adapted from Southern Living.
Nutrition Information:
Yield:
4
Serving Size:
1
Amount Per Serving:
Calories: 440
Total Fat: 32g
Saturated Fat: 13g
Trans Fat: 1g
Unsaturated Fat: 17g
Cholesterol: 75mg
Sodium: 583mg
Carbohydrates: 29g
Fiber: 1g
Sugar: 9g
Protein: 11g
Note: This post may contain affiliate links; view
my Disclosure Policy
for details. I earn a small percentage from any purchase you make by clicking on these links at no extra cost to you.