Mississippi Mud Pie
This decadent Mississippi Mud Pie has an Oreo crust, flourless chocolate cake, chocolate pudding, and a billowy fresh whipped cream topping. There are a zillion variations of this exquisite chocolate dessert, and this one is a winner! This is your dream Chocolate Pudding Pie on steroids!
Without the crust, it can be called a Mississippi Mud Cake, but why not go the whole nine yards and enjoy that 4th layer. The Oxford Companion to Sugar and Sweets describes a Mississippi mud pie as a rich chocolate dessert "composed of pudding, cake, biscuits, ice cream, whipped cream, marshmallows, and liqueur presented in a cookie crust." Whoa, that list makes this dessert look rather basic!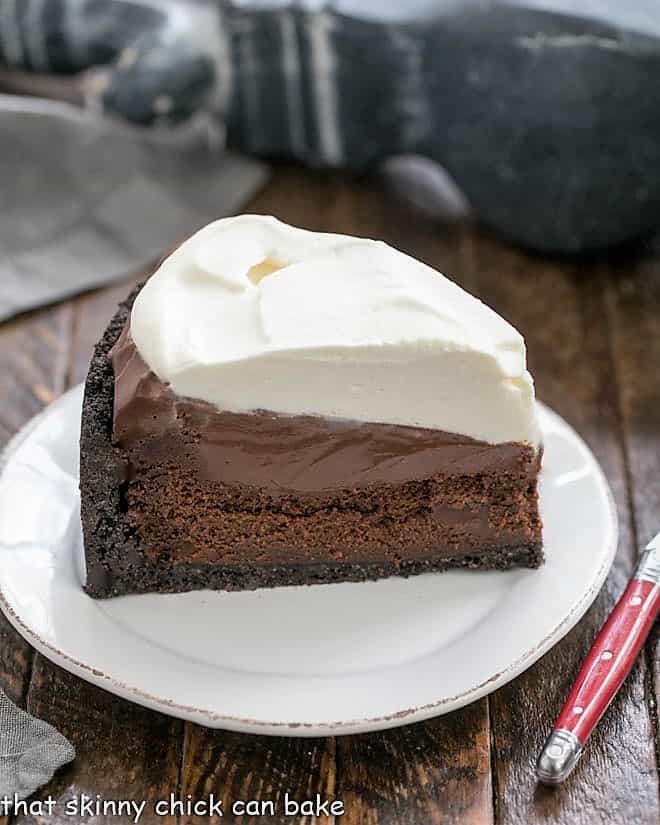 Why You Must Make
The photos in a cookbook had my youngest hounding me to make this Mississippi Mud Pie!
There are 4 magnificent layers including an Oreo crust, flourless chocolate cake, silky chocolate pudding, and whipped cream.
It's perfect for any chocoholic you want to impress!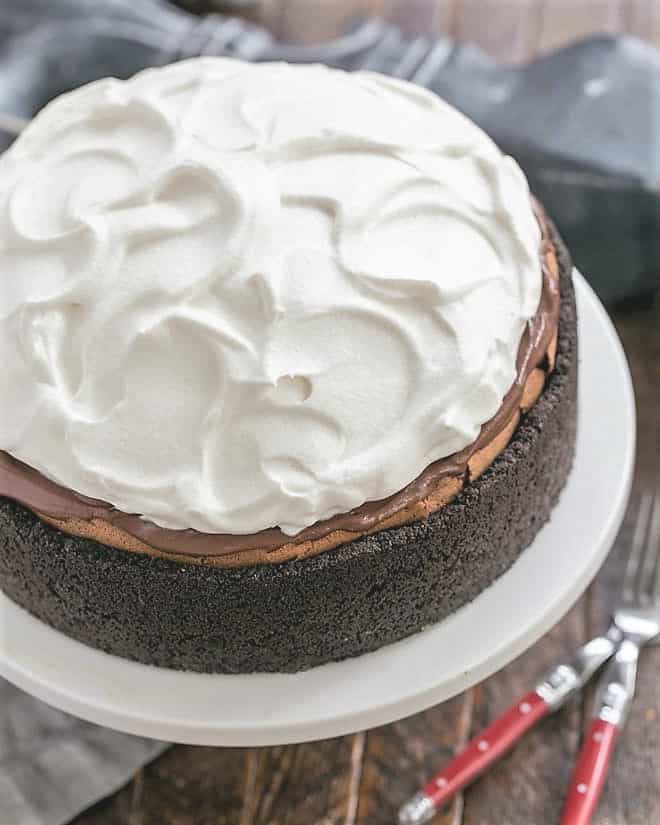 Expert Tips
The crust is made with crushed Oreos. Since the filling is part of the recipe, you can't substitute chocolate cookie crumbs.
Make your own crumbs by processing them in your food processor. You can also place them in a Ziploc bag and crush them with a rolling pin, meat mallet, etc. But this can be time-consuming.
To make the flourless chocolate cake, you'll need to separate your eggs. The whites are for the cake and the yolks are for the pudding.
PRO-Tip: Eggs separate best when cold. The yolks are less likely to break. But egg whites whip best at room temperature.
PRO-Tip: Even one speck of oil on the beaters or bowl will prevent egg whites from whipping properly. This includes egg yolks, so make sure you separate your eggs one at a time, and not over the bowl of collected egg whites in case your yolk breaks.
The egg whites are gently folded into the chocolate when making the cake. If you haven't used this technique before, first add 1 cup of the whites into the chocolate. Use a rubber spatula to lift and fold the whites into the batter from the middle, down, then up the side of the bowl. Repeat until the mixture is combined. Repeat with the rest of the whites until almost completely combined. Be careful not to overmix. Note: when the cake layer is baked, it will puff up, then fall. This is normal.
When cooking your pudding, whisk it constantly so no lumps develop. Note that it must be chilled for 3 hours before adding it to the pie.
The crust is quite thick and a bit hard to get a fork through. We had crust flying across the kitchen as the boys were trying to break through with their forks. They definitely enjoyed this dessert. If you're looking for a rich chocolate dessert that makes a sensational presentation, this Mississippi Mud Dessert fits the bill!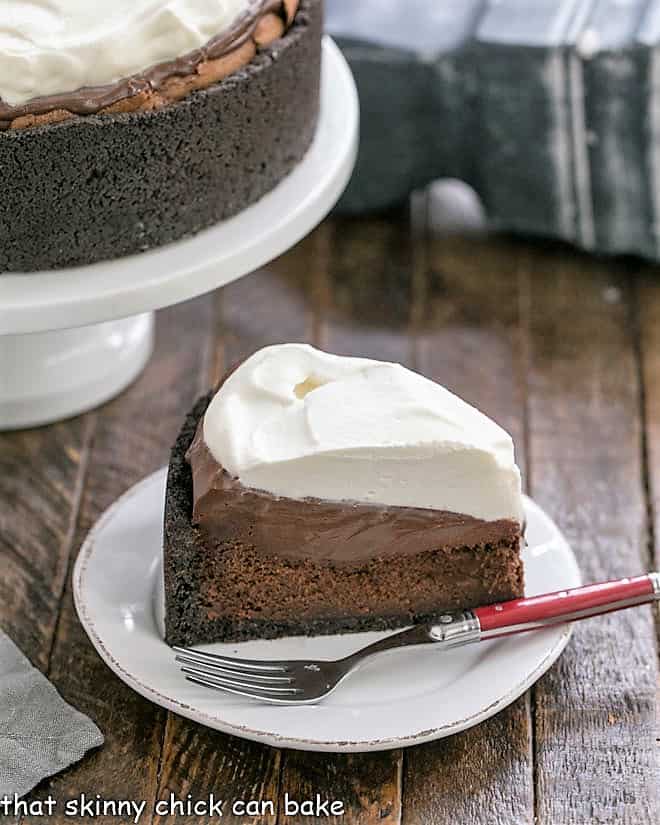 Frequently Asked Questions
Why Is It Called Mississippi Mud Pie?
Mississippi Mud Cake was around when groceries were rationed during WWII. It was likened to the dark mud of the Mississippi. A Pie version came later. Craig Claiborne, of the New York Times, questioned whether there was such a dessert in 1981. He received scores of recipes, thus answering his query.
How Do You Make a Mississippi Mud Pie?
There is no definitive answer since there are so many versions. This recipe starts like most, with baked and unbaked layers. There is always a cookie crust, often a brownie or cake layer, and other options can include biscuits, ice cream, whipped cream, marshmallows, and liqueur.
Can You Freeze a Mud Pie?
Once it's topped with whipped cream, a mud pie will be hard to freeze. If it's made ahead, leave the topping off, make sure to cover the dessert with plastic wrap to make it airtight, and freeze for up to 3 months. Defrost in the refrigerator and top with whipped cream to serve.
You May Also Like:
Stay in touch through social media @ Instagram, Facebook, and Pinterest. Don't forget to tag me when you try one of my recipes! And if you love the results, please give it a 5-star rating in the recipe card. Note: As an Amazon Associate, I earn from qualifying purchases. Visit my Amazon Store for my favorite products.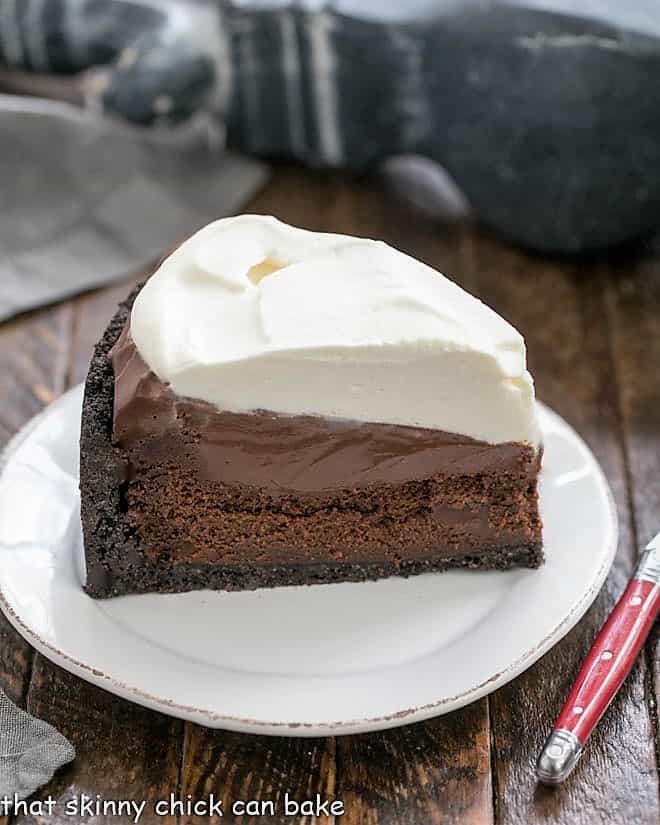 The Recipe:
Mississippi Mud Pie Recipe
Prep Time 40 minutes
Cook Time 1 hour 10 minutes
Total Time 1 hour 50 minutes
Yield 12 servings
Oreo crust, flourless chocolate cake, chocolate pudding topped with whipped cream!
Ingredients
Crust:
35-40 chocolate sandwich cookies, such as Oreos , crushed
5 tablespoons. butter, melted
For the Flourless Chocolate Cake:
4 tablespoons (½ stick) butter
6 ounces semisweet chocolate, chopped
1-2 tablespoons instant espresso powder (I used 1 tablespoon)
¼ cup coffee, at room temperature
¼ teaspoon salt
1 tablespoon vanilla
6 eggs, separated, at room temperature
1 cup sugar
For the Chocolate Pudding:
¾ cup sugar
½ cup cocoa powder
¼ cup cornstarch
¼ teaspoon salt
4 egg yolks
2 ½ Cups Whole Milk
3 tablespoons butter
2 teaspoons vanilla
3 ounces semisweet chocolate, chopped
Topping:
1 ¼ cups whipping cream
¼ cup powdered sugar
1 teaspoon vanilla
1 envelope Whip-It, optional (this will keep whipped cream from separating if storing it more than a day)
Instructions
Preheat the oven to 300º. Spray a 9-inch springform pan with nonstick cooking spray. Line the pan with parchment paper and spray the parchment.
In a food processor, process the cookies to make crumbs. Pour the melted butter over them and mix with a rubber spatula until well combined.
Pour crumbs into the prepared pan and press it into the bottom and up the sides, leaving about ½ inch between the top of the crust and the top of the pan. Press with a spoon or fingers to get an even distribution. Freeze for about 10 minutes.
Bake for 10 minutes then cool on a wire rack.
To make the Flourless Chocolate Cake:
Increase the oven temperature to 350º.
Gently melt the butter and chocolate together in the microwave, stopping to stir at 30-second increments, till smooth. Set aside to cool.
In a small bowl, combine espresso powder, coffee, salt and vanilla. Set aside.
In the bowl of a standing mixer fitted with the whisk attachment, beat the egg yolks with ½ cup sugar until the mixture is light and has almost doubled in volume, about 5 minutes.
Add the chocolate mixture and beat until just combined. Scrape down the sides and bottom of the bowl and mix on low for a few seconds.
Add the coffee mixture and beat until just combined. Scrape down the bottom and sides of the bowl and mix on low for 5 seconds.
In a clean bowl fitted with the cleaned whisk attachment, beat the egg whites until foamy. Gradually increase the speed to high and add the remaining ½ cup sugar, beating until soft peaks form.
Mix 1 cup of the egg whites into the chocolate mixture. Use a rubber spatula to gently fold in the egg whites.
Add the remaining egg whites and continue folding until they are almost completely combined. Do not overmix.
Pour the batter onto the cooled cookie crust and bake for 38 to 42 minutes. The cake should be set but still jiggly in the center.
Transfer to a wire rack and cool completely. The cake will sink as it cools. Wrap and refrigerate the cake for at least three hours or overnight.
To make the Pudding:
In a saucepan, whisk together the sugar, cocoa powder, cornstarch, and salt. Add the egg yolks and mix until combined. Slowly pour in the milk, whisking constantly.
In a saucepan over medium heat, bring the mixture to a boil, whisking constantly. Boil for 30 seconds, then transfer it to a medium bowl.
Add the butter, vanilla, and chocolate and whisk until combined. Continue to whisk for a few minutes more to cool the mixture slightly.
Let the pudding stand for 15 minutes at room temperature. Press a piece of plastic wrap directly onto the surface of the pudding, and chill it for at least 3 hours.
To Assemble the Mississippi Mud Pie:
Whisk the pudding, then pour it onto the top of the cake, staying inside the cookie crust border. Spread evenly.
Return the cake to the refrigerator for at least 30 minutes while you prepare the whipped cream topping.
Whip cream with sugar, vanilla, and Whip-It, if using, to form soft peaks. Spread the whipped cream across the pudding layer, all the way to the sides.
Remove the sides of the springform and serve. Store leftovers in the refrigerator.
Notes
Leftovers keep well refrigerated for up to 2 days.
Recommended Products
As an Amazon Associate and member of other affiliate programs, I earn from qualifying purchases.
Nutrition Information:
Yield:
12
Serving Size:
1 slice
Amount Per Serving:
Calories: 0
Total Fat: 0g
Note: This post may contain affiliate links; view
my Disclosure Policy
for details. I earn a small percentage from any purchase you make by clicking on these links at no extra cost to you.