Dark Chocolate Satin Pie
This dreamy Dark Chocolate Satin Pie has a fudgy custard topped with a cloud of whipped cream and a mound of ripe berries! Perfect for any special occasion!
My family adores a Chocolate Pie Recipe and this simple version is made to impress!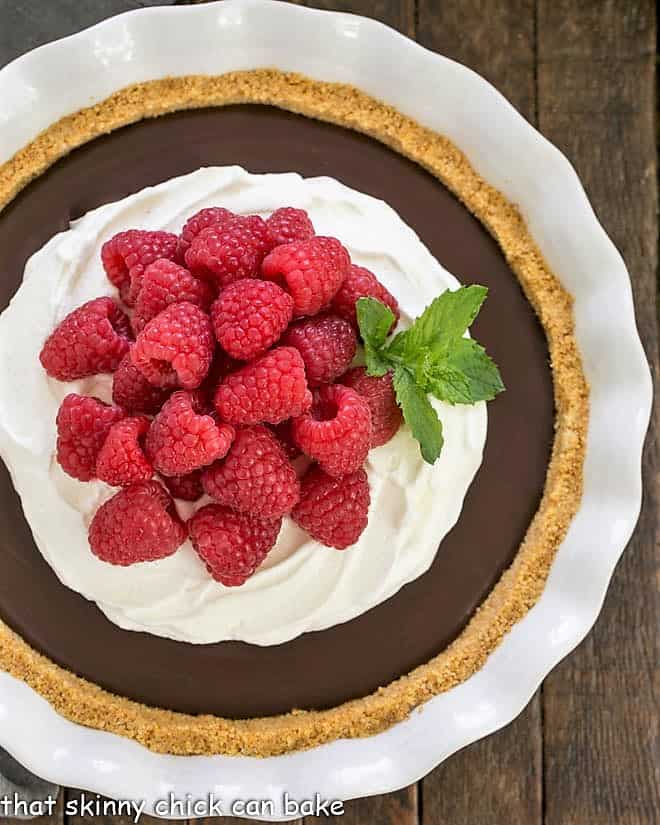 Why You Must Make
It has an easy graham cracker crust that doesn't require rolling.
The rich chocolate filling will satisfy any chocoholic.
A simple garnish of whipped cream and berries makes it worthy of any occasion!
For our Thanksgiving feast, pumpkin pie is a given. The second pie used to be up for grabs. If my parents were visiting, it would be my excuse to make a pecan pie. Apple was a natural choice, too. But lately, I've been making French silk pie, and we're in a rut.
According to the crew, the bonus pie now MUST be French silk. But, as my food blogger friends know, we don't like to make the same recipes over and over. New recipes=New blog posts. Get it? My family doesn't.
I thought I'd show them that the epitome of a rich chocolate pie doesn't have to be French silk. Thankfully, they were sold when I first made this pie years ago for Thanksgiving.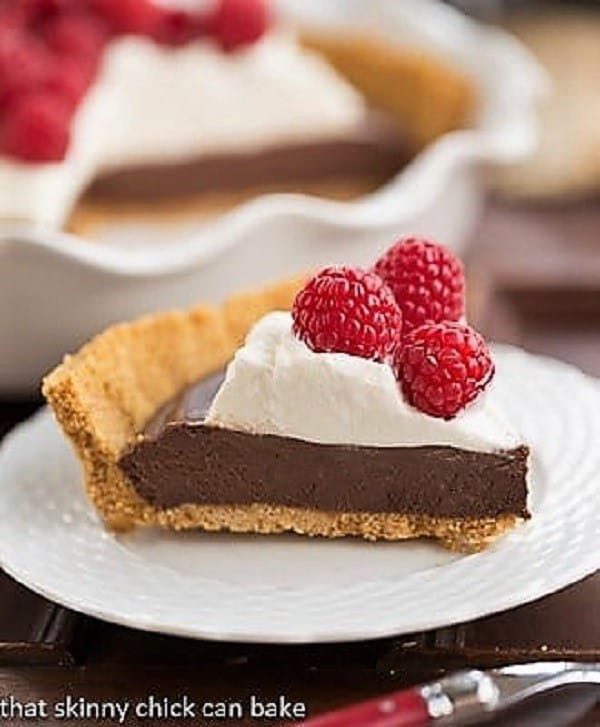 How to Make
This pie was so simple to put together. The hardest part was finding beautiful plump raspberries!
Start by making and cooling the crust. You could even buy a graham cracker crust to save a couple of steps. Other crusts like a pastry crust or Oreo crust would be tasty, too.
There are only three ingredients in the filling, heavy cream, egg yolks, and chocolate chips.
Start by whisking together the cream and the egg yolks in a saucepan. This mixture will be cooked until it gets hot and thickens.
PRO-Tip: This mixture must be whisked constantly to prevent the egg from scrambling. The goal is a smooth, thick mixture. Do not allow it to boil.
Once it's thick, remove the pan from the heat and stir in the chocolate chips. Continue to stir until all the chocolate melts. The end mixture should be smooth and glossy.
Pour the chocolate custard filling into the crust and refrigerate for 3 hours to allow the chocolate to firm up.
When the filling is set, top it with a fluffy pillow of whipped cream along with a mound of the plumpest, most luscious berries you can source.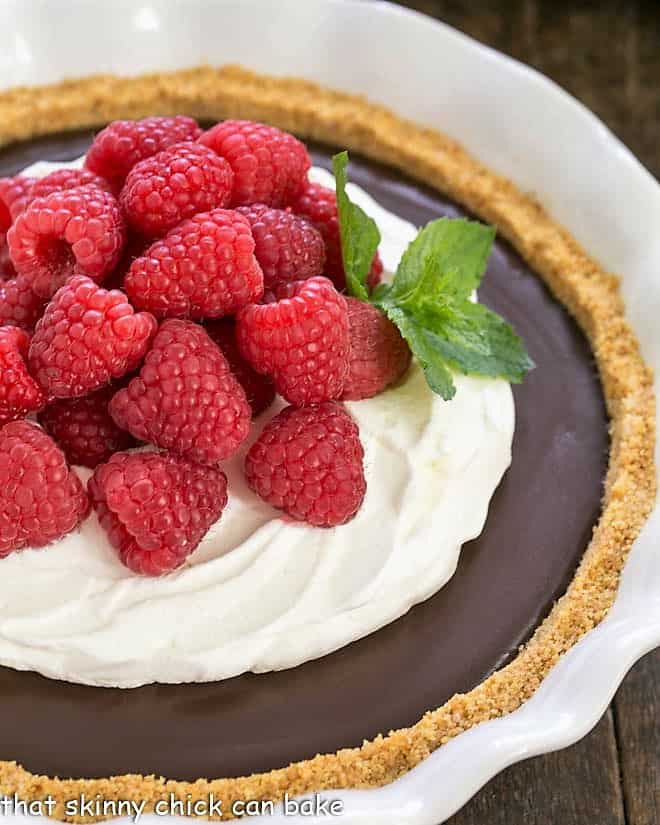 Frequently Asked Questions
How Do You Store This Chocolate Pie?
This pie should be refrigerated, and not left out at room temperature longer than 2 hours. It can be loosely covered with plastic wrap, but it's not necessary. If you'd like to freeze it, I recommend wrapping well with plastic wrap and freezing it without the toppings.
Note: If any condensation develops while defrosting and droplets get on the filling, they will leave marks after you dab up the liquid. They can easily be covered with a dollop of whipped cream as you cut and serve the slices.
How Long Will a Chocolate Cream Pie Keep?
The quality will be best for the first two days as the raspberries may deteriorate and the cream may begin to separate. Without the toppings, you can store the pie in the refrigerator for 3-4 days.
PRO-Tip: If you use powdered sugar to sweeten the whipped cream, the cornstarch in the sugar will help stabilize the cream and minimize separation. If you use granulated sugar, the cream won't last as long.
You can always serve the pie with a dollop of whipped cream and berries on each slice instead of topping the whole pie. This will prolong its freshness.
You May Also Like
Your chocoholic family members will be satisfied with this no-bake chocolate pie. Mine were. And the words "French silk" weren't even uttered. Well, at least not until the next holiday.
Don't get in a rut by only using one recipe over and over! Here are a few more of our favorites:
Stay in touch through social media @ Instagram, Facebook, and Pinterest. Don't forget to tag me when you try one of my recipes! And if you love the results, please give it a 5-star rating in the recipe card. Note: As an Amazon Associate, I earn from qualifying purchases. Visit my Amazon Store for my favorite products.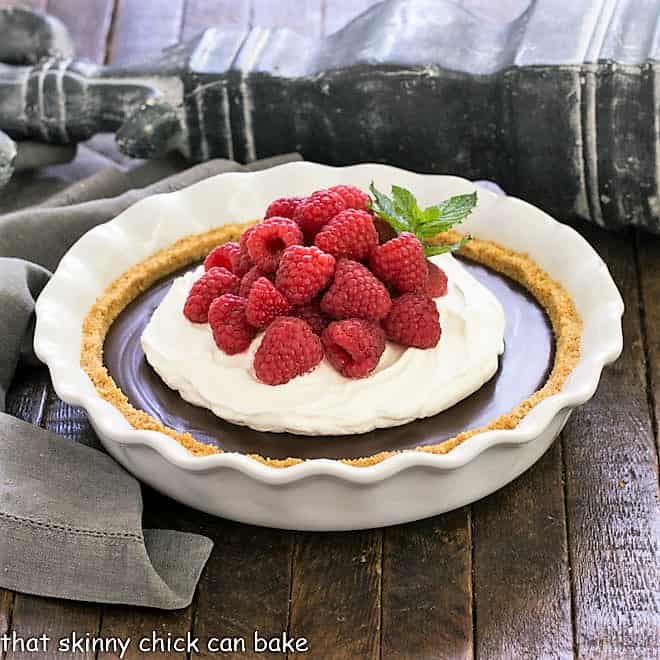 The Recipe:
Chocolate Satin Pie
Prep Time 30 minutes
Cook Time 10 minutes
Total Time 40 minutes
Yield 8 servings
A dreamy pie with a graham cracker crust, fudgy, no-bake filling and whipped cream topping!
Ingredients
Crust:
1 1/4 cups graham cracker crumbs
1/4 cup sugar
1/3 cup melted butter
Pie Filling and Topping
1 1/4 cups heavy cream
3 egg yolks
2 cups semi-sweet chocolate chips
Sweetened whipped cream, 1 cup heavy cream whipped with 1/4 cup powdered sugar and 1 teaspoon vanilla extract
Raspberries, optional
Instructions
Mix together crust ingredients in a medium bowl. Pat the mixture into a pie plate and bake at 375° for 6-8 minutes. Remove to a rack to cool completely.
Whisk together cream and egg yolks in a saucepan. Heat over medium-low heat, stirring constantly, until mixture is very hot and thickens slightly. Do not allow to boil.
Remove the pan from heat; stir in the chocolate chips until completely melted and the mixture is smooth.
Pour the filling into crust, then refrigerate 3 hours.
Top with sweetened whipped cream before serving and sprinkle with berries if desired.
Notes
You can also use a premade graham cracker crust.
Adapted from Very Best Baking
Recommended Products
As an Amazon Associate and member of other affiliate programs, I earn from qualifying purchases.
Nutrition Information:
Yield:
8
Serving Size:
1 slice
Amount Per Serving:
Calories: 473
Total Fat: 34g
Saturated Fat: 18g
Trans Fat: 0g
Unsaturated Fat: 14g
Cholesterol: 112mg
Sodium: 126mg
Carbohydrates: 44g
Fiber: 3g
Sugar: 29g
Protein: 5g
Note: This post may contain affiliate links; view
my Disclosure Policy
for details. I earn a small percentage from any purchase you make by clicking on these links at no extra cost to you.