I fell madly in love with the classic French Silk Pie as a teen. But until I made my own from scratch, I didn't realize how truly exquisite it truly was.
Classic French Silk Pie
My mom loved to shop. It must be genetic. A few weekends a year, the family would pile in our Plymouth Satellite station wagon, without a radio or even seat belts, and drive the 30+ miles to the big metropolis of Des Moines, Iowa for a little retail therapy.
My parents would often arrange a detour through the art museum in hopes some culture would rub off, then trek to Pier One along with whatever else my mom had on her shopping list. Occasionally we'd return home with a massive box of Sara Lee danish or new tops from the sale racks of the downtown Younkers, but our favorite stop was for a slice of pie before we set out for home.
I used to gravitate towards Dutch apple, until I had my first bite of the classic French silk pie. That chocolate number topped them all.
Homemade French Silk
Watching the original Martha Stewart cooking show, I became totally engaged when I saw her prepare a classic French silk pie. Made with butter, sugar, eggs, chocolate, and vanilla, it was pure heaven. Slices are topped with whipped cream, and I can't resist adding chocolate curls or shavings as a garnish.
I doubt that chain restaurant from my youth used real butter in their version. So homemade is definitely a heck of a lot better. Note that the eggs are not cooked so use pasteurized eggs if serving to young children or the elderly. Otherwise, you should be OK using good quality organic pasture raised eggs, but make sure you are well aware of the risk of salmonella.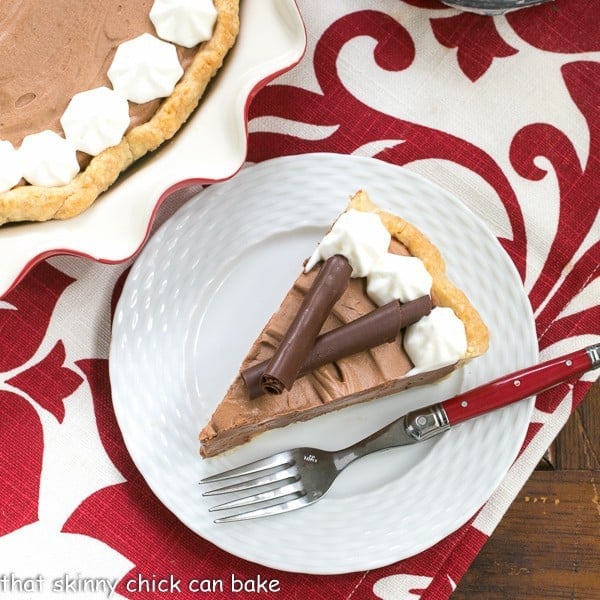 If you love chocolate pie, check out these: Cookies and Cream Chocolate Pie, German Chocolate Pie and Triple Chocolate Layer Pie.
Choctoberfest and Giveaway (Now CLOSED)!
Today is the third day of #Choctoberfest!
#Choctoberfest is a virtual event put together by The PinterTest Kitchen. Bloggers from around the world will be posting their favorite chocolate recipes, and you'll get a chance to win some awesome prizes. What's not to love?
Here's what this event is all about!
#Choctoberfest would not be possible without our sponsors, starting with our 2015 Gold Sponsor, Imperial Sugar. Imperial Sugar has been a trusted name in family kitchens since 1843. Their sugar products and sweeteners are made from non-GMO cane sugar and ensure consistently delicious results. We'll be using Imperial Sugar whenever we use sugar in our recipes this week, and can't wait to share the sweetness with you!
You can find Imperial Sugar on Pinterest, Facebook, Instagram, Twitter, and more. Make sure you visit the recipes section of their website for some sweet inspiration, and you can also find coupons on their website if you want to try out Imperial Sugar yourself.
Imperial Sugar and our other sponsors have banded together to contribute some awesome prizes for our #Choctoberfest giveaway! Entering is simple – just click below to follow us on Pinterest. Here's what you could win:
We also have a nonprofit sponsor this year – Rescue Chocolate! They make vegan chocolate treats and donate 100% of their proceeds to animal shelters.
Enter now to win the #Choctoberfest prize. Hurry, because we're picking the winner on October 12 at 8:00 AM, so if you don't sign up before then, you'll miss your chance!
The Rafflecoptor to enter the giveaway is on Monday's post, Ganache Topped Caramel Bars. Pop over for your chance to win. Good luck!!!
A huge thank you to all of the other blogs participating in #Choctoberfest 2015. Check out their blogs throughout the week for chocolate recipes you won't be able to resist: The PinterTest Kitchen • 2 Cookin' Mamas • A Day in the Life on the Farm • Aloha Flavor • Amy's Cooking Adventures • Angels Homestead • Balancing Motherhood • Bless this Mess • Busy-at-Home • Chocolate Slopes • Coconut & Lime • Colie's Kitchen • Cookaholic Wife • Cooking In Stilettos • Cooking With Libby • Cookistry • CopyKat Recipes • Cravings of a Lunatic • Crumbs in my Mustachio • Culinary Couture • Cupcakes Take The Cake • Deliciously Savvy • Eat It & Say Yum • Fairyburger • Famished Fish, Finicky Shark • Farm Fresh Feasts • Food Hunter's Guide to Cuisine • Full Belly Sisters • Get Off The Couch and Cook • Grumpy's Honeybunch • Hey What's for Dinner Mom? • Honey and Birch • I Can Cook That • Jane's Adventures in Dinner • Jessie Weaver • Life on Food • Life, Love, and Good Food • Majorly Delicious • Moore or Less Cooking Food Blog • Mother Would Know • Or Whatever You Do • Poet in the Pantry • Recipes Food and Cooking • Sassy Southern Yankee • Savory Tart • Seduction in The Kitchen • Serena Lissy • Sumptuous Spoonfuls • Take Two Tapas • That Skinny Chick Can Bake • ThatsSoYummy • The Chonchudo Files • The Crumby Cupcake • The Dinner-Mom • The Saucy Southerner • The Spiced Life • The Spiffy Cookie • The Two Bite Club • The Weekday Gourmet • Vintage Kitty • Wendy Polisi • What A Girl Eats • WhitBit's Indian Kitchen • Wit Wisdom & Food • Zesty South Indian Kitchen Are you a blogger who is interested in joining us during out next community event?   Sign up here now!   We'll make sure you get an email about our next blogger event.
Print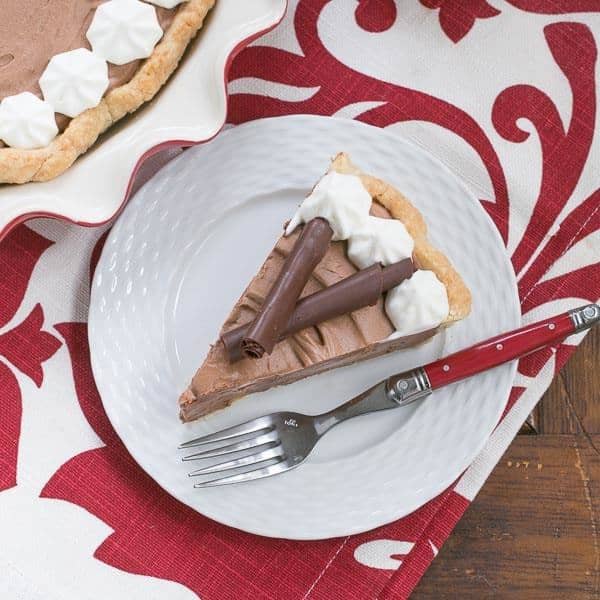 Classic French Silk Pie
A recipe for Classic French Silk Pie, a dreamy chocolate pie topped with whipped cream.
Author:
Prep Time: 25 mins
Total Time: 25 mins
Yield: 8 servings
Category: Dessert, Pie
Method: No-Bake
Cuisine: American
Ingredients
1 baked 9-inch pastry shell, cooled
12 tablespoons (1 1/2 sticks) butter, at room temperature
1 cup Imperial brand granulated sugar
3 ounces unsweetened chocolate, melted and cooled
1 1/2 teaspoons vanilla extract
3 large eggs
1 cup heavy whipping cream
1 package Whip-It (optional)
Chocolate curls or shavings, to garnish if desired
Instructions
In the bowl of a stand mixer with the paddle attachment, cream butter and sugar for about 2 minutes, till light and fluffy. With mixer running, gradually add melted chocolate and the vanilla. Add eggs, one at a time, beating at medium speed for 5 minutes after each addition. Pour filling into cooled crust. Cover with plastic wrap, and chill for at least 4 hours.
Before serving, whip one cup of heavy cream, adding sugar and vanilla to taste. I also add an envelope of Whip-It to stabilize the cream. Garnish with chocolate shavings if desired.
Notes
Adapted from Jean Webster via the Martha Stewart website.
Total time does not include chilling time.
Disclosure: Imperial Sugar donated product for our event. I did not receive any other compensation for writing this post and all opinions are my own.

Note: This post may contain affiliate links; view my Disclosure Policy for details. I earn a small percentage from any purchase you make by clicking on these links at no extra cost to you.