Triple Chocolate Layer Pie
This Triple Chocolate Layer Pie, with exquisite custard layers enveloped in a cookie crust and a massive crown of whipped cream, was irresistible.
This Custard Pie will rock your taste buds! A twist on the old-fashioned, Southern dessert, every bite will make you swoon. And it's so rich, a sliver will satisfy your cravings.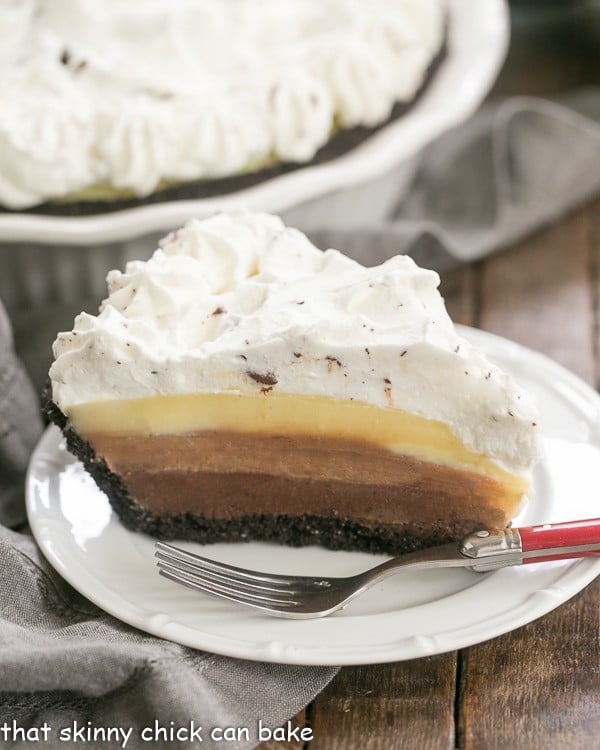 Why You Must Make
I cracked open my copy of the recently released cookbook, (affiliate link) Marbled, Swirled, and Layered: 150 Recipes and Variations for Artful Bars, Cookies, Pies, Cakes, and More by fellow blogger,  Irvin Lin. So many incredible options, it was tough to make a decision on which to try first.
This may be the richest pie ever! Every silky-smooth bite is heavenly.
You only need a small slice to satisfy your sweet tooth!
The three types of chocolate custard will thrill any chocoholic you know.
Rave Reviews
Oh, boy, this triple chocolate layer pie was the epitome of decadence. Starting with a chocolate cookie crust base, followed by three exquisite chocolate custards, the grand finale was a cloud of whipped cream swirled with chocolate ganache.
The table grew silent as I served dessert. Nothing but forks scraping plates was audible. Then the compliments began flying back and forth. Boy was that rich. Whoa, I shouldn't have eaten that all, but I had to! Truly a sublime dessert, worth a few extra dirty bowls and calories!
Expert Tips
As this triple chocolate layer pie needs to chill overnight, so make it the day before you plan to serve (goof-up #1).
Use a deep-dish pie plate as there is too much filling for a standard pie plate.
I apparently haven't mastered the art of swirling the chocolate into whipped cream (or just didn't read the instructions carefully as I was making this on Easter Sunday). I should have drizzled the chocolate over the cream instead of the plops that came out as I tilted the bowl. Not that my family cared; it still tasted amazing!
Don't worry if you don't have perfect slices or don't see the layers after you cut through the whipped cream. Custard pies love to ooze a bit, though the larger slices actually stayed upright nicely.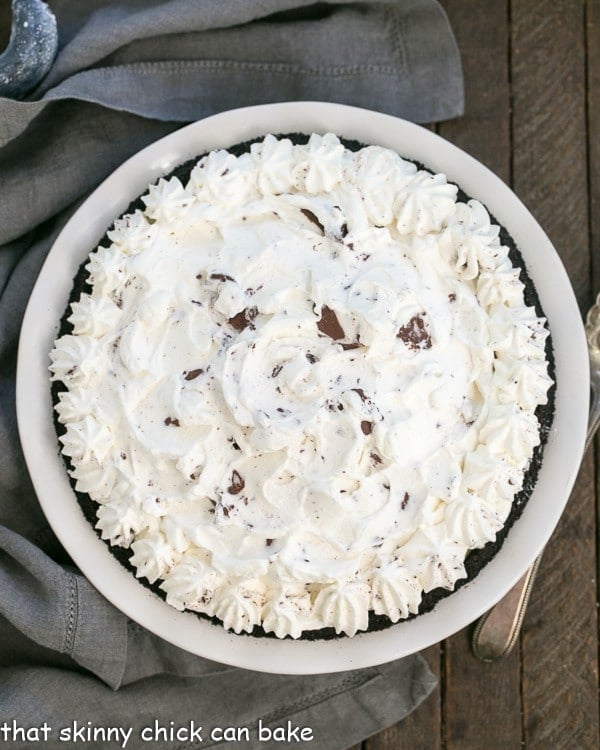 Eat the Love
Make sure to check out Eat the Love, where this talented cookbook author also writes a marvelous blog. Besides gorgeous baked goods, there are recipes that run the gamut, from cocktails to breakfast dishes to entrees. Irvin takes ordinary dishes and gives them his special twist.
You can also find Irvin on Facebook–Instagram–Twitter–Pinterest
Frequently Asked Questions
What's the Difference Between Custard and Pudding?
Both usually contain eggs, but pudding generally has cornstarch or flour as an additional thickener. Custard is thicker and is typically baked in a water bath instead of made on the stovetop like pudding.
What is Custard Pie?
Custard is often a preferred pie filling compared to pudding since it's not as runny. A custard pie is a dessert where a pie crust is filled with custard, then baked until the custard is firm. This pie fits the definition of pudding pie more than custard pie.
Does Custard Pie Need to Be Refrigerated?
Both pudding and custard-filled pies need to be refrigerated. They can be left out briefly at room temperature, but never longer than 2 hours or there's a risk of food poisoning due to the eggs and dairy.
Can You Freeze Custard Pie?
Yes, both custard and pudding pies can be frozen, but if they have a pastry crust, it may absorb some moisture as the pie defrosts. It's better to use a cookie or shortbread crust if you plan to freeze your pie. Make sure to defrost overnight in the refrigerator.
You May Also Like:
The Recipe:
Triple Chocolate Layer Pie Recipe
Prep Time 1 hour
Cook Time 10 minutes
Total Time 1 hour 10 minutes
Yield 10 servings
This no-bake triple-layer pie has dark, milk, and white chocolates along with a chocolate cookie crust and a chocolate swirled whipped cream top.
Ingredients
Chocolate Cookie Crust::
9 ounces (255 g) store-bought chocolate cookie wafers
6 tablespoons (85 g or 3⁄4 stick) unsalted butter, melted
Chocolate Layers::
3 ounces (85 g) bittersweet chocolate (70% cacao), chopped into 1⁄4-inch chunks
3 tablespoons Dutch-process cocoa powder
4 ounces (115 g) milk chocolate, chopped into 1⁄4-inch chunks
6 ounces (170 g) white chocolate, chopped into 1⁄4-inch chunks
Custard Filling Base::
1 1⁄2 cups (300 g) granulated sugar
1⁄2 cup (60 g) cornstarch
6 large egg yolks
1 tablespoon vanilla extract
3 cups whole milk, divided
1 1⁄2 cups heavy cream
Chocolate Swirled Whipped Cream::
1 teaspoon powdered gelatin
2 tablespoons cold water
1 ounce (28 g) semisweet chocolate (about 54% cacao)
2 cups cold heavy cream, divided
2 tablespoons granulated sugar
Instructions
Make the Chocolate Cookie Crust:
Place the chocolate wafers in a food processor and pulse until fine crumbs form.
Drizzle the melted butter over the crumbs and pulse until the crumbs start to clump together and look moist. Dump the cookie crumbs into the middle of a 9-inch deep-dish pie pan.
Press the crumbs evenly into the bottom and up the sides of the pan. Refrigerate while you make the filling.
Make the Chocolate Layers:
Place the dark chocolate and cocoa powder in a medium bowl. Place the milk chocolate in another bowl and the white chocolate in a third bowl.
Make the Custard Filling Base:
Combine the sugar, cornstarch, egg yolks, vanilla, and 3⁄4 cup of the milk in a large bowl and whisk together.
Combine the remaining 21⁄4 cups milk and the cream in a large pot. Cook over high heat,stirring occasionally, until bubbles start to form on the edges of the pot.
Turn off the heat and slowly drizzle a little bit of the hot milk mixture into the bowl with the egg yolks while stirring with a whisk.
Continue to whisk and slowly pour the rest of the hot milk mixture into the bowl. Return the entire custard base to the pot (don't bother to clean it) and cook over medium-high heat, stirring constantly with the whisk, until thickened, 5 to 7 minutes.
Pour about one-third of the hot custard base through a sieve into the bowl with the white chocolate.
Pour another one-third into the milk chocolate, and the rest into the dark chocolate (about 450 g custard per bowl).
Stir with a spatula until all the chocolate is melted, first the white chocolate custard,then the milk chocolate, then ending with the dark chocolate. If you stir in that order, you don't have to worry about cleaning the spatula; just wipe it against the edge of the bowl.
Pour the dark chocolate custard into the bottom of the pie crust and spread it evenly over the crust to the edges with an offset spatula if you have one, or the back of a spoon or butter knife.
Scoop out the milk chocolate custard and spread it over the dark chocolate custard layer. Repeat with the white chocolate custard.
Place a piece of plastic wrap directly on the surface of the white chocolate custard and refrigerate the entire pie overnight.
Make the Chocolate Swirled Whipped Cream:
Sprinkle the gelatin over the water in a small microwave-safe bowl and let sit for 5 minutes to soften.
Chop the chocolate into 1⁄4-inch chunks and place in a medium bowl. Microwave for 30 seconds, stir, and microwave for an additional 30 seconds.
Stir until completely melted and smooth. Add 2 tablespoons of the cream to the chocolate and mix until incorporated. Set aside.
Once the gelatin has softened, microwave for 10 to 15 seconds, until the gelatin has turned to liquid.
Combine the remaining cream and the sugar in the bowl of a stand mixer fitted with the whisk attachment. Whip on high speed until soft peaks form.
Reduce the speed to medium and, with the mixer on, drizzle the gelatin into the whipped cream. Raise the speed to medium-high and whip until firm peaks form.
Stop the mixer and remove the bowl. Drizzle the chocolate mixture all over the whipped cream and gently fold two or three times to swirl in the chocolate, but not mixing it completely.
Recommended Products
As an Amazon Associate and member of other affiliate programs, I earn from qualifying purchases.
Nutrition Information:
Yield:
10
Serving Size:
1 slice
Amount Per Serving:
Calories: 658
Total Fat: 55g
Saturated Fat: 32g
Trans Fat: 2g
Unsaturated Fat: 19g
Cholesterol: 279mg
Sodium: 270mg
Carbohydrates: 31g
Fiber: 1g
Sugar: 27g
Protein: 11g
I was given a copy of Marbled, Swirled and Layered to review. All opinions are my own.
Note: This post may contain affiliate links; view
my Disclosure Policy
for details. I earn a small percentage from any purchase you make by clicking on these links at no extra cost to you.