Bourbon Pecan Pie
Bourbon Pecan Pie belongs on your Thanksgiving menu. It's pure Americana and the perfect way to celebrate!
This Easy Pecan Pie, from Tom Douglas, is spiked with a good slosh of bourbon or rum. This holiday dessert does not disappoint!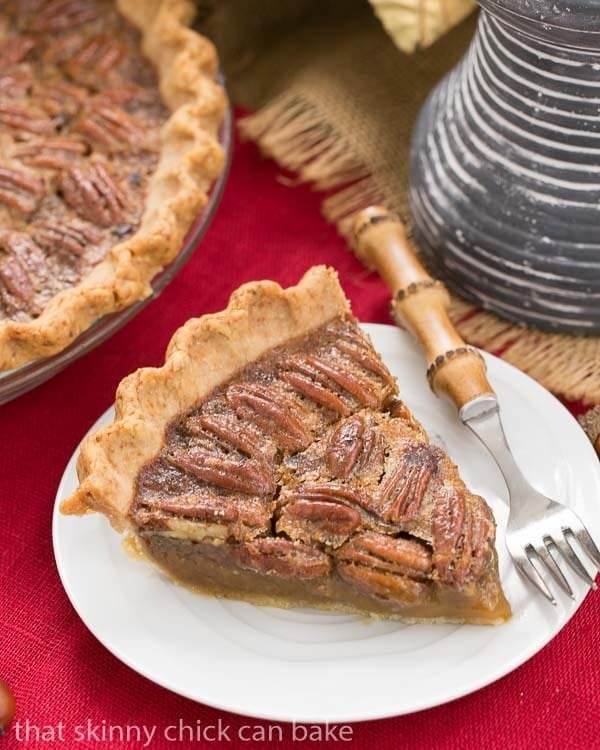 Looking for more pecan desserts? My Chocolate Pecan Pie is another decadent version of pecan pie and Pecan Pie Thumbprint Cookies are an even easier way to get all the decadence of pecan pie in cookie form!!!
Why You'll Love this Homemade Pecan Pie
When my parents used to make the rounds for the long holiday weekend, they'd make sure to be in Indianapolis on Thanksgiving Day. Unlike my siblings, I'd have the works on the menu: turkey, stuffing, mashed potatoes, and gravy, my great grandmother's overnight fruit salad, along with a couple of pies for dessert.
Since the hubby feigns a nut allergy (his "polite" way of getting out of eating food he does not like), I would never serve a pecan pie without reinforcements to help me eat it. This bourbon-spiked pecan pie baked up perfectly.
Frequently Asked Questions
How Do  You Know When a Pecan Pie is Done?
You can pierce the center with a sharp knife to see if it's set. Alternatively, use an instant-read thermometer and look for the temperature to read 200°. The filling will be fully cooked at that point.
What Should You Do When the Crust is Browning too Fast?
You can buy special pie shields that will cover the crust while the filling finishes baking. But it's just as easy to cover the edges with aluminum foil.
How Do You Store Pecan Pie?
Since there are eggs in the filling, it's best to keep your loosely wrapped and cooled pecan pie in the refrigerator for up to 4 days.
It also freezes well. Just wrap airtight in both plastic wrap and foil and freeze for up to 3 months (though some sources say it's OK to keep for up to a year). To defrost, place the frozen pie in the refrigerator overnight.
Why Do You Add Bourbon to the Filling?
Alcohol, like salt, is a flavor enhancer. Most will evaporate during the hour of baking time, but if you'd prefer to leave it out, the pie will still taste amazing.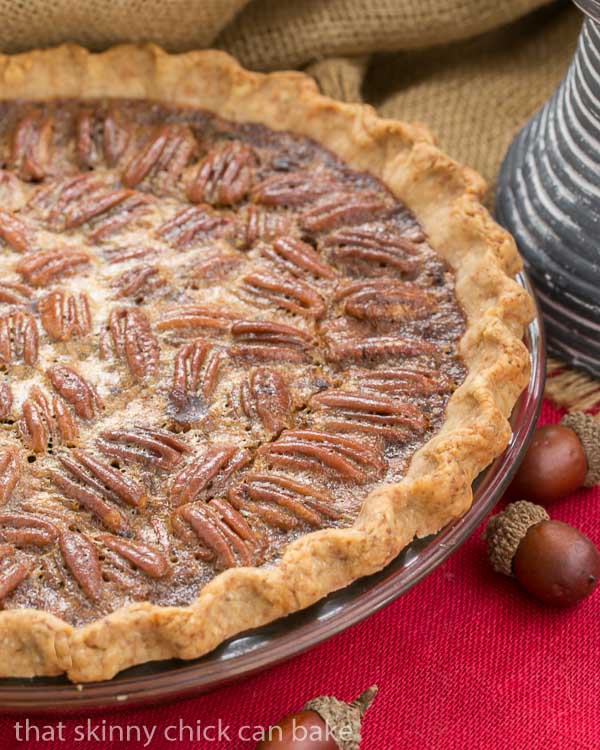 Tips for Making a Pecan Pie Recipe
If you're a pie novice, feel free to purchase a pre-made crust. There is a lot of preparation when making a traditional Thanksgiving meal, and rolling out a pie crust can be a bit daunting!
Do you know what blind baking is? This technique pre-bakes the pastry before the filling is added. This ensures the bottom crust is cooked thoroughly.  Basically, you line the pie crust with a sheet of parchment or nonstick foil, fill with pie weights (or dried beans) and bake for about 10 minutes. Next, remove the beans and paper and bake for about 5 more minutes. Check out the details on the King Arthur Flour website.
In this case, you don't want to thoroughly bake the crust, but just give it a head start and firm it up so the gooey filling has a sturdy shell.
The pecans are arranged on the surface of the crust, then the filling mixture is added. Remarkably, the pecans stay top-side up and rise to the top!
As the pie bakes, peek in to see if the crust is browning too fast. If so, you may want to use a pie shield or cover the edges with foil.
Make sure your pecans are fresh. If they've been in the pantry since last Thanksgiving, they may have gone rancid.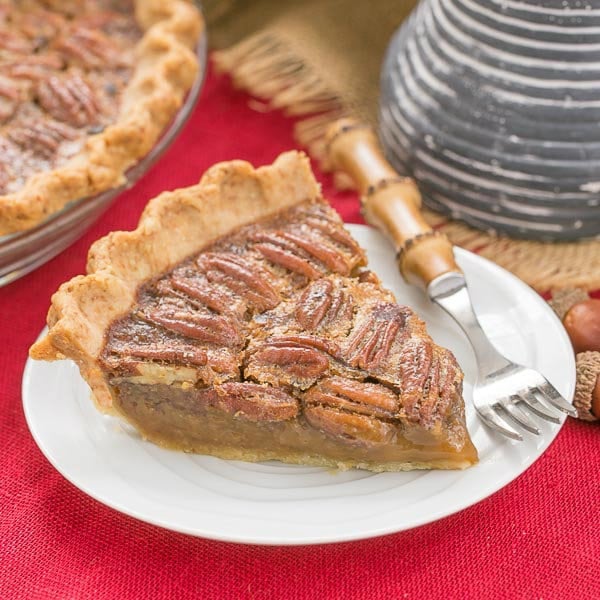 You May Like:
Pies are a special treat at our house. A pumpkin pie is imperative for Thanksgiving, but I love to rotate through some favorites for our second pie.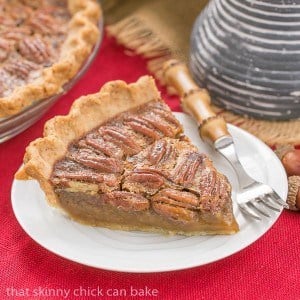 The Recipe:
Boozy Pecan Pie Recipe
Prep Time 30 minutes
Cook Time 55 minutes
Total Time 1 hour 25 minutes
Yield 10 servings
A delectable holiday pecan pie. Recipe adapted from Tom Douglas' The Dahlia Bakery Cookbook.
Ingredients
1 3/4 cups pecan halves, toasted and cooled (at 350° for 5-7 minutes)
One 9 inch pie crust, blind baked*, then cooled
4 eggs
5 tablespoons butter, melted and slightly cooled
2/3 cup brown sugar
1 cup light corn syrup
1 tablespoon plus 1 teaspoon molasses
1 1/2 teaspoons vanilla extract
2 tablespoons bourbon or dark rum, optional
1/4 teaspoon salt
Instructions
Preheat the oven to 350°. Arrange the pecans in the pie shell, top side up. Set aside.
Whisk the eggs in a medium bowl.
Add the melted butter, brown sugar, corn syrup, molasses, vanilla, bourbon or rum (if using), and salt, whisking until smooth.
Pour the filling into the pastry shell.
Bake until the pie is cooked through and set, 50 to 55 minutes. You can carefully pierce the top of the pie with a knife to see if the filling is set.
Let the pie cool on a rack for about 1 hour before slicing and serving.
Notes
*If you're unfamiliar with blind baking, check out the link in the post for more instructions.
Don't worry about your pecans as you pour in the custard. They should remain
top-side up and rise to the top of the pie. Such a neat trick!
Recommended Products
As an Amazon Associate and member of other affiliate programs, I earn from qualifying purchases.
Nutrition Information:
Yield:
10
Serving Size:
1 slice
Amount Per Serving:
Calories: 445
Total Fat: 25g
Saturated Fat: 7g
Trans Fat: 0g
Unsaturated Fat: 17g
Cholesterol: 90mg
Sodium: 224mg
Carbohydrates: 50g
Fiber: 2g
Sugar: 40g
Protein: 5g
Note: This post may contain affiliate links; view
my Disclosure Policy
for details. I earn a small percentage from any purchase you make by clicking on these links at no extra cost to you.