Chocolate Velvet Pie with Meringue Crust
This exquisite, out-of-the-ordinary Chocolate Velvet Pie with Meringue Crust is perfect for any time you have a chocolate craving! A meringue shell is topped with incredibly rich, dreamy chocolate whipped cream and chocolate shards.
This is a Chocolate Pie Recipe that melts in your mouth and is easy enough for a family dinner, but can be dressed up for a holiday dessert!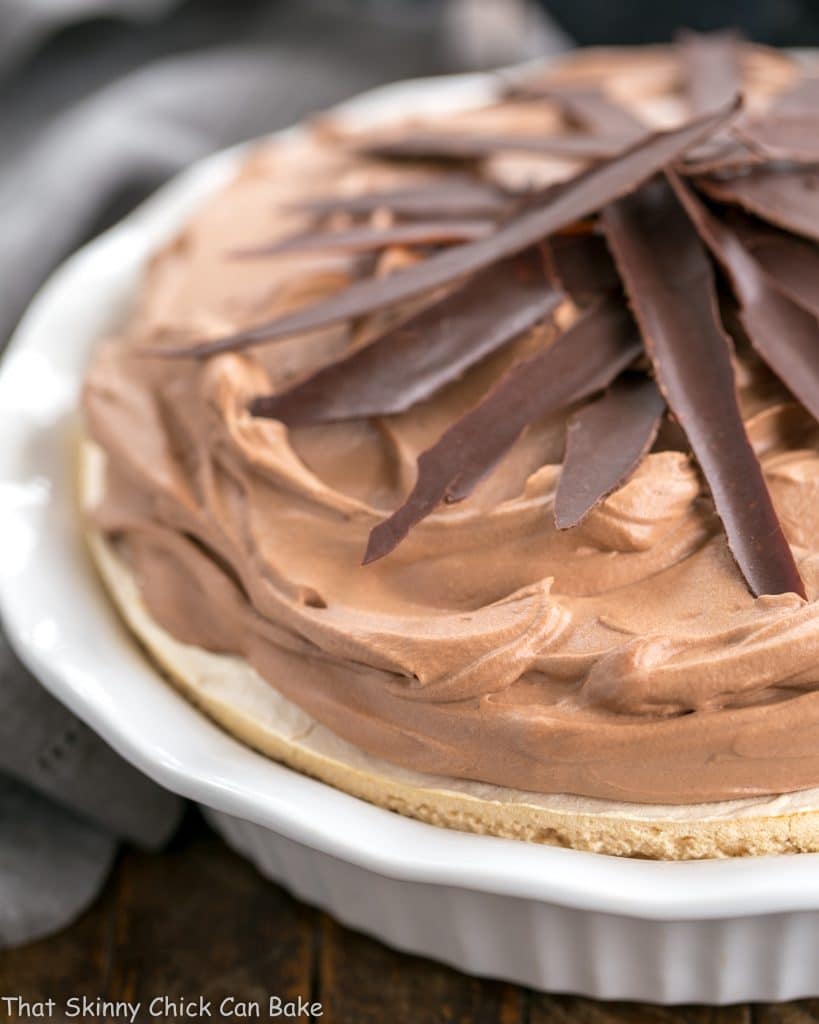 Why You Must Make
Minimal ingredients are needed to whip up this exquisite chocolate meringue pie.
This luscious dessert starts with a slow-cooked meringue pie crust, then is topped with a fluffy mound of chocolate and coffee-infused whipped cream.
Dreamy is an understatement!
Ingredient Notes
Kitchen Staples – Table Salt, Sugar
Egg Whites – At room temperature; The bowl and beaters must be free of any egg yolk or grease or they will not whip properly. Run the mixing bowl through the dishwasher if unsure.
Cream of Tartar – Helps to stabilize the whipped egg whites
Superfine Sugar – Dominos is the brand I find in the baking aisle with the other sugars.
Vanilla – Use real vanilla extract, never artificially flavored.
Semisweet chocolate – Chopped; I use the Ghirardelli brand.
Brewed Coffee – I am not a coffee drinker so I mix instant coffee in hot water.
Heavy Cream – 32% butterfat
Grated chocolate, chocolate curls or chocolate shards -to garnish, optional
Expert Tips
If you've ever eaten a homemade meringue cookie, you know the texture can be crisp with a soft, chewy middle. That's what you'll find with a meringue crust. Here are a few tips to make your crust successful when making this chocolate velvet pie.
PRO-Tip: Separate the egg whites from the yolks while the eggs are cold. Make sure to separate the eggs one at a time with the white in one bowl and the yolk in another, then transfer the whites to a larger bowl.
The reason for the 3 bowl technique is so that if one yolk breaks during the separating process, you won't contaminate the other egg whites.
PRO-Tip: Make sure all bowls and beaters are scrupulously clean of all grease. A speck of grease, fat, or oil will inhibit the eggs from whipping properly. Egg yolks contain fat, so that is why you don't want a yolk breaking into your whites.
If you're wondering why cream of tartar is an ingredient, it's because it helps stabilize the egg whites when they're beaten. The cream of tartar doesn't expire, so make sure to have some on hand.
PRO-Tip: Let the egg whites come to room temperature before beating. They will whip better than cold whites.
Beat the egg whites until soft peaks form. Soft peaks are when the whites go from foamy to opaque, but still flop over when you lift up a big spoonful.
Continue beating, adding the sugar about a tablespoon at a time. Slow is the way to go so the sugar can incorporate.
When stiff peaks form and the sugar is absorbed, the meringue is ready to be spread into a greased pie plate.
Stiff peaks will be stiff and glossy. Stiff meringue will hold its shape. There should not be any sugar granules in the mixture. Check by rubbing a bit of the meringue between your fingers. Note: I have used meringue with some sugar granules and it's no big deal in a pie crust.
Frequently Asked Questions
Why Didn't My Meringue Reach Stiff Peaks?
If your meringue doesn't stiffen properly, you may not have beaten on a high enough speed, or the bowl, beaters, or egg whites may have been contaminated with oil, grease, or egg yolk. You will need to start over.
What Are the Basic Steps for Making a Simple Meringue?
1. Start with room temperature egg whites and a very clean bowl and beaters.
2. Add cream of tartar.
3. Whip until foamy.
4. Add the sugar, a little at a time.
5. Beat to stiff, glossy peaks.
Why Do You Add Cream of Tartar to Meringue?
Adding an acid such as cream of tartar or lemon juice helps to stabilize the meringue by denaturing the proteins, thus delaying coagulation as it cooks.
You May Also Like:
I can always think up a reason to bake up a chocolate pie recipe! Making chocolate shards to garnish is super simple and creates a show-stopper of a dessert. From sweet to savory, chocolate to citrus to berry, there are zillions of delicious pies from which to choose. Besides this chocolate velvet pie, here are some more of my favorites: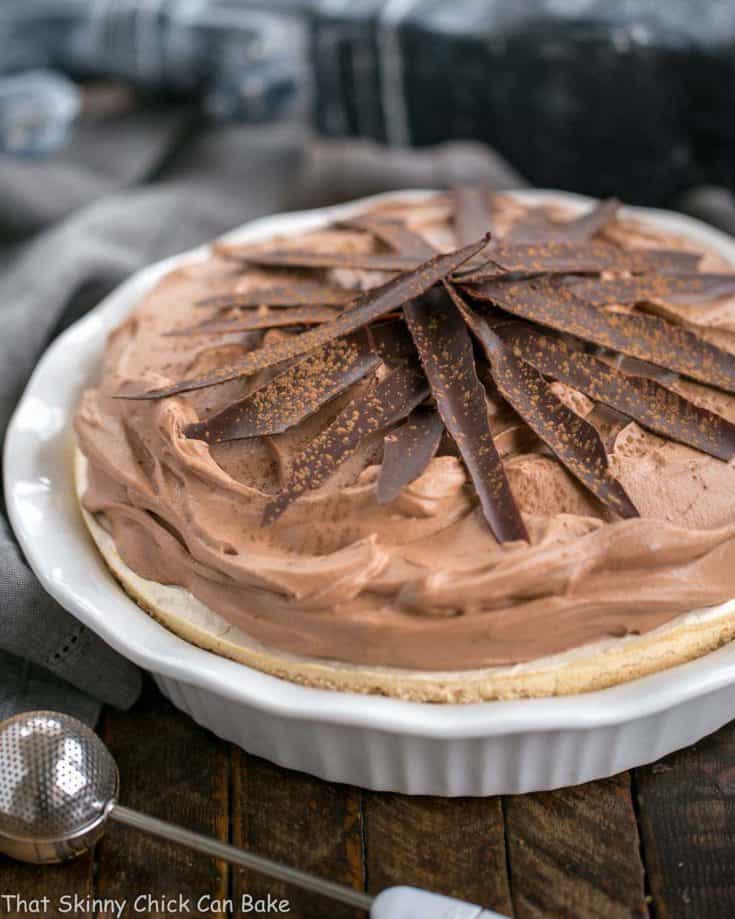 The Recipe:
Chocolate Velvet Pie Recipe
Prep Time 30 minutes
Cook Time 1 hour
Total Time 1 hour 30 minutes
Yield 8
Chocolate Velvet Pie has a meringue shell topped with incredibly rich, dreamy chocolate whipped cream and chocolate shards.
Ingredients
Meringue Crust:
3 egg whites, at room temperature
⅛ teaspoon cream of tartar
Pinch of salt
1 cup superfine sugar (whiz in the food processor for about a minute)
1 teaspoon vanilla
Chocolate Velvet Filling:
8 ounces semisweet chocolate, chopped
¼ cup plus 2 tablespoons brewed coffee
2 teaspoons vanilla
2 cups heavy cream
⅓ cup sugar
Grated chocolate, chocolate curls or chocolate shards to garnish, optional
Instructions
Grease a 9-inch deep dish pie plate. Set aside.
Preheat the oven to 350º.
In the bowl of a stand mixer, beat egg whites until foamy. Add cream of tartar and salt. Beat until soft peaks start to form. Very slowly, add the sugar and continue beating until stiff peaks form. Mix in vanilla.
Spread meringue in a pie plate, smoothing the top with an offset spatula. Bake for one hour, then turn off the oven and leave the meringue in the oven to cool.
When the meringue shell is cool, make the filling.
Place chocolate and coffee in a microwave-safe bowl and microwave for 30-seconds, stop and stir, then repeat until chocolate is melted and smooth. Mix in vanilla and let cool.
Whip cream with sugar until stiff peaks form. Add the cooled chocolate to the cream, and gently fold in until all white streaks are gone.
Spread topping over top of meringue shell. Garnish with chocolate if desired. Chill before serving.
Notes
As an option, you may dust the finished pie with powdered sugar or cocoa powder.
Recommended Products
As an Amazon Associate and member of other affiliate programs, I earn from qualifying purchases.
Nutrition Information:
Yield:
8
Serving Size:
1 slice
Amount Per Serving:
Calories: 492
Total Fat: 31g
Saturated Fat: 19g
Trans Fat: 1g
Unsaturated Fat: 10g
Cholesterol: 68mg
Sodium: 59mg
Carbohydrates: 55g
Fiber: 2g
Sugar: 52g
Protein: 4g
Note: This post may contain affiliate links; view
my Disclosure Policy
for details. I earn a small percentage from any purchase you make by clicking on these links at no extra cost to you.