Ganache Topped Chocolate Tart
A chocolate crust with a luscious chocolate filling and chocolate ganache topping makes this Ganache Topped Chocolate Tart a showstopper! With three layers of chocolate, this is an ideal dessert for the chocoholics in your life.
The few extra steps ensure the rich chocolate custard is silky smooth. Plus, the glossy ganache topping provides a bakery-like finish to a homemade dessert. This Chocolate Tart Recipe is a winner all around.
Why You Must Make
There are stacks of recipes throughout my kitchen. On the counter, in the cabinet next to my computer, in a drawer under my baking supplies. In one of these said piles, was a recipe for a "Chocolate Glazed Chocolate Tart" printed off from Epicurious.
The triple dose of chocolate makes this dessert perfect for chocolate fanatics.
There is a chocolate graham cracker crust, chocolate custard filling and a chocolate ganache topping!
The filling is smooth, rich, and delicious!
It was a contender for our youngest son Nick's birthday, for Easter, etc. Chocolate desserts always go to the top of the list for family gatherings!
Three Unique Layers
The hubby and my oldest went nuts for this. I started off with just a sliver, but went back for about 16 more slivers! Should have just sucked it up and cut a big slice. This ganache-topped chocolate tart was sublime.
The chocolate graham cracker crust is the foundation. If you can't find chocolate graham crackers, try using Nabisco Famous Wafers instead. The amount of butter may need to be tweaked.
A baked chocolate custard fills the crust. Since the custard is cooked in the oven, there's almost no chance of scrambling the eggs as can happen with stovetop custards.
Ganache makes for the silkiest chocolate topping, just make sure to use a decent brand of chocolate for the best results. It gives a glossy finish to this tart.
I started off with just a sliver, but went back for about 16 more slivers! Should have just sucked it up and cut a big slice. This ganache-topped chocolate tart was sublime.
How to Make
First, have a tasty, sturdy crust. This crust recipe was basically your traditional graham cracker crust except made with chocolate graham crackers. You can also make a plain graham cracker crust if you cannot find the chocolate graham crackers.
Make a creamy chocolate custard to fill the crust. It was this luscious chocolate filling that was the star of the show.
The custard is baked until the edges are set, but the center three inches still wiggle when you move the oven rack a bit. The filling will continue to bake as it cools.
And make sure to serve this ganache-topped chocolate tart at room temperature, so the chocolate will just melt in your mouth.
Store this tart in the refrigerator for up to 4 days, but bring it out about an hour before serving to take the chill off.
Frequently Asked Questions
What Can Be Used Instead of Chocolate Graham Crackers?
Chocolate graham crackers have been rather elusive lately and it took numerous stops at different grocery stores to find a generic brand to purchase. You can always substitute plain graham crackers for a non-chocolate crust, and there are recipes online on how to make a chocolate graham crust using regular graham crackers and cocoa powder.

If you can procure some Nabisco Famous Wafers, I've often made chocolate crusts using those, but the proportion of crumbs to butter may need to be tweaked.
What is Ganache?
Ganache is a French term for a mixture of chocolate and cream. It can be used as a topping for pies, tarts, cheesecakes, and more. Or it can be chilled and used to make dessert truffles. Ganache is dreamy, rich, and versatile.
You May Also Like: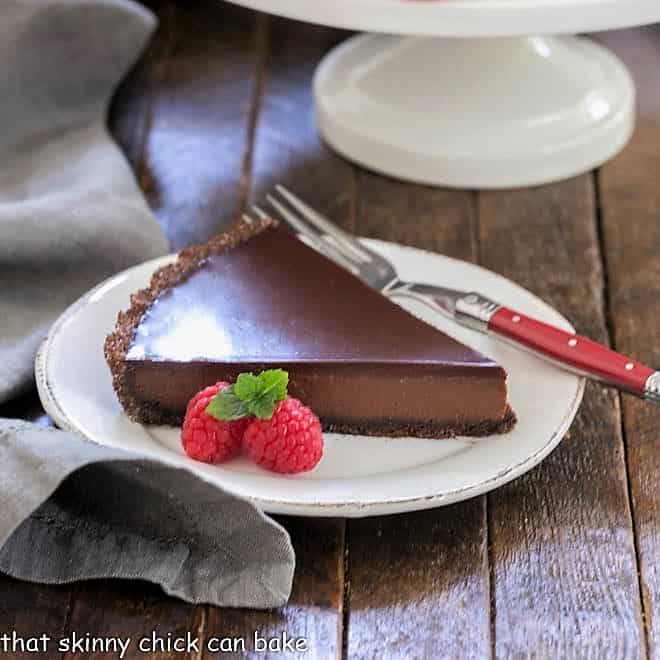 The Recipe:
Ganache Topped Chocolate Tart
Prep Time 30 minutes
Cook Time 1 hour
Total Time 1 hour 30 minutes
Yield 8 servings
A lovely chocolate tart topped with a rich chocolate ganache!
Ingredients
For the crust:
9 chocolate graham crackers, finely ground (1 cup of crumbs)
5 tablespoons butter, melted
1/4 cup sugar
For the filling:
1 1/4 cups cream
9 ounces semi-sweet chocolate, chopped
2 eggs, at room temperature
1 teaspoon vanilla extract
1/4 teaspoon salt
For the glaze:
2 tablespoons cream
1 3/4 ounces semisweet chocolate, finely chopped
1 teaspoon light corn syrup
1 tablespoon warm water
Instructions
Preheat the oven to 350 degrees. To make the crust, Stir together all the ingredients and press evenly onto the bottom and up the side of a greased 9-inch tart pan.
Bake for 10 minutes. Cool on a rack for about 20 minutes
To make the filling, bring the cream to a boil, then pour it over chocolate in a bowl and let stand 5 minutes.
Gently stir until smooth. Whisk together eggs, vanilla, and salt in another bowl, then stir into melted chocolate.
Pour the filling into the cooled crust. Bake until the filling is set about 3 inches from the edge but the center still jiggles, about 25 minutes. It will finish cooking as it cools.
To make the glaze, Bring cream to a boil and remove from heat. Stir in chocolate until smooth.
Stir in corn syrup, then the warm water Pour the glaze onto the tart, then tilt and rotate the tart so the glaze spreads out to cover the filling. Let stand until the glaze is set.
To serve, remove the tart from the pan and place it on a serving platter.
Cut into wedges and serve with berries and lightly sweetened whipped cream if desired.
Notes
Recipe adapted from Epicurious. Some reviews said the crust was very greasy. I did not find that to be true.
Chocolate graham crackers have been hard to find. I finally located Kroger brand at one of their larger stores.
Total time does not include chilling time.
Nutrition Information:
Yield:
12
Serving Size:
1 slice
Amount Per Serving:
Calories: 0
Total Fat: 0g
Note: This post may contain affiliate links; view
my Disclosure Policy
for details. I earn a small percentage from any purchase you make by clicking on these links at no extra cost to you.