Best Chocolate Cake Recipe
This is definitely the Best Chocolate Cake Recipe with 3 moist tender layers frosted with a decadent Chocolate Buttercream Frosting. Chocolate on chocolate is always a crowd-pleaser with my family!
This Chocolate Layer Cake is perfect for holidays, birthdays or anytime you want to treat a chocoholic to a special treat!
Why You Must Make
This is a decades-old recipe from Hershey's and, as expected, the cocoa company had a fantastic chocolate cake recipe.
A three-layer cake makes a beautiful, impressive statement!
This is perfect for any celebration.
I thought I found the best ever chocolate cake when I baked my Triple Layer Cocoa Cake, but it's no fun to make the same cake over and over. So when my friend, Sandra, made this recipe and shared a photo of a decadent slice, I knew I had found my son Nick's birthday cake! He was adamant that his celebration would involve a homemade chocolate cake and the birthday child always gets what he wants!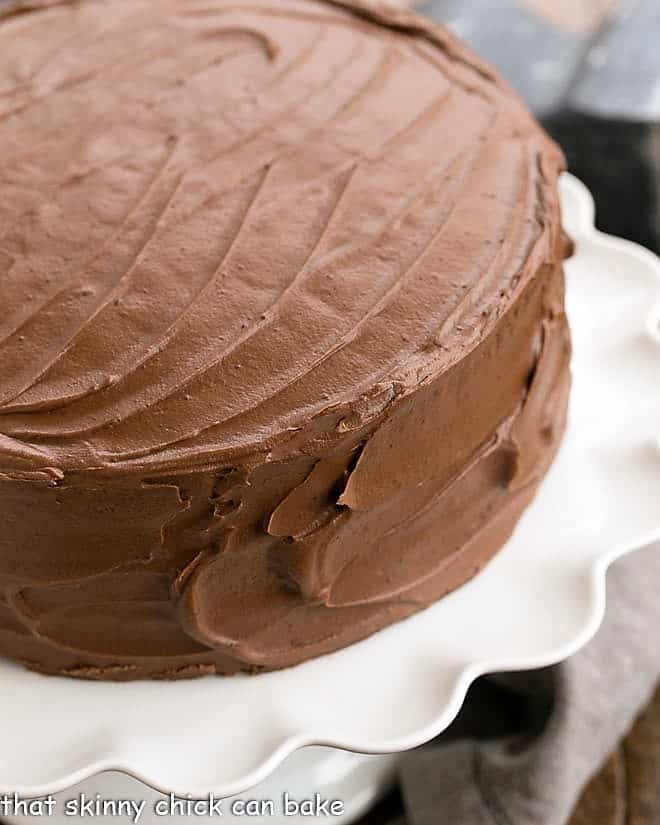 Ingredient Notes
Kitchen Staples – Sugar, All-purpose Flour, Baking Soda, Salt, Eggs
Cocoa Powder – Not hot cocoa mix, but unsweetened cocoa powder (Hershey's or Ghirardelli)
Baking Powder – Typically expires before you use it all. Check the expiration date and replace if needed. If you're unsure, put a spoonful into a glass of very hot water. It should bubble vigorously if it's still active.
Buttermilk – Store-bought buttermilk works best, but in a pinch, a buttermilk substitution can be made by putting 1 tablespoon of lemon juice or neutral-colored vinegar in a 1-cup measuring cup. Add 1 cup of milk, stir, then let rest a few minutes to allow the mixture to thicken before using.
Butter – I use salted butter since a touch of salt enhances even dessert recipes. There is not enough salt in the butter to make the cake taste salty.
Vanilla Extract – Read the label and make sure you're not using artificially flavored vanilla. Real vanilla extract always tastes superior.
How to Make
Though I love doctoring up a chocolate cake mix when time is short, there's nothing better than a cake from scratch. And when you add a third layer, it's even more celebratory!! It's the same Hershey's Chocolate Cake recipe, just divvied up between 3 cake pans. The buttermilk in the batter is the secret ingredient that makes the cake so unforgettable!
Get out all the ingredients needed. Note that the eggs and butter for the frosting should be at room temperature for easier incorporation.
Prep your pans and preheat the oven.
Mix the batter in the order directed.
Divide the batter evenly between the three pans.
Bake as directed.
Remove to cooling racks, release after 10 minutes or so, then making the frosting.
When completely cool, frost and layer the cakes.
Dig in!!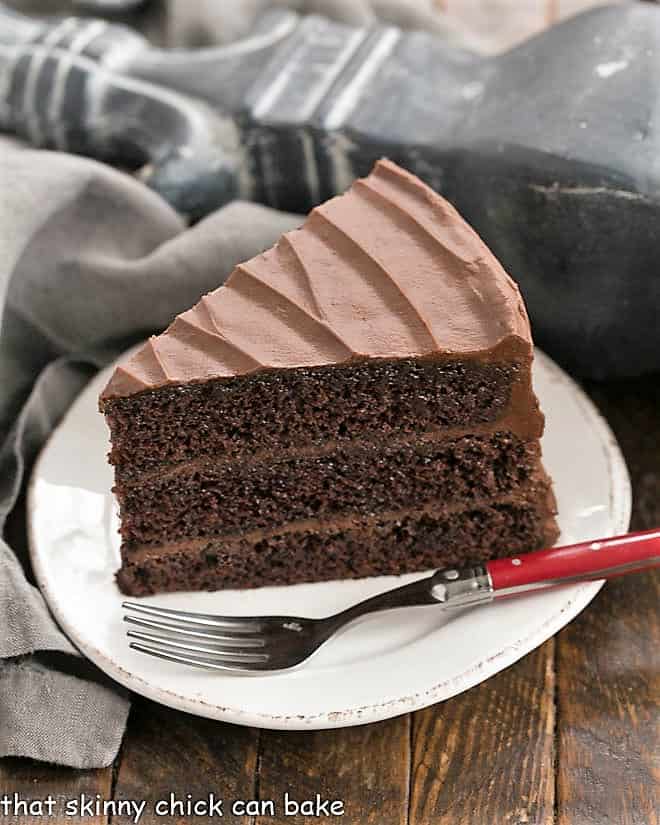 Expert Tips
PRO-Tip: Adding buttermilk is key to making a tender, moist cake.
By mixing together the dry ingredients first, the baking soda, baking powder and salt will be well dispersed before adding the liquids.
Preheat your oven before starting to make the batter.
Also, prep your pans before you start mixing. I like using Bakers Joy as it's one step, but you can also butter and flour the pans. Then line each pan with a round of parchment paper to ensure the bottoms release properly.
PRO-Tip: Don't skip the coffee. Coffee enhances the flavor of chocolate without an overt coffee flavor.
Pull your butter out of the refrigerator early so it comes to room temperature. This will make a creamier frosting.
Also, sift your powdered sugar before using. It's notorious for having small lumps and this will also help make a smoother frosting.
PRO-Tip: Cool your cakes about 10 minutes before releasing from the pans. This gives the exteriors enough time to firm up so the cakes retain their shape. I like to gently jiggle the pan back and forth or run a knife around the perimeter to make sure they release perfectly.
Make sure your cakes are cooled to room temperature before frosting so the frosting doesn't melt into the cake.
Frequently Asked Questions
What Does Buttermilk Do for a Recipe?
The acid in buttermilk helps break down the gluten fibers in the flour. Gluten is what gives baked goods their strength and structure. It forms an elastic web of proteins when the gluten-containing flour is mixed with liquid. If you want a tender cake, using cake flour works because it contains less protein/gluten. Since this recipe uses all-purpose flour, the buttermilk helps deactivate some of the gluten's power.
How Do You Bake Even Cake Layers?
There are two ways to make sure your cake layers are the same height. One is to use a few toothpicks to check the depth of the batter. Just add some batter to your pans, then use a clean toothpick to check the depth of each. Don't completely distribute the batter as you will need some extra to add to those pans that need some more. Add batter to those with less, checking and rechecking until all pans have about the same amount of batter.

A more efficient method is to use a kitchen scale. Having all the same brand of pans helps, so they all weigh the same. Start by adding batter to each pan without using all the batter. Weigh each pan and add more batter to the pans that weigh the least. Keep weighing and adding batter until all 3 pans weigh approximately the same and the batter is all used.
How Do You Bake a Flat-Topped Cake?
There are special fabric strips that are moistened and wrapped around the pans before baking. The moisture of these cake strips helps keep the edges from heating up faster than the middle and helps the whole cake bake at the same rate. You can make cake strips at home from an old towel. Just cut strips the height of your pan in a length that will wrap around the outside of the pan with enough overlap to pin to secure.
To use the cake strips, wet them and squeeze out excess moisture. Wrap around the outside of the pans and secure them with safety pins. Bake as directed. Alternatively, Wilton makes cake strips you can purchase. See a link in my recipe card FYI. They're also available at Michaels and JoAnn Fabrics.
You May Also Like:
Stay in touch through social media @ Instagram, Facebook, and Pinterest. Don't forget to tag me when you try one of my recipes! And if you love the results, please give it a 5-star rating in the recipe card. Note: As an Amazon Associate, I earn from qualifying purchases. Visit my Amazon Store for my favorite products.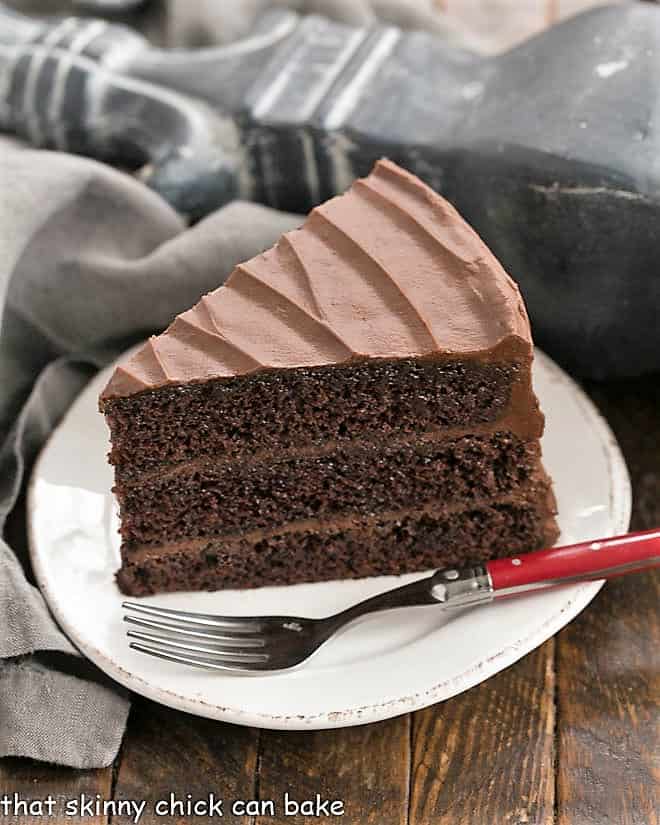 The Recipe:
Moist Chocolate Cake with Chocolate Buttercream Frosting
Prep Time 30 minutes
Cook Time 35 minutes
Total Time 1 hour 5 minutes
Yield 12 servings
A classic, old-fashioned chocolate cake with chocolate frosting! Perfect for birthdays and special occasions!
Ingredients
Cake:
2 cups sugar
1 3/4 cups flour
3/4 cup cocoa powder
1 1/2 teaspoon baking powder
1 1/2 teaspoon baking soda
1 teaspoon salt
2 eggs
1 cup buttermilk
1/2 cup (1 stick) butter, melted
1 tablespoon vanilla
1 cup hot coffee (I used one cup boiling water with 2 teaspoons instant coffee)
Buttercream Frosting:
12 tablespoons butter (at room temperature)
1 cup unsweetened cocoa powder
5 1/3 cups powdered sugar
2/3 cup milk
2 teaspoons vanilla
Instructions
Preheat oven to 350º. Grease and flour (or use Baker's Joy) three 9-inch cake pans, line with parchment rounds and grease the parchment, too. Set aside.
With a stand mixer, stir together the first 6 (dry) ingredients. Add eggs, buttermilk, butter, and vanilla and beat for about 2 minutes on medium speed, scraping sides of the bowl at least once. Stir in coffee.
Divide batter between the three pans. I like using a kitchen scale to divide the batter evenly. The batter will be thin.
Bake for 30-35 minutes or until a toothpick inserted in middle comes out clean. Cool for about 10 minutes, then run a knife around edges of pans. Carefully remove cakes from pans to a wire rack to cool completely. Gently remove parchment.
Cool completely before frosting.
To make the frosting, cream the butter. Add cocoa and powdered sugar alternately with milk. Beat until it reaches spreading consistency, adding more milk as needed. Mix in vanilla.
Notes
Adapted from Foodess and Hershey's.
If you do not have buttermilk on hand, a simple substitution is to add 1 tablespoon of vinegar or lemon juice to a 1-cup liquid measuring cup, then fill it with milk to the 1-cup mark. Let rest for 5-10 minutes to thicken, then mix and use.
Recommended Products
As an Amazon Associate and member of other affiliate programs, I earn from qualifying purchases.
Nutrition Information:
Yield:
12
Serving Size:
1 slice
Amount Per Serving:
Calories: 568
Total Fat: 14g
Saturated Fat: 8g
Trans Fat: 0g
Unsaturated Fat: 4g
Cholesterol: 63mg
Sodium: 546mg
Carbohydrates: 105g
Fiber: 3g
Sugar: 82g
Protein: 7g
Note: This post may contain affiliate links; view
my Disclosure Policy
for details. I earn a small percentage from any purchase you make by clicking on these links at no extra cost to you.