Devil's Food Cake
One of the most luscious, traditional chocolate cakes, this Devil's Food Cake is rich and iced with chocolate buttercream frosting.
Super moist and fluffy, this chocolate layer cake was an enormous hit with my family. We were practically wrestling with each other for the last slice! It's one of the best chocolate cake recipes I have ever made.
Why You Must Make
A chocolate layer cake is perfect for any celebration, especially for birthdays!
Devil's food cake is dark and dense and a classic chocolate cake that's been popular for over a century!!!
Paired with a rich, glossy chocolate buttercream frosting makes every bite irresistible!!
Ingredient Notes:
Kitchen Staples – Butter, Sugar, Eggs, All-Purpose Flour, Baking Soda, Salt, Milk
Vanilla Extract – Make sure it's real vanilla, never imitation
Cocoa Powder – I use Ghirardelli brand. Always sift before using.
Baking Powder – Often expires in your pantry. Check the expiration date, and if you're unsure if it's active, pour some in a bowl of very hot water. If it's active, it will bubble vigorously. If it doesn't, toss and buy a new tin.
Buttermilk – The acid in the buttermilk helps make a tender cake. If you don't have buttermilk on hand, you can make a substitute by putting a tablespoon of lemon juice or a neutral-colored vinegar in a one-cup liquid measuring cup. Fill to the one-cup mark with 2% or whole milk. Stir and let stand for a few minutes. It will curdle slightly and can be used cup for cup for buttermilk. You will need more than 1 cup for this recipe.
Powdered Sugar – Sift before using.
How to Make a Four-Layer Version
I've made this cake with 2 layers and with 4 layers. To make a 4-layer cake, just bake up the two layers and when they're cool slice them in half horizontally, then stack, adding frosting before adding the next layer.
PRO-Tip: To cut the layers in half, insert toothpicks around the perimeter of the cake, a little more than halfway down the sides. This helps guide the knife while cutting the layers in half. Maybe not my best effort but it definitely helps!
I normally can leave sweets alone, but this cake is probably one of the best chocolate cake recipes I've made in years. Even Katie, the picky daughter, ate her fair share. When the whole family loves one dish, especially one dessert, it's noteworthy. This cake needs a pedestal…it's earned it.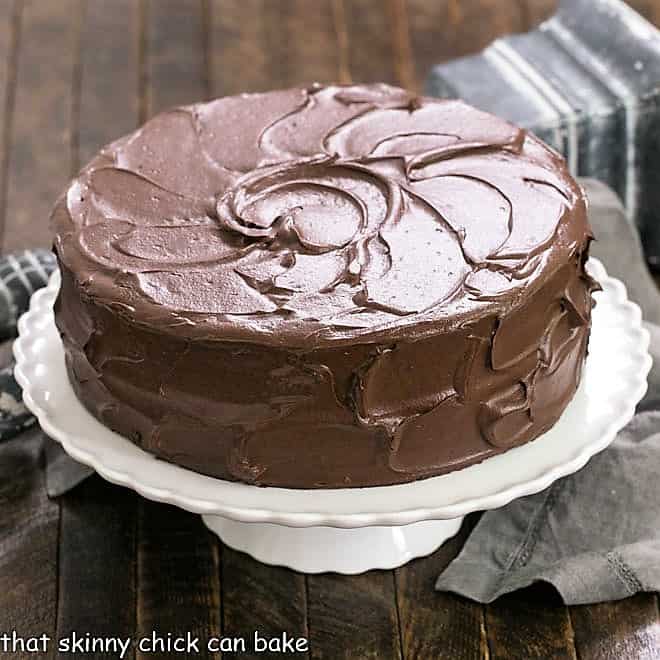 Tips for Frosting a Layer Cake
Start the process even before baking by making each layer the same height. You can do this by weighing the batter in the pans or checking the depth of the batter with a ruler or even a toothpick.
Make sure you have enough frosting. This recipe for frosting adds a thin coating between the layers. If you keep this as a two-layer cake, the frosting will be thicker.
Real Simple suggests putting a dab of frosting on the cake stand to secure the bottom layer.
Next tuck strips of parchment or wax paper under the perimeter of the cake. This will help keep the cake stand or plate clean.
Start with the first layer, flat side down. Eyeball the frosting and add just enough to make a relatively thin layer across the surface to the edges. Use an offset spatula to spread.
Repeat with the remaining layers, saving enough to frost the sides. Use your offset spatula or even a bench scraper to smooth or make a textured pattern with the frosting.
Frequently Asked Questions
What is Devil's Food Cake?
According to The Food Lover's Companion, Devil's Food Cake is a dark, dense baked chocolate item. On the opposite end of the spectrum is the airy, white angel food cake. With cocoa powder instead of melted chocolate and extra baking soda or leaveners, this cake is richer, darker, and fluffier than other chocolate cakes.
Where did Devil's Food Cake get its name?
In the early 1900s, cakes were often given fancy names, but there's only speculation on how a devil's food cake got its name. One thought was that the dark rich color was totally the opposite of an angel food cake, playing off the angel and devil opposition. Or that it was "devilishly" rich compared with other chocolate cake options!
Is a Red Velvet Cake a Devil's Food Cake?
Although a red velvet cake has cocoa powder as one of its ingredients, its red hue is quite different from the deep, dark brown of a Devil's food cake. Plus, red velvet is frosted with vanilla buttercream or cream cheese frosting instead of chocolate buttercream.
But adding red coloring to a devil's food cake would make it into a red velvet cake, albeit one with a more muted red appearance.
You May Also Like:
Typically reserved for birthdays at our house, a layer cake is worthy of any celebration. Though chocolate seems to be most requested at our house, and we LOVE this Devil's Food Cake Recipe, it's nice to shake things up from time to time!
The Recipe:
Devil's Food Cake
Prep Time 40 minutes
Cook Time 35 minutes
Total Time 1 hour 15 minutes
Yield 12 servings
A terrific celebratory cake you can make with 2 or 4 layers sandwiched with rich chocolate buttercream frosting.
Ingredients
For the cake:
2/3 cup butter, at room temperature
1 3/4 cups sugar
3 eggs
1 teaspoon vanilla
2 cups all-purpose flour
1/2 cup unsweetened cocoa
1 teaspoon baking powder
3/4 teaspoon baking soda
1/2 teaspoon salt
1-1/2 cups buttermilk
For the frosting:
3/4 cup butter
1 cup cocoa powder, sifted
4 1/2 cups powdered sugar, sifted
1/2 cup milk
1 1/2 teaspoons vanilla extract
Instructions
Preheat the oven to 350°. Grease and flour two 9-inch cake pans.
In a stand mixer fitted with the whisk attachment, beat butter, sugar, eggs, and vanilla until fluffy. In a mixing bowl, whisk together flour, cocoa, baking powder, baking soda, and salt.
Switch to the paddle attachment and add flour mixture alternately with buttermilk to butter mixture, mixing just until smooth. Make sure to scrape the bottom of the bowl partway through the mixing time. Pour batter into prepared pans.
Bake 30 to 35 minutes or until a wooden pick inserted in the center comes out clean. Cool 10 minutes; remove from pans to wire racks. Cool completely.
Then slice each piece in half horizontally if you plan to make a 4-layer cake or leave them whole for a standard 2-layer cake.
When the cake is cool, make the frosting. Melt the butter in a large microwave-safe bowl. Stir in the cocoa powder. Alternatively add part of the powdered sugar and part of the milk, beating to spreading consistency.
Use immediately or cover and store in the refrigerator.
Notes
The cake recipe is adapted from Hershey's.
To make a buttermilk substitute, simply add a tablespoon of lemon juice or a neutral vinegar like white or cider to a one-cup liquid measuring cup. Fill the cup with milk to the one-cup mark. Stir and let rest for a few minutes while the mixture thickens. Measure and use as directed. If you need more than one cup, repeat.
If you make a 4-layer cake instead of a 2-layer cake, make a batch and a half or a double batch of frosting. This depends on how much of a frosting lover you are!
Nutrition Information:
Yield:
12
Serving Size:
1 slice
Amount Per Serving:
Calories: 632
Total Fat: 29g
Saturated Fat: 16g
Trans Fat: 1g
Unsaturated Fat: 11g
Cholesterol: 101mg
Sodium: 449mg
Carbohydrates: 88g
Fiber: 2g
Sugar: 67g
Protein: 7g
I was planning to make beef tenderloin for yesterday's Beef Checkoff post, so decided to invite Tom, our oldest, over for dinner, to celebrate his birthday 20 days early. A fabulous chocolate birthday cake was definitely in order. Being the wise guy that he is, Tom posted a photo of this chocolate layer cake to Instagram with this comment: My birthday cake 20 days early because my parents are bad at calendars. Or maybe it's for Pearl Harbor Day, I dunno. The best response: You can be bad at calendars when you're that fabulous at baking.
Tom does have nice friends. But there was definitely a rational reason for the premature b-day bash. We will be boarding an early flight (yawn) to LA on the morning of his birthday, and most likely eating Christmas leftovers from the day before, so if he wanted a day all about him, this was the best I could do! I don't think he had a single complaint.
Note: This post may contain affiliate links; view
my Disclosure Policy
for details. I earn a small percentage from any purchase you make by clicking on these links at no extra cost to you.