Fall Off the Bone Oven Baked Ribs
These fall off the bone Oven Baked Ribs with an amazing dry rub are moist, tender, and flavorful! No knife is ever needed, but stock up on napkins.
The tasty spice rub, a brief stint on the grill, then an oven braise in beer make for one delicious Baby Back Ribs Recipe.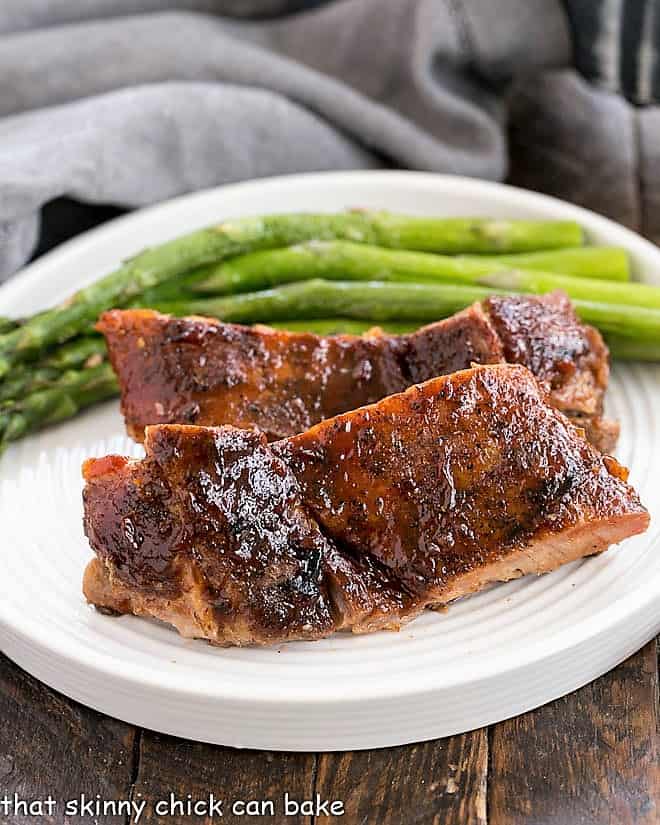 Why You Must Make
I'm not a huge fan of barbecue sauce or anything with a smoky flavor, but these baked ribs were sublime. The meat was incredibly tender and flavorful, so tender it was falling off the bone! They are first covered with a dry rub and left in the fridge to absorb some of the flavors, briefly grilled then slowly cooked in the oven for up to 6 hours to reach the most tender state.
I used to bake then grill, but they're so darn tender that it's impossible to get a rack off the grill in one piece! I've recently found that grilling first then slow baking prevents you from losing ribs to the grill! Been there, done that.
This tested technique works great. You get some charcoal flavor and umami from the short time on the grill.
Plus, the results are super tender ribs from slow cooking them in the oven after grilling. They really do "fall off the bones!"
And finally, the rub is amazing! There is nothing bland about these ribs as spice rub is delicious. Applying it the night before allows for the best flavor infusion.
Ingredient Notes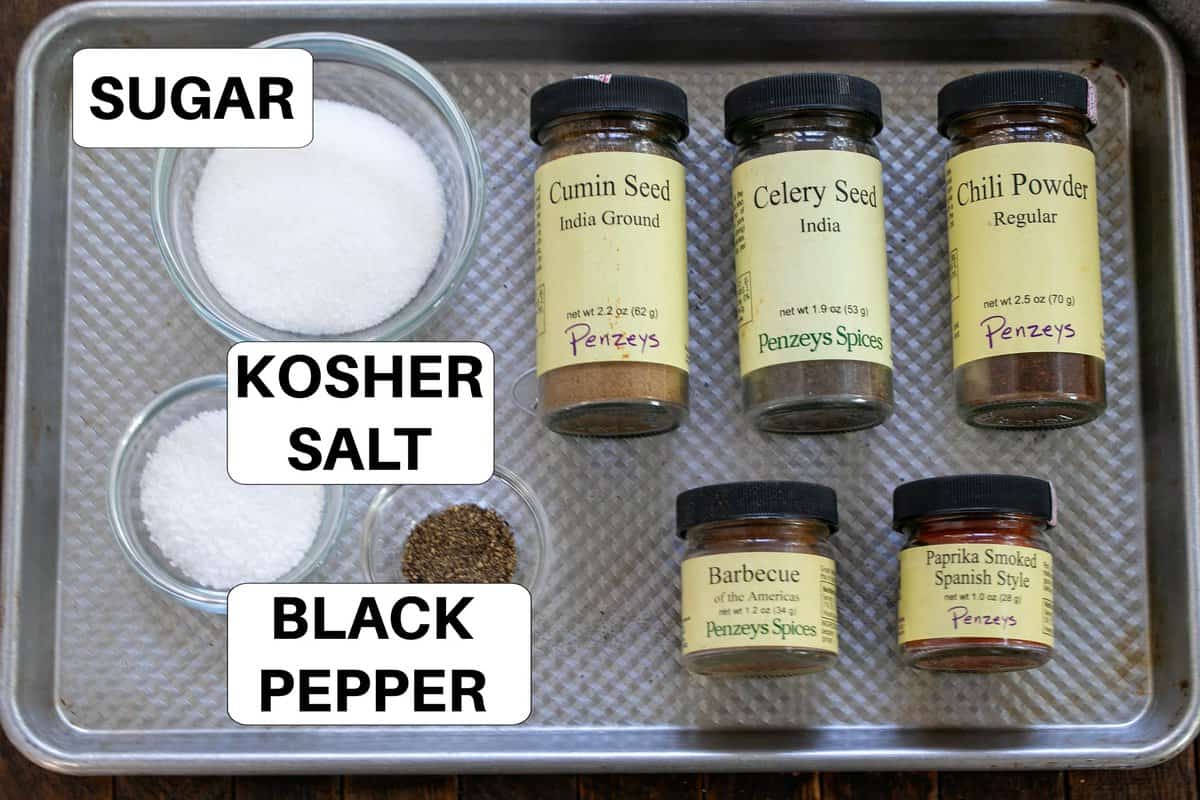 Kitchen Staples – Sugar, Kosher Salt, Black Pepper
Smoked Spanish Paprika
Ground Cumin
Celery Seed
Barbecue Spice Mixture – I use a Penzey's brand that is no longer available. See note below for the ingredient list for "Barbecue of the Americas" spice mixture. Any other pork rub or rib rub will work as a substitute.
Chili Powder
2 Racks Pork Baby Back Ribs – Membranes removed from the back side. See if your butcher will do this for you.
Beer – I split one bottle between two trays of ribs.
2+ pounds pork ribs (baby back) – membranes removed from backs (2 racks)
1 can or bottle of Beer
How to Make
This is our go-to baked ribs recipe. Besides getting thumbs up from the hubby, these are the only ribs my oldest son has ever liked. There's no need to gnaw on the bones, the meat slips right off. Mmmmm.
1. Apply the Dry Rub
The night before you plan to cook your ribs, mix up the dry rub. Divide it between your racks and rub across all surfaces. I like to place the ribs on a rimmed baking sheet and cover with plastic wrap before refrigerating them overnight. The flavorful rub is mighty potent with paprika, cumin, chili powder, and a special barbecue mixture from Penzey's (worth making a purchase!). It could permeate any uncovered food in the fridge!
PRO-Tip: Rub your ribs with flavorful spice mixture the night before you plan to grill. A shorter time is fine, but if you have the opportunity to cover your pork ribs with the dry rub 24 hours ahead of time, they will be extra flavorful.
2. Grill Before Baking
4 to 6 hours before you plan to eat, fire up the grill and brown the ribs. PRO-Tip: Any browning activates the Maillard reaction which is a chemical reaction that builds flavor! Plus, if you precook on a charcoal grill, you'll get some terrific smoky undertones, too.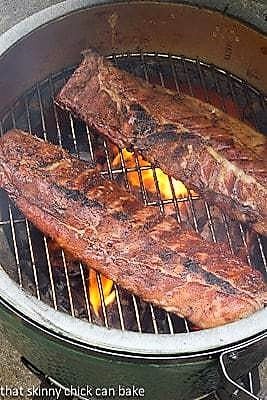 3. Bake Low and Slow
Put a couple of lengths of heavy-duty aluminum foil on a rimmed sheet pan, then place the ribs on top of the foil in the pan. Pour the beer around the ribs, then fold up and seal the foil. Slide the ribs into a 250-degree oven to bake low and slow. Don't worry if you aren't a fan of beer, just think of it as flavorful steam. You won't taste the beer in the finished product. And there's also no need to use the "good" beer, as my husband calls his stash! PRO-Tip: Alcohol is a flavor enhancer, just like salt. The alcohol will evaporate with this long baking time.
I like to bake the full 6 hours, though the ribs really, really fall off the bones at this point. If you're short on time, 4 hours is definitely adequate.
4. Glaze the Ribs
Use your favorite barbecue sauce for the last step. We have a neighbor who graciously shares her secret family recipe with us every year. I have no idea what's in her sauce, but we smear it on everything, including these ribs. Slather the ribs with the BBQ sauce of your choice and return to the oven with the broiler on. Watch carefully and broil for a couple of minutes to caramelize the ribs. We've also made them without a glaze and they're delicious that way, too.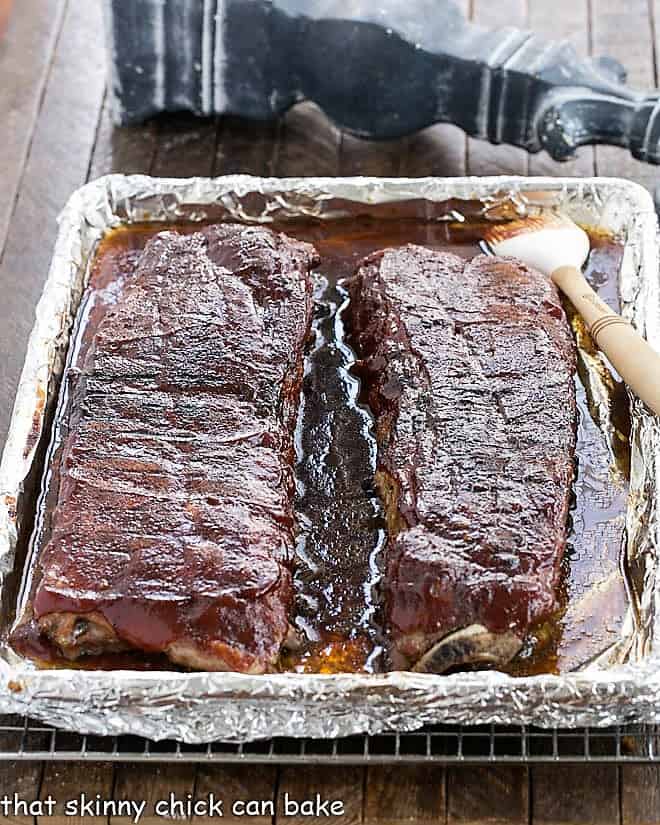 How to Serve
Cut into individual ribs or just divide each rack into thirds and divvy up onto dinner plates. Pass extra barbecue sauce and make sure to have plenty of napkins and wet paper towels or wipes available! Have a large platter in the center of the table to collect the bones. This is perfect for casual entertaining.
You can probably forgo the grilling first, but I love the bit of caramelization and flavor from a short stint on the grill. Since we finally have a gas grill along with our Big Green Egg, it wasn't much extra effort to briefly get some color on the meaty side of each rack.
Serving Suggestions:
Since ribs are meaty and rich, it's nice to contrast with fresh, lighter side dishes. Of course, with my family, potatoes are a must!
Here are some of our favorite sides: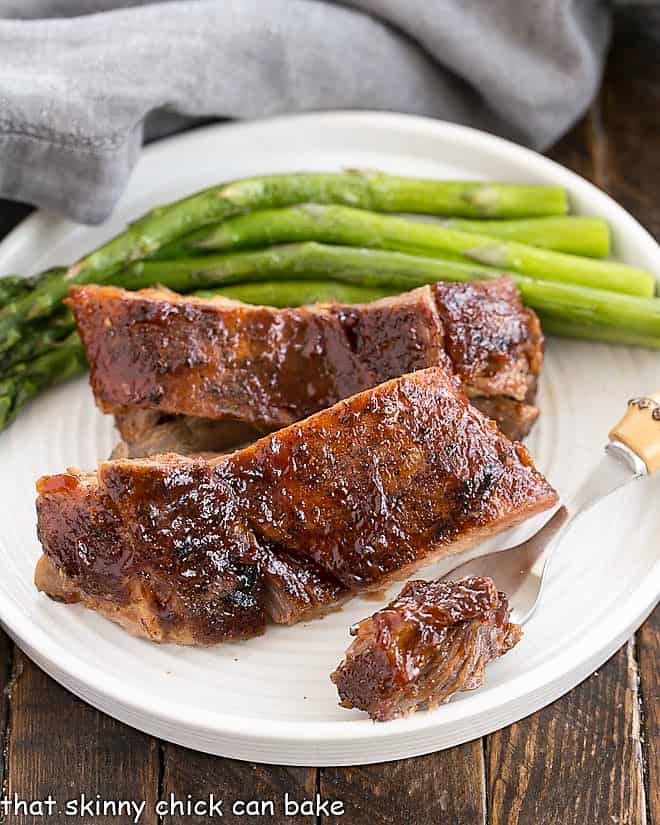 Expert Tips
I like buying my baby back ribs from my local butcher. They remove the membrane on the underside of the ribs which saves a step at home. It's worth asking if they'll do this for you at the meat counter. Otherwise, you can do it at home by inserting a knife under the membrane and pulling it off using pliers.
I have found super meaty baby back ribs at Trader Joe's, too.
If your ribs are too dry, they were cooked at too high of a temperature and too quickly. Remember, this is a low-and-slow recipe!
To cook in the oven, line your rimmed sheet pan or pans with heavy-duty foil. Place the ribs on the foil, add some beer, and seal the top of the pan with another sheet of foil. Cook for 4-6 hours or until the meat is falling off the bones.
If your ribs are tough, they were undercooked or the membrane was not removed. 
The rub I use is from Penzey's Fall Off the Bone Baby Back Ribs recipe. The cooking method is my own.
Frequently Asked Questions
What Are Baby Back Ribs?
First, they are not from baby pigs but instead are called "baby" ribs because they are smaller than spare ribs. They come from the loin muscle that runs along each side of the pig's spine. They tend to have lots of meat between and on top of the bones. Due to their meatiness, they tend to be expensive.
Why Do You Cook these Ribs Low and Slow?
After a stint on the grill, these ribs are placed in a low-temperature oven for 4- 6 hours. This slow cooking time allows much of the fat to melt and the meat to tenderize in the steamy environment. Cooking at a higher temperature can dry out the ribs, making them tough. These were cooked at 300° F for 4-6 hours after grilling briefly.
How Do You Serve Ribs?
First, provide lots of napkins or wipes as these ribs are finger food. Pass your favorite barbecue sauce at the table.
You May Also Like:
Stay in touch through social media @ Instagram, Facebook, and Pinterest. Don't forget to tag me when you try one of my recipes! And if you love the results, please give it a 5-star rating in the recipe card. Note: As an Amazon Associate, I earn from qualifying purchases. Visit my Amazon Store for my favorite products.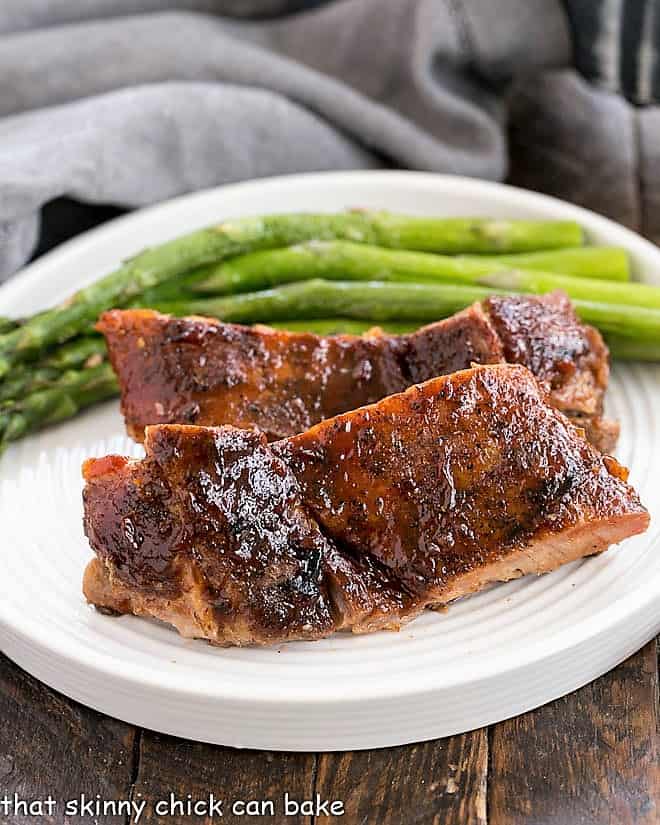 The Recipe:
Oven Baked Baby Back Ribs
Prep Time 10 minutes
Cook Time 6 hours
Total Time 6 hours 10 minutes
Yield 4 servings
Tender and flavorful baby back ribs! Adapted from a Penzey's recipe.
Ingredients
¼ cup sugar
2 tablespoons kosher salt
1 ¼ teaspoons smoked Spanish paprika or Hungarian sweet paprika
¾ teaspoon ground cumin
¼-½ teaspoon whole celery seed
¾ teaspoon Barbecue of the Americas (a Penzey's spice mixture). See note below for ingredients in this specialty spice.
¾ teaspoon chili powder
¼ teaspoon freshly ground black pepper
2+ pounds pork ribs (baby back), membranes removed from backs (2 racks)
1-2 cans of regular beer (I found some ale in the fridge which worked just fine)
Instructions
Combine all the rub ingredients and mix well. The night before serving or early in the day you're serving, rub ribs with spices. Let sit for at least 4 hours and up to overnight in the fridge covered with plastic wrap.
Prep the grill and grill meaty side down until slightly browned.
Place ribs on a baking sheet lined with two sheets of heavy-duty aluminum foil. Fold up all sides of the foil and pour beer over top. Seal tightly. Bake for 4-6 hours, till very tender.
Remove from the oven and preheat the broiler. Brush ribs with your favorite BBQ sauce and broil, watching carefully until slightly browned. Serve with more BBQ sauce.
Notes
Note, that you must add the rub to your ribs at least 4 hours or even better, the night before you grill. So make sure you allot enough time before you plan to cook them.
Nutritional data is based on 2 racks of ribs and 2 cans of beer and 6 servings.
If you can't wait to get some Barbecue of the Americas spice mixture, here are the ingredients: salt, paprika, allspice, nutmeg, cayenne, black pepper, white pepper, cinnamon, thyme (in order of larger to smaller quantity)
Recommended Products
As an Amazon Associate and member of other affiliate programs, I earn from qualifying purchases.
Nutrition Information:
Yield:
4
Serving Size:
1/2 rack
Amount Per Serving:
Calories: 389
Total Fat: 24g
Saturated Fat: 7g
Trans Fat: 0g
Unsaturated Fat: 11g
Cholesterol: 80mg
Sodium: 2206mg
Carbohydrates: 16g
Fiber: 1g
Sugar: 9g
Protein: 17g
Note: This post may contain affiliate links; view
my Disclosure Policy
for details. I earn a small percentage from any purchase you make by clicking on these links at no extra cost to you.