Marinated Vegetable Salad
I fell hard for this simple Marinated Vegetable Salad when treated to a Southern-style luncheon at a plantation along the Ohio River.
So refreshing and tasty, I was compelled to confirm what exactly was in the dressing so I could make this vegetable salad recipe at home!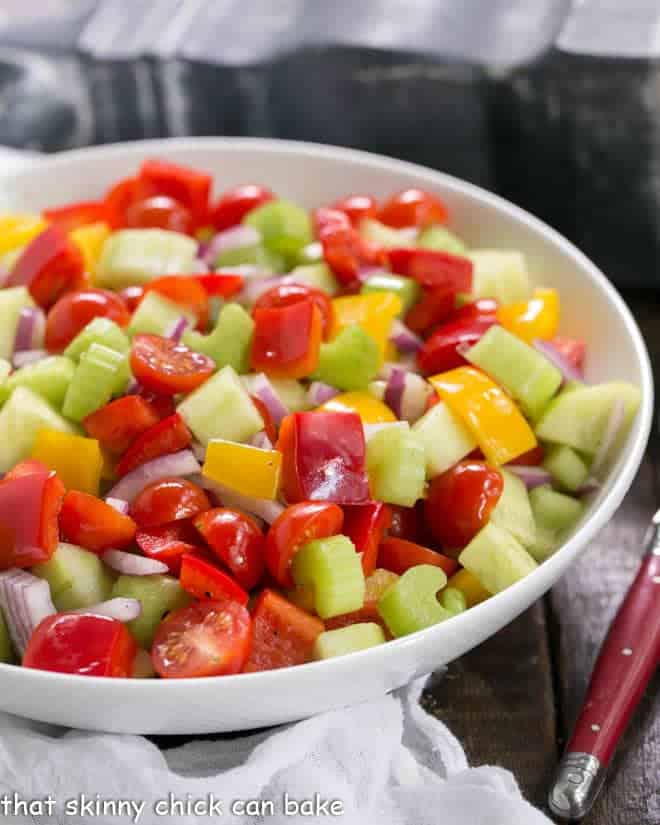 Why You Must Make this Summer Vegetable Salad
The salad dressing is super simple! Only 2 ingredients plus water, salt and pepper.
You can add or eliminate any vegetables in the recipe.
It's super light, cool, and refreshing, making it perfect for summer.
I'm definitely not one of those cooks who's able to taste a dish and figure out the exact ingredients and proportions. Thank goodness I was traveling with a girlfriend who happens to be a caterer. When we were chatting after lunch, I asked her about the dressing for this lovely salad. She referred to it as a "wet" dressing, a term that was new to me.
I was intrigued. Have you ever had a marinated cucumber salad? It's that kind of dressing. Sugar, vinegar and…..water! Salt and pepper rounded it out. The event caterer was a doll and answered all our questions—rattling off recipes for one of her cookies and letting us know where she obtained the inspiration for her banana cake. When I asked if there was anything besides those 3 ingredients in the dressing, she confirmed that this simple trio was the marinade.
Reader Endorsement:
From April: The marinated vegetables are absolutely wonderful! Could not get enough, me and the Family, so I made another batch again today. Very refreshing. This is the dish for Summer! Thank you for sharing!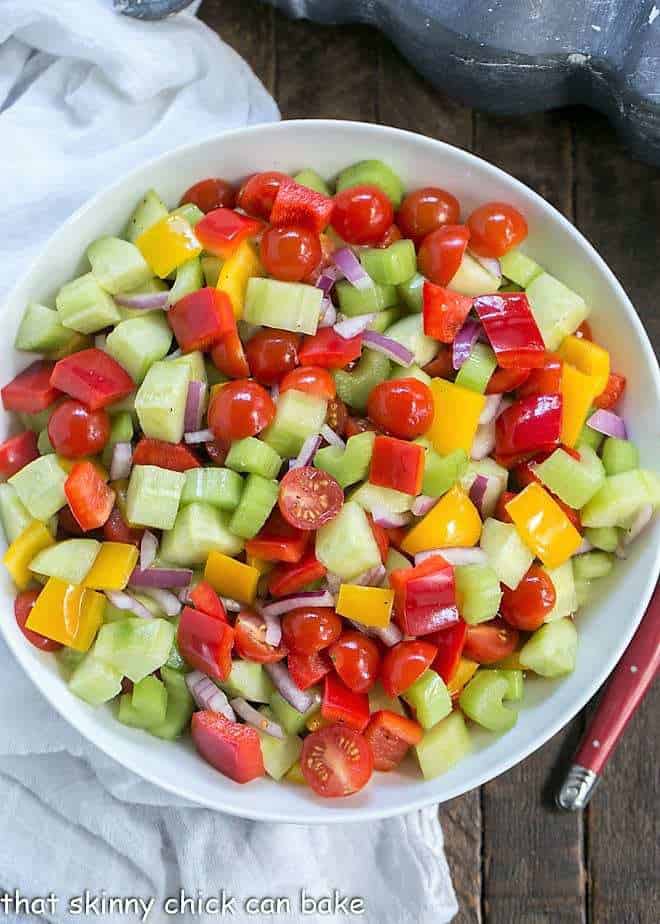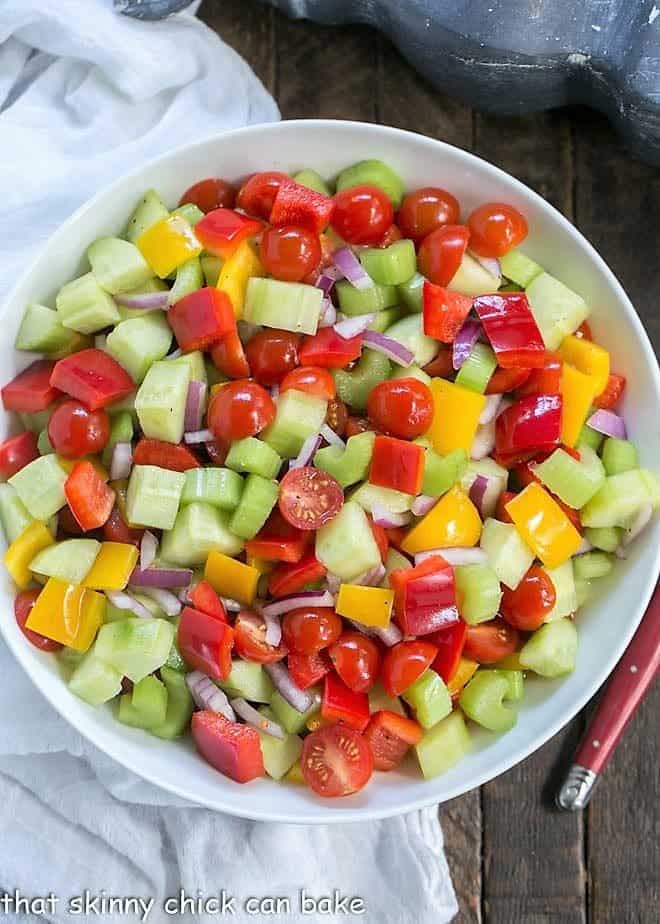 Detox Salad
As I was working on this post, I saw another blogger's version of a very similar salad, though the dressing proportions weren't exactly the same. She called it a detox salad, and I can see why. I just pulled up the nutritional content and a serving is only 65 or so calories and it's packed with vitamins and fiber.
This vegetable salad recipe is a terrific healthier dish to have around on Thanksgiving weekend. When everyone is moaning and groaning about overeating, this marinated vegetable salad could be the antidote!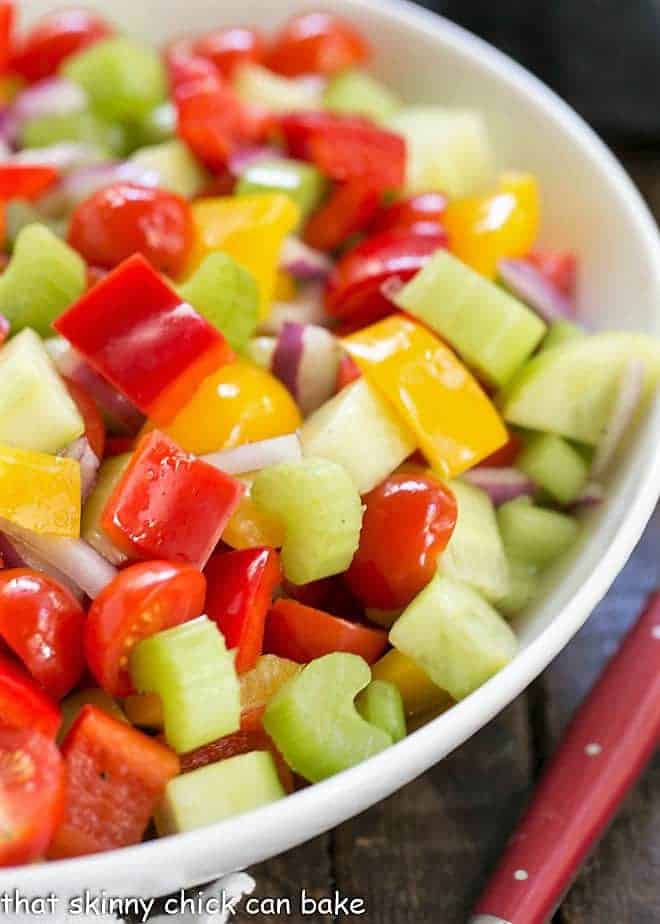 Tips for Making a Marinated Vegetable Salad
I like to make sure all vegetables are in nice bite-sized pieces.
Making the onion slices quite thin, then chopping them a little more, ensures no one gets a large chunk of onion. Though they do mellow out, losing their sharpness after sitting in the marinade.
Some dressings for similar salads include oil, but I don't think that it's needed at all.
Other recipes use double the pepper, but I feel that overwhelms the vegetables.
I like the ratio of 2 parts water to 1 part vinegar, but if you prefer a more pickled taste you can up the ratio to 1 to 1.
Also, more sugar can be added, but I prefer just a touch of sweetness, especially if you're using it as a detox salad. You could try using honey instead of sugar, but I haven't tested that alternative.
You May Also Like:
If you like a salad for lunch or with your evening meal, this Perfect Caesar Salad is always a hit or one of my favorite recipes from my sister, Arugula Salad with cucumbers, tomatoes, and avocados. This Easy Pasta Salad Salad Recipe is perfect for summer entertaining. Asian Slaw is another veggie-packed winner!
These salads have also caught my eye: Grilled Corn Salad, a Winter Green Salad with Poppyseed Dressing, and a Green Salad with Feta and Beets!
Plus, check my recipe index for More Salad Recipes.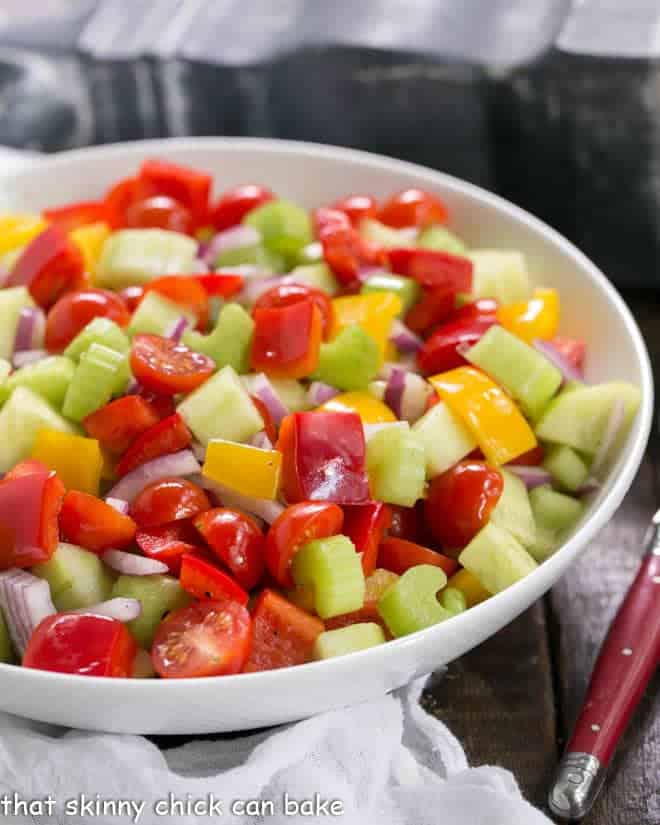 The Recipe:
Marinated Vegetable Salad
Prep Time 20 minutes
Total Time 20 minutes
Yield 8 servings
A simple salad chock full of fresh vegetables!
Ingredients
1 cup water
½ cup apple cider vinegar
¼ cup sugar
2 teaspoons salt
1 teaspoon pepper
1 pint cherry tomatoes (buy super sweet if available), cut in halves
3 bell peppers, ribs and seeds removed and diced into ½-inch pieces
3-4 stalks celery, sliced ¼ -inch thick
¼-½ cup thinly sliced red onion, bite sized pieces
1 English cucumber, peeled, quartered lengthwise and cut into ½-inch chunks
Instructions
Whisk together the water, vinegar, sugar, salt, and pepper in a large bowl.
Add the chopped vegetables and let marinate, covered, in the refrigerator for at least 2 hours, but overnight is even better.
Toss occasionally to allow all the vegetables to absorb the marinade.
Notes
I thought this tasted even better a day or two after making it!
Nutrition Information:
Yield:
8
Serving Size:
1 bowl
Amount Per Serving:
Calories: 79
Total Fat: 2g
Saturated Fat: 0g
Trans Fat: 0g
Unsaturated Fat: 1g
Cholesterol: 5mg
Sodium: 556mg
Carbohydrates: 15g
Fiber: 2g
Sugar: 10g
Protein: 2g
Note: This post may contain affiliate links; view
my Disclosure Policy
for details. I earn a small percentage from any purchase you make by clicking on these links at no extra cost to you.