Caesar Salad Recipe
Tweaking my go-to recipe with a creamy Caesar Salad Dressing made with a coddled egg, I developed the absolute Best Caesar Salad Recipe. You can now make this classic restaurant salad at home!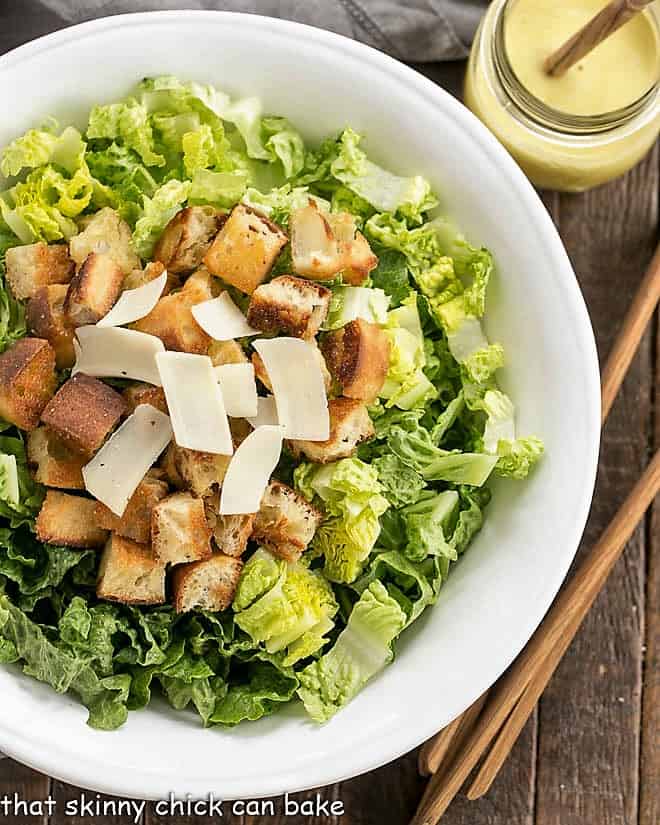 Why You Must Make
There is no raw egg in this recipe.
There are anchovies, but you won't notice any fishy flavor.
Homemade croutons push this over the top!
Bill happens to love Caesar salad. As long as the anchovies are not staring up at him or the possibility that he's ingesting raw eggs mentioned, he will order this whenever it's on the menu.
Ingredient Notes:
Romaine Lettuce Hearts – The hearts are easy to slice horizontally, then into smaller pieces if necessary.
Anchovy fillets packed in oil – The oil adds more richness to the salad.
Grated Parmesan cheese – Freshly grated, not the green can.
Fresh Lemon Juice – Never substitute bottled lemon juice.
Dijon Mustard – Helps emulsify the dressing.
Bread for croutons – Ciabatta or baguette.
Kitchen Staples – Black pepper, salt, garlic, olive oil, and eggs.
Note that Worcestershire Sauce is a popular addition to many Caesar salad recipes, but not this one. It provides umami.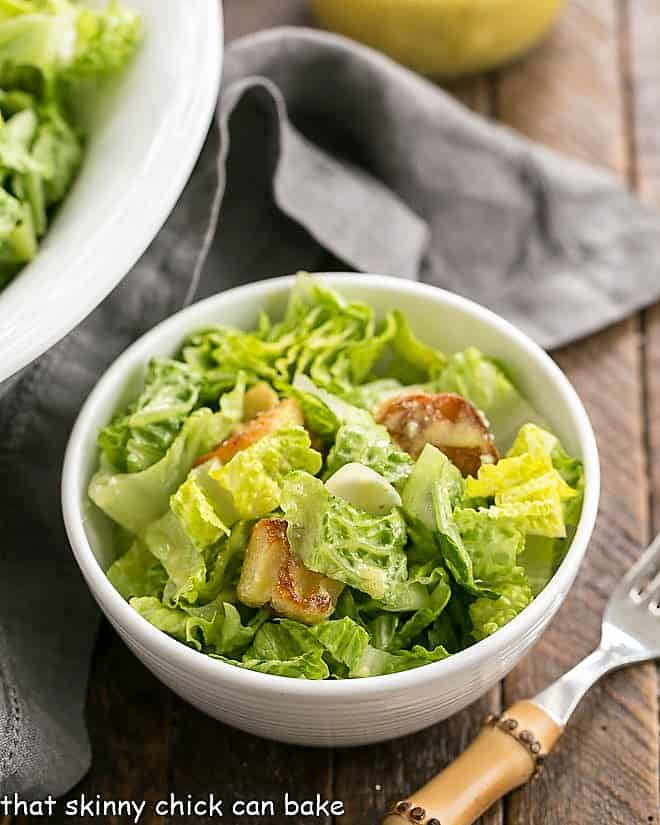 Expert Tips
PRO-Tip: Use a wooden salad bowl. You may want to designate one just for this salad as his second tip was to rub garlic all over its interior. Your bowl may never lose the garlicky essence! Note: I used a white bowl to show more salad details.
Next, do not skip (or skimp on) the anchovies. I made a paste out of mine with kosher salt and garlic, so they just provided a salty, depth of flavor without seeing pieces of anchovy.
No one is going to pick up on any fishy undertones—otherwise, Bill never would have ordered this classic a second time! Of course, you can add a few anchovies to garnish your salad if you love them!
Watch your salt. You'll need salt as an abrasive for the anchovy paste, but you can cut it down if desired. There is plenty of additional salt with the anchovies and Parmesan cheese.
PRO-Tip: Make homemade croutons. Simply cube some sturdy bread and saute in a mixture of butter and olive oil till toasted. Add a couple of cloves of garlic cut in half if you'd like garlicky croutons. A light sprinkle of salt and they're ready to go. Check out this recipe for 4-ingredient homemade croutons for details. They're SO much better than from a box!
Another tip is to hunt down a pasteurized egg or coddle an egg for this Caesar Salad Dressing recipe. You can coddle an egg for this salad dressing, but the classic recipe uses a raw egg. The pasteurization process brings the egg to a temperature high enough to kill any salmonella bacteria without cooking the egg. I've always used a pasteurized egg, but they're impossible to find locally, so I've gone to a coddled egg. See below for how to coddle an egg at home.
You can also take this recipe and add a few things to make a non-traditional, yet delicious twist on the classic Caesar. Try baby kale instead of Romaine lettuce, add some nuts or sunflower seeds for some more crunch, or mix in some avocado chunks, grape tomatoes, or even bacon. And to make it an entree salad, top each serving with some roasted salmon or chicken. Or how about a pasta Caesar salad? Cook up some pasta, cool, and mix with the salad dressing along with chopped veggies, cubed chicken, bacon, etc.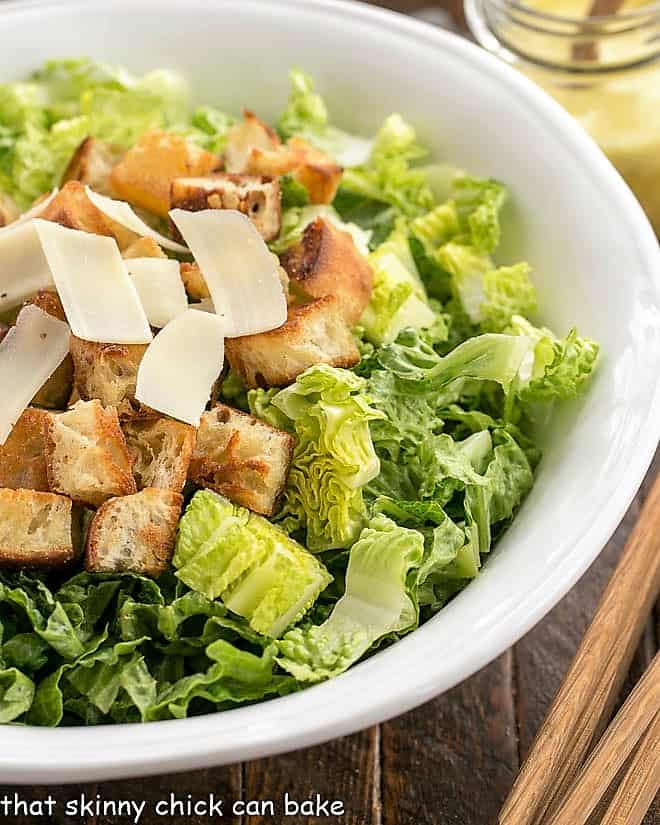 Frequently Asked Questions
What is the Origin of Caesar Salad?
You may think of a Caesar salad as an Italian creation that was possibly named after Julius Caesar. But both of those thoughts are misguided. The Caesar was most likely developed in Tijuana, Mexico, by an Italian American restauranteur, Caesar Cardini.
He owned a restaurant in the area and legend has it that in 1924, he created this recipe with what he had on hand, including romaine, garlic, croutons, Parmesan, boiled eggs, olive oil, and Worcestershire sauce. Anchovies were added a couple of years later. The original salad was eaten by using the romaine leaves to dip into the dressing.
How Many Calories in a Caesar Salad?
This lettuce salad is not exactly diet food with a serving having nearly 500 calories if heavily dressed and loaded with homemade croutons. My version rings up at 370 calories per serving, according to my nutrition calculator.
How Do You Coddle an Egg?
Coddling is a gentle cooking process most often used for eggs. There are two methods, one breaking an egg in a coddling dish, then placing it in simmering water until it comes to the desired doneness. The second method is to briefly submerge an egg in boiling  (or simmering) water until it comes to the desired doneness.
For the one coddled egg called for in this Caesar dressing, bring a pot of water to a boil. Prepare an ice bath by placing cold water and ice cubes into a mixing bowl. Set it next to your cooktop. Submerge a raw egg in the boiling water for one minute exactly, then remove and place it into the ice bath for just one to two minutes. Use as directed in the recipe. This coddling method helps minimize the chance of bacterial contamination which can come from using raw eggs in a dish. This is perfect for homemade mayonnaise and aioli recipes, too.
How Do You Make Croutons?
Buy sturdy bread like ciabatta, but French bread will work well, too. First, slice the bread into 1-inch cubes. Then melt 2 tablespoons of salted butter with 2 tablespoons of olive oil in a wide, flat-bottom pan. Add the bread cubes and saute, turning frequently until all sides are browned. Sprinkle with salt if desired. Store in an airtight container.
You May Also Like:
Stay in touch through social media @ Instagram, Facebook, and Pinterest. Don't forget to tag me when you try one of my recipes! And if you love the results, please give it a 5-star rating in the recipe card. Note: As an Amazon Associate, I earn from qualifying purchases. Visit my Amazon Store for my favorite products.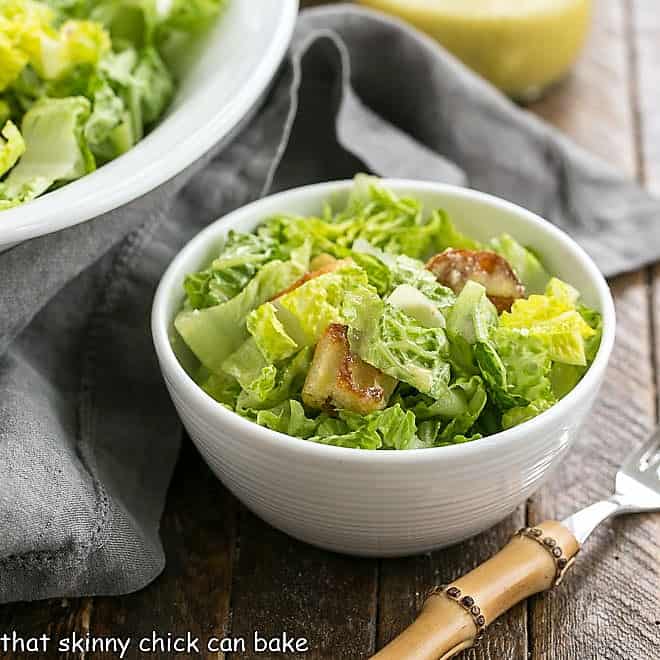 The Recipe:
Perfect Caesar Salad
Prep Time 10 minutes
Total Time 10 minutes
Yield 4 servings
A restaurant worthy Caesar salad you can make at home!
Ingredients
Salad:
3 Romaine lettuce hearts (cut into slices)
⅓ cup grated Parmesan cheese (may use shredded or shaved, too)
1 cup croutons, homemade preferred (saute bread cubes in olive oil and butter, then lightly salt)
Salad Dressing:
3 chopped anchovy fillets (packed in oil)
2 garlic cloves, chopped (plus another to rub salad bowl if desired)
¾ teaspoon kosher salt
1 egg yolk (coddled or pasteurized, then separated as will use only the yolk), lightly whisked
2 tablespoons fresh lemon juice
¾ teaspoon Dijon mustard
⅛ teaspoon freshly ground black pepper
¼ cup olive oil plus 2 tablespoons olive oil
Instructions
Rub garlic into a large wooden salad bowl if desired.
Add lettuce to bowl and top with croutons and Parmesan.
Coddle an egg by boiling one egg in a small pot of water for exactly 1 minute, Remove immediately and plunge into an ice water bath for about 3-4 minutes. Remove and set aside.
Make the salad dressing. First, place the anchovies, garlic, and salt on a cutting board. With the side of a chef's knife, mash and chop until the mixture becomes a paste.
In a medium bowl, whisk together the egg yolk, lemon juice, and Dijon. Slowly drizzle in the olive oil, whisking constantly until the mixture emulsifies (thickens) and has the consistency of mayonnaise.
Add the pepper and anchovy paste and mix until combined.
Toss the salad and the dressing before serving.
Notes
Recipe courtesy of my friend, Craig Thomson
As an Amazon Associate, I earn from qualifying purchases.
Recommended Products
As an Amazon Associate and member of other affiliate programs, I earn from qualifying purchases.
Nutrition Information:
Yield:
4
Serving Size:
1
Amount Per Serving:
Calories: 369
Total Fat: 33g
Saturated Fat: 7g
Trans Fat: 0g
Unsaturated Fat: 24g
Cholesterol: 64mg
Sodium: 829mg
Carbohydrates: 14g
Fiber: 4g
Sugar: 3g
Protein: 7g
Note: This post may contain affiliate links; view
my Disclosure Policy
for details. I earn a small percentage from any purchase you make by clicking on these links at no extra cost to you.