Coeur a la Creme with Raspberry Sauce
This dreamy Coeur a la Creme with Raspberry Sauce is made to impress! Made in the classic heart-shaped mold, it's perfect for Valentine's Day or anytime you need an impressive dessert!
Like a No-Bake Cheesecake Recipe, this heart-shaped dessert is ultra-creamy, decadent, and impossible to resist going back for seconds!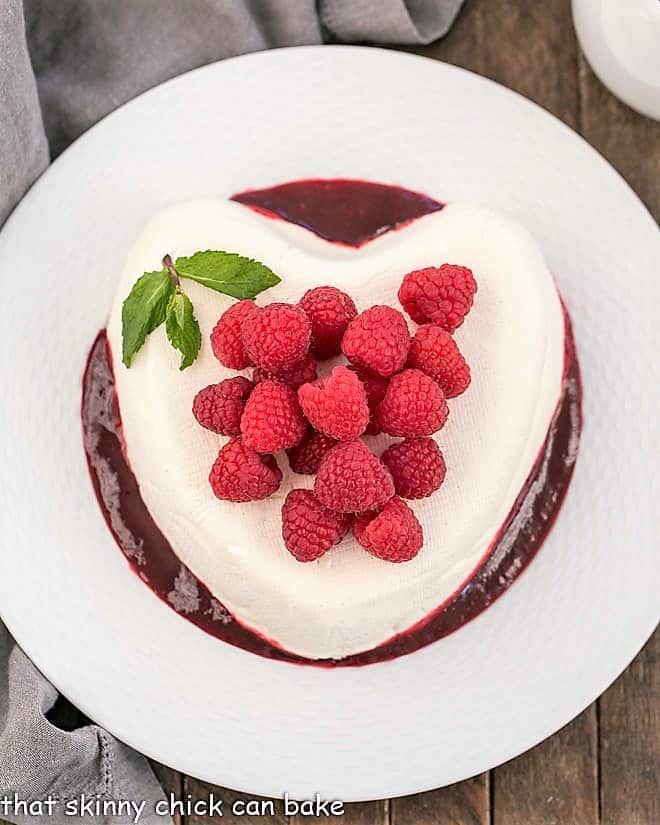 Coeur a la Creme with Raspberry Sauce
I bought a coeur a la creme mold a couple of years ago. I don't know what took me SO long to make this incredible coeur a la creme with raspberry sauce. It's a heavenly French dessert that's easy to make but requires overnight refrigeration.
Perfect for Valentine's Day as the ceramic dish with drainage holes in the bottom is in the shape of a heart. Mine has just a 2 cup capacity which was perfect for the 3 of us, practically a week's worth of decadence!
Frequently Asked Questions
What Does Coeur a la Creme Mean?
Coeur à la crème is a French phrase that translates to Heart with Cream.
How Do You Pronounce Coeur a la Creme?
In the dictionary, you'll find \ ˌkər‧ˌälə‧ˈkrem \ as the pronunciation. If you'd like it simplified, it is ker'-ah la-krem'.

How to Make a Heart-Shaped No-Bake Cheesecake Recipe
Both Katie and Bill were nodding their heads in approval as I rattled off the ingredients: cream cheese, cream, vanilla, raspberry sauce. A coeur a la creme is basically a no-bake cheesecake without a crust! The result is totally ethereal. Close your eyes, take a bite and you'll be in heaven. You'll also need a small wicker basket, ceramic coeur a la creme mold (affiliate link) or a makeshift version using a colander.
Line your basket, mold, or colander with cheesecloth, then add your mixture of ingredients. Cover the top with cheesecloth, place over a dish to catch the whey or the moisture that will drain, and refrigerate overnight. Before serving, unwrap and place on a serving plate.
This heart-shaped dessert can be served with fruit, like raspberries, a fruit sauce, or a sauce made of fine preserves.
Don't you love the delicate crosshatching on the surface? This sensational dessert involves a full day spent in the specialized mold, wrapped in cheesecloth, over a dish to catch any liquid drainage. Mine didn't produce much more than a few drops, the amount will vary depending on the water content of your ingredients.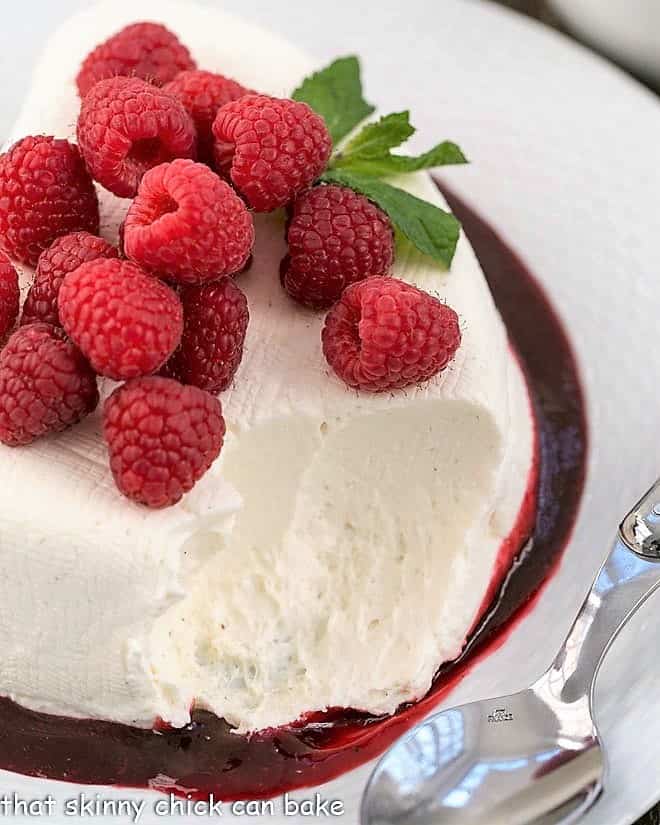 How to Serve a Coeur a la Creme
To serve, place the coeur a la creme on a serving plate. I put mine over a big ruby puddle of raspberry sauce, but you can use the sauce as a topping instead, then garnish with luscious fresh berries.
It would be equally as wonderful with a strawberry sauce, just use the best ripe berries you have available. Hubby definitely enjoyed this, even though there was no chocolate in sight.
But until Katie finished off the last two servings in one fell swoop, I did not realize how much she loved this creamy cloud of sweetness. I shouldn't have been surprised as this is just a lighter version of her favorite dessert, cheesecake. And an easy no-bake cheesecake at that!! Happy Valentine's Day to all of YOU!!!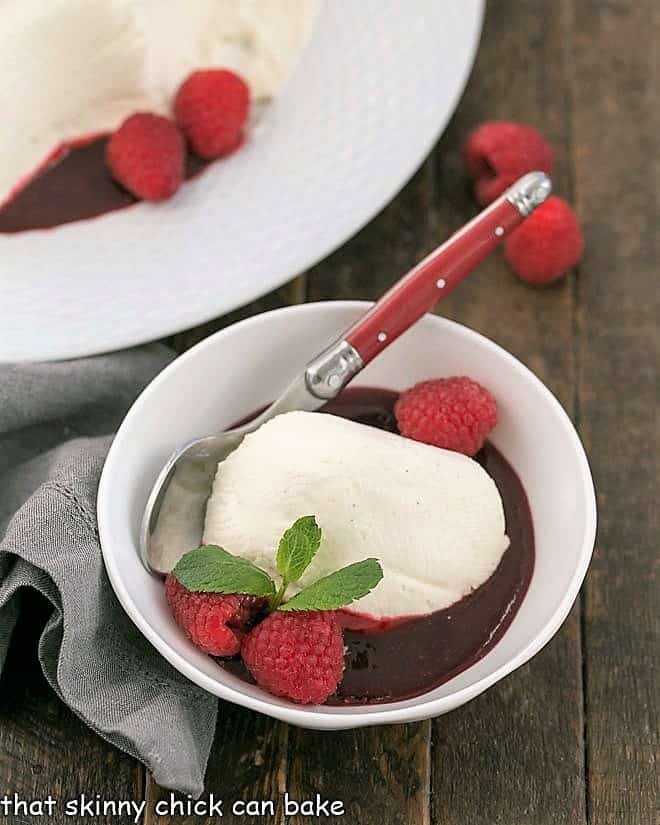 Tip of the Day: You do not need any specialized cookware to make this dish. Just line a bowl with a double layer of cheesecloth, add the cream mixture, fold cheesecloth over top to cover, and place the wrapped mixture in a strainer over a bowl. Refrigerate as directed. It will not be heart-shaped but it will delight your taste buds nonetheless!
More Valentine's Day Recipes You'll Love
This recipe was first shared in February 2013. Photos and text were updated in 2020.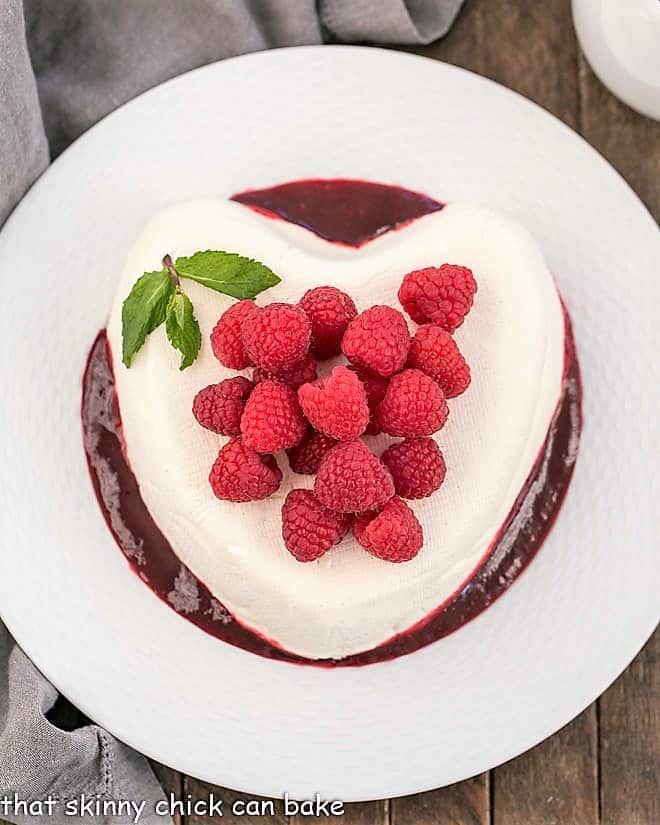 The Recipe:
Coeur a la Creme with Raspberry Sauce
Prep Time 30 minutes
Total Time 30 minutes
Yield 4
An exquisite no-bake cheesecake in a heart shape! Perfect for any celebration!
Ingredients
For Coeur a la Creme:
12 ounces cream cheese, at room temperature
1 1/4 cups powdered sugar
2 1/2 cups heavy cream
2 teaspoons vanilla bean paste (or vanilla extract)
1/4 teaspoon grated lemon zest
For Sauce:
1 cup fresh raspberries
1/2 cup sugar
1 cup seedless raspberry jam, I used Bonne Maman and strained the seeds
1 tablespoon Grand Marnier or other orange or berry liqueur
Fresh raspberries to garnish
Instructions
Beat the cream cheese and powdered sugar in a stand mixer with the paddle attachment on high speed for 2 minutes.
Change to a whisk attachment and mix tin the heavy cream, vanilla, lemon zest, and vanilla bean seeds on low, then increase mixer speed to high until the mixture is very thick, like whipped cream.
Line a coeur a la creme dish or a sieve with a piece of cheesecloth (large enough to drape over sides). Place over a bowl to catch any liquid drainage.
Scrape the cream mixture into the dish and fold cheesecloth over top. Refrigerate overnight.
To make the sauce, combine fresh raspberries, sugar and 2 tablespoons water in a small saucepan. Bring to a boil, then lower heat and cook for about 4 minutes.
Mix in jam and Grand Marnier. Put mixture in a food processor and pulse till smooth. Chill.
To serve, unmold coeur a la creme onto a serving plate. Drizzle the sauce around the perimeter and garnish with fresh berries.
Notes
Note that this dessert requires an overnight chilling/draining time.
My mold will not hold all the coeur a la creme, so I place the excess into small ramekins.
Recipe adapted from Ina Garten.
Recommended Products
As an Amazon Associate and member of other affiliate programs, I earn from qualifying purchases.
Nutrition Information:
Yield:
8
Serving Size:
1
Amount Per Serving:
Calories: 656
Total Fat: 42g
Saturated Fat: 26g
Trans Fat: 1g
Unsaturated Fat: 12g
Cholesterol: 127mg
Sodium: 167mg
Carbohydrates: 65g
Fiber: 2g
Sugar: 55g
Protein: 5g
Note: This post may contain affiliate links; view
my Disclosure Policy
for details. I earn a small percentage from any purchase you make by clicking on these links at no extra cost to you.