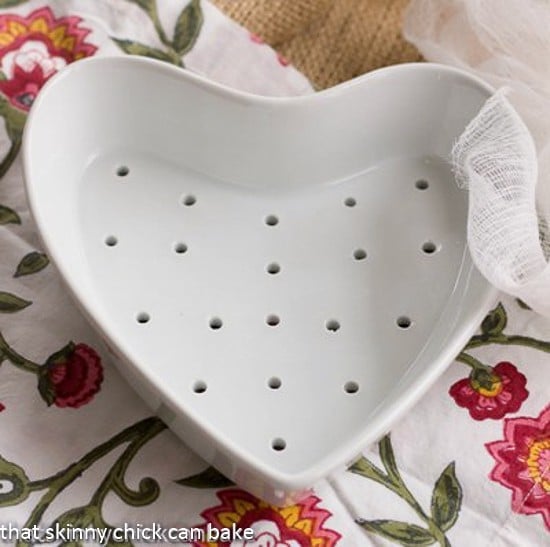 I bought a small coeur a la creme mold a couple years ago…and I don't know what took me SO long to make this incredible dessert. Perfect for Valentine's Day as the ceramic dish with drainage holes in the bottom is in the shape of a heart. Mine has just a 2 cup capacity which was perfect for the 3 of us…practically a week's worth of decadence! Both Katie and Bill were nodding their heads in approval as I rattled off the ingredients: cream cheese, cream, vanilla, raspberry sauce…the result is totally ethereal…close your eyes, take a bite and you'll be in heaven. Don't you love the delicate crosshatching on the surface? This sensational  dessert involves a full day spent in the specialized  mold, wrapped in cheesecloth, over a dish to catch any liquid drainage. Mine didn't produce much more than a few drops…the amount will vary depending on the water content of your ingredients.
To serve, place the coeur a la creme on a dish…I put mine over a big ruby puddle of raspberry sauce, but you can use the sauce as a topping instead…then garnish with luscious fresh berries. It would be equally as wonderful with a strawberry sauce…just use the best ripe berries you have available. Hubby definitely enjoyed this…even though there was no chocolate in sight. But until Katie finished off the last two servings in one fell swoop, I did not realize how much she loved this creamy cloud of sweetness.  I shouldn't have been surprised as this is just a lighter version of her favorite dessert….cheesecake.  Happy Valentine's Day to all of my Sunday Supper friends and all of YOU!!!
Tip of the Day: You do not need any specialized cookware to make this dish. Just line a bowl with a double layer of cheesecloth, add the cream mixture, fold cheesecloth over top to cover and place in a strainer over a bowl. Refrigerate as directed. It will not be heart shaped but it will delight your taste buds nonetheless!
And it doesn't stop there!  We've got TONS more dishes for you to celebrate in style. Thanks to Jen, of Juanita's Cocina, for hosting Sunday Supper this week. Make sure to check out what  the crew is serving up on Valentine's Day:
#SundaySupper Valentine's Day Breakfasts, Apps & Main Dishes:
#SundaySupper Valentine's Day Sweet Eats:
#SundaySupper Valentine's Day Drinks:
#SundaySupper Valentine's Day Tablescape:  A Romantic Table For Two Please from An Appealing Plan
Coeur a la Creme with Raspberry Sauce…#SundaySupper
6 ounces cream cheese (at room temperature)
1/2 cup plus 2 tablespoons powdered sugar
1 1/4 cups whipping cream
1 teaspoons vanilla
1/8 teaspoon grated lemon zest
Seeds scraped from 1/2 vanilla bean
For Sauce:
1/2 cup fresh raspberries
1/4 cup sugar
1/2 cup seedless raspberry jam (I used Bonne Maman and strained the seeds)
1 tablespoon Grand Marnier or other orange liqueur
Fresh raspberries to garnish
Beat cream cheese and powdered sugar in a stand mixer with the paddle attachment on high speed for 2 minutes. Change to a whisk attachment and mix tin the heavy cream, vanilla, lemon zest, and vanilla bean seeds on low, then increase mixer speed to high until the mixture is very thick, like whipped cream.
Line a 2 cup capacity coeur a la creme dish or a sieve with a piece of cheesecloth (large enough to drape over sides).Place over a bowl to catch any liquid drainage…leaving a space between dish/sieve and bowl. Scrape the cream mixture into the dish and fold cheesecloth over top. Refrigerate overnight.
To make sauce, combine fresh raspberries, sugar and 2 tablespoons water in a small saucepan. Bring to a boil, then lower heat and cook for about 4 minutes. Mix in jam and Grand Marnier. Put mixture in a food processor and pulse till smooth. Chill.
To serve, unmold coeur a la creme onto serving plate. drizzle sauce around perimeter and garnish with fresh berries.
Serves 4.
Raspberry and Grand Marnier Sauce:
1 half-pint fresh raspberries
1/2 cup sugar
1 cup seedless raspberry jam
2 tablespoons orange-flavored liqueur (recommended: Grand Marnier)
Place raspberries, sugar, and 1/4 cup water in a small saucepan. Bring to a boil, lower the heat, and simmer for 4 minutes. Pour the cooked raspberries, the jam, and orange liqueur into the bowl of a food processor fitted with the steel blade and process until smooth. Chill.
Yield: 2 cups
Disclosure: I received a variety of Bonne Maman products courtesy of the company, but the opinions stated in this post are my own.  I was not compensated in any way for writing this post.