Chocolate Coeur a la Creme
Ultra-smooth and creamy, this heart-shaped Chocolate Coeur a la Creme is the epitome of a Valentine's Day dessert! You won't believe how simple it is to make!
No baking needed to create this exquisite Heart with Cream, but it does require an overnight draining in the refrigerator, so plan accordingly.
Chocolate Coeur a la Creme
After a year-long debate with myself, I finally purchased a coeur a la creme mold. My pantries were full of odds and ends of specialty pans and trays, many of which were collecting dust. But the urge to make this lovely dessert did not dissipate, so I took the plunge and bought the heart-shaped ceramic dish with drainage holes in the bottom.
I'm sure you're not surprised that I tested out my new mold with a dreamy chocolate version! Heart-shaped desserts are an incredible way to end your Valentine's Day dinner. But don't wait until the holiday to give this dreamy dessert a try as it will get rave reviews any day of the year! These sandwich cookies are also a holiday family favorite.
Heart with Cream
Coeur á la Crème is French for "Heart with Cream," and I can think of nothing more apropos than this Chocolate Coeur a la Creme for the most romantic day of the year, Valentine's Day. Defined as a heart-shaped dessert, it's typically made of cream cheese whipped with cream or sour cream, then placed in a wicker or cheesecloth-lined mold to allow any excess liquid to drain.
Note the classic, fine, crosshatched markings across the surface from the cheesecloth. More traditionally garnished with strawberries, I think raspberries were also a divine pairing. Especially since I adore chocolate with raspberries!
What If I Don't Have a Mold?
Don't worry if you don't have the ceramic Coeur á la Crème mold. I have an easy substitute. Line your colander with cheesecloth and you're set. Even a metal sieve will work. Your dessert will not be heart-shaped, but it will be delicious!!
Just make sure to put your colander (or sieve) over a bowl in the refrigerator as it drains overnight. This will prevent a mess in your fridge!
How Do You Celebrate Valentine's Day?
Do you head out for a romantic dinner? Or do you dine in? After nearly 3 decades of marriage, the hubby and I enjoy a cozy, home-cooked meal followed by a chocolate (of course) dessert. This chocolate coeur a la creme, served over a puddle of raspberry sauce, thrilled my Valentine. Don't you think yours would be just as enamored???
More Valentine's Day Desserts You'll Love: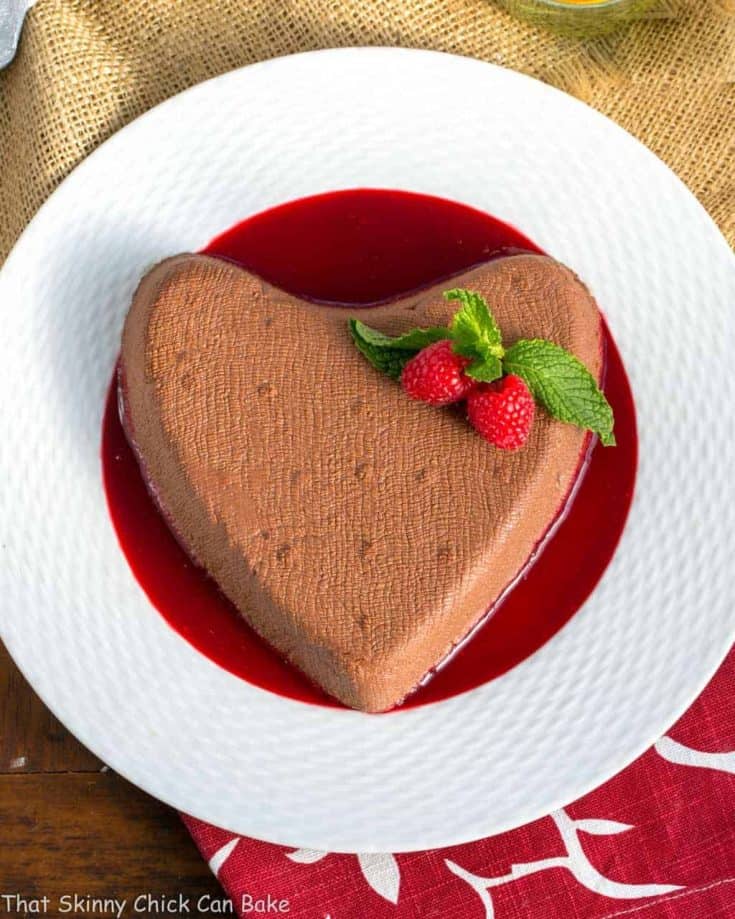 The Recipe:
Chocolate Coeur a la Creme
Prep Time 20 minutes
Total Time 20 minutes
Yield 6 servings
A creamy, chocolate heart shaped dessert that's perfect for your Valentine.
Ingredients
6 ounces cream cheese, at room temperature
1 cup powdered sugar
1 teaspoon vanilla extract
1/4 cup plus 2 tablespoons unsweetened cocoa powder
2 tablespoons butter, at room temperature
1 cup whipping cream, divided
Raspberry sauce or puree and fresh raspberries, to garnish, optional
Instructions
Line a 2 cup capacity coeur a la creme mold with a double layer of dampened cheesecloth, making sure to have enough overhang to fold back over to cover dessert.
Combine 1/2 cup whipping cream and butter in a microwave safe bowl and heat till butter melts. Whisk in cocoa powder till smooth hand mixer if needed). Let cool.
Beat cream cheese, powdered sugar and vanilla in small bowl till smooth. Add cocoa mixture and mix to combine. Add the remaining 1/2 cup whipping cream and beat until well blended. Spoon mixture into the coeur a la creme mold. Fold cheesecloth over top. Place the mold on a rack with a pan beneath and allow to drain in the refrigerator at least 8 hours.
To serve, remove cheesecloth. Garnish with raspberry sauce and fresh berries if desired.
Notes
Total time does not include draining time.
Recommended Products
As an Amazon Associate and member of other affiliate programs, I earn from qualifying purchases.
Nutrition Information:
Yield:
6
Serving Size:
1
Amount Per Serving:
Calories: 375
Total Fat: 28g
Saturated Fat: 17g
Trans Fat: 1g
Unsaturated Fat: 8g
Cholesterol: 84mg
Sodium: 132mg
Carbohydrates: 29g
Fiber: 1g
Sugar: 24g
Protein: 3g
Note: This post may contain affiliate links; view
my Disclosure Policy
for details. I earn a small percentage from any purchase you make by clicking on these links at no extra cost to you.