Chocolate Terrine with Raspberry Sauce
Chocolate Terrine with Raspberry Sauce is the perfect option for an elegant chocolate dessert to add to your menu! This sublime chocolate terrine is the perfect option.
This Chocolate Mousse Terrine is ideal for the holidays, dinner parties, and special family gatherings. It makes a stunning presentation served on top of a vibrant, sweet raspberry sauce.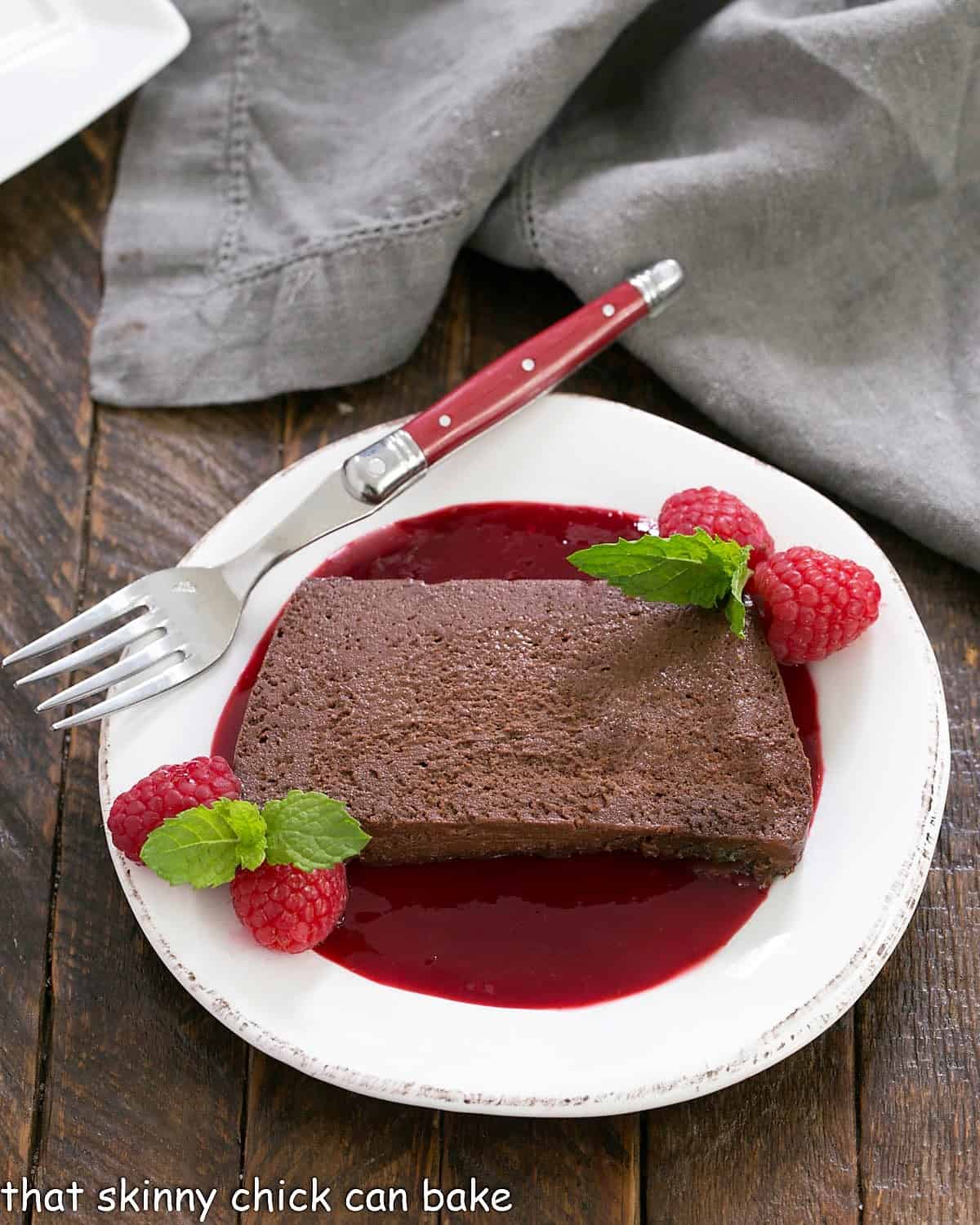 Why You Must Make
If your family is anything like mine, they demand a chocolate dessert on any special occasion. On Thanksgiving, a French silk pie joins the pumpkin. On Easter, a fudge lamb accompanies the layer cake or mousse. Christmas is up for grabs…and I have a feeling this chocolate terrine will be requested again.
It's rich and chocolaty!
A simple sauce makes it holiday-worthy.
It can be made the day before so you're not fussing with dessert while finishing up the rest of the menu.
Ingredient Notes:
Butter – I use salted as salt is a flavor enhancer, even in desserts. The amount in butter will not make the dessert salty. I also add a wee bit of salt to the chocolate mousse mixture.
Semisweet Chocolate – I recommend Ghirardelli bars. They'll melt better than chocolate chips, which can be used in a pinch.
Instant Coffee – Coffee enhances the flavor of chocolate. It may be omitted if that's your preference.
Powdered Sugar and Cocoa Powder – Sift to remove any lumps
Extra Large Eggs – Separate when cold as the yolks are less likely to break. Make sure the 3 egg whites you reserve aren't contaminated with any yolk or they won't whip properly. Note: the eggs will not be cooked so use pasteurized eggs if you have access or else use caution if serving this to the elderly, very young, or anyone with a compromised immune system.
Heavy Cream – Should be at least 36% butterfat to whip properly.
Kahlua – a coffee liqueur. As noted above coffee enhances the flavor of chocolate, plus alcohol is a flavor enhancer as well. This is optional or you may use another liqueur that would complement chocolate like Grand Marnier (orange).
Vanilla – Use pure vanilla extract, never imitation.
Lemon Juice – Never use bottled juice from the grocery store shelves, always freshly squeezed for the best flavor.
Expert Tips
If you're going to unmold your terrine, make sure to line your loaf pan with plastic wrap.
Use pasteurized eggs if serving at-risk guests including the very young, very old, or immunocompromised. Uncooked eggs are in this mousse recipe.
There is no substitute for the eggs as they provide both the silky texture and the lightness for this mousse.
If your terrine is too soft to cut, place it in the freezer for an hour or two to allow it to firm up.
You may be squeamish when you realize this dessert contains raw eggs. We all need to be aware of foodborne illnesses, but there are ways to make terrific desserts like this without the risk of salmonella.
Have you heard of Safest Choice eggs*? Check your market for availability. You'll need it for your Christmas eggnog (but not your Eggnog Scones!), French silk pies, meringue toppings, and more. These eggs are pasteurized therefore eliminating chances of exposure to salmonella bacteria. Uncooked eggs are essential to creating the velvety texture of this dessert. It's worth the effort to find pasteurized eggs, so young and old alike can enjoy this holiday treat.
PRO-Tip: I've pasteurized eggs at home. It requires that you keep your eggs in water at 140-142º for 3 minutes which is long enough to kill any salmonella bacteria that could be lurking on or in the eggs.
*Note that I haven't been able to find pasteurized eggs locally for the past couple of years. Darn it.
Culinary Lesson: How to Fold
If you know how to "fold," you can make this terrine. Folding is the gentle process of combining one fluffy mixture into a more dense one. The goal is to not deflate the fluff (in this case the egg whites, then the whipped cream) too much so the dessert stays somewhat light.
Use a large rubber spatula and start by "cutting" through the middle following this process: down, across the bottom of the bowl, then up and fold over.
Then repeat and repeat, rotating the bowl as needed, until the mixture is homogeneous.
This means the mixture is all one color, and in this recipe, the batter looks chocolaty without any white streaks.
This ambrosial chocolate mixture is poured into a plastic-wrapped loaf pan and chilled. To serve, a hot knife cuts through the chocolate with ease. Garnish as you like. I know you'll swoon with your first, second, and all subsequent bites!
Frequently Asked Questions
What is a Terrine?
A terrine is a rectangular dish with straight, high sides and a lid. Dishes cooked or made in a terrine are also called terrines. These range from meat pates to gelled aspic to vegetable dishes and even desserts.
How Do You Serve a Terrine?
A terrine is usually served by the slice after it's unmolded. It can be cold or at room temperature depending on the recipe and your preference.
Can You Freeze a Chocolate Terrine?
Yes, this recipe freezes nicely. Freeze it in the loaf pan and make sure it's wrapped tightly so it doesn't get freezer burn. Defrost in the refrigerator to serve. It can be frozen for up to a month.
Can You Eat a Terrine When Pregnant?
It all depends on the ingredients. Since this chocolate terrine contains raw eggs, it shouldn't be eaten by a pregnant woman unless pasteurized eggs are used.
You May Also Like:
Stay in touch through social media @ Instagram, Facebook, and Pinterest. Don't forget to tag me when you try one of my recipes! And if you love the results, please give it a 5-star rating in the recipe card. Note: As an Amazon Associate, I earn from qualifying purchases. Visit my Amazon Store for my favorite products.
The Recipe:
Chocolate Terrine with Raspberry Sauce
Prep Time 20 minutes
Cook Time 10 minutes
Total Time 30 minutes
Yield 10 servings
A rich and silky chocolate terrine perfect for a special occasion dessert. Adapted from Ina Garten's Dark Chocolate Terrine with Orange Sauce from Make It Ahead.
Ingredients
Terrine
1 cup butter
12 ounces semisweet chocolate, chopped
1/2 teaspoon instant coffee
1 cup powdered sugar, sifted
1/3 cup unsweetened cocoa powder, sifted
9 egg yolks (reserve 3 egg whites, see below), at room temperature, Safest Choice brand encouraged
1 tablespoon Kahlua (coffee liqueur)
Pinch of salt
3 egg whites, at room temperature
1 tablespoon sugar
1/2 cup heavy cream
1 teaspoon vanilla
Raspberry Sauce
1 12 ounce bag frozen raspberries
1/2 cup sugar
1 tablespoon freshly squeezed lemon juice
2 teaspoons cornstarch mixed in 1 tablespoon water
Sweetened whipped cream, berries, mint to garnish, optional
Instructions
Spray 8 1/2 x 4 inch loaf pan with non-stick spray. Carefully line pan with plastic wrap, trying to avoid any large wrinkles. Place pan in freezer while prepping the terrine.
Place butter, chocolate, and instant coffee in a large microwave-safe bowl. Gently microwave at 30-second intervals, stopping and stirring frequently, till mixture is melted and smooth.
Whisk in powdered sugar till combined, then cocoa powder. Whisk in egg yolks, Kahlua, and a pinch of kosher salt. Let mixture cool for 15 minutes.
Using electric mixer whip egg whites and sugar to firm peaks. Carefully fold whipped whites into the chocolate mixture with rubber spatula.
Add cream to the same mixing bowl as used for the egg whites and whip to firm peaks. Fold into the chocolate mixture, then scrape into loaf pan.
Smooth top with an offset spatula and fold end plastic wrap over the top of the chocolate. Chill for 4 hours or longer.
To make the raspberry sauce, heat 2 cups of the frozen raspberries in a saucepan with lemon juice and sugar, stirring occasionally.
When bubbling, add in cornstarch mixture and bring to boil.
Cook for a minute, then remove from heat to cool. Press sauce through a wire mesh strainer to remove seeds. Store in refrigerator.
To serve, unwrap the plastic from the top of the terrine, flip onto a serving plate, and use plastic to help remove the terrine from the pan.
Slice terrine with a hot, dry knife and place on dessert plates. Garnish with a drizzle of raspberry sauce, whipped cream, berries, and mint, if desired.
Notes
Total time does not include chilling times.
If you find your terrine too soft to slice, place it in the freezer for 1-2 hours, then slice.
Ina uses extra-large eggs in her recipe so I added one extra egg yolk since I use large eggs (9 large egg yolks instead of 8 extra-large). If you'd like, you can use 8 extra-large eggs and 3 extra-large egg whites.
Recommended Products
As an Amazon Associate and member of other affiliate programs, I earn from qualifying purchases.
Nutrition Information:
Yield:
10
Serving Size:
1 slice
Amount Per Serving:
Calories: 548
Total Fat: 37g
Saturated Fat: 22g
Trans Fat: 1g
Unsaturated Fat: 13g
Cholesterol: 210mg
Sodium: 191mg
Carbohydrates: 54g
Fiber: 5g
Sugar: 44g
Protein: 6g
Note: This post may contain affiliate links; view
my Disclosure Policy
for details. I earn a small percentage from any purchase you make by clicking on these links at no extra cost to you.