Strawberry Pie Dessert
I was first served this exquisite Strawberry Pie Dessert decades ago at my bridal shower, and I've made it numerous times since that first taste! Glazed strawberries and a light whipped cream and cream cheese filling top a buttery shortbread crust for an unforgettable Strawberry Dessert.
This Easy Strawberry Dessert tastes like you spent half a day making it, but it's quite simple! A crust is topped with the creamy filling, then you can garnish it with sweet, tasty fresh berries. A simple glaze of jelly makes it restaurant-worthy!

Why You Must Make
It's the perfect way to showcase beautiful summer strawberries!
I've been making this for over 30 years! This recipe is a keeper.
The creamy cheesecake filling and shortbread crust complement the sweet berries perfectly!
When I spot gorgeous, ripe strawberries in the market, I yearn for a slice of this dessert. First served at that bridal shower a zillion years ago, this Strawberry Pie Dessert is now a family favorite.
Ingredient Notes
Flour, Sugar, Butter – Pantry Staples
Cream Cheese – Philadelphia brand preferred, at room temperature
Lemon Juice – Fresh, never bottled. You can freeze any leftover lemon juice in a Ziploc bag.
Heavy Cream – Must be 36% butterfat.
Fresh Strawberries – Look for ripe, red strawberries with a nice sheen and no green or white areas near the stem.
Red Currant Jelly – Used to glaze the berries. Other red jellies will work.
How to Make
Make the crust, pan into the prepared pan, bake and cool.
Make the filling by beating in the cream cheese, sugar, and lemon juice until smooth, then folding in the whipped cream.
Spread evenly on cooled crust.
Top with whole or sliced strawberries.
Glaze with melted and slightly cooled jelly and pour or spoon over strawberries.
Chill at least 2 hours before serving.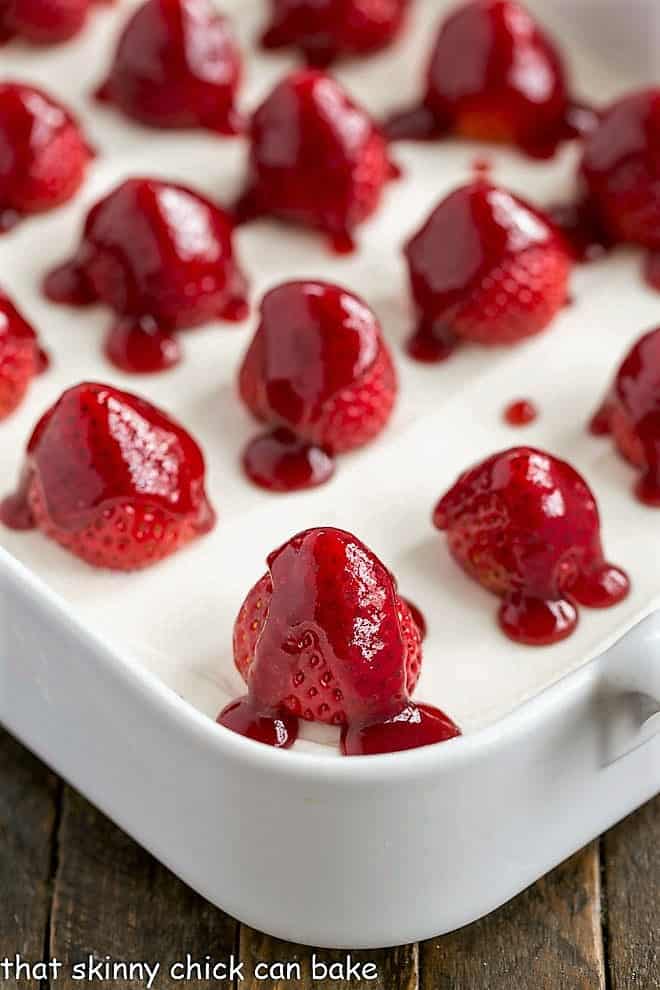 Expert Tips
This is one dessert that's hard to mess up unless you burn the crust! But you won't! It's simple mixing, baking, and layering. And each time you recreate it (I'm sure you'll love it enough to create an encore version), the process will become even easier. Just wait until you can find aromatic, unblemished strawberries, so the berries really shine with every bite.
I've decorated the top of this strawberry dessert with blueberries and strawberries for the Fourth of July, making stripes out of the red strawberries and a corner of blueberries lined up to resemble stars on the American flag. 
And as you can see from the above and below photos, sometimes I stand the berries upright, and other times, I slice them in half and line them up in rows cut side down. 
PRO-Tip: You can easily cut this recipe in half if you don't want all that creamy temptation in your refrigerator. Divide all the ingredients in half and proceed with the recipe in an 8 x 8  or 9 x 9-inch pan instead of a 9 x 13. You may need to reduce the baking time for the crust.
FYI: Half of 1/3 cup of sugar is 2 tablespoons plus 2 teaspoons. 
I use my fingers to pat down the bottom crust, then use the bottom of a measuring cup to smooth and level the surface.
An offset spatula(affiliate links) is my tool of choice for spreading and smoothing out the light cheesecake filling.
Currant jelly is perfect for glazing. It's not overly sweet like some jellies. I gently heat in a saucepan to melt the jelly, then let it cool a bit so the strawberries don't "cook" from an overly hot glaze.
PRO-Tip: Use room temperature cream cheese so it blends smoothly into the sugar and whipped cream. Set it out on the counter an hour or two before you start mixing.
Chill your bowl before whipping the cream to stabilize the finished product. Have your heavy cream well chilled before whipping.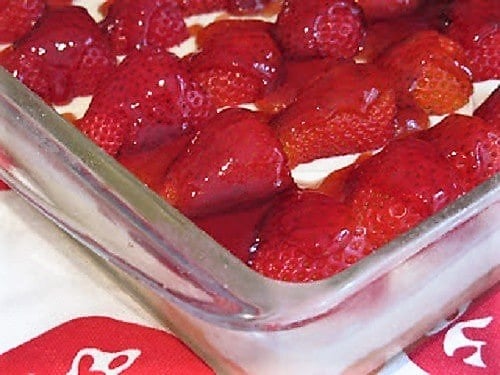 Image circa 2010; Post and images updated in 2019.
Frequently Asked Questions
When Is Strawberry Season in the US?
The peak season for California and Michigan strawberries is June, though they grow all year long in coastal California. The peak harvest time for local strawberries across the states will vary. Florida strawberry season is from December through March.
How Do You Select Fresh Strawberries
Use your senses. Fresh strawberries should have a sweet aroma. Flavorless berries will have little to no fragrance. Look at the color of the berries. They should be a vibrant red with green leaves. If the tops are brown or shriveled, that's a bad sign.
Also, check out all the tiny seeds across the surface. They should not look dehydrated and brown. The flesh of the strawberry should also have a sheen when perfectly ripe.
When Should You Wash Strawberries?
Berries, like all produce, should be washed before eating. But strawberries are quite fragile and will last longer if washed just before using them.
Place them in a colander and run cool water over them for 20 seconds or so. Then place them on paper towels to dry.
Soaking in a mixture of 4 parts water to 1 part vinegar to help extend their lifespan. Dry on paper towels before using or storing.
You May Also Like
This strawberry cheesecake dessert is perfect for all your spring and summer entertaining, or any time you see fresh, ripe, and aromatic strawberries in the market. It's perfect for Easter, Mother's Day, bridal showers, baby showers, pitch-in meals, and more!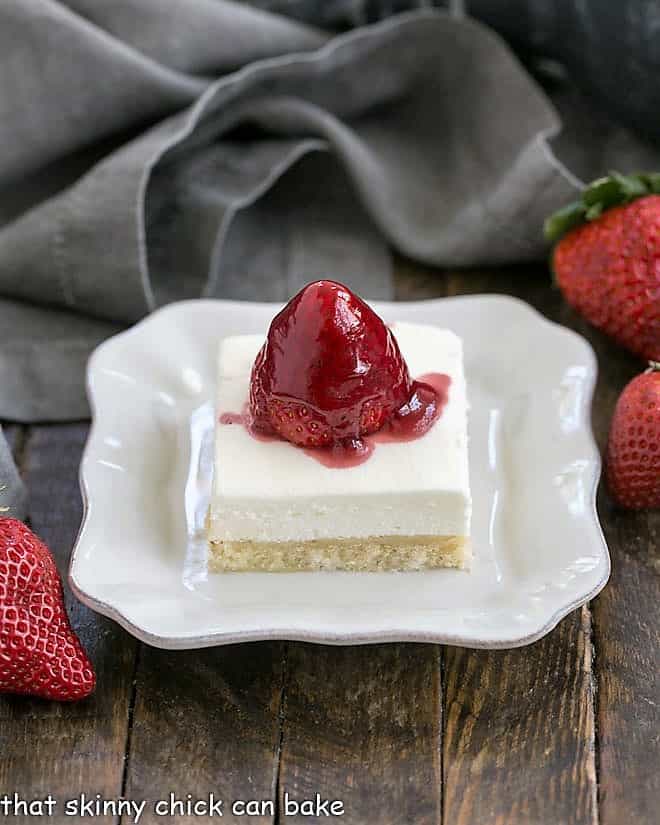 The Recipe:
Strawberry Pie Dessert Recipe
Prep Time 30 minutes
Cook Time 20 minutes
Total Time 50 minutes
Yield 24 servings
A delectable berries and cream dessert recipe from my mom's dear friend, Dee, circa 1986
Ingredients
For crust:
2 cups flour
1/3 cups sugar
1 cup cold butter
For filling:
6 ounces cream cheese, at room temperature
1 cup sugar
1 tablespoons fresh lemon juice
2 cups whipping cream
24 whole, fresh strawberries
Small jar of red currant jelly, 10 oz
Instructions
To make the crust, mix the first three ingredients until crumbly like pie crust. Pat into a greased 9 x 13-inch pan. Bake at 350º for 15-20 minutes until light brown.
To make the filling, beat the cream cheese, sugar, and lemon juice until smooth. Fold in well-whipped cream. Spread evenly on cooled crust.
Top with whole or sliced strawberries. Melt jelly and pour or spoon over strawberries (allow the jelly to cool slightly after melting). Chill at least 2 hours before serving.
To make half this recipe, just eyeball the sugar amount for the crust in a 1/3 cup measuring cup and make in a 9 x 9 pan.
Notes
I use this same recipe on the 4th of July. I make stripes from halved strawberries plus I place blueberries in one corner to represent the stars on the flag.
Recommended Products
As an Amazon Associate and member of other affiliate programs, I earn from qualifying purchases.
Nutrition Information:
Yield:
24
Serving Size:
1 slice
Amount Per Serving:
Calories: 252
Total Fat: 17g
Saturated Fat: 11g
Trans Fat: 1g
Unsaturated Fat: 5g
Cholesterol: 50mg
Sodium: 89mg
Carbohydrates: 23g
Fiber: 1g
Sugar: 14g
Protein: 2g
Note: This post may contain affiliate links; view
my Disclosure Policy
for details. I earn a small percentage from any purchase you make by clicking on these links at no extra cost to you.