Iceberg Wedge with Blue Cheese Dressing
My predictable hubby orders two salads when we're dining out, a Caesar or Iceberg Wedge Salad with Blue Cheese Dressing. Both are easy to make at home!
Iceberg lettuce often gets a bad rap. Some think it's bland, but I adore its cool crispness and it's perfect for this classic Wedge Salad Recipe.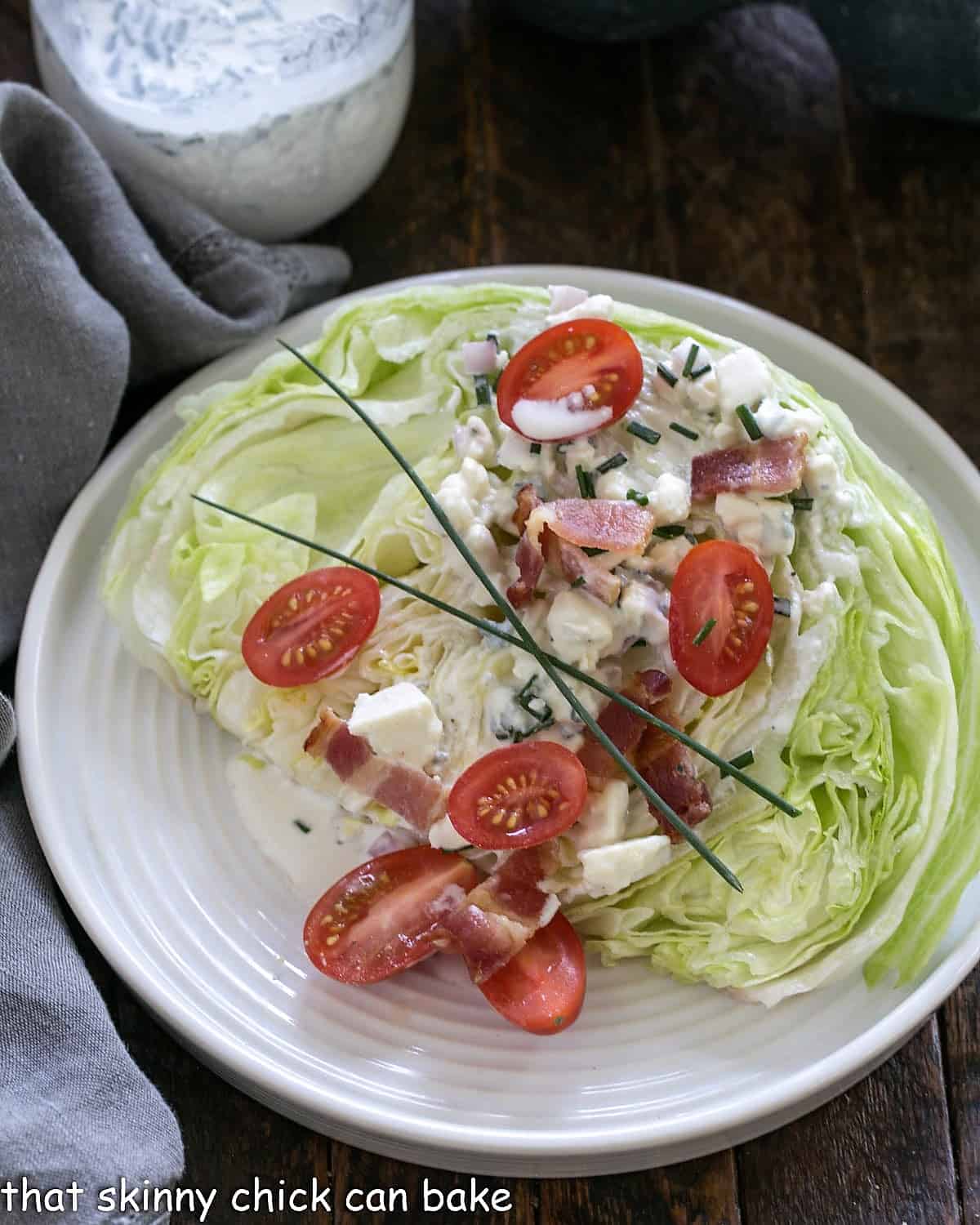 Why You Must Make
It tastes like the wedge salads you can order at a fine steakhouse!
It's super easy to make and you'll want to use this blue cheese salad dressing on lots of other salads!
Plus, if you haven't delved into the world of homemade salad dressings, you'll find they are so much tastier than most you can buy on the grocery store shelves. They will have a shorter life span, but the flavor makes up for that. Plus, there are no preservatives, just wholesome ingredients.
All the ingredients are easy to find, so you can make the best wedge salad any time you're in the mood.
I find it remarkable that my picky husband likes blue cheese. He turns his nose at mushrooms, cucumbers, pineapple, mint, nuts and so many of my other favorite ingredients. I was shocked when I first made this wedge salad, he practically licked his plate!
You might also enjoy my Spinach Strawberry Salad with Blue Cheese. It's perfect for spring and summer dining when you can find juicy, flavorful strawberries!
How to Make a Wedge Salad
First of all, it's so easy to make!
Make the salad dressing by whisking together the ingredients. Park it in the refrigerator while you prep the salad ingredients.
Cut the head of iceberg lettuce into wedges and set aside.
Fry your bacon, let it drain on paper toweling, then chop or crumble.
Cut the tomatoes in half.
When it's time to serve, place a wedge of lettuce on a salad plate, drizzle on the salad dressing, then top with tomatoes, bacon pieces, and chives (if desired).
If you adore blue cheese, add a few more crumbles to each wedge.
Expert Tips
PRO-Tip: Look for heavy heads of iceberg lettuce. They will make better wedges. Lately, this is a difficult task as a head of iceberg lettuce is typically far from dense and heavy. Test by holding the head in the palm of your hand, then giving it a gentle squeeze.
To prep your salad wedges, first remove any wilted or browned leaves. Rinse off the exterior and dry with paper towels.
To slice into wedges, remove the stem and cut the head into 4 to 6 slices depending on the size of the lettuce and your preference.
A wedge salad recipe is usually is composed of a wedge of lettuce, blue cheese salad dressing, crispy bacon bits, a few blue cheese crumbles, and some minced chives. This version has a few grape tomatoes for a pop of color and sweetness. Feel free to add your favorite salad toppers to make this salad your own.
Don't be tempted to use bacon bits instead of real bacon. The quality is just not the same.
Ditto for blue cheese. Buy a quality chunk of blue cheese from the cheese case and crumble it yourself.
PRO-Tip: If you don't have any buttermilk in your refrigerator, you can easily make a homemade version. Put a tablespoon of lemon juice or vinegar in a one-cup measuring cup. Fill it with milk to the one-cup mark. Let it sit for about 5 minutes as it thickens and curdles slightly. Voila, instant buttermilk!
Frequently Asked Questions
What Kind of Blue Cheese is Best for Salad Dressing?
Roquefort is classic, but I often buy Maytag which comes from Iowa, or a creamy Gorgonzola. If you have a favorite, it will work fine!
How Long will a Homemade Blue Cheese Dressing Last?
Without preservatives, this dressing should be used within a week, though I've kept it longer. It can also be used for dipping vegetables like carrots, celery, red bell pepper slices.
Can Bacon Bits Be Used Instead of Bacon?
I wouldn't recommend it as real bacon tastes SO much better. But, if you love Bacon Bits, go for it!
How to Clean Lettuce for a Wedge Salad?
To clean your Iceberg lettuce, first, remove any bruised or browned outer leaves, then cut into wedges. Gently rinse the wedges under cool water. While holding the wedge to keep it intact, carefully shake it to remove excess water. Place on tea towels or paper towels to drain, then if still wet, use a salad spinner to remove the remaining moisture.

If your wedges are free from dirt or sand, you may not need to clean it. Often, the outer leaves that you remove have protected the head's interior leaves.
How to Cut Lettuce for a Wedge Salad?
First cut the head in half from the stem end to the opposite end. Then cut each half into 2 or 3 more wedges depending on how big want your salad wedges. Wash and dry as needed.
What to Serve with a Wedge Salad?
Since this is a classic steak house salad, think of a grilled steak, baked or scalloped potatoes, and asparagus with hollandaise sauce or creamed spinach. Recreate your favorite restaurant's steak dinner!
How Do You Eat a Wedge Salad?
A fork and a serrated knife work best. In a steakhouse, there are always serrated knives available which help cut through the wedge using a sawing motion.
You May Also Like:
The Recipe:
Iceberg Wedge with Blue Cheese Dressing
Prep Time 10 minutes
Total Time 10 minutes
Yield 6 servings
An easy, restaurant style salad adapted from Martha Stewart
Ingredients
3/4 cup buttermilk
1/2 cup mayonnaise
1 shallot, finely chopped
1-2 tablespoons chopped chives
1 tablespoon fresh lemon juice
1/2 teaspoon kosher salt
freshly ground black pepper to taste
1/4 teaspoon celery salt
1/2 cup crumbled blue cheese, I like Maytag
Iceberg lettuce, cut into wedges, outer leaves and core removed
1/2 cup grape or teardrop tomatoes
2-3 slices of bacon, cooked and chopped
Instructions
Whisk together buttermilk, mayonnaise, shallots, chives, lemon juice, salt, pepper and celery salt. Stir in blue cheese, cover, and refrigerate at least 30 minutes.
Taste for seasonings and whisk in a little more mayo if desired.
Plate one wedge of lettuce per person. Drizzle with dressing and garnish with tomatoes and bacon.
Notes
May add more blue cheese crumbles to salad if desired.
Recommended Products
As an Amazon Associate and member of other affiliate programs, I earn from qualifying purchases.
Nutrition Information:
Yield:
6
Serving Size:
1
Amount Per Serving:
Calories: 223
Total Fat: 19g
Saturated Fat: 5g
Trans Fat: 0g
Unsaturated Fat: 14g
Cholesterol: 23mg
Sodium: 630mg
Carbohydrates: 7g
Fiber: 1g
Sugar: 5g
Protein: 6g
Note: This post may contain affiliate links; view
my Disclosure Policy
for details. I earn a small percentage from any purchase you make by clicking on these links at no extra cost to you.