Orange Olive Salad
This simple, elegant Orange Olive Salad is a riff on a Moroccan classic according to Dorie Greenspan. Easy and refreshing!
Sliced oranges are sprinkled with onion slices, Nicoise olive, and a drizzle of olive oil before a final dusting with Maldon sea salt.
Moroccan Orange Olive Salad
If I was on the ball, this Moroccan-inspired Olive Orange Salad would have paired perfectly with last week's Lamb and Dried Apricot Tagine. Alas, during this busy holiday season, I've once again overextended myself and have become a tad disorganized. But, thank goodness, our French Fridays with Dorie honchos knew we'd all be a little frazzled and selected one of the easiest recipes in Around My French Table . Lacking the sweetness and cinnamon of the North African number, Dorie's version could be a starter, salad, or even a palate cleanser.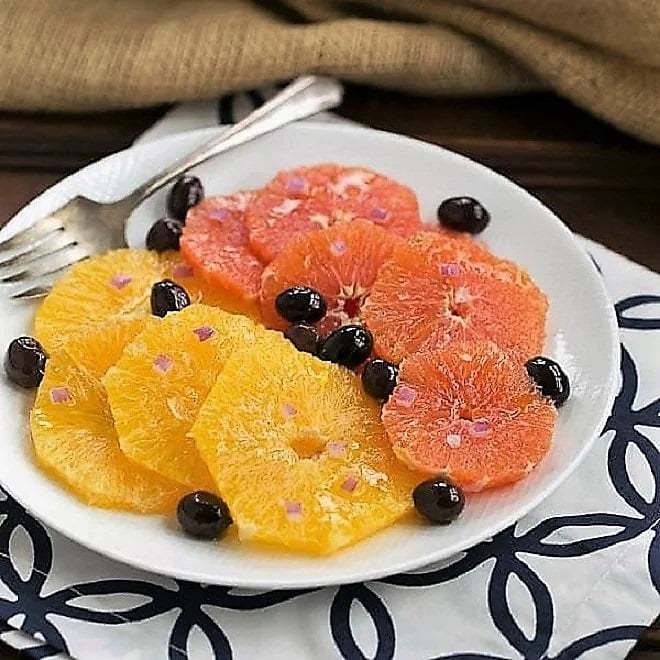 Dorie's Olive Orange Salad
No grocery list was necessary for this week's recipe. 4 navel oranges and some Nicoise olives were all I needed. At first, I thought Dorie would have us supreme the oranges, but her method resulted in a prettier effect by peeling and slicing. The rounded ends were sliced flat, then the peel and pith were removed by slicing from end to end around the orange. The naked oranges were then cut into slices. I selected some Cara Cara oranges with their red flesh to contrast with the traditional navel oranges. The Nicoise olives were harder to source, but I found them in a mixture labeled "French Olives" at the olive bar. Unfortunately, pits were included.
How to Make This Moroccan Salad Recipe
Dorie's recipe was just sliced oranges, olives, onion, a drizzle of olive oil and a sprinkle of sea salt. My sister taught me Dorie's trick of soaking the onion slices in ice water for about 20 minutes to cut the bite. You get the taste and crunch of onion without the intense sharpness. For my take, I added some greens…arugula this time. I tossed with my favorite vinaigrette and served along with grilled chicken for our Sunday night dinner. Quite tasty…even though I was the only taker. C'est la vie…at least at my house.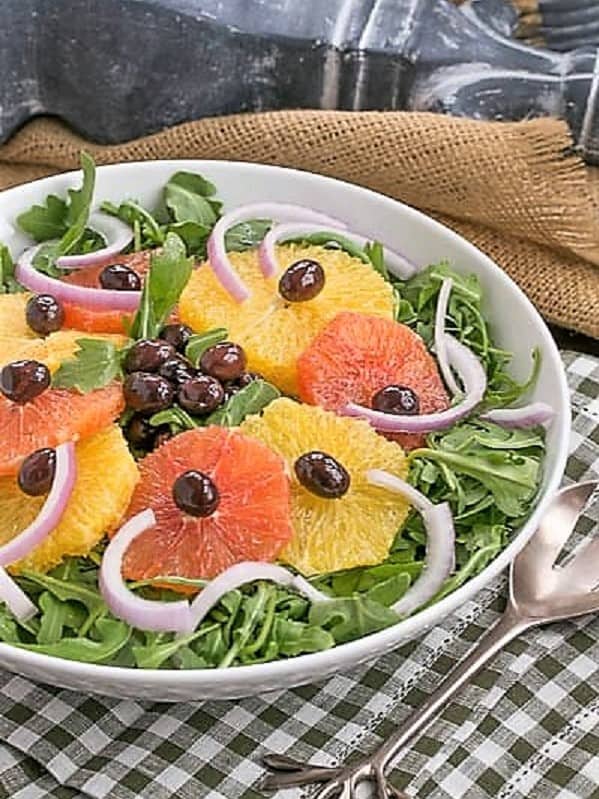 Dorie's recipe for this Orange Olive Salad can be viewed on Google Books.
The Recipe:
Orange Olive Salad
Prep Time 10 minutes
Total Time 10 minutes
Yield 4 servings
A simple salad inspired by the classic orange and olive Moroccan salad.
Ingredients
5 ounces arugula
4 oranges, peel sliced off. then sliced into 1/3 inch rounds
Nicoise olives
1/2 small red onion, sliced and soaked in ice water to remove sharpness
Maldon sea salt
Instructions
Place arugula in salad bowl. Top this orange slices, olives and onion slices. Serve with balsamic vinaigrette and a sprinkle of sea salt, if desired.
Nutrition Information:
Yield:
4
Serving Size:
1
Amount Per Serving:
Calories: 228
Total Fat: 11g
Saturated Fat: 2g
Trans Fat: 0g
Unsaturated Fat: 9g
Cholesterol: 40mg
Sodium: 306mg
Carbohydrates: 26g
Fiber: 5g
Sugar: 14g
Protein: 9g
Salad calories are without salad dressing.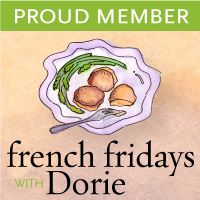 Note: This post may contain affiliate links; view
my Disclosure Policy
for details. I earn a small percentage from any purchase you make by clicking on these links at no extra cost to you.