Soy, Orange Juice, Red Wine Marinade
This flavorful Soy, Orange Juice, and Red Wine Marinade is made with kitchen staples and is perfect for flank steak!
Marinating for about 8 hours in this Easy Flank Steak Marinade infuses magnificent flavors into the beef, then grilling adds delicious smoky nuances. It's ideal for a summer barbecue!
Why You Must Make
I love recipes that are 5 ingredients or less! Don't we all need a ton of these in our repertoire? Much as I enjoy creating an entree with as many layers of flavor as ingredients, there are many days when I'm overextended with little time for measuring and chopping.
There are only 3 ingredients in this easy marinade recipe!!
It's super versatile and can be used with flank steak as well as bone-in chicken, and even shrimp!
Most of us have these ingredients on hand, plus it's tasty enough for company and easy enough for a weeknight meal.
Reader Endorsement:
From Eva: "We had this wonderful marinated steak on Saturday and I can fully attest that it truly tenderized the flank steak. Definitely will be my go-to recipe from now on."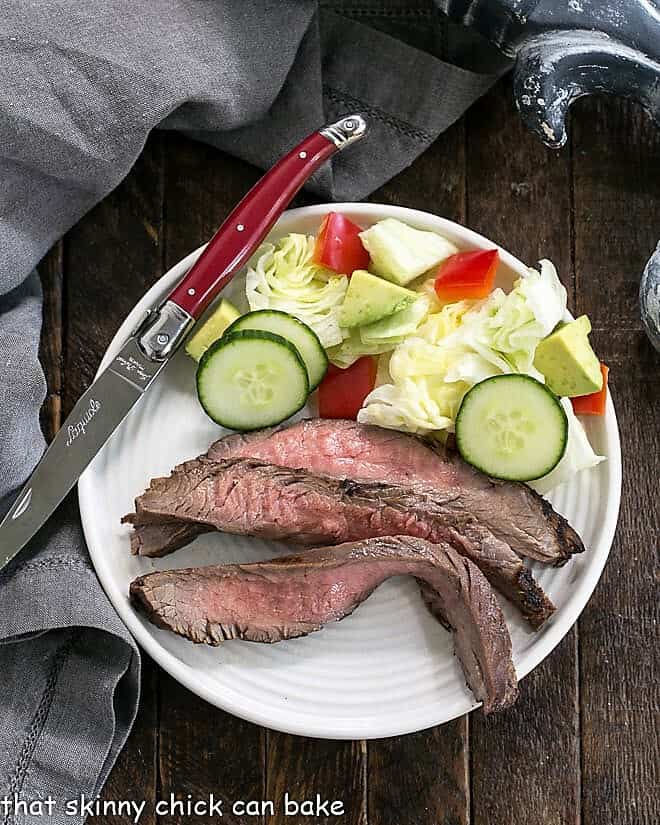 Tips for Grilling Flank Steak
PRO-Tip: Lightly scoring (cutting into the top layer of the beef) across the grain of the flank steak allows for the marinade to permeate the meat a little deeper.
Place the beef and marinade ingredients into a gallon Ziploc bag and remove most of the excess air. Agitate the bag so that all sides of the meat are exposed to the marinade.
Place in the refrigerator for up to 8 hours. Longer could make your beef overly salty, but this depends on your taste buds. If you start with frozen flank steak, you can easily marinate overnight.
Grill your flank steak to your desired doneness. Use an (affiliate link) Instant Read Thermometer to check the internal temperature. Remember to allow for carry-over cooking, meaning the meat will rise 5-10 more degrees while it rests.
When you pull the steak off the grill, place it on a cutting board and cover it with foil. PRO-Tip: Let your flank steak rest for about 10 minutes before slicing. This allows for the juices to redistribute into the meat. There will be about 10 degrees increase in the internal temperature due to carryover cooking time.
PRO-Tip: Cut thin slices across the grain. You will see lines running across the surface lengthwise. That is the direction of the "grain." Cutting across the grain (usually from one long side to the other long side) creates more tender slices.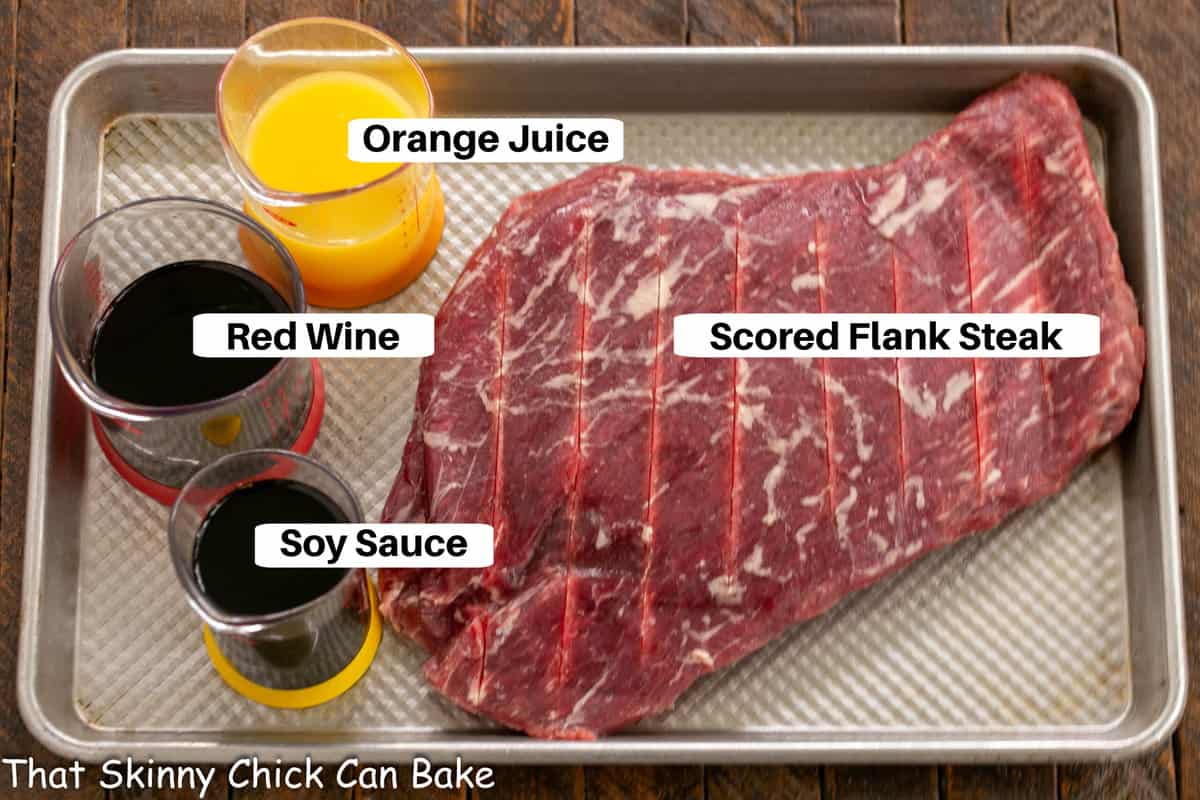 Ingredient Notes
Flank Steak – Any size. Just up the amounts of each ingredient if needed. A flank steak is a flat, flavorful cut of beef that comes from the underside of the cow.
Orange Juice – Adds sweetness and acidity to the marinade. The acid helps tenderize.
Soy Sauce – This is a terrific source of umami, or the savory sense of taste.
Red Wine – Alcohol is a flavor enhancer and wine also adds acidity and flavor to the marinade.
How to Make
Frequently Asked Questions
We grill a LOT of flank steak in the summer and sometimes I don't have time to gather a multitude of ingredients for a marinade. With juice in the fridge, a partially drunk bottle of wine plus soy sauce in the pantry, it's pretty much a no-brainer.
Equal parts of each ingredient and, voila, you have your easy flank steak marinade. It can be used on beef, chicken, pork, and even shrimp. It's just that versatile! Note the different marinating times below.
What's the Difference Between Marinade and Marinate?
A marinade is a flavorful liquid in which ingredients are soaked in order to infuse flavor and often tenderize. It usually contains acid, seasonings like herbs and spices, something salty like Worcestershire sauce or soy sauce, and often something sweet like orange juice or honey It's all about balance.
To Marinate is the process of soaking ingredients in a marinade. Since acid is involved in most marinades, the ingredients should be marinated in a non-reactive dish, like glass, ceramic, or a heavy-duty Ziploc bag.
How Long Should You Marinate Different Meat and Shrimp?
Due to the acid in marinades, if you marinate for too long, the protein can get mushy. So big, sturdy cuts of beef and pork can take more time in a marinade, but shrimp don't require as much time. Here are some guidelines:
Beef: 4 hours up to overnight (overnight will sometimes make the beef a little too salty, so I prefer an 8-hour max marinating time with this recipe)
Chicken: 2-6 hours
Pork: 6 hours up to overnight
Shrimp with shells: 1 hour
How Do You Know When the Flank Steak is Done?
Use a meat thermometer to cook it to your desired doneness. I prefer medium-rare for flank steak which is 135° F. It can be pulled off at 125° F and then covered with foil to rest for 10 minutes.
The internal temperature will rise 10 more degrees as it rests. Check this Korean Flank Steak recipe for more guidance with degrees of doneness and tips for grilling flank steak.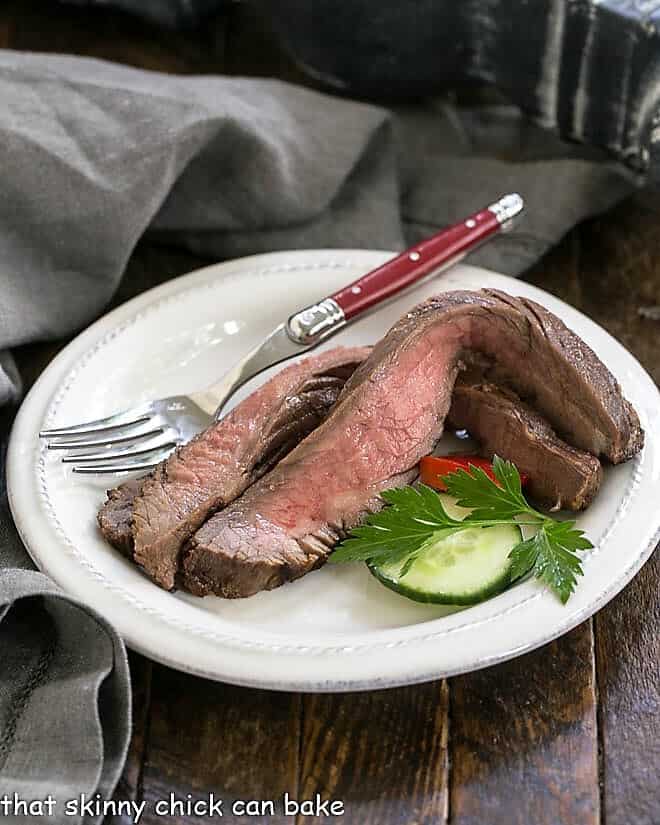 You May Also Like:
Stay in touch through social media @ Instagram, Facebook, and Pinterest. Don't forget to tag me when you try one of my recipes! And if you love the results, please give it a 5-star rating in the recipe card. Note: As an Amazon Associate, I earn from qualifying purchases. Visit my Amazon Store for my favorite products.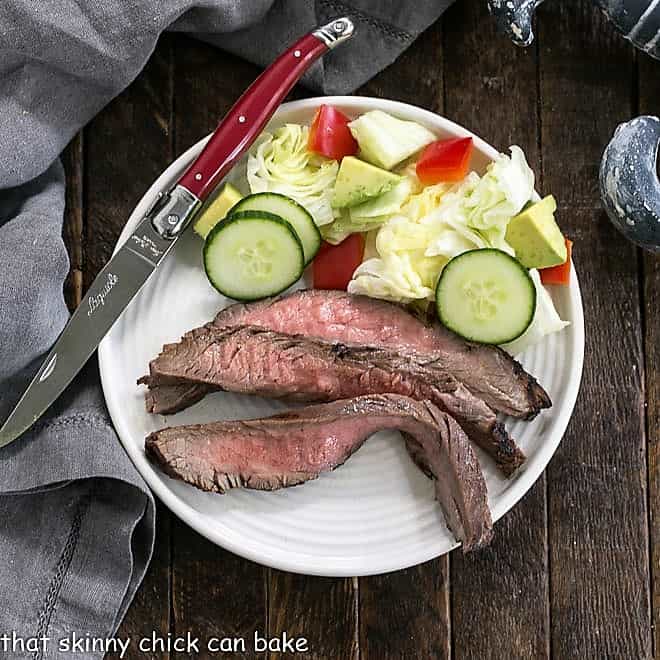 The Recipe:
Soy, Orange Juice, Red Wine Marinade
Prep Time 5 minutes
Cook Time 6 minutes
Total Time 11 minutes
Yield 6 servings
A super easy, 3 ingredient marinade that's perfect on flank steak!
Ingredients
2 pounds flank steak (any size is fine)
½ cup orange juice
½ cup soy sauce
½ cup red wine
Instructions
Mix orange juice, soy, and red wine in a zip lock bag. Place steak into the marinade. Seal bag and marinate for at least 4 hours in the refrigerator.
Take the steak out of the fridge for a half-hour to take the chill off as you prepare the grill.
Grill to desired doneness. We usually grill 2-3 minutes per side for rare- medium-rare.
Let rest for 10 minutes before slicing against the grain to serve.
Notes
To infuse more flavor, lightly score the flank steak across the grain on both sides (very shallow cuts  from one long side of the flank steak to the other).
Nutrition Information:
Yield:
6
Serving Size:
1
Amount Per Serving:
Calories: 328
Total Fat: 13g
Saturated Fat: 5g
Trans Fat: 0g
Unsaturated Fat: 6g
Cholesterol: 119mg
Sodium: 1253mg
Carbohydrates: 4g
Fiber: 0g
Sugar: 2g
Protein: 44g
Note: This post may contain affiliate links; view
my Disclosure Policy
for details. I earn a small percentage from any purchase you make by clicking on these links at no extra cost to you.