Perfect Popover Recipe
A perfect Popover Recipe makes a special dinner or brunch treat. With a few simple tips, this recipe never fails! They're ideal for the holidays.
My mom loved making popovers and gifted me with a popover pan a couple of decades ago. Learn How to Make Popovers with the recipe for classic popovers compliments of Marion Cunningham.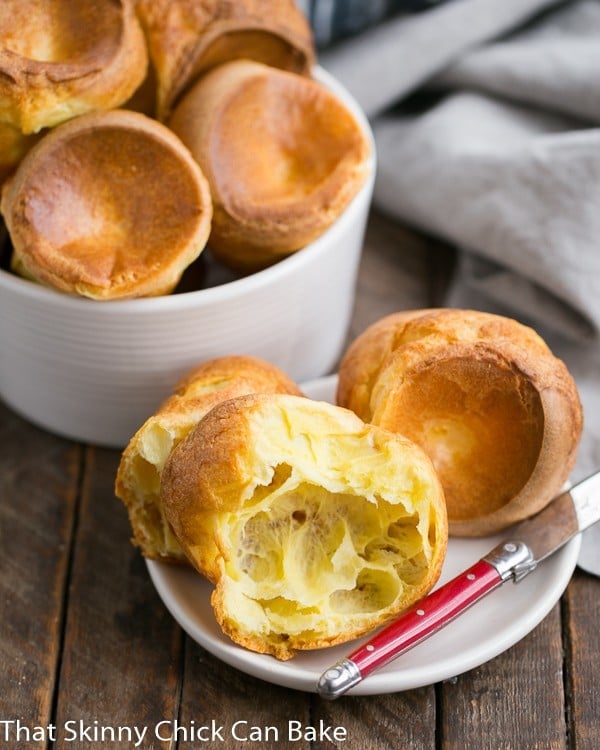 Why You Must Make
This fabulous popover recipe was developed by Marion Cunningham, a food writer and cookbook author. Her Fannie Farmer Cookbook (affiliate link) was in my childhood kitchen.
You'll never need to hunt down another recipe as these are as delicious as my mom's version which was probably from the New York Times Cookbook.
When Christmas rolls around you can make Yorkshire puddings, a version of popovers made with beef fat from your holiday roast!

Expert Tips
My mom was a huge fan of popovers. In fact, she gave me both of my cast iron popover pans. But Marion gives us alternatives for those who don't own this specialized bakeware.
If you don't own a cast iron popover pan, muffin tins or custard cups will do in a pinch.
These popovers are a cinch to whip up; just add milk, eggs, salt, flour, and a bit of melted butter to your blender, process till smooth, then divide the batter evenly between the buttered popover cups.
For the most accurate flour measurement, spoon the flour into the measuring cup, then sweep the excess from the top using an offset spatula or other kitchen utensil with a flat side.
PRO-Tip: If your batter looks lumpy, pass it through a strainer.
Let the batter rest as you preheat the oven. This will allow the gluten strands to relax and the moisture to disperse.
Fill custard cups with 1/3 cup batter and muffin tins with 1/4 cup batter. Any excess can be divided among the cups.
I veered from the recipe directions by preheating my popover pan in the oven, then brushing it with melted butter before pouring in the batter, just like I do with our holiday Yorkshire puddings. 
PRO-Tip: Preheating the pan before adding the batter jump-starts the baking and gives a better rise to the popovers. This is especially beneficial if you're using a cast iron pan.
Using warm milk in the batter (125° F) also encourages a good puff. A cold batter will take longer to produce the steam needed for leavening.
PRO-Tip: Whip the batter right before baking. Otherwise, precious air bubbles needed for a good rise will be lost.
PRO-Tip: Yorkshire puddings are basically popovers made with roast drippings. They're the perfect accompaniment with your holiday prime rib.
Bake on a rack in the lower third of the oven so the tops don't get too brown.
For the best results, start your popovers at 425º for 15 minutes, then reduce the oven to 350º and bake for another 15 minutes. Do not open the oven door.
Popovers are at their puffiest right out of the oven. You can hold them at room temperature for a few minutes, or wrap them airtight, freeze them for up to a month, and reheat them in a 350º F oven for 10 to 15 minutes, and they´ll taste good, but never as good as when freshly baked.
PRO-Tip: If not eating immediately, pierce each popover with a knife to release the steam. This will prevent moisture from building up inside as they cool.
Frequently Asked Questions
What are Popovers?
A popover is a muffin-sized bread with a hollow, moist interior made with eggs, milk, flour, and butter. The liquid in the batter creates steam to leaven the bread in the oven. Special popover pans with extra deep cups are used to bake popovers.
Why Are They Called Popovers?
The name comes from how the popovers bake, puff, and fall or pop over the cups in the popover pan.
Are Yorkshire Puddings the same as Popovers?
Yorkshire puddings use a similar batter, but they're baked in beef drippings that are placed in the bottom of each cup of the popover pan. It's a popular accompaniment to British roast beef.
How Long Do Popovers Last?
They are best served freshly made but can be stored airtight at room temperature for up to 3 days. Gently rewarm to serve. They can also be frozen in an airtight container for up to 3 months.
What Should You Serve with Popovers?
Popovers are delicious when served with butter, jam, preserves, or apple butter.
You May Also Like:
Stay in touch through social media @ Instagram, Facebook, and Pinterest. Don't forget to tag me when you try one of my recipes! And if you love the results, please give it a 5-star rating in the recipe card. Note: As an Amazon Associate, I earn from qualifying purchases. Visit my Amazon Store for my favorite products.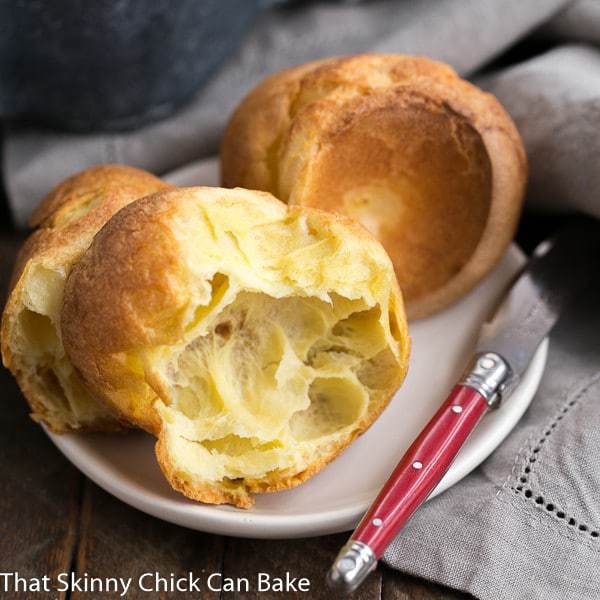 The Recipe:
Perfect Popovers
Prep Time 10 minutes
Cook Time 45 minutes
Total Time 55 minutes
Yield 10 servings
Perfect popovers from Baking with Julia by Dorie Greenspan. Recipe by Marion Cunningham.
Ingredients
1 cup flour
1 cup whole or 2% milk, at room temperature
½ teaspoon salt
3 large eggs, at room temperature
2 tablespoons unsalted butter, melted
Instructions
Position a rack on the lowest rung of the oven and preheat the oven to 425º.
Butter or spray nine ¾ cup glass custard cups or ten ½ cup muffin cups. If you´re using custard cups, place them on a jelly-roll pan, leaving space between each cup. If you´re using muffin pans, you´ll need to use two 12-hole muffin tins because, to give the popovers ample air circulation, you won´t be filling all of the holes.
Pour all the ingredients into the container of a blender and whirl until smooth. (This can be done in a food processor or in a bowl using a hand-held mixer). Strain the batter if it is at all lumpy.
Baking the popovers: For the custard cups, pour 1/3 of batter into each cup, dividing any extra batter among the cups. For the muffin cups, use ¼ cup of batter for each cup, filling alternate cups in each tin so that every popover has puffing space.
Bake, without opening the door, for 25 minutes, until the popovers are puffed, nicely browned, and crisp on the exterior. Turn the temperature down to 350º and bake for another 15 to 20 minutes, to help dry out the interior, which, no matter what you do, will always be a little doughy in the center.
Serve immediately.
Notes
If you use beef fat from your roast in the bottom of the popover pan, these puffed quick breads become Yorkshire puddings.
Nutrition Information:
Yield:
10
Serving Size:
1 popover
Amount Per Serving:
Calories: 100
Total Fat: 4g
Saturated Fat: 2g
Trans Fat: 0g
Unsaturated Fat: 2g
Cholesterol: 64mg
Sodium: 139mg
Carbohydrates: 11g
Fiber: 0g
Sugar: 1g
Protein: 4g
Note: This post may contain affiliate links; view
my Disclosure Policy
for details. I earn a small percentage from any purchase you make by clicking on these links at no extra cost to you.