A group of my foodie friends have been making and praising these Moomie's buns for years. It took a lovely gift of yeast from the folks at Red Star Yeast to push me into baking these. I was hoping to try their Platinum yeast, but this recipe called for instant…and I had a nice stash of Red Star Quick Rise Yeast which worked perfectly. I was also the winner of a Red Star Yeast giveaway featured on Shulie's delectable blog, Food Wanderings. I will be baking LOTS of yummy breads. I tracked down the origin of this recipe to Ellen who shared it on the KAF online community…to rave reviews. I noticed she also had a cinnamon bun recipe…those will be up next!
Frequently used as hamburger buns, I decided to make dinner rolls from this recipe. It was Nick's last night home from his college spring break, and oldest son, Tom, would join us for dinner, too. I used a technique for making rosettes I saw on this Youtube video. Basically, you roll out a snake of dough, at least a foot in length. Tie a knot, then tuck the tail that is coming from the bottom up into the middle of the knot, then tuck the other tail (coming from the top of the knot) under the knot and press into the middle. Gently cradle the bun and pat to round out. Watch the video…it will make the procedure SO much clearer.
The menfolk of the family were dying to dig into these babies…and there were lots of compliments at dinner. I sent some home with both Nick and Tom…I should have made a double batch! Best.Rolls.Ever….and SO quick to make with the instant yeast. The dough is a bit sticky, but don't give into temptation and add more flour…the recipe produces such a tender, delicious bread as is.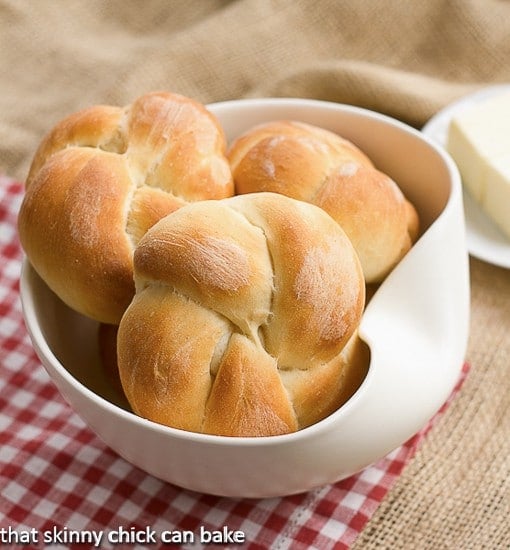 Moomie's Buns
1 cup water
2 tablespoons butter (at room temperature)
1 egg (lightly beaten)
3-1/4 cups all-purpose flour
1/4 cup sugar
1 teaspoon salt
1 tablespoon instant yeast (I prefer Red Star Platinum Yeast)
In the bowl of a stand mixer, whisk together flour, sugar, salt and yeast.
Heat water to about 110º and add to four mixture. Mix with paddle till moistened, then add egg and butter. Mix just till incorporated, then switch to dough hook. Knead in mixer for about 5 minutes. Turn out into a greased bowl, turn upside down to grease all sides of the dough. Cover with plastic and let rise till almost doubled, about an hour.
Deflate dough. Divide dough into 8 pieces and shape as desired on lightly floured surface. Put rolls onto parchment lined cookie sheets, cover and let rise 30-40 minutes. Preheat oven to 375º.
Bake for 12 to 15 minutes until golden. Cool on wire racks.
Yield: 8 buns
Total time: 3 hours
Submitted to Yeastspotting~
Linked to:

My lovely friend, Suzanne, has just published a new e-cookbook, Afternoon Tea. Her recipes are grain, gluten, nut and refined sugar-free. I've been following Suzanne's journey to health as she's learned to deal with fructose malabsorptsion. But these recipes are perfect for afternoon tea whether or not you have any food intolerances…check out Strands of my Life to see the wonderful types of treats that you'll find in this e-book. There are 107 pages, 50 recipes, and two photos per recipe. And, lucky you, this cookbook is discounted 60% during the first two months of April (through April 16)…just $10! So whether you're on a Paleo, dairy free, gluten free or have no dietary restrictions, you'll want to check out Afternoon Tea. Congratulations on your book launch, Suzanne!!! xo