Raspberry Topped Lemon Soufflés
These elegant Lemon soufflés are a beautiful, fragrant, and delicious single-serving dessert, topped with fresh raspberry sauce. Winter is the time to focus on citrus and lemon dessert recipes, and this Raspberry Topped Lemon Soufflé recipe brings lemons to the center stage!
A Soufflé Recipe may seem daunting, but following a few simple tips, you can add any of the numerous flavors of soufflé to your dessert repertoire.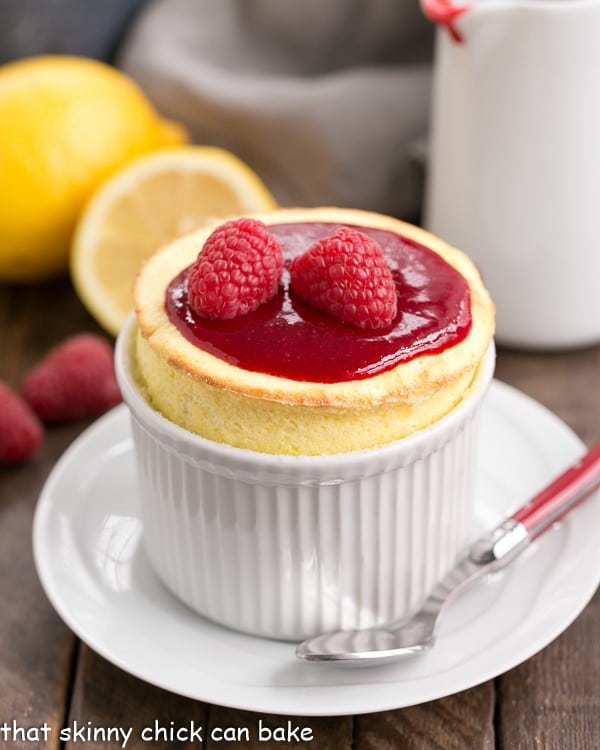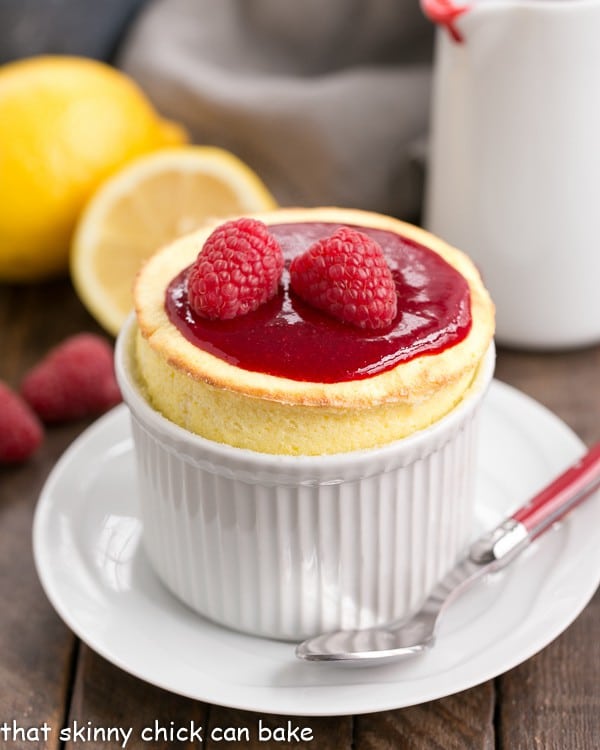 Why You Must Make
The thought of making a soufflé may seem daunting, but with a few tips, it's not so difficult.
You'll dazzle your dinner guests when you serve these beautiful, impressive soufflés for dessert!
They taste as beautiful as they look! And the raspberry sauce or just a few fresh raspberries creates a restaurant-worthy dessert.
Ingredient Notes
Kitchen Staples – Butter, Sugar, Eggs, Flour
Lemon Zest – Not from a jar. Use a rasp to grate your own zest.
Lemon Juice – Freshly squeezed.
Whole Milk
Frozen Raspberries
Powdered Sugar, Fresh Raspberries to garnish, optional.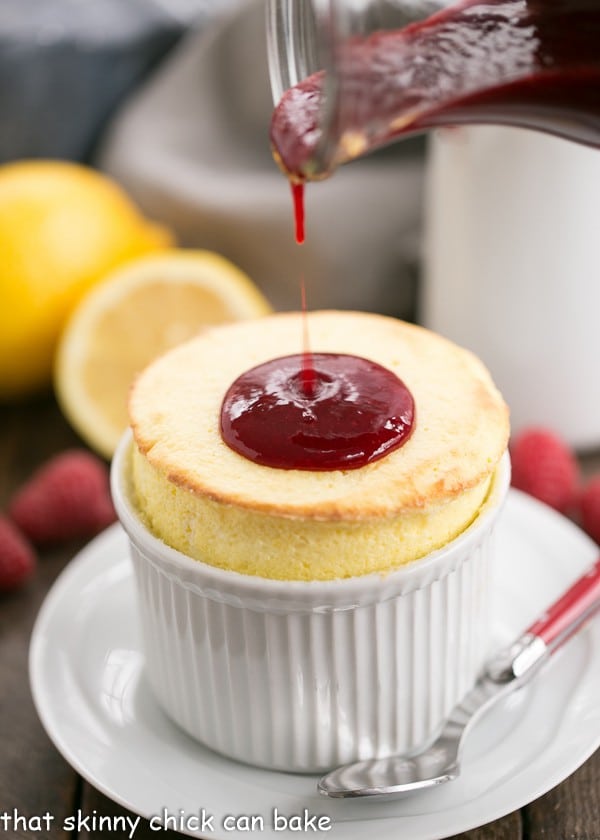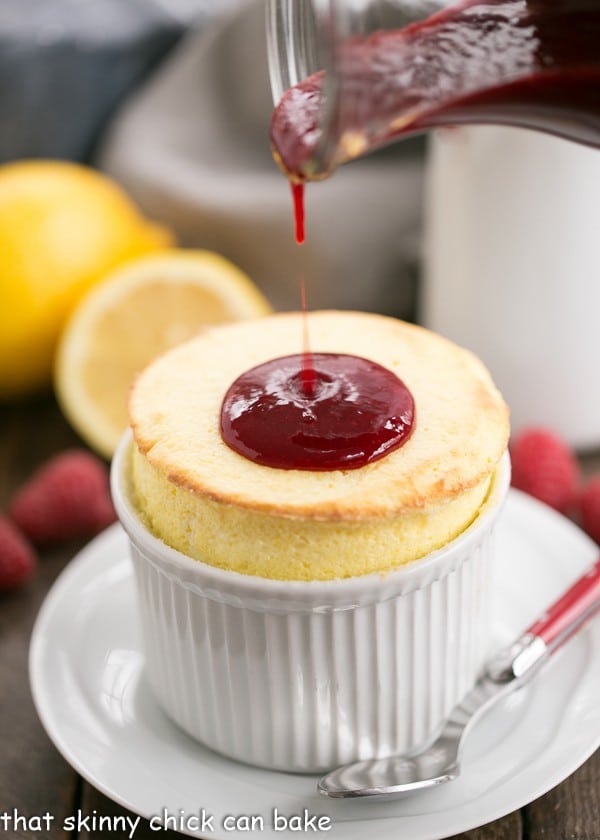 Expert Tips
Remember that egg whites beat best at room temperature, so get them out of the refrigerator at least an hour ahead of time.
PRO-Tip: You can always put the eggs in a bowl of warm water if you don't have time to spare. This will warm them up quickly.
When eggs are a room temperature, it is more likely the egg yolk will break when you're trying to separate them. I suggest separating each egg into two empty bowls, then transferring them to the collective bowls (8 yolks in one, 9 whites in another).
PRO-Tip: Note that any fat (from a little grease left in the mixing bowl or a bit of egg yolk contaminating the whites) in the whites will prevent them from whipping to firm peaks. It is worth a little extra effort to use the 3-bowl method mentioned above, so you don't waste 8 eggs (been there!).
Make sure to prep your ramekins. By buttering and dusting the sides with sugar, the souffle has something to adhere to as they rise.
This lemon soufflé recipe, like all soufflés, will start to deflate as soon as they emerge from the oven.
If you want to impress your guests, have the raspberry sauce ready to go, then make the soufflés after dinner (or as dinner is winding down) and serve right from the oven.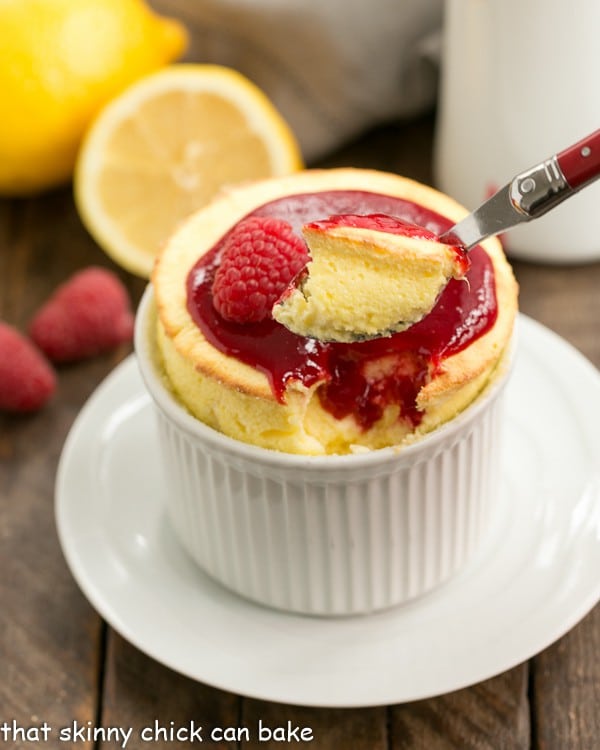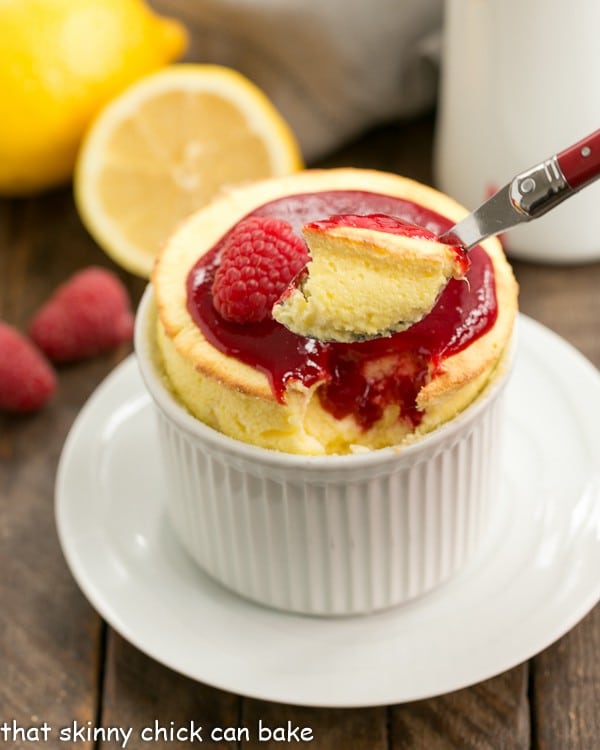 Frequently Asked Questions
What Is a Soufflé?
According to my Food Lover's Companion, a soufflé is a light, airy mixture that usually begins with a thick egg yolk-based sauce that is lightened by stiffly beaten egg whites. They can be hot or cold, savory or sweet. A baked soufflé puffs up impressively while in the oven, then quickly deflates. They must be served immediately for the best presentation.
Can You Make Soufflés in Advance?
Yes, as long as the egg whites were whipped properly and all the other ingredients folded in well, you can make souffles a few hours before you serve them. Just cover the ramekins with plastic wrap and refrigerate. Bring them out and let them warm up as the oven preheats. You may need to add an extra minute or two to the baking time.
What Kind of Dish is Best for Baking Soufflés?
Soufflé dishes are typically round ceramic dishes with straight sides. To encourage the soufflé to rise, the dishes are buttered, then dusted with sugar, giving the batter something to attach grasp onto as it puffs.
How Do You Know When a Soufflé is Done?
The edges should be set and the middle should barely jiggle when you tap the dish. You can also insert a long needle into the center of the souffle. It should come out without batter when the souffle is done.
You May Also Like:
Stay in touch through social media @ Instagram, Facebook, and Pinterest. Don't forget to tag me when you try one of my recipes! And if you love the results, please give it a 5-star rating in the recipe card. Note: As an Amazon Associate, I earn from qualifying purchases. Visit my Amazon Store for my favorite products.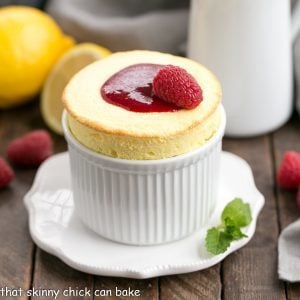 The Recipe:
Raspberry Topped Lemon Soufflés
Prep Time 20 minutes
Cook Time 25 minutes
Total Time 45 minutes
Yield 5-12; Varies depending on size of ramekins, 12 max
An elegant citrus dessert made in individual ramekins
Ingredients
Butter, at room temperature to butter ramekins
Sugar, for dusting ramekins
Soufflés::
1/2 cup sugar, divided
8 large egg yolks
9 large egg whites
2 1/2 tablespoons flour
2 tablespoons lemon zest, finely grated
1/3 cup freshly squeezed lemon juice (I used 1 1/2 lemons)
1 cup whole milk
2 tablespoons butter
Raspberry Sauce::
10 ounces frozen raspberries
1/3 cup sugar
Squeeze of fresh lemon juice
Powdered sugar to garnish
Raspberry sauce for serving, if desired
Fresh raspberries to garnish, if desired
Instructions
Preheat the oven to 375º. Generously butter 12 6-ounce ramekins, then coat with sugar.
Whisk together yolks, flour, zest, and half the sugar (1/4 cup).
Bring milk to boil in a saucepan. Slowly pour milk into the yolk mixture, whisking constantly to prevent yolks from cooking.
Return mixture to pan and whisk, while cooking, till thick like a pudding, 1-2 minutes. Strain through a sieve, then stir in butter and lemon juice.
Beat egg whites till foamy. Gradually add the remaining ¼ cup sugar and whip till medium-firm peaks form. Stir ⅓ of whites into the yolk mixture. Fold in the remaining whites gently with a spatula.
Fill each soufflé cup to the top, tap to settle, and smooth the top with a spatula. Run your thumb around the inside perimeter of each dish.
Place soufflés on a baking sheet and bake 15-18 minutes till they rise about an inch above the rim but are still jiggly in the center. Lightly dust with powdered sugar and serve immediately with raspberry sauce if desired.
To make the raspberry sauce, cook raspberries and sugar till the fruit is soft and breaks apart. Strain through a sieve. Add a squeeze of lemon juice. Cool before serving.
Notes
I used 8 ounce ramekins and baked the same amount of time. I only had enough batter to make 5 soufflés.
Recommended Products
As an Amazon Associate and member of other affiliate programs, I earn from qualifying purchases.
Nutrition Information:
Yield:
6
Serving Size:
1
Amount Per Serving:
Calories: 486
Total Fat: 17g
Saturated Fat: 8g
Trans Fat: 0g
Unsaturated Fat: 7g
Cholesterol: 303mg
Sodium: 263mg
Carbohydrates: 70g
Fiber: 5g
Sugar: 58g
Protein: 17g
Calories were calculated with 6 servings
Note: This post may contain affiliate links; view
my Disclosure Policy
for details. I earn a small percentage from any purchase you make by clicking on these links at no extra cost to you.