Classic Whoopie Pies with Marshmallow Cream Filling
These Classic Whoopie Pies are two moist chocolate cake rounds filled with a magical icing of marshmallow cream, butter, and powdered sugar!
With marshmallow fluff filling sandwiched between two mini cakes, these Chocolate Whoopie Pies stand out from all the other recipes! Transport yourself to the Northeast with these famous Maine Whoopie Pies!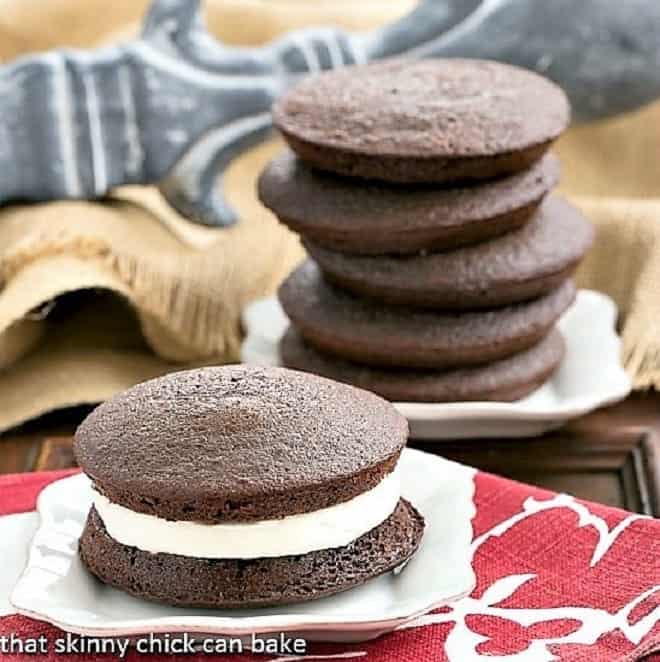 Why You Must Make
If you like chocolate cake, these mini cakes will rock your world!
Plus, the filling made with marshmallow cream is exquisite. The mixture of butter, marshmallow cream, and powdered sugar creates an extraordinary confection.
They are portable treats—perfect for picnics, snacks, and lunch boxes (pack some wipes!).
Whoopie pies were not mainstream in my hometown of Ames, Iowa. In fact, I'd never tasted one until I baked a batch for my family a couple of years ago. Seeing Martha Stewart make Cranberry Island Whoopie Pies on her show was enough to motivate me to run to Sur la Table and buy a couple of muffin top pans (there's an Amazon link in the recipe card below).
Ingredient Notes
Kitchen Staples – Sugar, Salt, Baking Soda, Flour
Butter – At room temperature; extra needed to grease the muffin top pan. I use salted butter.
Eggs – At room temperature
Vanilla Extract – Real vanilla, not artificially flavored
Buttermilk – See how to make a substitution if needed under the expert tips below.
Cocoa Powder – Sift if lumpy.
Powdered Sugar – (Confectioner's Sugar) – Sift.
Marshmallow Creme – I use a 7-ounce jar of Jet Puff brand.
How to Make
Make the whoopie pie batter as directed in a stand mixer.
Scoop the batter into the wells of a prepared muffin top tin.
Bake, cool briefly, then remove to a cooling rack.
Make the filling as they finish cooling to room temperature.
Pipe or spread the filling on the flat side of half of the whoopie pies.
Top with another half. Then dig in!!
Expert Tips:
While Nick was home for his college winter break, he and Katie requested another batch of these perennial favorites. It had been over a year since I last made this version of whoopie pies, but it's truly our favorite. We all hovered around the mixing bowl to sample any leftover filling. Peas in a pod, we are! My hubby says these are like over-the-top Suzie-Q's, which is a good thing, I guess. I hope you'll give them a try!
There are some recipes that don't require a special pan, but if you bake a lot, purchasing a "muffin top" pan is worth it.
PRO-Tip: If you don't have buttermilk on hand, you can make it at home with 2 kitchen staples. Put 1 tablespoon of lemon juice or a neutral color vinegar in a 1 cup liquid measuring cup. Fill the cup to the 1 cup mark with whole or 2% milk. Stir and let rest for 5-10 minutes before using.
Don't overbeat the batter as it will over-activate the gluten in the flour.
PRO-Tip: Spray the spoon or spatula with Pam before trying to get the marshmallow creme out of the jar. It will minimize sticking.
Cool the whoopie pies completely before filling.
For a "fancy" presentation, use a star tip to pipe the filling instead of a knife or offset spatula.
Add a little instant coffee or instant espresso powder to your cake batter to intensify the chocolate flavor. Try ½ teaspoon.
These cakes are so moist that you won't want to stack them when putting them in a storage container.
Frequently Asked Questions
Why are they called Whoopie Pies?
The unusual name seems to originate with the Pennslyvania Dutch who reported that their husbands and children responded with a "Whoopie!!!" when these were served.
When Did Whoopie Pies Originate?
There is some controversy over where the first whoopie pie originated, though it's agreed that they first appeared in the 1920s. Whether in Maine, where my recipe originated, or in the Amish country of Pennsylvania, these cookies, pies, sandwiches, cakes, or whatever you want to call them, are a beloved treat!
Can You Make Whoopie Pies without Special Pans?
For those who don't want to invest in two new muffin top pans (or borrow them from me), here's another Martha recipe you might like instead. I'd recommend using the marshmallow fluff filling below no matter which recipe you try.
How Do You Store Whoopie Pies?
Whoopie pies can be stored in an airtight container at room temperature for 1-2 days, then store in the refrigerator for 3-4 more days. Do not stack freshly baked whoopie pies as the moist cakes will stick to each other.
Whoopie pies freeze well for up to 3 months. Chill first, then wrap each in plastic wrap so you can pull out one at a time when a chocolate craving hits!
You May Also Like:
Prep Time 30 minutes
Cook Time 18 minutes
Total Time 48 minutes
Yield 10 whoopie pies
A classic whoopie pie recipe with a delectable marshmallow cream based filling. Adapted from Marthastewart.com
Ingredients
Whoopie Pies:
½ cup butter, at room temperature plus more for muffin pans
2 cups sugar
½ teaspoon salt
2 large eggs
1 ½ teaspoons vanilla extract
1 ½ teaspoons baking soda
1 cup buttermilk
1 3/4 cups flour
¾ cup cocoa powder
¾ cup boiling water
For filling:
1 cup butter
2 cups sifted powdered sugar
1 7-ounce jar marshmallow cream
2 teaspoons vanilla extract
Instructions
Preheat oven to 350º. Butter two 4 inch muffin top pans. Line each cup with a parchment round, then butter parchment.
Cream butter and sugar in a mixer with the paddle attachment until combined. Add salt, eggs and vanilla. Beat until just combined.
In a small bowl, mix baking soda and buttermilk. Add about one third of flour to mixer, then half of buttermilk, another third more of flour, the last of the buttermilk and the last of the flour, mixing well between each addition.
In another bowl, whisk cocoa powder with boiling water till smooth. Add to batter and mix till well combined.
Fill each muffin top cup with ¼ cup of batter. Bake tins for 9 minutes, rotate pans and bake another 9 minutes. Cool slightly before removing cakes to wire rack to cool completely.
Make filling: cream the one cup of butter and powdered sugar in a mixer with paddle attachment for about three minutes, then add marshmallow cream and vanilla. Mix till well combined.
Place generous ¼ cup of filling on bottom side of muffin tops. Place second cake on top to form a whoopie pie.
Notes
Can keep covered at room temperature for 1-2 days, then store in an airtight container in the refrigerator. Do not stack as the moist cakes will stick to each other.
Recommended Products
As an Amazon Associate and member of other affiliate programs, I earn from qualifying purchases.
Nutrition Information:
Yield:
10
Serving Size:
1
Amount Per Serving:
Calories: 723
Total Fat: 31g
Saturated Fat: 18g
Trans Fat: 1g
Unsaturated Fat: 10g
Cholesterol: 115mg
Sodium: 630mg
Carbohydrates: 106g
Fiber: 2g
Sugar: 78g
Protein: 7g
Note: This post may contain affiliate links; view
my Disclosure Policy
for details. I earn a small percentage from any purchase you make by clicking on these links at no extra cost to you.