Red Velvet Whoopie Pies
Red Velvet Whoopie Pies are made of two soft and tasty cake-like cookies sandwiching a luscious marshmallow cream filling. You'll yell, "Whoopie!!" after your first bite.
Whether you make the big version pictured or a smaller, 3 bite-size version, these Red Velvet Sandwich Cookies will have you smacking your lips and licking your fingers! My family adores whoopie pies, so it's no surprise that I ventured beyond the traditional chocolate version.
Why You'll Love Red Velvet Whoopie Pies
If you're fan of red velvet desserts, these whoopie pies will rock your taste buds.
The filling is a fabulous concoction with both cream cheese and marshmallow cream. Swoon-worthy is putting it mildly!
The color makes these perfect for Valentine's Day and Christmas!! Add some sprinkles for extra bling!!
My daughter, Katie, saw these Whoopie Pies on Good Morning America back in 2012. Emeril was promoting his new sandwich book. I love that my kids are keeping their eyes peeled for recipes for me to try (self-serving as that may be!). As it just happened, I had a group of friends promoting Kicked Up Sandwiches (affiliate link), and I won my very own copy, so I had no reason not to give this red velvet whoopie pie recipe a try.
Besides needing to dig out my piping supplies (and the dread that comes with utilizing them), these were simple to make. Katie had the first sample and proclaimed them winners. But she was nothing short of incredulous when she found out we were taking these to a tailgate and her brother and his friends would have access to her prized treats! He was kind enough not to take ALL the leftovers with him, so no family feud ensued!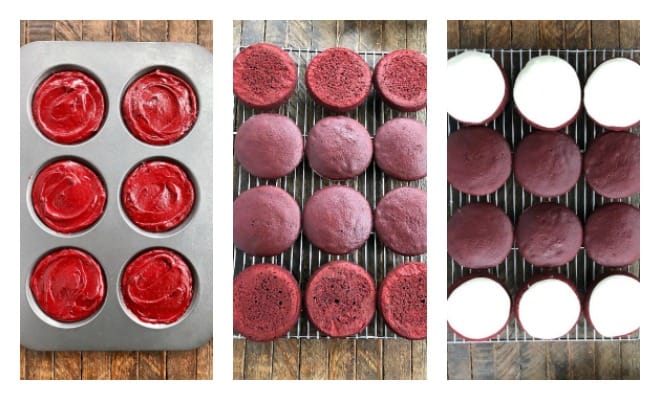 Spread batter in muffin top pan – Bake and Cool – Spread Marshmallow Cream Filling on flat side of half the whoopie pie halves
How to Make
There are two methods to make whoopie pies. First, you can pipe the cake batter into circles on a parchment-lined baking sheet, bake and fill. Or you can make a bigger version by spreading the batter into each well of a muffin top pan (affiliate link). After baking, two of the flat sides of the cakes are sandwiched with a rich frosting in the middle. Voila, a whoopie pie!
When I made the recipe using the pan for my photos, I added a full 1/4 cup of frosting to each. It was a bit too much. So I recommend using less so it doesn't start oozing out!
PRO- Tip: To make consistent sized free-formes or piped whoopie pies, trace the outline of a 2 1/2 inch diameter biscuit cutter on one side of the parchment paper, then repeat with approximately 2 inches between each circle. Flip over the paper and use the markings as a guide for piping the batter. For larger whoopie pies, using the specialty pan makes 6 instead of the 12-18 using the other method.
Have your butter and cream cheese at room temperature to make it easy to mix up the filling.
This recipe calls for 2 full tablespoons of red food coloring which is key to making these whoopie pies red in color. That's TWO bottles worth. It's a lot, but this is not a dessert you'll be making regularly. If that's a deal-breaker, try my chocolate whoopie pies which I've linked to below.
PRO-Tip: If you don't have any buttermilk on hand, you can make your own. Take a one-cup liquid measuring cup, add 1 tablespoon white or cider vinegar, then fill the cup to the 1-cup mark. Let the mixture rest for a few minutes and it will curdle slightly and be ready to go! Use whole milk or 2% milk, not skim milk.

Frequently Asked Questions
What Is a Whoopie Pie?
Whoopie pies are a dessert that originated in New England. and have been categorized as a cake, sandwich cookie, and a pie! Made of two mounds of cake-like cookies, and filled with buttercream, cream cheese, or marshmallow creme frosting, it's said to have gotten its name from the response from those eating them!
Other names for whoopie pies include black moons, gobs, black and whites, or Big Fat Oreos/BFO. 
What Whoopie Pie Filling Is Best?
There are many varieties of whoopie pies including classic chocolate, these red velvet, pumpkin, and even carrot cake. Numerous filling recipes can be used from a simple vanilla buttercream frosting to a cream cheese frosting to my favorite, a marshmallow creme-based frosting. 
This marshmallow creme frosting also has some cream cheese added to the mix, so it's the best of both worlds!
How Do You Store Whoopie Pies?
We always keep whoopie pies in the refrigerator but feel free to bring them out about an hour before serving to take the chill off. Since there's cream cheese in the filling, they shouldn't be left out at room temperature for longer than two hours.
An airtight container is key to keeping them fresh. These are best eaten within 3-4 days.
You May Also Like:
The Recipe:
Red Velvet Whoopie Pies Recipe
Prep Time 40 minutes
Cook Time 6 minutes
Total Time 46 minutes
Yield 6-12
A red velvet twist on whoopie pies with two mini red velvet cakes filled with a marshmallow cream and cream cheese filling!
Ingredients
For Whoopie Pies:
2 cups flour
1/2 cup cocoa powder
1 teaspoon baking soda
¼ teaspoon salt
8 tablespoons (1 stick) butter, at room temperature
1 cup sugar
1 large egg
2 tablespoons red food coloring
1 1/2 teaspoons vanilla
1 cup buttermilk (you can make your own by adding 1 tablespoon lemon juice or vinegar to 1 scant cup of milk)
Filling:
1 1/2 cups powdered sugar
7-ounce jar marshmallow creme
4 ounces cream cheese, at room temperature
2 tablespoons butter, at room temperature
1 teaspoon vanilla
Instructions
Preheat the oven to 400° for the small version or 350° for the larger ones baked in the muffin top pan. Line two baking sheets with parchment, Silpats or spray pans well with non-stick cooking spray and set aside. Whisk together the flour, cocoa powder, baking soda, and salt. Set aside.
Using a mixer, cream together the butter and granulated sugar. Add the egg and mix until combined.
Add the red food coloring and the vanilla, and beat until well blended.
Alternately add the buttermilk and the flour mixture, beginning with the buttermilk and ending with the flour. Mix until just combined.
Method one for smaller whoopie pies: Pipe 2 1/2-inch-diameter cookies onto the prepared pans, placing them 2 inches apart. If you don't own piping equipment, you can use a gallon Zip-loc bag with a corner cut off. Smooth the top of each cookie with a damp finger. Bake for approximately 6 minutes, or till they are puffy and the centers appear baked. Cool for about a minute on the baking sheets, and then remove to a cooling rack.
Method two for larger whoopie pies: Spray two muffin top pans with non-stick cooking spray. Divide batter between the wells, about 1/4 cup each. Spread evenly with an offset spatula. Bake for about 8 minutes, then rotate the pans and bake for 6 more minutes or until they are puffy and the centers appear baked. Use a toothpick to test. It should come out clean or with just a moist crumb or two when done.
To make the filling: Combine the powdered sugar, marshmallow creme, cream cheese, butter, and vanilla mix well.
To make the small whoopie pies: spread about a tablespoon of the filling over half of the cookies, on the flat side. Top with another cookie of approximately the same size. For the larger whoopie pies, use less than a quarter cup of filling per whoopie pie.
Yield: 6-18 depending on size.
Notes
The calorie count is for a batch of 12 whoopie pies.
Recommended Products
As an Amazon Associate and member of other affiliate programs, I earn from qualifying purchases.
Nutrition Information:
Yield:
12
Serving Size:
1
Amount Per Serving:
Calories: 327
Total Fat: 6g
Saturated Fat: 3g
Trans Fat: 0g
Unsaturated Fat: 2g
Cholesterol: 31mg
Sodium: 253mg
Carbohydrates: 63g
Fiber: 1g
Sugar: 41g
Protein: 5g
Note: This post may contain affiliate links; view
my Disclosure Policy
for details. I earn a small percentage from any purchase you make by clicking on these links at no extra cost to you.