Spiderweb Cookie Cake is perfect for all things Halloween! My chocolate chip cookie loving family thought this GIANT cookie, AKA Spiderweb Cookie Cake, was a genius idea!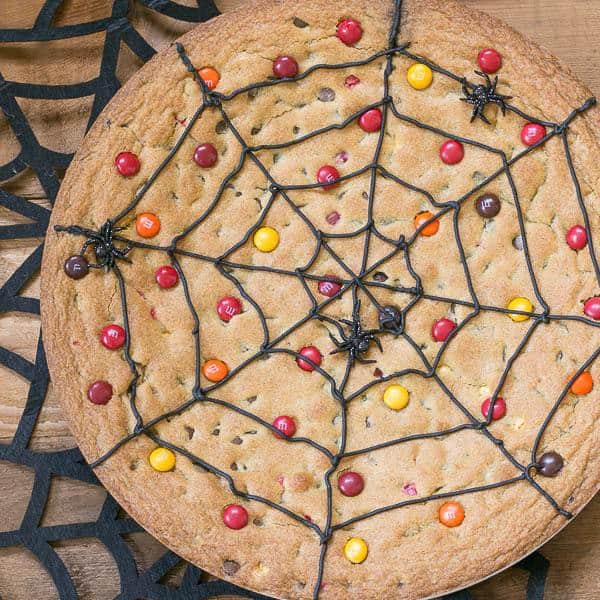 Note: This post may contain affiliate links; view my Disclosure Policy for details.  I earn a small percentage from any purchase you make by clicking on these links. This helps me keep my kitchen stocked with butter and chocolate!
Spiderweb Cookie Cake
I am not an artsy craftsy gal. I have two sisters who are painters, one who actually got her Masters in Painting, and a mother who also has her MFA and is an accomplished calligrapher. Unfortunately, I inherited my dad's artistic ability. The epitome of a physics professor complete with the disheveled Einstein hair, my dad entertained us by drawing cats out of capital Q's with rudimentary triangle ears.
He was much better with the lines, angles and arrows necessary for writing up college exams. And I'd actually prefer to solve an algebraic equation or a geometry proof than to draw anything. So when my Holiday Food Blog friends scheduled a post for Halloween, I went the easy route with this spiderweb cookie cake. Even that was a challenge!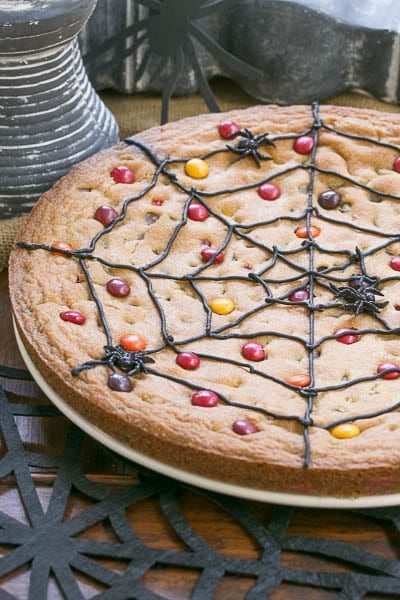 Easy Halloween Dessert
As most of you may realize from the zillions of chocolate chip cookie recipes on this blog, my family adores any variation of this treat. Chocolate chip cookie bars, cookie cakes and especially the cookies, sans nuts, of course.
For this spiderweb cookie cake, I stirred up a batch of dough, added both chocolate chips and fall colored M & M's before spreading it into a 14-inch diameter pizza pan. After it baked, a few more M & M's were pressed into the warm cookie to garnish; and then when it was completely cooled, I piped on a simple spiderweb pattern.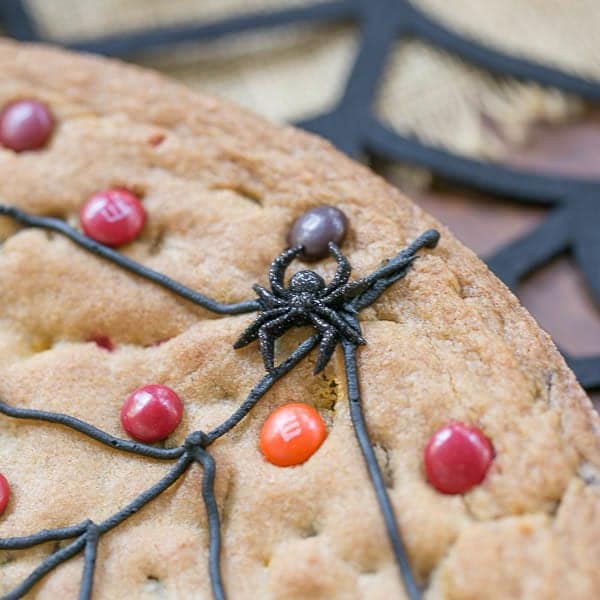 Remember to remove the plastic creepy crawlers before serving.
My spider may have been nipping the sauce when he wove this imperfect web, but my family didn't care. In fact, this super easy Halloween dessert drew high praise from my hubby who told me I could make this again anytime. Today, I've teamed up with some blogger friends and we've all shared a festive, Halloween recipe. Scroll down to see all the spooky treats!

More Terrific Recipes from My Holiday Food Party Friends:
Mini Pumpkin Oreo Cheesecakes from Chocolate Moosey
Liquid Ghost Halloween Cocktail from Pineapple and Coconut
Peanut Butter White Chocolate Popcorn from The Girl in the Little Red Kitchen
Nutty Peanut Buttery Caramel Apples from Hungry Couple
Creepy Crawly Coffee Cake from gotta get baked
Chocolate Sugar Cookies from Jen's Favorite Cookies
Count Chocula Peanut Butter Marshmallow Treats from Cupcakes and Kale Chips
Devil's Wing Sauce from Magnolia Days
Spiderweb Cookie Cake from That Skinny Chick Can Bake
Used in This Recipe:
Print
Spiderweb Cookie Cake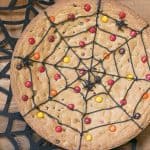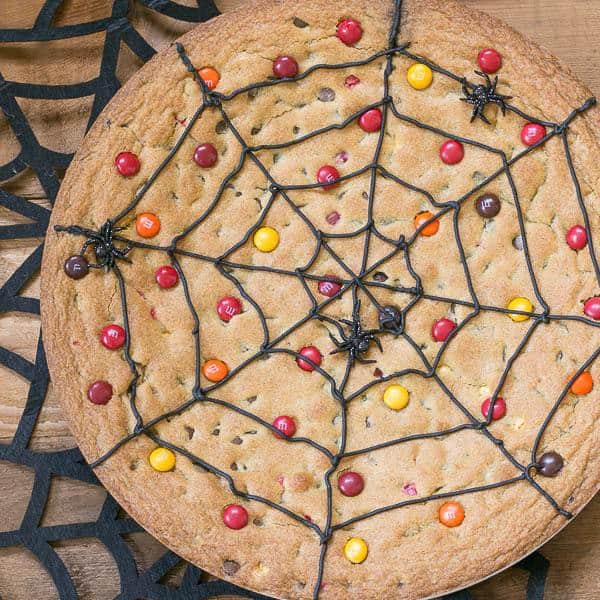 Ingredients
2 sticks (1 cup) butter, at room temperature
1 cup brown sugar
1/2 cup sugar
2 eggs
2 teaspoons vanilla
2 cups plus 2 tablespoons flour
1 teaspoon baking soda
1/2 teaspoon salt
2 cups semi-sweet chocolate chips
1 cup M & Ms, divided
Tube of black frosting (or may use homemade), for spiderweb
Instructions
Preheat oven to 375º. Line a 14 inch deep round pizza pan with parchment and grease entire pan including the paper. Set aside.
Cream the butter and sugars in a large bowl. Add eggs and mix to combine. Add vanilla and mix well. Add dry ingredients, and stir till incorporated. Mix in chocolate chips and ½ cup M & Ms, reserving ½ cup to garnish the top. Spread dough evenly in prepared pan. Use remaining M & Ms to decorate the top of the cookie cake.
Bake for 20-25 minutes. And reserved M & M's to garnish. Cool and remove from pan if desired. Use icing to pipe on spiderweb design. Add plastic spiders for effect if desired, but remove before serving. Slice and serve.
Yield: 12 servings
Total time: 1½ hours with cooling time
Nutrition
Calories:

6365kcal

Sugar:

564g

Sodium:

2781mg

Fat:

343g

Saturated Fat:

208g

Trans Fat:

8g

Carbohydrates:

816g

Fiber:

33g

Protein:

64g

Cholesterol:

837mg