Spiderweb Cookie Cake
Spiderweb Cookie Cake is perfect for all things Halloween! My chocolate chip cookie-loving family thought this GIANT cookie, AKA Spiderweb Cookie Cake, was a genius idea! Your family will want this cookie cake recipe to become a holiday tradition at your house, too!!
To make this Halloween Treat, cookie dough is pressed into a deep dish pizza pan and baked into a scrumptious, sweet and chewy, chocolate-laden cookie cake. With a little piping of black icing, the top is of this Easy Halloween Dessert is transformed into a creepy spiderweb!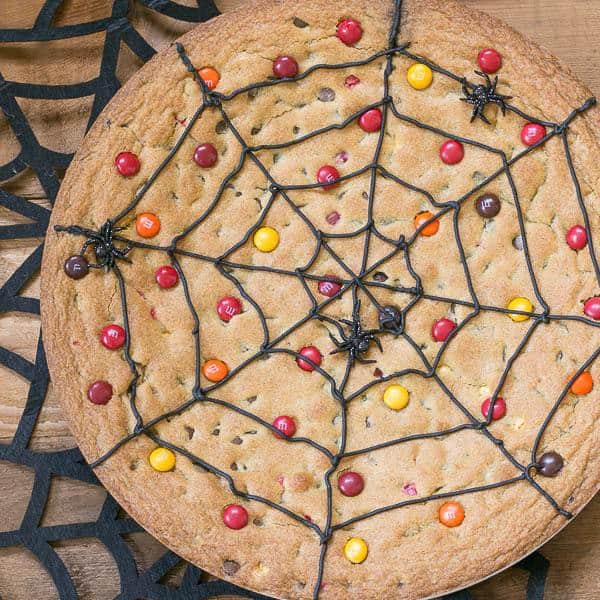 Why You Must Make
It's awfully cute and won't scare young children.
It's easy to make and decorate (just warn everyone that the spiders aren't edible!)
A homemade cookie cake tastes so much better than one from the grocery store.
This cookie cake is just a big chocolate chip cookie! Who wouldn't be on board with that??
Ingredient Notes
Kitchen Staples – Brown Sugar, Sugar, Flour, Baking Soda, Salt
Butter – at room temperature
Eggs – at room temperature
Vanilla – Make sure it's real vanilla extract, not artificially flavored.
Semi-sweet Chocolate Chips – May use bittersweet if that's your preference.
M & Ms – Look for fall colored M & M's
Tube of Black Frosting (or may pipe homemade frosting) – To make the spiderweb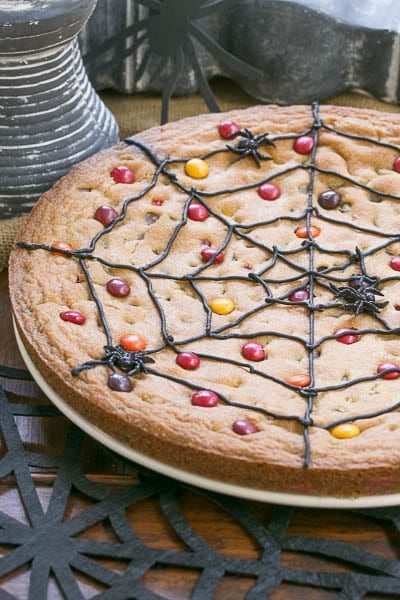 How to Make
As most of you may realize from the zillions of chocolate chip cookie recipes on this blog, my family adores any variation of this treat. Chocolate chip cookie bars, cookie cakes, and especially the cookies, sans nuts, of course.
Mix up a batch of dough and add both chocolate chips and fall-colored M & M's.
Spread the dough into a 14-inch diameter deep-dish pizza pan.
Bake as directed.
As soon as you pull it out of the oven, press a few more M & M's onto the surface of the warm cookie to garnish.
Cool completely, then pipe on a simple spiderweb pattern. Start at the center and draw lines like the spokes of a bicycle tire, then connect the lines with slightly curved lines to resemble a web.
Expert Tips
This is one big cookie cake! It rivals those you see decorated in the grocery store bakery cases, but it tastes a heck of a lot better. Here are some tips to help make a delicious cookie cake.
This recipe is designed for baking in a 14-inch deep pizza pan. Make sure your pan has a solid bottom as some come with perforations to allow a pizza crust to brown on the bottom, but this kind of pan will leak.
Pat the dough in evenly, then use an offset spatula to smooth the surface. It will be easier to pipe the web on a level surface.
I like reserving some M&M's to press into the cookie cake when it comes out of the oven. I used a package of Autumn M&M's, but you can use different colors for different occasions.
The spiders(affiliate link) I used are plastic, so if you go that route, make sure to take them off if feeding wedges of this cookie cake to children. My dad was known to accidentally eat birthday candles, so depending on your crowd, be cautious, LOL.
I tried piping with homemade frosting and tubes of premade frosting. The black color was better in the tubes but look for a thin tip to make a more precise web.
With the premade frosting, it was easy to lift off mistakes and start over. I'm not very artsy-craftsy, so being able to fix the web was very handy!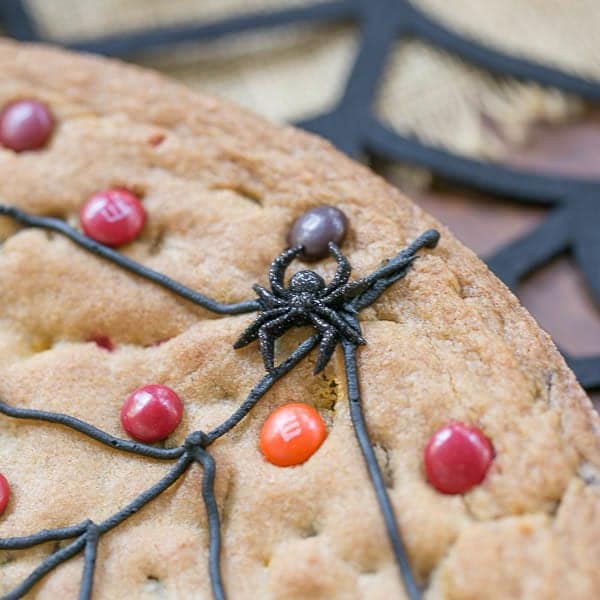 Remember to remove the plastic creepy crawlers before serving.
Frequently Asked Questions
What is a Cookie Cake?
Basically, a cookie cake is a large cookie baked in a round flat pan like a deep-dish pizza pan. Cookie dough is pressed into the pan, baked, then the dessert is often decorated with frosting. It's served in wedges.
How Long Do You Bake a Cookie Cake?
It will depend on the temperature of the oven, the type of cookie dough, the size of the pan, and the thickness of the dough. This version takes 20-25 minutes, so use the recipe as your guide and make sure the center looks cooked and lightly browned before pulling it out of the oven.
How Do You Decorate a Cookie Cake?
For more of a bakery-like presentation, carefully press chocolate chips or any candies used in the dough on top of the cookie cake as soon as it comes out of the oven. Then when it cools, decorate with frosting, either piping stars around the perimeter or for Halloween, try making a spiderweb.
You May Also Like
My spider may have been nipping the sauce when he wove this imperfect web, but my family didn't care. In fact, this super easy Halloween dessert drew high praise from my hubby who told me I could make this again anytime.
Stay in touch through social media @ Instagram, Facebook, and Pinterest. Don't forget to tag me when you try one of my recipes! And if you love the results, please give it a 5-star rating in the recipe card. Note: As an Amazon Associate, I earn from qualifying purchases. Visit my Amazon Store for my favorite products.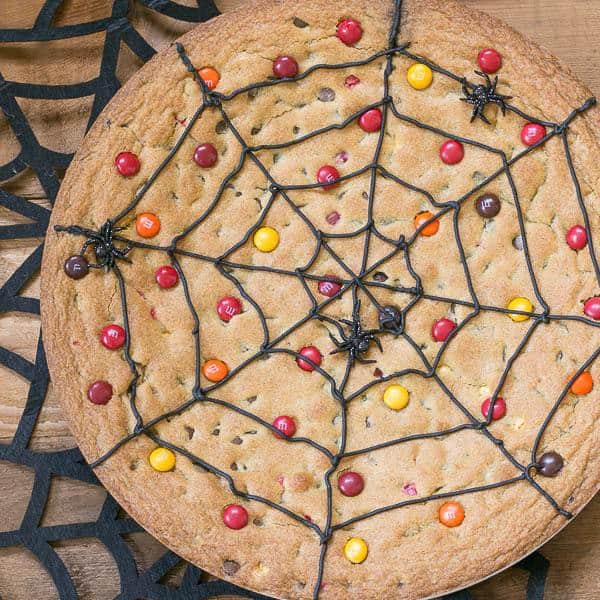 The Recipe:
Spiderweb Cookie Cake Recipe
Prep Time 30 minutes
Cook Time 25 minutes
Total Time 55 minutes
Yield 16 servings
An easy Halloween dessert that young and old will love!
Ingredients
2 sticks (1 cup) butter, at room temperature
1 cup brown sugar
½ cup sugar
2 eggs
2 teaspoons vanilla
2 cups plus 2 tablespoons flour
1 teaspoon baking soda
½ teaspoon salt
2 cups semi-sweet chocolate chips
1+ cups M & Ms, divided (I like using the fall colored M & M's)
Tube of black frosting (or may use homemade), for spiderweb
Instructions
Preheat oven to 375º.
Line a 14-inch deep round pizza pan with parchment and grease the entire pan including the paper. Set aside.
Cream the butter and sugars in a large bowl. Add eggs and mix to combine. Add vanilla and mix well.
Add dry ingredients, and stir till incorporated.
Mix in chocolate chips and ½ cup M&Ms, reserving ½ cup to garnish the top.
Spread dough evenly in the prepared pan. Save the remaining M&Ms to decorate the top of the cookie cake after it comes out of the oven.
Bake for 20-25 minutes.
Carefully press in the reserved M&Ms to garnish.
Cool and remove from pan if desired.
Use icing to pipe on a spiderweb design. Add plastic spiders for effect if desired, but remove them before serving.
Slice and serve.
Notes
Be careful when you press the leftover M&Ms into the hot cookie cake. Use a hot pad to stabilize the pan.
Recommended Products
As an Amazon Associate and member of other affiliate programs, I earn from qualifying purchases.
Nutrition Information:
Yield:
16
Serving Size:
1 wedge
Amount Per Serving:
Calories: 260
Total Fat: 10g
Saturated Fat: 6g
Trans Fat: 0g
Unsaturated Fat: 4g
Cholesterol: 25mg
Sodium: 172mg
Carbohydrates: 43g
Fiber: 2g
Sugar: 39g
Protein: 2g
I am not an artsy-craftsy gal. I have two sisters who are painters, one who actually got her Master's in Painting, and a mother who also has her MFA and is an accomplished calligrapher. Unfortunately, I inherited my dad's artistic ability. The epitome of a physics professor complete with the disheveled Einstein hair, my dad entertained us by drawing cats out of capital Qs with rudimentary triangle ears.
He was much better with the lines, angles, and arrows necessary for writing up college exams. And I'd actually prefer to solve an algebraic equation or a geometry proof than to draw anything. So when my Holiday Food Blog friends scheduled a post for Halloween, I went the easy route with this spiderweb cookie cake. Even that was a challenge!
Note: This post may contain affiliate links; view
my Disclosure Policy
for details. I earn a small percentage from any purchase you make by clicking on these links at no extra cost to you.