Chocolate Mummy Cupcakes
These Chocolate Mummy Cupcakes are dressed up for Halloween! A simple technique helps you create a festive dessert for the holiday!
Your family will love these Easy Halloween Cupcakes! You won't break a sweat making them, and they are super tasty.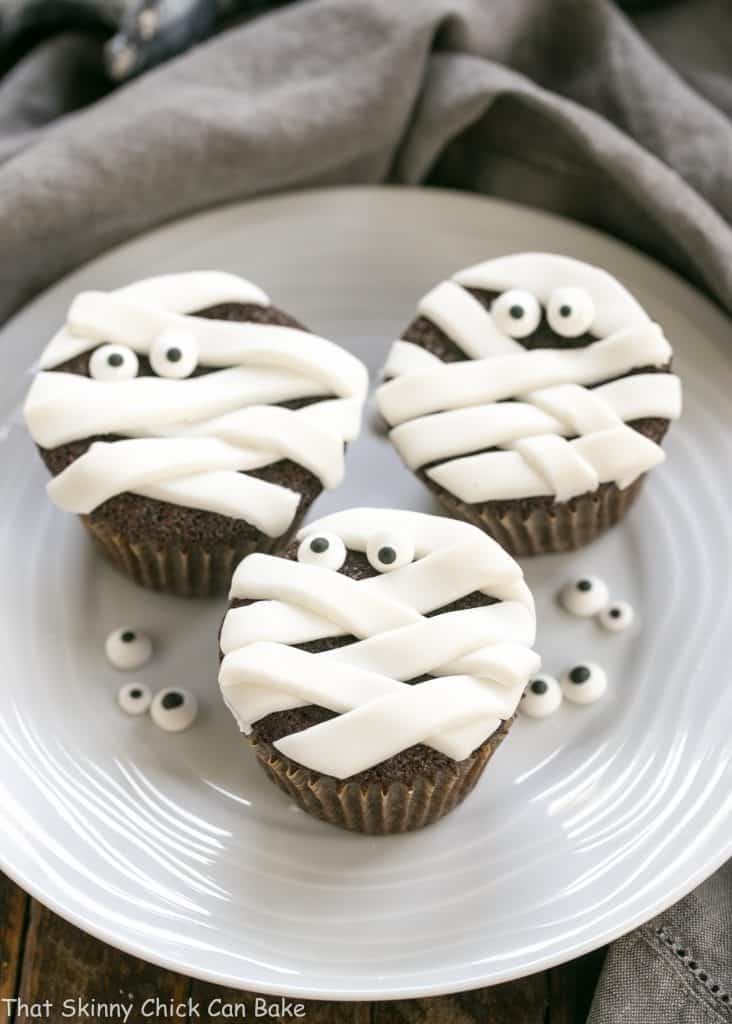 Why You Must Make
There are SO many creative Halloween recipes. I'm all about a low-stress decorating technique. If you're making these for those with discriminating palates, feel free to use my homemade cupcake recipe listed below and pipe or drizzle vanilla buttercream for the mummification process.
These yummy mummy cupcakes are super easy. You can even use a box of chocolate cake mix to streamline the process even more.
These aren't super scary so even young children will enjoy eating them!
You can always pipe on the frosting with a piping bag and tip, but this method is so much simpler.
Fondant isn't as tasty as frosting, but it looks wonderful and even new bakers can master this in no time! Keep scrolling for more Halloween Baking Ideas and more!
Ingredient Notes
Chocolate Cupcakes – Homemade, made from a mix, or purchased without frosting.
White Fondant – Find at JoAnn's, Michaels, or Amazon.
Powdered Sugar – To prevent sticking when rolling.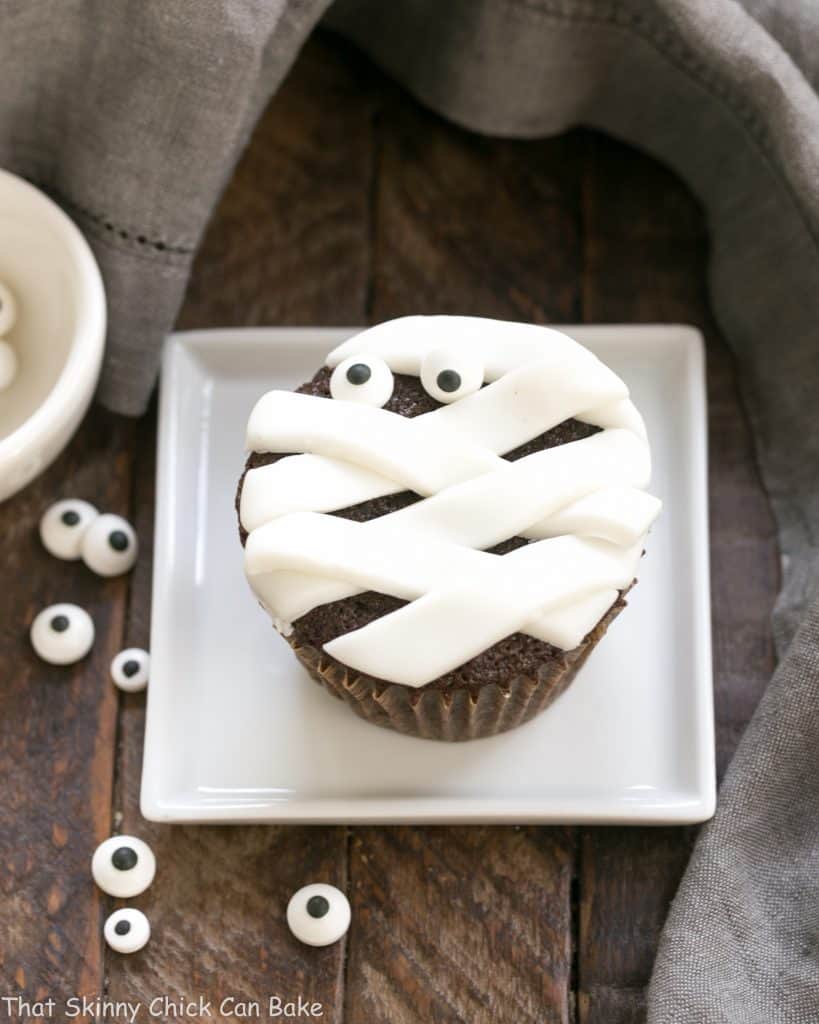 How to Make
Bake your cupcakes and cool.
Cut out strips of white fondant and criss-cross them across the surface of each cupcake weaving over and under. They should look like mummy wrappings.
Trim off the excess.
Add two sugar eyeballs. If you place one on the fondant, dampen the surface where you want to place it to make it tacky or sticky.
My Halloween memories are filled with bags of candy, trick-or-treating with my best friends as well as birthday festivities. My birthday is actually the day before Halloween, but since I grew up in a small college town, our trick-or-treating schedule was adjusted.
Some wise soul thought that having both wild college students and young children on the streets on All Hallows Eve might not be prudent. We went house to house on the 30th instead of the 31st.
So my birthday ended with eating Tootsie Rolls, Milk Duds, and Milky Way Bars. Not too shabby. I don't recall my mother making any special treats for Halloween but she, as the artist in the family, could have made some amazing Halloween cupcakes, maybe even Halloween mummy cupcakes. I recommend these easy yummy mummy cupcakes if you want to make a special holiday treat for your kids!
Recipe Tips
You can make homemade chocolate cupcakes, use a box mix or buy some unfrosted chocolate cupcakes if available.
Make sure your cupcakes are well-cooled before you start to decorate.
Look for fondant at Michael's or JoAnn Fabrics. Plus, it's available on Amazon (there's an affiliate link in my recipe card below).
Use a scissors or knife to cut the strips.
Instead of using flour to keep the fondant from sticking to the surface when rolling and cutting, use powdered sugar. It does the trick and tastes better than flour for a dessert garnish.
And to get fondant to stick to fondant, just wet the fondant which will melt some of the sugar and make it sticky.
Frequently Asked Questions
How Can You Decorate Halloween Cupcakes?
Try making a witch's hat with an Oreo and a Hershey's Kiss or a spider with an Oreo, frosting legs and sugar eyeballs. You can top a frosted cupcake with candy corn or candy pumpkins. Just use your imagination.
How Long Do Decorated Cupcakes Keep?
As long as you store them in an airtight container, they'll stay fresh for 3-4 days. You can also freeze them for up to 3 months. Just defrost overnight in the refrigerator before serving. They will taste best if brought to room temperature to serve.
The Halloween Project!
I've been with a group of bloggers posting Halloween recipes for the past 3 years. And, of course, if you're looking for an easy-peasy idea, keep these mummy Halloween cupcakes in the back of your mind! Plus, check out more Easy Halloween Treats below!
You May Also Like:
Stay in touch through social media @ Instagram, Facebook, and Pinterest. Don't forget to tag me when you try one of my recipes! And if you love the results, please give it a 5-star rating in the recipe card. Note: As an Amazon Associate, I earn from qualifying purchases. Visit my Amazon Store for my favorite products.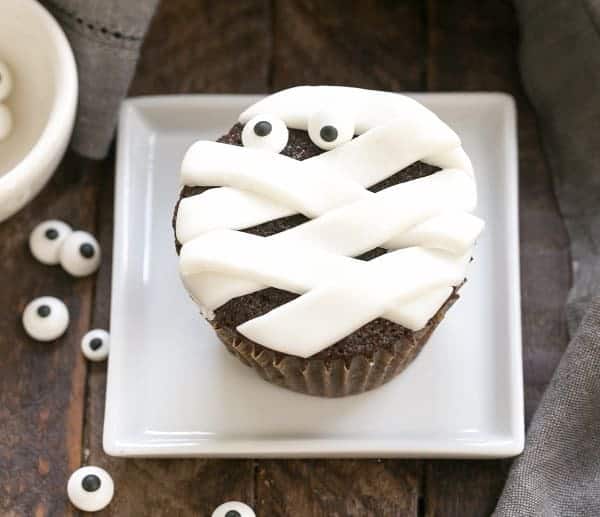 The Recipe:
Chocolate Mummy Cupcakes
Prep Time 30 minutes
Cook Time 21 minutes
Total Time 51 minutes
Yield 14
An easy way to dress up your cupcakes for Halloween!
Ingredients
For Cupcakes
1 cup plus 2 tablespoons flour
¼ cup cocoa powder
1 ¼ teaspoons baking soda
¼ teaspoon salt
1 egg
½ cup brown sugar
½ cup sugar
½ cup plus 2 tablespoons milk
⅓ cup strong coffee
½ cup butter melted
To Garnish
1 box of white fondant
Powdered sugar
A small amount of white frosting (from the grocery store or you can make a paste from powdered sugar and water)
Sugar eyes
Instructions
Preheat oven to 350º. Line muffin tin with cupcake liners.
Whisk flour, cocoa, baking soda, and salt together in a small bowl. In a medium bowl, whisk together egg, brown sugar, and white sugar. Whisk in the milk, coffee, and melted butter. Whisk in the dry ingredients. Divide batter into 12 spots in the muffin tins (fill about ¾ full). I usually have enough batter to make 2 more cupcakes.
Bake for 15 minutes (mine took 21 minutes) or till a tester inserted in the middle of a cupcake comes out clean. Cool for 10 minutes, then remove from pan and continue cooling on wire rack.
When the cupcakes are cool, remove some of the fondant from the box.
Dust your work surface with powdered sugar, and knead the fondant using the base of your palms. Roll the fondant to about 1/8-inch thickness or less.
Use a biscuit cutter that's about the size of the top of your cupcakes and cut out a round. Roll again just to make the diameter slightly larger than your cupcake top.
Cut strips from the round, then arrange them over the cupcake to resemble a mummy.
Determine where you want the eyes and place a small dab of frosting in two locations as glue. Cover the frosting with the eyes. Repeat with the rest of the cupcakes.
Notes
Feel free to make cupcakes from a box mix to save time.
Fondant and sugar eyes are available at stores like Michaels and Jo-Ann Fabrics
Cupcake recipe adapted from Ghirardelli.
Recommended Products
As an Amazon Associate and member of other affiliate programs, I earn from qualifying purchases.
Nutrition Information:
Yield:
14
Serving Size:
1 cupcake
Amount Per Serving:
Calories: 180
Total Fat: 8g
Saturated Fat: 4g
Trans Fat: 0g
Unsaturated Fat: 3g
Cholesterol: 31mg
Sodium: 216mg
Carbohydrates: 28g
Fiber: 0g
Sugar: 26g
Protein: 1g
Note: This post may contain affiliate links; view
my Disclosure Policy
for details. I earn a small percentage from any purchase you make by clicking on these links at no extra cost to you.