Warm Chocolate Cheesecakes
Rich, luscious individual Warm Chocolate Cheesecakes are a terrific party or special occasion desserts, but easy enough for a weeknight! Who doesn't love their own personal dessert? These mini cheesecakes are incredibly delicious and you won't have to share!
This Chocolate Cheesecake Recipe passed all the picky palate taste tests! Serve right out of the oven for a magnificent indulgence!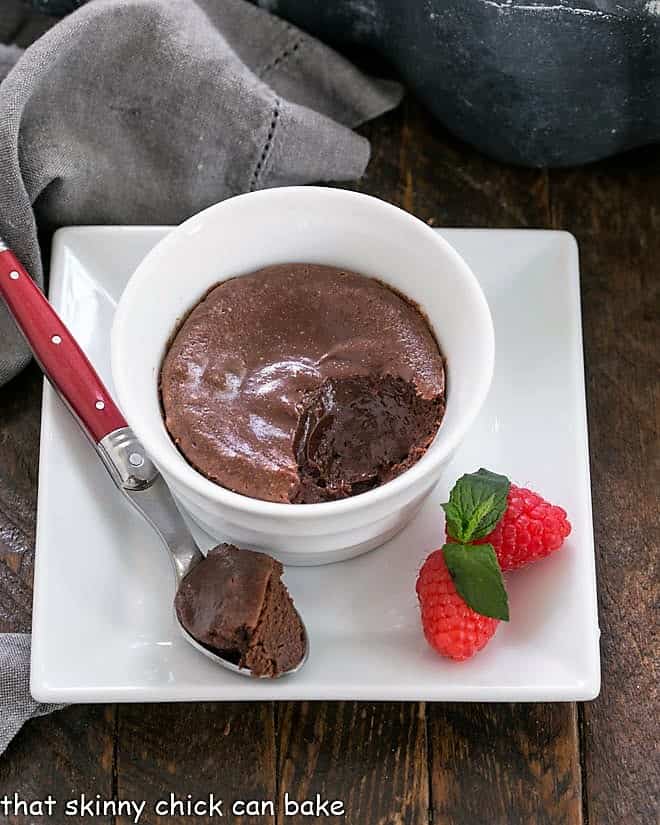 Why You Must Make
Everyone loves having their own personal dessert!
These chocolate cheesecakes are rich and creamy.
This recipe comes from Sara Mouton, former editor of Gourmet magazine.
Unlike typical cheesecake recipes, these minis are eaten warm!! SO darn good!
I cannot bake anything chocolate without a curious family member popping into the kitchen to peer into the oven….along with a slew of questions. Is that for us? Does it have nuts? When will it be ready? The irresistible scent of brownies or chocolate chip cookies works its way into every nook and cranny of our house.
You can imagine the reaction when these cheesecakes started puffing up and sending out their heavenly fragrance. So quick, so decadent, from start to finish, the aroma of chocolate decadence was present in less than an hour. And the fact that a Warm Chocolate Cheesecake could practically be eaten fresh out of the oven, made them even MORE popular with my crew.
Expert Tips
PRO-Tip: Make sure to set your egg and cream cheese on the counter at least an hour before you start mixing. Having them both at room temperature helps to make a super creamy cheesecake.
Use good quality chocolate and vanilla extract. Those are the two main flavors in these chocolate cheesecakes so using generic chocolate chips or artificial vanilla will not produce the tastiest results.
I like using (affiliate links) a semi-sweet Ghirardelli chocolate bar. This chocolate is easy to find in the supermarket. And I always have Neilsen-Massey Vanilla Extract in my pantry.
Grease four 1/2-cup capacity ramekins with butter.
Gently melt the chopped chocolate in a microwave-safe bowl. I start and stop at 30-second increments, stirring each time until melted and smooth. If you don't have a microwave, you can melt the chocolate by placing the bowl into a similarly sized saucepan partially filled with simmering water, stirring occasionally until melted.
Mix in the cream cheese and vanilla with a rubber spatula until well combined.
Whisk together the dry ingredients, then add to the chocolate. After that's well mixed, mix in the egg.
Divide the batter between the prepared baking dishes and bake until the centers are set.
Serve warm with ice cream, whipped cream, berries, or just plain!
Frequently Asked Questions
How Many Calories are in Individual Cheesecakes?
These cheesecakes have about 475 calories each without whipped cream or ice cream toppings. This is certainly less than a big slice of cheesecake with a crust, but wouldn't be considered a healthy or lower-cal dessert.
How Do You Make Chocolate Cheesecakes?
Making these individual cheesecakes is very easy. You do not even need a mixer! The dry ingredients are mixed into the chocolate cream cheese mixture. An egg is added, then they're scraped into ramekins and baked. That's it!
How Do You Store Individual Cheesecakes?
These cheesecakes should be stored in the refrigerator, covered with plastic wrap. They taste best if brought out of the refrigerator to warm up a bit for about an hour before serving.
You May Also Like:
The Recipe:
Warm Chocolate Cheesecake
Prep Time 15 minutes
Cook Time 25 minutes
Total Time 40 minutes
Yield 4 servings
Rich individual chocolate cheesecakes that can be eaten warm out of the oven!
Ingredients
4 ounces semi-sweet chocolate, chopped
8 ounces cream cheese, at room temperature
1 teaspoon vanilla
1/4 cup plus 2 tablespoons sugar
2 teaspoons flour
1 large egg, at room temperature
Berries, whipped cream or ice cream, optional for serving
Instructions
Preheat the oven to 350°. Butter four ½-cup ramekins and place them on a baking sheet.
Coarsely chop the chocolate and gently melt in a microwave-safe bowl, stopping and stirring at 30-second increments until smooth.
Combine the chocolate with the cream cheese and vanilla and mix with a rubber spatula till well combined.
Stir together the sugar and flour, and mix into the chocolate mixture until well combined. Add the egg and mix until incorporated. Divide the batter evenly between the ramekins.
Bake for 20 to 25 minutes, until the centers are set. Cool slightly before serving. May top with a dollop of whipped cream or vanilla ice cream and berries if desired.
Notes
You can make the batter a day ahead, fill the ramekins, cover and refrigerate. The next day, let them rest at room temperature for an hour before baking to take the chill off. Then bake as directed.
Recommended Products
As an Amazon Associate and member of other affiliate programs, I earn from qualifying purchases.
Nutrition Information:
Yield:
4
Serving Size:
1 ramekin
Amount Per Serving:
Calories: 473
Total Fat: 33g
Saturated Fat: 19g
Trans Fat: 0g
Unsaturated Fat: 11g
Cholesterol: 119mg
Sodium: 226mg
Carbohydrates: 41g
Fiber: 3g
Sugar: 33g
Protein: 8g
Note: This post may contain affiliate links; view
my Disclosure Policy
for details. I earn a small percentage from any purchase you make by clicking on these links at no extra cost to you.