When berries are plentiful in the markets, I love making these Individual Berry Crisps to highlight their sweet deliciousness!
Individual Berry Crisps
Making a pie is often time-consuming, not to mention daunting. I've messed up too many pie crusts to mention. Granted, they usually taste yummy, but not what I'd want to serve to company. Crisps are pretty much foolproof. Plus making them in ramekins is a terrific presentation, creating individual berry crisps for each of your guests.
Easy Summer Dessert
These mini berry crisps are a snap to prepare. Just head to your favorite farmers' market, produce stand or grocery store and pick up 4 cups of the ripest seasonal berries you can find. I love using a mixture of luscious raspberries, blackberries, and blueberries. Gently toss the berries with sugar and cornstarch and divide between ramekins.
I love using these
mini red cocottes
from Le Crueset. But you're more likely to have 6 or
8-ounce ramekins
in your kitchen. Either will work fine. Sprinkle with a simple brown sugar butter streusel, bake, and voila, dessert is served! Make sure the filling is hot and bubbly to ensure the cornstarch works its thickening magic.
 Served warm with vanilla ice cream, these berry crisps are the perfect salute to summer! These individual berry crisps will delight your taste buds!
Print
Individual Berry Crisps and Overdue Thank Yous
A delicious mix of berries topped with a brown sugar crisp
Author:
Prep Time: 15 mins
Cook Time: 40 mins
Total Time: 55 minutes
Yield: 4 servings 1x
Ingredients
Berry Filling::
4 cups mixed berries (I used fresh blueberries, fresh raspberries, and fresh blackberries)
1/4 cup sugar (or more if berries are not sweet)
2 tablespoons cornstarch
Topping::
1/2 cup flour
1/4 cup brown sugar
1/4 cup butter, cut into small pieces
Instructions
Preheat oven to 350º.
Gently mix berries with sugar and cornstarch. Divide between 4 8-ounce ramekins.
Make topping by combining flour, brown sugar, and butter. With fingers, press, break apart and work in butter until topping resembles cornmeal. Sprinkle evenly over the four ramekins.
Place ramekins on baking sheet and bake for 35-45 minutes, until the filling bubbles and the topping is browned. Cool slightly, then serve with vanilla ice cream.
More Favorite Crisps: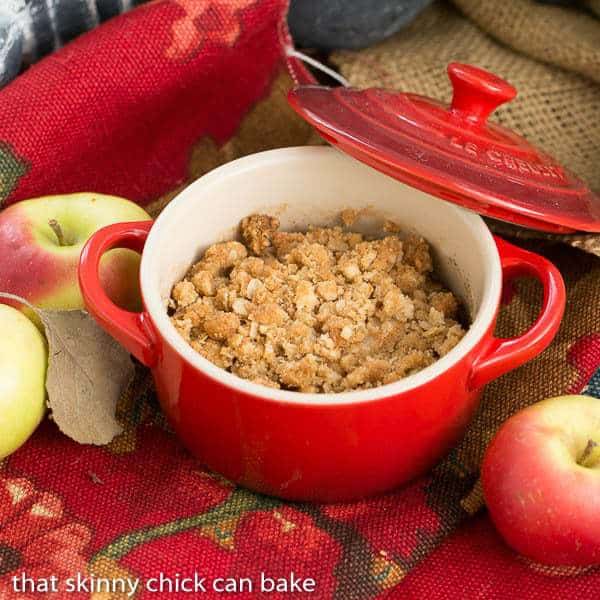 June, 2011
I'm WAY overdue to thank a number of blogger friends. I've won my fair share of fabulous, generous blog give aways lately…and have LOVED all my new loot!  So please visit these fabulous blogs and let them know I sent you their way:
Darling Carina of Kitchen Groovy…isn't this the most adorable necklace????
Sweet Brandie of The Country Cook…we were thrilled to have a basket of chocolates delivered to our door~
Perfect!
>Gina of SP Cookie Queen…a small batch chocolate cookbook…hooray!
Gwenevere  of Apron Appeal…she made these lovely reusable grocery bags…such talent!!!
Susan of Create Amazing Meals…an Amazon gift card…what do you think I purchased??? Yes, a cookbook.
Ed and Charisse of Foodies at Home…scary to set me loose in Williams-Sonoma with a gift card! But what a treat!
Lillian from Sweets by Sillianah…isn't this a cool print for a baker?
Ky from FreeSpiritEaterand Elle from Bromography…chose my (actually hubby's) name for a new column on Elle's blog…and I won a copy of Mad About Macarons!!!!
And just today, from my dear friend, Lizzie, of Food and Thrift Finds…a fabulous autographed cookbook!
Whew!  Let me know if I've forgotten you…and I will amend my post 🙂
Bill thinks I should start buying lottery tickets since I'm on this lucky streak. so he can retire before age 94 (darn shoe obsession of mine could be part of the problem ;)).  Thank you, blogger friends!!! 
Linked to Sweets for a Saturday~
Linked to A Themed Bakers Sunday

Note: This post may contain affiliate links; view
my Disclosure Policy
for details. I earn a small percentage from any purchase you make by clicking on these links at no extra cost to you.