Grilled Apple Crisp
Smoky undertones make this Grilled Apple Crisp an unforgettable dessert! This versatile Easy Apple Crisp can be grilled or baked.
This versatile Easy Apple Crisp Recipe is wonderful served warm with a scoop of vanilla ice cream that will melt into all the crevasses. A simple, classic pairing that's perfect as your cooking transitions from summer to fall.
Why You Must Make
Bill received one of those fancy, ceramic Big Green Egg grills for Father's Day last year. You're supposed to be able to bake on them, but we're still trying to master basic grilling without charring our entrees to a crisp. But when grilling season and apple season collide, I had to create a grilled dessert. So I went out on a limb and decided to attempt a Grilled Apple Crisp.
It's perfect during the transition from summer grilling to autumn baking!
If you love grilled food, the smoky nuances will win you over.
This apple crisp is a super easy recipe!
Reader Endorsement:
From Jeremy: Absolutely amazing I have now made this around 20 times on my charcoal grill except this time I took some applewood chips and smoked it in the final stage. ???? Thanks for posting this recipe‼️
How to Make
The process of making this apple crisp recipe is simple.
Slice up some apples, mix with sugar and spices, and place them in a cast-iron skillet.
Cover and grill until a sweet, bubbly syrup develops and the fruit softens.
Next, carefully add the buttery streusel topping over the fruit.
Continue grilling until the crisp topping turns a golden brown.
The process was a bit daunting, though, since we only own a charcoal grill. But, thankfully, it came with a built-in thermometer. There is definitely a learning curve. I cautiously left the vents only slightly ajar, which worked wonderfully at keeping the grill at a moderate temperature.
The resulting crisp had a faint smoky taste. Just like you'd expect if it had been made on a campfire. Bill came home from work and was more than pleased that it wasn't one of my "off-limits" till I photograph dishes.
And as an extra bonus, I didn't heat up the house by turning on the oven. But feel free to bake this one up in your oven as I have been for years. Set your oven to 350º and bake until the center is bubbly, 35-45 minutes.

Expert Tips
PRO-Tip: Use seasonal fruit or fruit frozen at the peak of the season when making fruit crisps. Buying fresh peaches in the winter won't produce the same quality of dessert as recently picked fruit.
Make apple crisps in the fall, peach crisps in the summer, rhubarb crisps in the spring, and berry crisps whenever you can find sweet, fragrant fresh berries.
The fruit you find in your grocer's freezer is typically picked and frozen at the peak of their seasons. You can always substitute frozen fruit for fresh fruit. I've encountered some sour frozen berries, so be familiar with the brands, their flavor, and their quality.
PRO-Tip: Depending on the sweetness of your fruit, you may want to adjust the amount of sugar in the recipe.
If you also have a picky spouse who only likes oatmeal for breakfast, try this apple crisp recipe without oats. Feel free to find another topping if you love oatmeal topped crisp.
PRO-Tip: Try to keep your grill somewhere between 350 and 375 degrees to mimic the baking temperature of your indoor oven.
Frequently Asked Questions
Why Grill Apple Crisp?
There are a couple of excellent reasons to grill apple crisp. First, in the summer, keeping the oven off prevents a hot, uncomfortable kitchen. As long as the weather cooperates, your grill can be a viable oven substitution.
Also, the grill does something an oven cannot! It adds a smokiness that will bring back memories of childhood cookouts or camping trips. This apple crisp is perfect for a late summer cookout.
What is the difference between a crisp, crumble and a cobbler?
A crisp, crumble and cobbler can all befruit desserts, but it's the toppings that differentiate them. Crisps tend to have a simple topping with flour, sugar, butter, and sometimes nuts and oats.
Crumbles have similar toppings to crisps but without the components that make them crispy, like nuts and oatmeal.
Cobblers are topped with more of a biscuit topping, often dolloped or cobbled on top of the fruit. Variations of a cobbler are finished off with a pie crust topping, cookie dough, or cake batter.
Which Apples Are Best for an Apple Crisp?
A variety of baking apples makes for the most flavorful apple dessert. Using a crisper apple like Granny Smith or Honey Crisp, then adding a softer apple like Golden Delicious is a nice combination. Any good baking apple will work well.
What is an Apple Crisp Topping Made Of?
This simple crisp topping has 3 ingredients: Flour, Brown Sugar and Butter. Chopped Nuts and Oatmeal are often in crisp toppings.
How Do You Keep the Topping Crispy?
Keeping a crisp topping crispy can be a challenge as the flour will start to absorb juices from the filling as it sits. But if you pop it into a 350-degree oven and let it reheat, the topping with regain some of its crispness.
How Do You Store an Apple Crisp?
It will keep at room temperature for a day or two, but after that, it's best to store it in the refrigerator to prevent it from spoiling. Freezing is not recommended as the topping will get very soft as it defrosts.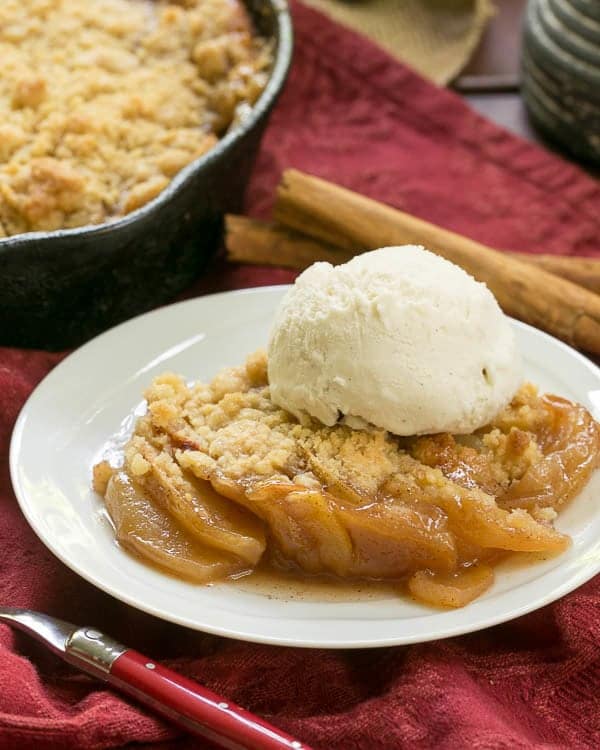 You May Also Like:
Stay in touch through social media @ Instagram, Facebook, and Pinterest. Don't forget to tag me when you try one of my recipes! And if you love the results, please give it a 5-star rating in the recipe card. Note: As an Amazon Associate, I earn from qualifying purchases. Visit my Amazon Store for my favorite products.
The Recipe:
Grilled Apple Crisp
Prep Time 15 minutes
Cook Time 1 hour
Total Time 1 hour 15 minutes
Yield 6 servings
A fabulous apple crisp baked on the grill!
Ingredients
6-8 apples, peeled, cored and sliced into 1/4 inch slices
1 cup sugar
1 teaspoon cinnamon
1/8 teaspoon freshly ground nutmeg (may substitute ground nutmeg)
Crisp Topping
1 cup flour
1/2 cup brown sugar
1/2 cup (1 stick) butter, cut into cubes
Instructions
Start grill. Adjust temperature to 300-350º. If using charcoal, you will want the skillet over indirect heat.
In a large bowl, toss together apples, sugar, cinnamon, and nutmeg. Let sit a few minutes to let juices develop.
Pour apples into a 9-inch cast iron skillet.Cover with foil.
Grill for 20 minutes, then check apple tenderness by carefully opening up the foil and inserting a knife. Mine needed another 20 minutes.
During the first phase of grilling, make crisp topping. Mix together flour and brown sugar. Add butter and work with hands or pastry blender till topping resembles crumbs. Set aside.
Check apples again; if juices are bubbling and apples are tender, spoon on the crisp topping, leave uncovered and cook for another 15-20 minutes till topping is lightly browned. You may increase the grill temperature to 350-375º to cook the topping.
Allow to cool till just warm or to room temperature. Serve with vanilla ice cream.
Notes
Using a variety of baking apples makes for a delicious depth of flavor.
To make this apple crisp in the oven, add the topping and bake in a 350-degree oven for 35-45 minutes or until the filling is bubbling and the apples are soft.
Nutrition Information:
Yield:
6
Serving Size:
1
Amount Per Serving:
Calories: 340
Total Fat: 0g
Saturated Fat: 0g
Trans Fat: 0g
Unsaturated Fat: 0g
Cholesterol: 0mg
Sodium: 7mg
Carbohydrates: 85g
Fiber: 4g
Sugar: 63g
Protein: 3g
Note: This post may contain affiliate links; view
my Disclosure Policy
for details. I earn a small percentage from any purchase you make by clicking on these links at no extra cost to you.