Caramel Topped Mini Cheesecakes
Caramel Topped Mini Cheesecakes combine two of my dessert obsessions, caramel, and homemade cheesecake. Making these in muffin tins provides much-needed portion control!
These Individual Caramel Cheesecakes have a sweet graham cracker crust followed by an ultra-creamy vanilla cheesecake and each is finished off with a drizzle of homemade caramel sauce and a ripe raspberry. A perfect dessert to serve for a gathering of friends or family!
Why You Should Make Mini Cheesecakes
Everyone loves individual desserts!
These have built-in portion control.
Creamy cheesecakes pairs beautifully with sweet, rich caramel sauce.
These Caramel Topped Mini Cheesecakes were terrific!!! Thumbs up from the whole family. Not that I had any doubt. If you love individual desserts, these Mini Vanilla Bean Cheesecakes are also winners!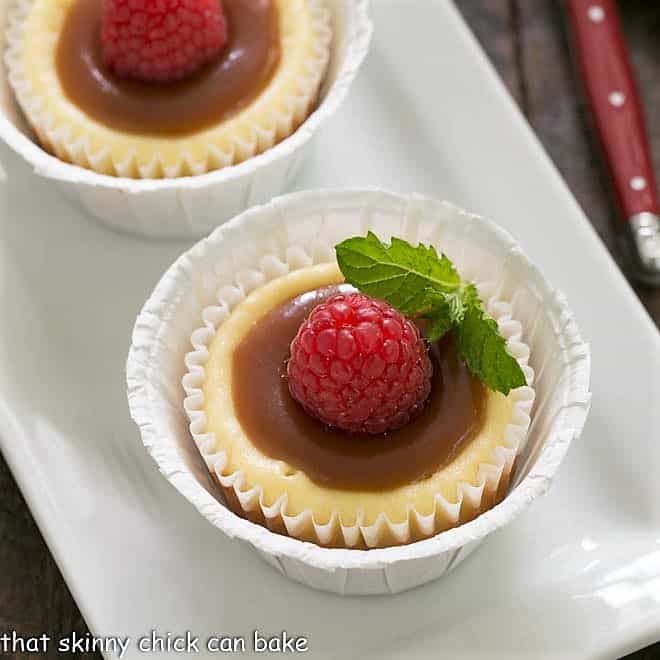 Tips for Making Cheesecake
When it comes to making cheesecake or microwave caramel sauce, there are a couple of rules to follow.
First up, use room temperature ingredients. Your batter will be much smoother if your cream cheese, eggs, etc are not pulled fresh from the fridge.
If you're using a stand mixer, use the paddle attachment. The whisk will incorporate air into the batter, making air holes and a light, not the traditional dense result. If you're using a hand mixer, just mix on low speed.
The eggs must be mixed in one at a time. This allows each egg to be incorporated properly.
A water bath, or bain-marie, is often used for baking a large cheesecake. The steam and surrounding water help minimize any cracking. This is not usually necessary with individual cheesecakes.
Tips for Making Microwave Caramel Sauce
If you try my favorite microwave caramel sauce, don't fret if the first batch is a flop. All microwaves heat differently and sometimes it's difficult to see if the sugar is coloring through the appliance window. It should just be a pale yellow.
If it's already an amber color when you pull it out, it will be too dark as it continues to bubble and cook on your countertop. Just make a note of the exact time used when you're successful, then you can have fresh caramel sauce in a matter of minutes anytime you want!
I just got a new microwave with a dark window, so that first batch with a new appliance was a challenge. Thankfully, none of the ingredients are very expensive!
Frequently Asked Questions
How Should You Store Cheesecake?
Once the baked cheesecake has cooled to room temperature, cover, and store in the refrigerator. It will remain safe to eat up to 4 days.
Can You Freeze Mini Cheesecakes?
Yes, most cheesecakes freeze extremely well for up to 6 weeks. Do not add the toppings and freeze the cheesecakes in an airtight container once they have cooled thoroughly. Defrost overnight in the refrigerator, then garnish and serve.
How Should Cheesecake Be Served?
PRO-Tip: Bring your cheesecake out of the refrigerator about an hour before serving. Taking the chill off will make the texture more luscious and creamy. Remember that food safety requires that perishable food should not be left out for more than 2 hours, so return any leftovers to the refrigerator after serving.
You May Also Like:
Who doesn't love having a personal-sized dessert that's just the right size? We all do! Here are some of my favorites: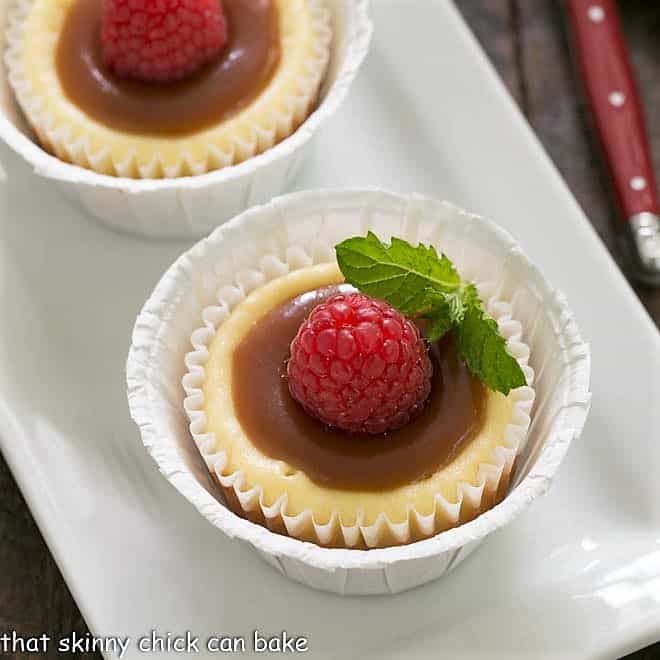 The Recipe:
Caramel Topped Mini Cheesecakes Recipe
Prep Time 30 minutes
Cook Time 28 minutes
Total Time 58 minutes
Yield 12 mini cheesecakes
!Recipes adapted from Making Memories With Your Kids and Cook's Illustrated
Ingredients
Cheesecakes
1 cup plus 2 tablespoons graham cracker crumbs
1 1/2 tablespoons sugar ( a half tablespoon is equal to 1 1/2 teaspoons)
3 1/2 tablespoons butter, melted
2 (8 ounce) packages cream cheese, at room temperature
3/4 cup sugar
1 1/2 tablespoons flour
2 eggs, at room temperature
1 teaspoon vanilla
1/4 cup sour cream
1/4 cup heavy cream
Microwave Caramel Sauce (or use a premium brand of jarred caramel sauce):
1 cup sugar
2 tablespoons corn syrup
2 tablespoons water
1/8 teaspoon lemon juice
1/2 cup hot heavy cream
1 tablespoon butter
Instructions
Preheat oven to 350º. Line a 12 cup muffin tin with paper liners and set aside.
Mix together graham cracker crumbs, sugar, and melted butter till well combined. Add a well-rounded tablespoon to each muffin cup and tamp mixture into an even layer. Allow to cool while preparing the filling.
Mix cream cheese, sugar, and flour on low speed till smooth. Mix in eggs one at a time on low speed, and scrape down sides of the bowl after each addition. Add vanilla, sour cream and heavy cream and mix just until combined.
If your batter has lots of air bubbles, tap your bowl numerous times on the counter to help remove them. Alternatively, use the paddle attachment of your stand mixer to make the batter to minimize air bubbles.
Divide mixture among muffin cups, but don't overfill (you may have some extra batter. Bake for 20 - 23 minutes, centers may still be slightly jiggly.
Remove from oven and allow to cool 1 hour. Then move to the refrigerator and chill 2 hours. Serve chilled with a spoonful of caramel sauce.
To make microwave caramel, mix sugar, corn syrup, water, and lemon juice in a 2 cup capacity Pyrex measuring cup. Microwave till mixture just starts to take on a bit of color, 4-5 minutes. Watch carefully...my previous microwave would burn it at 5 minutes, but my current microwave needs almost a full 5 minutes to get to a pale amber.
Remove cup to counter where it will continue to bubble and darken to an amber color. Add hot cream a couple tablespoons at a time (it will bubble intensely, so add slowly). When all the cream is added, stir and add in butter. Store in the fridge up to 2 weeks.
Notes
Total time does not include cooling and chilling time.
Recommended Products
As an Amazon Associate and member of other affiliate programs, I earn from qualifying purchases.
Nutrition Information:
Yield:
12
Serving Size:
1 cheesecake
Amount Per Serving:
Calories: 256
Total Fat: 12g
Saturated Fat: 7g
Trans Fat: 0g
Unsaturated Fat: 4g
Cholesterol: 65mg
Sodium: 66mg
Carbohydrates: 36g
Fiber: 0g
Sugar: 34g
Protein: 2g
Note: This post may contain affiliate links; view
my Disclosure Policy
for details. I earn a small percentage from any purchase you make by clicking on these links at no extra cost to you.