White Chocolate Molten Lava Cakes
Like the dark chocolate version, White Chocolate Molten Lava Cakes are an exquisite, restaurant-worthy dessert you can make at home. Revealing a deliciously fudgy, oozing center after just one bite, you'll fall in love with this easy, impressive dessert!
Over the years, many recipes for lava cakes have gotten the family's approval, but it was time to shake things up with a White Chocolate Recipe!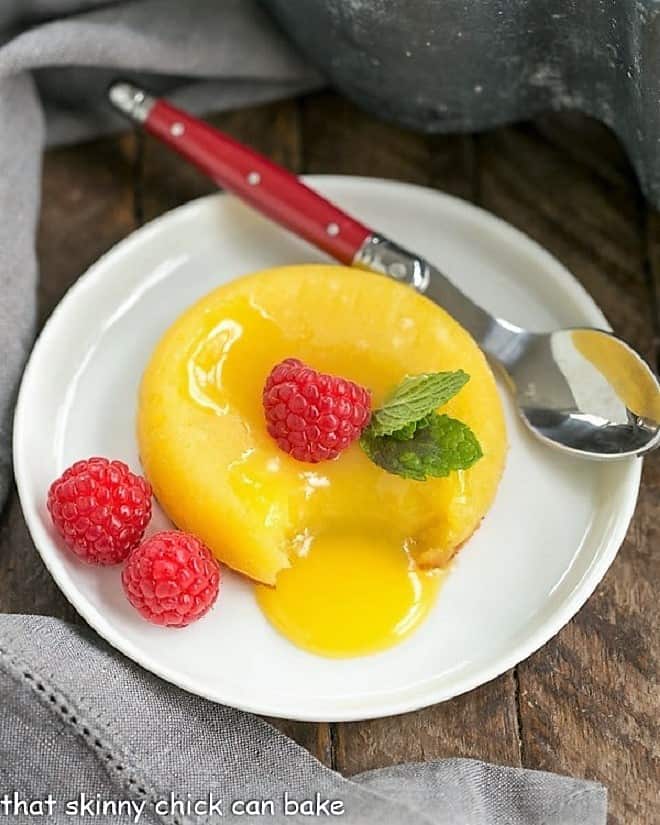 Why You Must Make
No mixer is needed to make these.
The recipe is very easy! And impressive.
Minimal ingredients are needed.
I've made numerous classic dark chocolate lava cakes over the years. Some unmolded beautifully, others wanted to stay put. Some oozed molten chocolate with the first bite, others had moist, but otherwise solid centers. This Jean-Georges classic lava cakes recipe was definitely consistent, but I wondered how it would perform with white chocolate. This mama wanted white chocolate for Mother's Day. The challenge was on!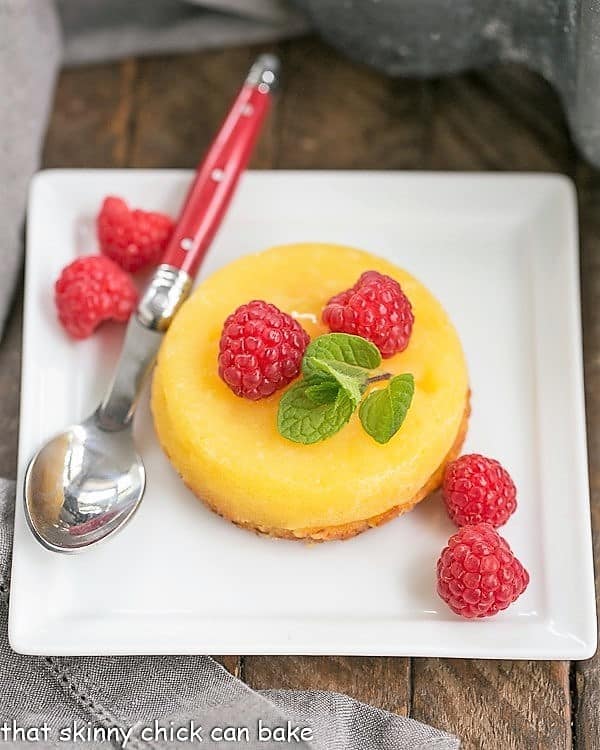 How to Make a Molten Lava Cake Recipe
Preheat oven to 450º.
Prepare Ramekins with parchment rounds, butter, and flour.
Melt butter and white chocolate gently in the microwave. Stir at frequent intervals. Set aside.
Add and Mix the ingredients in the order directed.
Divide batter among ramekins.
Bake until the sides are set, but the middles are still soft.
Run a knife or thin metal spatula around each cake. Wait a minute or two, then Invert each ramekin onto a serving plate. 
Garnish and Serve immediately.
I love when Bill spies my day's work in the fridge and gets a big grin when I let him know they've been photographed. That means they're fair game. He gave these his approval and was even more delighted when I mentioned I'd have to update my photos of the semisweet version!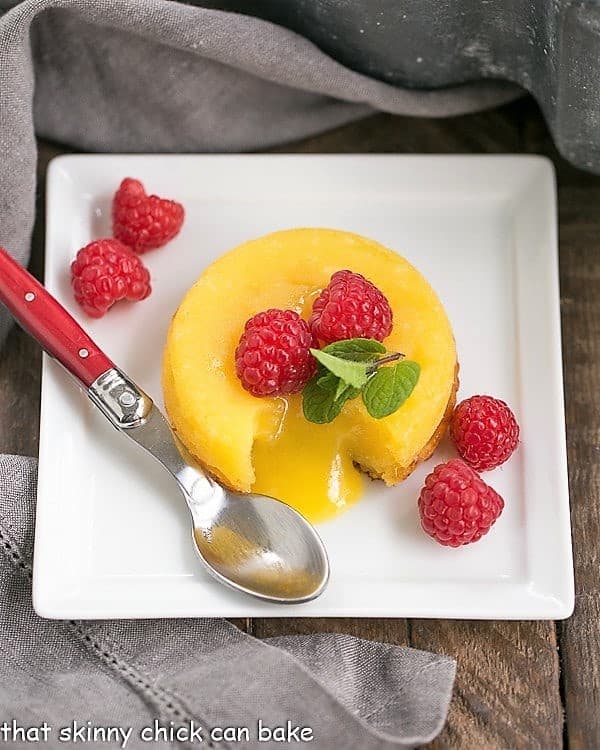 Expert Tips:
With recent salmonella scares, you may want to use pasteurized eggs for this recipe or pasteurize your eggs at home. Since the middle is not completely cooked, it may not reach 160°, the temperature needed to kill potential salmonella bacteria.
The original recipe called for buttering and flouring the ramekins, but mine didn't unmold well. I recommend using rounds of parchment to line the bottom of your ramekins for an easier release.
The time will vary depending on the oven and the temperature of your batter. I was once told to cook until the middle is 160º but the whole interior was jiggly at that point. You want the perimeter to be set and solid and maybe about a quarter-sized area in the center to look unset.
PRO-Tip: You may want to do a practice run if making this for company in order to zero in on the right timing for your setup.  All ovens bake a little differently.
To make the traditional Chocolate Molten Lava Cakes, use semisweet or bittersweet chocolate instead of white chocolate.
You may make these ahead of time up to pouring the batter into the prepared ramekins. Cover with plastic wrap and refrigerate. Remove from the refrigerator one hour before baking. Bake as directed, but you may need to adjust your timing.
Ingredient Notes
Butter – Salted is fine. If you use unsalted, make sure to add a good pinch of salt to the batter as salt is a flavor enhancer, even in desserts.
White Chocolate – I recommend Ghirardelli white chocolate bars. Chocolate chips often have wax added so they keep their shape and are of lesser quality.
Eggs – Use large
Sugar – Regular granulated sugar
Flour – All Purpose
Fresh raspberries, Fresh Mint, Whipped Cream or Vanilla Ice Cream – For garnishing
Frequently Asked Questions
What's the Difference Between Molten Cakes and Lava Cakes?
These two culinary terms are interchangeable. They are both cakes with undercooked centers. Souffles, on the other hand, are also baked in ramekins but are fully baked.
Are Lava Cakes Safe to Eat?
Since the centers are not fully cooked, they're only guaranteed safe to eat if made with pasteurized eggs. Otherwise, to be safe, do not serve these to the very young, elderly, or anyone who is immuno-compromised.
Can You Make Lava Cakes Ahead of Time?
Yes, you can make the batter and park your filled ramekins in the refrigerator, covered with plastic wrap. Pull them out of the fridge about an hour before you plan to bake them to take the chill off.
They may need an additional minute or two of baking time. Just cook until the sides look set and only the very center does not appear fully baked.
How Do You Reheat Lava Cakes?
Leftover lava cakes can be kept in the refrigerator, covered, for 3-4 days. Note that if you reheat them, the centers may cook completely eliminating any "lava."
Try microwaving at 50% power, covered with a damp paper towel for short intervals to gently warm the cakes. Stop and check the center of the cake before adding more time. If it looks like the center is starting to cook, make sure to note the time and stop sooner with the next cake.
You May Also Like: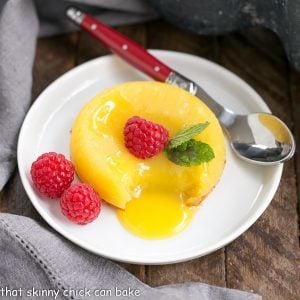 The Recipe:
White Chocolate Molten Lava Cakes Recipe
Prep Time 15 minutes
Cook Time 10 minutes
Total Time 25 minutes
Yield 4 servings
A blissful, white chocolate version of the classic molten lava cake
Ingredients
1 stick butter, plus more for ramekins
4 ounces white chocolate, chopped (may substitute bittersweet if you love an intense chocolate experience)
2 eggs
2 egg yolks
1/4 cup sugar
2 teaspoons flour, plus more to dust the ramekins
Fresh raspberries, fresh mint, whipped cream or vanilla ice cream, to garnish, optional
Instructions
Preheat oven to 450º.
Cut parchment to fit in bottom of four 4-ounce ramekins. Butter ramekins, then place parchment in each. Butter top of parchment. Dust ramekins with flour. (or spray with oil/flour spray like Bakers Joy instead of using butter and flour). Set aside.
Melt butter and white chocolate gently in the microwave. Stir at frequent intervals. Set aside.
In mixer, with paddle attachment, beat eggs, yolks and sugar till light and thick. You may also use a hand mixer. Add melted chocolate and mix to combine. Add flour and mix just until combined. Divide among ramekins.
Place ramekins on baking sheet, and bake till sides are set, but the middles are still soft, about 6-10 minutes (time varies with different oven; mine took 9 minutes). The middle might jiggle a bit, but the edges should be firm.
Run a knife or thin metal spatula around the perimeter of each cake. Wait a minute or two, then invert each ramekin onto a serving plate. Gently shake if the cake doesn't release.
Garnish as desired. Serve immediately.
Notes
Adapted from a Jean-Georges recipe
Nutrition Information:
Yield:
4
Serving Size:
1
Amount Per Serving:
Calories: 545
Total Fat: 41g
Saturated Fat: 24g
Trans Fat: 1g
Unsaturated Fat: 14g
Cholesterol: 268mg
Sodium: 274mg
Carbohydrates: 39g
Fiber: 1g
Sugar: 37g
Protein: 8g
Note: This post may contain affiliate links; view
my Disclosure Policy
for details. I earn a small percentage from any purchase you make by clicking on these links at no extra cost to you.