Salmon Watercress Salad with Strawberry Vinaigrette: fresh, tender, peppery watercress is tossed with an exquisite dressing and topped with roasted salmon. Make sure to scroll down to enter the giveaway! This recipe is sponsored by Honest Cooking. All opinions are my own.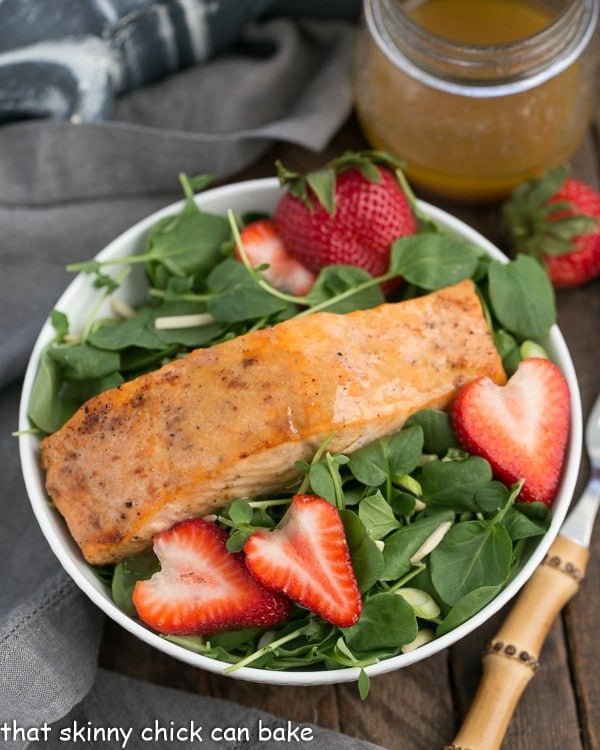 Salmon Watercress Salad with Strawberry Vinaigrette
Before I created this scrumptious Salmon Watercress Salad with Strawberry Vinaigrette, watercress was off my radar unless it was in soup! Little did I know how hard I'd fall for a watercress salad! These tender greens had a peppery bite like arugula which made it the perfect foil for a sweet strawberry salad dressing. Topping with a piece of salmon glazed with this vinaigrette made this salad a fabulous meal!
A Simple Berry Vinaigrette
Did you know a spoonful of jam can add some delicious sweetness to a salad dressing? I've been making a raspberry vinaigrette for years, but thought a strawberry version was perfect for spring. With ripe fragrant strawberries filling the market, I wanted to add a few to this salad along with sliced green onions and toasted slivered almonds. Plus it doubled as a fabulous glaze for my seafood.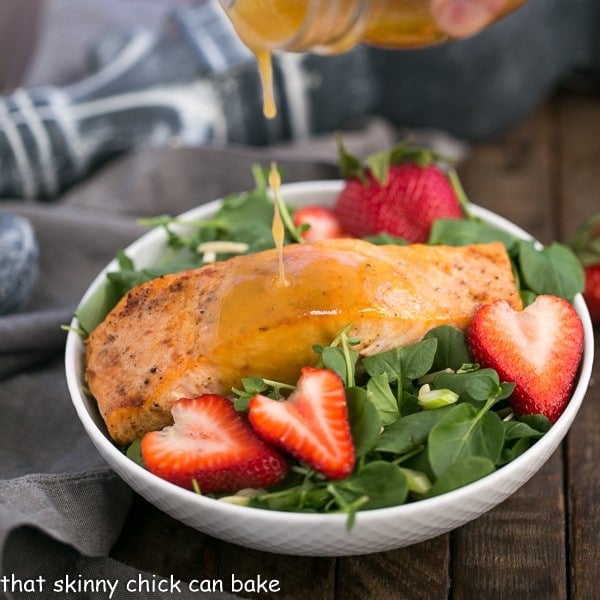 Watercress, a Giveaway, and the Recipe:
If you have not been using watercress in your salad rotation, it's time to start. Find more recipes and inspiration on the B & W Watercress Website, Instagram, Facebook, Twitter and Pinterest. 
Pop over to the Watercress Website to check out this yummy recipe for Watercress Salad with Strawberry Vinaigrette! Plus, don't forget to enter the giveaway: