Curried Turkey Salad Sandwich
A jazzed-up Curried Turkey Salad Sandwich is a delicious way to enjoy leftover Thanksgiving turkey for lunch. But I won't fault you if you want it for breakfast or dinner!
This Turkey Salad Recipe can be served on a fluffy bun or in a lettuce cup and is a nice change of pace from ordinary turkey sandwiches.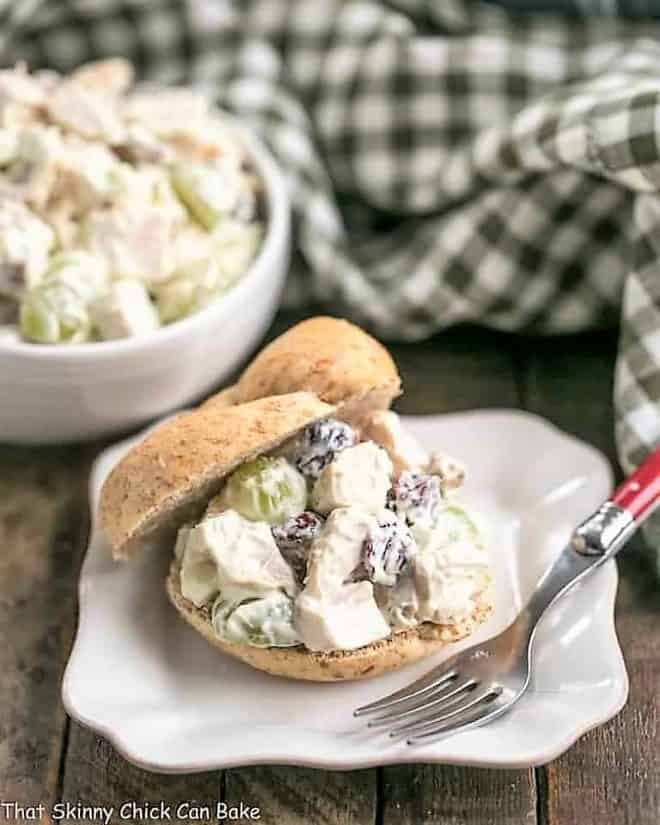 Why You Must Make
It's a delicious way to use up turkey leftovers.
The variety of textures and flavors make this a memorable recipe worth repeating every year!
Even though we like to repeat our original Thanksgiving meal the next day, it's nice to shake things by using some of the leftover turkey in an easy recipe.
I must admit, I'm definitely in a rut when it comes to utilizing our leftover Thanksgiving turkey. Bill is happy to warm up turkey slices, mashed potatoes, and gravy day after day. By day 3, I'm done.
But when I re-purpose what's left of our holiday bird, it's nearly always part of a soup or tetrazzini. Year after year. So on a whim, I whipped up this curried turkey salad. I was smitten!
Expert Tips
This recipe works with white or dark turkey meat or a combination of both. Use what you like.
I had celery and grapes in the house plus pecans and dried cranberries which are pantry staples. So I whipped up a loaded curried turkey salad for a change of pace. You can easily add whatever ingredients you enjoy in similar recipes like tuna salad or chicken salad.
Dice, chop, or shred your turkey depending on the texture you enjoy.
I prefer my chicken and tuna salad with a mix of mayo and sour cream or yogurt. And a touch of fresh lemon juice brings a little zip into the mixture and helps balance the sugar in the mayonnaise.
PRO-Tip: Even if you aren't a huge fan of curry, there's just enough to give a mysterious undertone. It's subtle, not in your face. You'll become an instant fan! You can also leave it out or substitute with a fresh herb like rosemary, dill, basil, or parsley.
The hubby, who loves chicken salad, spotted the pecans and dried cranberries and was not impressed. Of course, he didn't even take one bite. Sigh. The bonus of those additions: I didn't have to share this lovely curried chicken salad!
PRO-Tip: You can definitely leave out the nuts or substitute another nut! Make sure you toast and cool the nuts to bring out their essential oils (more flavor!!!) and make them even crunchier.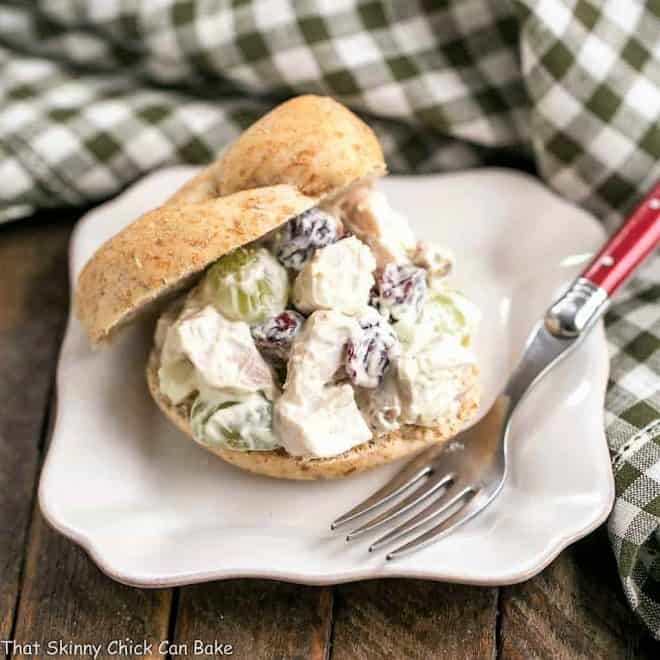 Frequently Asked Questions
How Long Can You Keep Turkey Salad?
If you make it with turkey that's been not been left out at room temperature for more than 2 hours, it will be good for 3-4 days.
Can Turkey Salad Be Frozen?
No, unfortunately, with the addition of mayonnaise, this turkey salad will not freeze well. Just make the amount you can finish off in a few days.

You can chop and package up some of your leftover turkey to use for future turkey salad and freeze that instead.
What Other Ingredients Can Be Added to Turkey Salad?
Different varieties of nuts, scallions, minced or pickled onions, diced apples, or other dried fruit like cherries would be great additions. If you don't have curry powder on hand, many fresh herbs would be delicious in this recipe. I've listed some options below in the tips.
How Do You Make A Turkey Salad Sandwich?
1. Butter your bread or bun if desired. If you love mustard, add some Dijon.
2. Add lettuce and a slice of tomato.
3. Pile on the turkey salad.
4. Top with the rest of the bun or another slice of bread.
5. Dig in!
You May Also Like:
The Recipe:
Curried Turkey Salad Sandwich
Prep Time 15 minutes
Total Time 15 minutes
Yield 4 servings
A terrific turkey salad spiced with curry. Perfect for holiday leftovers.
Ingredients
2+ cups leftover turkey, cut into cubes
2 tablespoons chopped pecans
1/4 cup diced celery
2 tablespoons dried cranberries
1/2 cup grape halves
1/2 cup mayonnaise
1/4 cup sour cream or Greek yogurt
1/2-1 teaspoon curry powder
1 teaspoons fresh lemon juice
Salt and pepper to taste
Instructions
Add turkey, pecans, celery, cranberries, and grapes to a mixing bowl.
In another bowl, whisk together the mayonnaise and sour cream or yogurt, curry, lemon juice and salt and pepper to taste. Taste and adjust seasonings.
Add about half the dressing to the turkey mixture and mix to combine. Add as much of the remaining dressing to the turkey as desired.
Chill. Serve on lightly buttered rolls with a leaf of lettuce if desired.
Recommended Products
As an Amazon Associate and member of other affiliate programs, I earn from qualifying purchases.
Nutrition Information:
Yield:
4
Serving Size:
1
Amount Per Serving:
Calories: 360
Total Fat: 29g
Saturated Fat: 6g
Trans Fat: 0g
Unsaturated Fat: 22g
Cholesterol: 59mg
Sodium: 312mg
Carbohydrates: 11g
Fiber: 1g
Sugar: 9g
Protein: 15g
Note: This post may contain affiliate links; view
my Disclosure Policy
for details. I earn a small percentage from any purchase you make by clicking on these links at no extra cost to you.