Chocolate Lava Cakes have become a holiday tradition. The rich chocolate, sweet berries and individual servings make for an elegant dessert and are perfect for Christmas, Valentine's Day or even après-ski to take the chill off.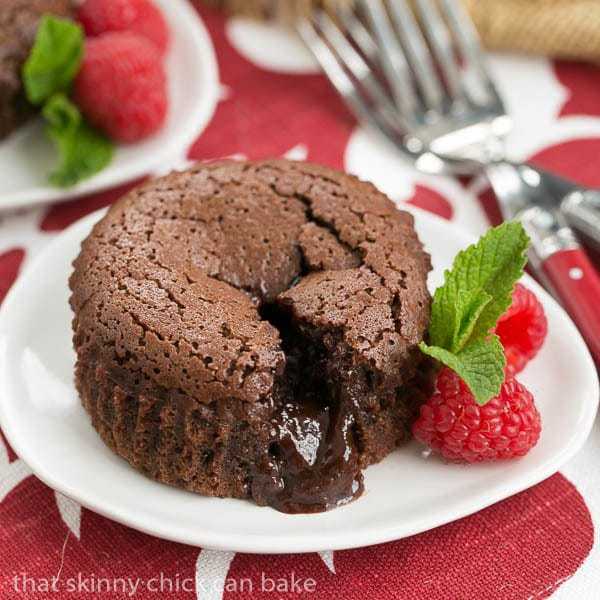 Novel Procedure for these Chocolate Lava Cakes
I've made nearly a dozen different chocolate lava cakes AKA molten lava cake recipes. Some in sugar crusted ramekins, others in buttered and floured ramekins, but these from Pam Anderson were to be made in muffin tins filled with extra large paper cupcake liners.
The rationale was that it would ease the removal of these cakes from their baking vessel. I only made a half a batch (FYI, a half a beaten egg is approximately 1 1/2 tablespoon plus an 1/8 teaspoon) so I used 3/4 cup capacity ramekins instead of a tin. How would these compare to all the other versions of chocolate lava cakes???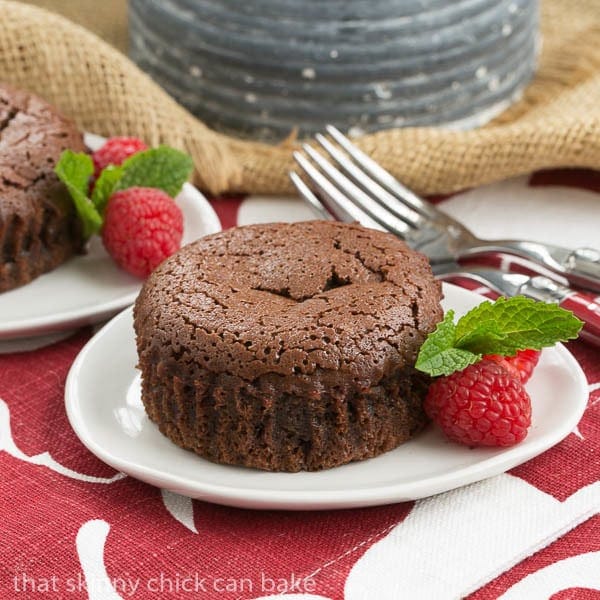 A Dessert to Warm Your Body and Soul
Whether you've returned from a run down the slopes or are just enduring the frigid temperatures at home, a hot dessert is just what the doctor ordered. These molten lava cakes can be prepped ahead of time and popped in the fridge. Just bring them back to room temperature before baking and in minutes you will have a chocolate lovers' dream before you!
The key to perfect chocolate lava cakes is timing. Bake too long and there's no molten center. Too short and they will collapse. Both ends of the spectrum are still delectable, but watch for the perimeter to look firm and the center (less than the size of a quarter) to appear soft. This could take as little as 8 minutes or up to 12—all depending on the heat of your oven. Mine were perfect at 11 minutes. The rest of the recipe is easy. Melt the chocolate and butter, beat the eggs, sugar and vanilla, then combine the two into one luscious batter. Divide and pour batter into either muffin tins or ramekins. These should have paper liners which have been sprayed with non-stick cooking spray.
Once these babies were baked, I carefully removed the paper liners and transfered to serving plates. I garnished these chocolate lava cakes with a sprig of mint and a few sweet raspberries. A dollop of whipped cream would be marvelous, too. And here were the comments from my family–brace yourself. "They complement the beer well." "Thems good eats." "Better than Arby's." Did you know Arby's is now serving molten lava cakes? Me, neither! So if you don't want to get carryout lava cakes from Arby's, I recommend making these in a couple weeks for your Valentine or surprise your family any day of the year when they need to warm up from the inside out. This Chocolate Lava Cakes recipe is a winner!
Progressive Eats
Welcome to Progressive Eats, our virtual version of a progressive dinner party. This month's theme is Weekend Ski Party and is hosted by Susan Pridmore who blogs at The Wimpy Vegetarian. Don't consider yourself snowed in…consider it a party!
If you're unfamiliar with the concept, a progressive dinner involves going from house to house, enjoying a different course at each location. With Progressive Eats, a theme is chosen each month, members share recipes suitable for a delicious meal or party, and you can hop from blog to blog to check them out.
We have a core group of 12 bloggers, but we will always need substitutes and if there is enough interest would consider additional groups. To see our upcoming themes and how you can participate, please check out the schedule at Creative Culinary or contact Barb for more information.
Join Us for a Weekend Ski Party!
Appetizers
Drinks
Soup
Main Course
Bread
Veggies/Side Dishes
Desserts
Print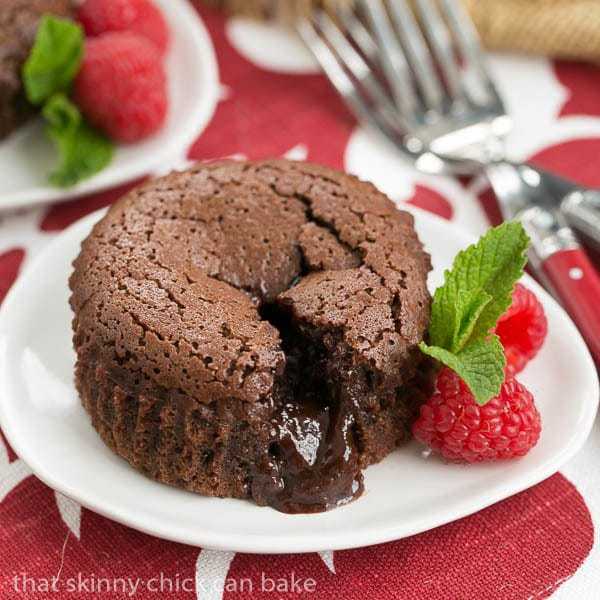 Chocolate Lava Cakes
Classic Chocolate Lava Cakes—mini cakes with molten chocolate centers!
Author:
Prep Time: 20 minutes
Cook Time: 10 minutes
Total Time: 30 minutes
Yield: 8 servings
Category: Dessert, Cake
Ingredients
1 cup (2 sticks) butter
8 ounces semisweet chocolate, chopped
5 eggs
1/2 cup sugar
1 teaspoon vanilla
2 tablespoons flour
8 extra-large paper muffin cups
Optional garnishes: Fresh raspberries, mint sprigs, sweetened whipped cream
Instructions
Melt butter and chocolate in a medium heat-proof bowl over a saucepan of simmering water; remove from heat. Beat eggs, sugar and salt with a hand mixer in a medium bowl until sugar dissolves. Add vanilla. Beat egg mixture into chocolate until smooth. Beat in flour till just combined.
Before serving dinner, adjust oven rack to middle position; heat oven to 450º. Line a standard-size muffin tin (1/2 cup capacity) with 8 extra-large muffin papers or use 3/4 cup capacity ramekins. Spray muffin papers with non-stick cooking spray. Divide batter among muffin cups.
Bake until batter puffs but center is not set, 8 to 10 minutes. Carefully lift cakes from tin and set on a work surface. Pull papers away from cakes and transfer cakes to dessert plates.
Serve with berries, mint and whipped cream if desired.
Note: This post may contain affiliate links; view
my Disclosure Policy
for details. I earn a small percentage from any purchase you make by clicking on these links at no extra cost to you.