Frangelico French Silk Pie
Frangelico French Silk Pie is an easy pie recipe that can be made with minimal ingredients resulting in maximum decadence! Your family will swoon over every bite of the most luscious chocolate pie they'll ever taste.
If you need a last-minute addition to your holiday menu, a homemade Chocolate Pie Recipe is better than anything you could ever purchase!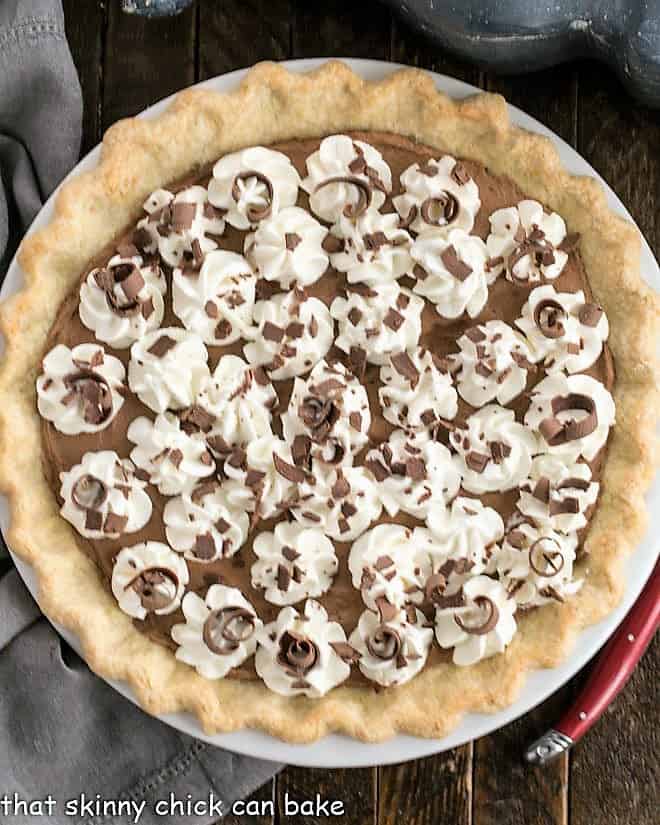 Why You Must Make
I've made all sorts of French silk pies and desserts but always come back to Jean Webster's basic recipe. It's the BEST.
That isn't to say you can't change it up a bit as I did with this pie. A nice slosh of Frangelico, a smooth hazelnut liqueur, adds an extra level of flavor. Plus alcohol, just like salt, is a known flavor enhancer!
And to make it easy, it's delicious with a chocolate cookie crust or even a store-bought pastry crust!
My family expects a French Silk Pie every Thanksgiving, along with pumpkin. This Frangelico French silk pie was the first dessert to disappear—try it and you'll see why!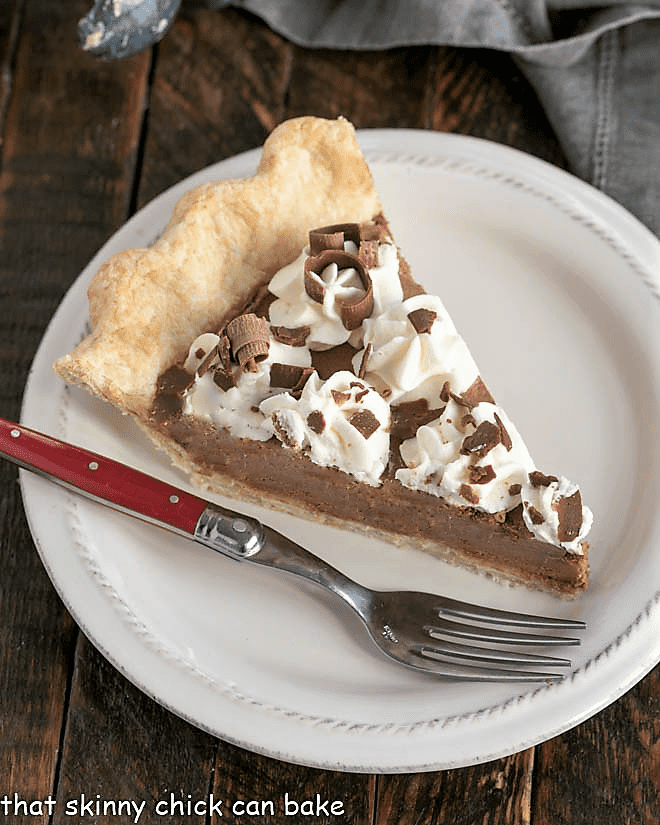 Expert Tips
This recipe may look complicated, but it's a snap to prepare. Just don't think about the calories as you add the ingredients!
A (affiliate link) stand mixer with a paddle attachment makes for very little hands on time. Sit back and have a bonbon or two while the mixer chugs along.
PRO-Tip: Most of the ingredients are already in your kitchen or refrigerator, but I'd recommend hunting down some pasteurized eggs if you're serving this pie to your children, the elderly or immune-compromised, since the eggs are added raw.
PRO-Tip: Make sure to have your eggs at room temperature. If they're mixed in while cold, chocolate bits can solidify and the filling won't be as silky smooth.
You can certainly skip the Frangelico completely or add your favorite liqueur. I contemplated using Kahlua as the coffee flavor plays beautifully with chocolate.
No matter which crust and liqueur you use, your family will request this amped-up Frangelico French silk pie every holiday to come!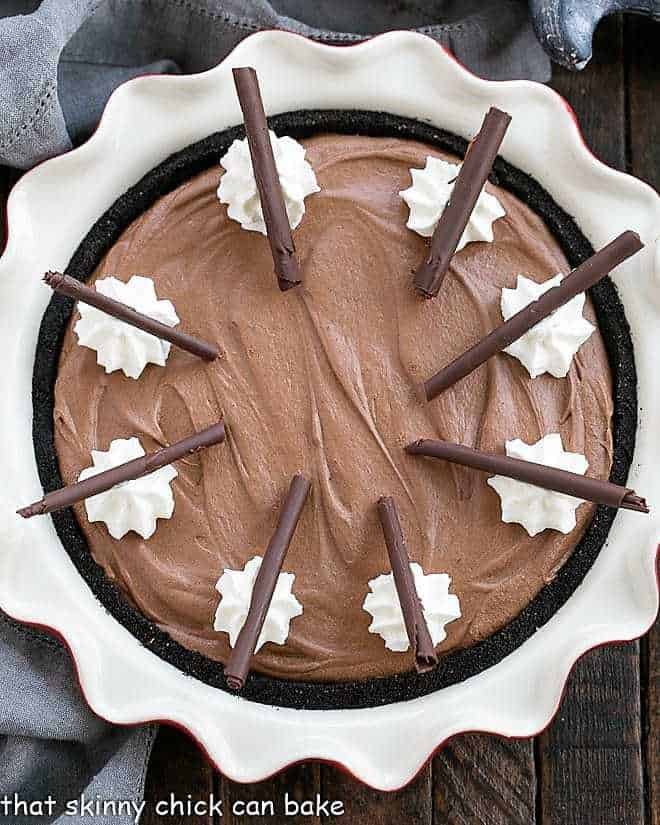 Frequently Asked Questions
What Is French Silk Pie?
French Silk Pie was invented in 1951 for the Pillsbury Bake-Off. It's made with a prebaked pie crust and filled with a silky smooth chocolate filling that usually contains raw eggs, which give it that luscious mouthfeel. It's the texture of the filling that inspired the "silk" in the recipe title.
Is It Safe to Eat Raw Eggs?
There is always the risk of a foodborne illness, like salmonella, when eating raw eggs. So you may not want to feed this pie to the very young, very old, or anyone with a compromised immune system.
Please use caution and know the risks when serving this dessert. You can buy pasteurized eggs (they've been hard to find recently, though) or pasteurize at home to lessen the chance of food poisoning.
How Do You Pasteurize Eggs at Home?
I've done this for years when making Caesar salad and desserts like this French silk pie. You will need a good quality, calibrated digital thermometer for this simple process. Bring a pot of water to 140º and add your eggs.
Keep them between 140º and 142º (no higher) for 3 minutes by adjusting your burner as needed. Most bacteria is on the shell and this simple technique, when done properly, should decrease your risk significantly.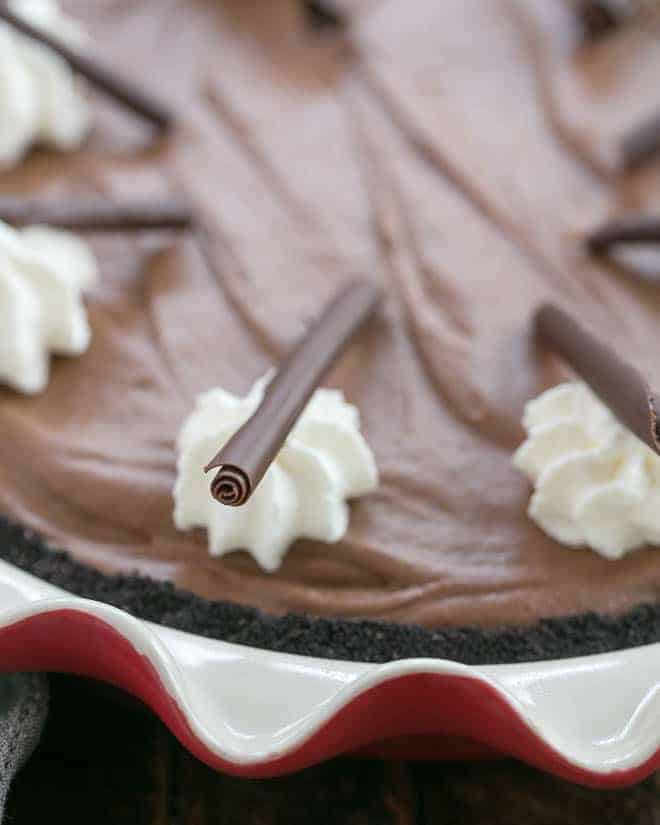 You May Also Like
This chocolate pie recipe was first shared in December 2015. Photos and tips were updated in 2020. The above 2 photos show this pie made with a chocolate cookie crust, another delicious idea!
Stay in touch through social media @ Instagram, Facebook, and Pinterest. Don't forget to tag me when you try one of my recipes! And if you love the results, please give it a 5-star rating in the recipe card. Note: As an Amazon Associate, I earn from qualifying purchases. Visit my Amazon Store for my favorite products.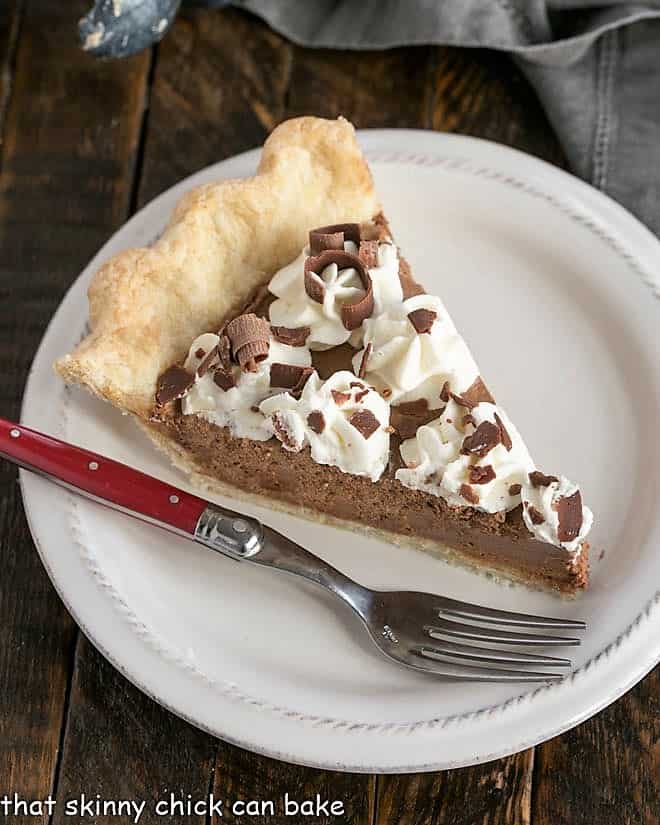 The Recipe:
Frangelico French Silk Pie
Prep Time 20 minutes
Total Time 20 minutes
Yield 8 servings
A delectable twist on my favorite French Silk Pie recipe. Adapted from Jean Webster.
Ingredients
One 9-inch pie shell of your choice, homemade or store-bought pastry or chocolate cookie crust
Filling:
12 tablespoons butter, at room temperature
1 cup sugar
3 ounces unsweetened chocolate, melted and cooled
1 ½ teaspoons vanilla extract
1 tablespoon Frangelico, a hazelnut liqueur
3 large eggs, pasteurized recommended, at room temperature
Topping:
1/2 cup heavy whipping cream
2 tablespoons powdered sugar
1/2  teaspoon vanilla
Chocolate curls** or shavings
Instructions
Bake a 9-inch pie crust of your choice. Transfer to a wire rack to cool.
In the bowl of a stand mixer with the paddle attachment, cream the butter and sugar for about 2 minutes, till light and fluffy.
With the mixer running, gradually add melted chocolate, vanilla, and the Frangelico.
Add eggs, one at a time, beating at medium speed for 5 minutes after each addition.
Pour filling into cooled crust. Cover with plastic wrap, and cool in the refrigerator for at least 4 hours.
Before serving, whip one cup of heavy cream, adding powdered sugar and vanilla to taste. Garnish with chocolate shavings or curls and whipped cream if desired.
Notes
Total time does not include chilling time.
* I made a chocolate cookie crust by combining crumbs from 24 Nabisco Famous Wafer cookies, 4 tablespoons melted butter, and 1 tablespoon of sugar. I pressed the crumbs into a 9-inch pie plate, baked at 350 degrees for 8-10 minutes, then cooled.
See post for how to pasteurize eggs at home.
** Directions to make chocolate curls on this post for Fluffy Chocolate Dessert.
Nutrition Information:
Yield:
8
Serving Size:
1 slice
Amount Per Serving:
Calories: 519
Total Fat: 34g
Saturated Fat: 20g
Trans Fat: 1g
Unsaturated Fat: 11g
Cholesterol: 72mg
Sodium: 226mg
Carbohydrates: 48g
Fiber: 3g
Sugar: 35g
Protein: 4g
Note: This post may contain affiliate links; view
my Disclosure Policy
for details. I earn a small percentage from any purchase you make by clicking on these links at no extra cost to you.