French Silk Shooters
French Silk Shooters: Dreamy, satiny smooth and decadent French silk pie filling served in shooter or shot glasses for mini desserts. Perfect for a dessert buffet.
French Silk Shooters
It's no secret my family loves French Silk pie. When the Sunday Supper crew decided to share "Tantalizing Trays," I immediately thought of creating individual dessert servings utilizing our favorite pie filling. When I caught Bill scrounging in our pantry for Oreos, I knew it was time to treat him to these French Silk Shooters.
It's Always the Season for a French Silk Dessert
Pumpkin pie is always a given at Thanksgiving…then I poll the family as to what to make for our second dessert. Yes, a family of 5 needs two desserts for this holiday…whether or not we have company. That's OK, isn't it? I'd love apple or pecan, but invariably I'll hear that we must have French silk pie.
In fact, our whole Thanksgiving dinner is pretty much the same year after year. Not so ideal for a food blogger! But maybe this year, I'll make mini French silk shooters. Now these would be a crowd pleaser…at least with my crowd! Though I'm pretty sure your crowd would be enamored with them, too.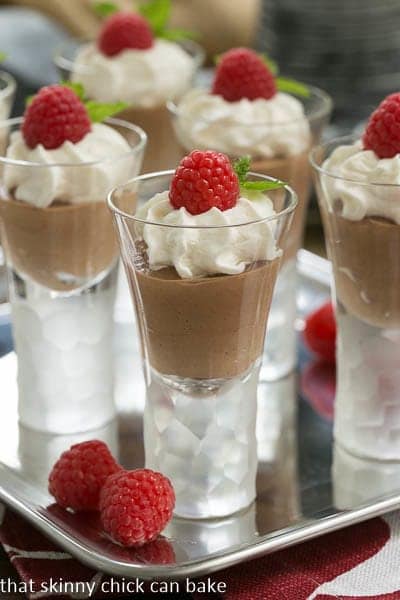 Rich, Easy French Silk Recipe
Do you know how easy it is to make this French silk pie filling? Only a few ingredients. Make sure to look for pasteurized eggs since they will not be cooked in this recipe. Butter, sugar, chocolate and an egg, and that's it!
Having a stand mixer is nice given the long beating times, but these can also be made with a hand mixer. They are heavenly! You know they're good when you accidentally dribble a little tuna marinade…quite oily and full of salty, preserved lemons….onto the top of one of these beauties. And the hubby just scrapes a little of the cream off the top and dives in. Now that's an endorsement!
The Recipe:
French Silk Shooters
Prep Time 20 minutes
Total Time 20 minutes
Yield 6 servings
Mini portions of French Silk Pie Filling - smooth, creamy and decadent!
Ingredients
4 tablespoons (½ stick) butter, at room temperature
1/3 cup sugar
1 ounce unsweetened chocolate, melted and cooled
½ teaspoons vanilla extract
1 large pasteurized egg--Davidson's Safest Choice brand preferred*
1/3 cup heavy whipping cream
2 tablespoons powdered sugar
1/2 teaspoon vanilla
1/3 package Whip-It (optional)
Instructions
In the bowl of a stand mixer with the paddle attachment, cream butter and sugar for about 2 minutes, till light and fluffy. Stop and scrape sides of bowl with spatula frequently during preparation. With mixer running, gradually add melted chocolate and the vanilla. Add egg, and beat at medium speed for 5 minutes. Divide chocolate mixture between shot glasses.
Whip cream with a splash of vanilla, a couple tablespoons of powdered sugar and Whip-It, if desired. Top each shooter with whipped cream and raspberry or chocolate curls if desired. Chill in the refrigerator at least 4 hours.
Notes
Adapted from Jean Webster.
Total time does not include chilling time.
Nutrition Information:
Yield:
6
Amount Per Serving:
Calories: 0
Total Fat: 0g
Note: This post may contain affiliate links; view
my Disclosure Policy
for details. I earn a small percentage from any purchase you make by clicking on these links at no extra cost to you.