Asian Beef with Peppers
A quick, flavorful stir fry, like this recipe for Asian Beef with Peppers, is a delightful option when time is of the essence.
This Healthy Stir Fry Beef is an outstanding option for a healthy and quick weeknight meal!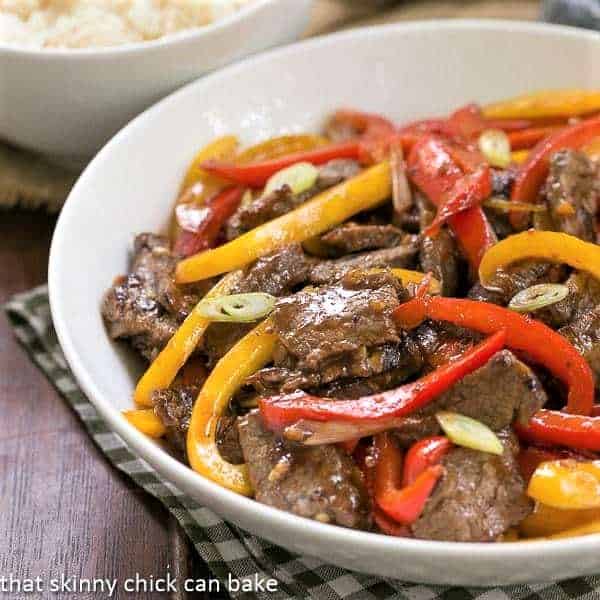 Why You Must Make
Much as we love to grill in the summer, waiting on the charcoal to ignite is not always an option on a busy weeknight. A quick, flavorful stir-fry, like this dish for Asian Beef with Peppers, is a delightful option when time is of the essence. It can certainly be whipped up more quickly than calling for takeout! Plus you don't have to leave the house to make this delicious recipe for stir fry beef! And as a bonus, you have complete control of the ingredients. There's no MSG in sight. And if you'd like a chicken stir fry, check out this Broccoli Chicken.
How to Make
This recipe started with a thinly sliced flank steak which was marinated while I chopped the vegetables and prepped the sauce. I don't own a wok so used my paella pan for this speedy entree.
A large saute pan works well, too.
The stir fry beef is quickly cooked, then removed from the pan so it doesn't overcook and toughen.
Next, the peppers and scallions are quickly sauteed before they are both doused in a flavorful sauce.
Cook your rice concurrently so this healthy stir fry beef will be ready in less than a half-hour.
Expert Tips
My family adores beef. While I typically think of tenderloin fillets or rib eyes as "steak", my children grew up with flank steak as another of their favorite steaks. And the price isn't nearly as daunting as some of the finer cuts of beef. Typically, I'll marinate our flank steaks overnight and toss them on the grill for one of our Sunday suppers.
Then I discovered flank steak is wonderful for stovetop meals as well.
Just be sure to watch your cooking times as this cut will be tender when cooked to a medium-rare.
Slicing against the grain is also the way to go. Just look for the lines or fibers running across the meat, and cut thin slices at a 45º angle to these fibers. The result will be tender slices.
Using a flavorful marinade or sauce really ups the wow factor of flank steak. So much better than just plain old salt and pepper.
You May Also Like:
The Recipe:
Asian Beef with Peppers Recipe
Prep Time 10 minutes
Cook Time 10 minutes
Total Time 20 minutes
Yield 4 servings
A speedy beef stir fry with amazing Asian flavors! And ready in a half hour or less.
Ingredients
1 pound flank steak
1 tablespoon plus 1 teaspoon soy sauce
1 tablespoon cornstarch
1 tablespoon Mirin (rice wine)
2 teaspoons minced garlic
2 teaspoons minced fresh ginger
1 teaspoon salt
1 teaspoon sugar
3 tablespoons vegetable oil, divided (add more if needed)
1/4 cup oyster sauce
1 teaspoon chile-garlic sauce (I used Sriracha), or to taste
2-3 bell peppers, cut lengthwise into 1/4 inch wide strips
4-6 scallions, halved lengthwise and cut into 1-inch pieces
Instructions
Slice flank steak across the grain into ¼ inch thick slices. Cut larger slices in half if desired.
Put slices into a medium bowl with soy sauce, cornstarch, rice wine, garlic, ginger, ½ tsp. salt, sugar, and 2 teaspoons of oil and toss. Set aside.
Stir together oyster sauce, and chile-garlic sauce in a small bowl.
Heat large saute pan or wok over high heat. Add 2 teaspoons of oil, then add beef in one layer.
Cook, without stirring for about a minute, toss, and cook for another minute. Do not overcook. Transfer meat and any juices to a plate.
Add remaining oil, then bell pepper, scallions, and remaining ½ tsp salt. Stir-fry 30 seconds, then add reserved beef with any juices and oyster sauce mixture.
Stir-fry until sauce thickens slightly, about 30 seconds, then transfer to a serving dish.
Notes
!Recipe adapted from Gourmet
Nutrition Information:
Yield:
4
Serving Size:
1
Amount Per Serving:
Calories: 382
Total Fat: 20g
Saturated Fat: 5g
Trans Fat: 0g
Unsaturated Fat: 13g
Cholesterol: 90mg
Sodium: 1233mg
Carbohydrates: 16g
Fiber: 2g
Sugar: 6g
Protein: 33g
Note: This post may contain affiliate links; view
my Disclosure Policy
for details. I earn a small percentage from any purchase you make by clicking on these links at no extra cost to you.