Chicken and Broccoli Stir Fry
This Chicken and Broccoli Stir Fry is a speedy, delicious meal with an Asian flair. Even the pickiest husbands will go back for seconds!
This Broccoli and Chicken dish is better than takeout from your favorite Chinese restaurant since it's made with a homemade stir fry sauce, juicy, tender chicken, and perfectly cooked and vibrant broccoli.
Why You Should Make Stir Fry at Home
Bill grew up in a meat and potatoes family. Pizza was not a meal, but a snack. Ethnic foods were rarely served. Potatoes accompanied every meal.
So when we went on a vacation to Vancouver as newlyweds, I found it necessary to drag him to Chinatown to immerse him in the world of Asian cuisine. He didn't go away hungry, but I heard a lot of grumbling.
Through the years, Bill has actually learned to enjoy my stir fry, though he eats them with a fork. This Chicken and Broccoli Stir Fry drew accolades, plus it's a quick weeknight option.
You have control over the ingredients. Instead of picking out what you don't like from your carryout, just omit those ingredients when you're making your dish.
There will not be any MSG unless you add it!
This entree will be ready faster than calling in your order and waiting for delivery!
Tips for Making Chicken Stir Fry
I love making an easy entree, especially for dinner on a busy weekday. This stir fry can be easily adapted with your favorite vegetables and protein source.
The ingredients that make up the stir fry sauce make for the most delicious flavorful concoction. The combination of soy sauce, sesame oil, oyster sauce, garlic, ginger, etc. reminds me of my first taste of real Chinese food as a teen.
But the rest of the ingredients are up to you! This dish works with other meat besides chicken. Try thin slices of pork tenderloin or flank steak. Chopped chicken thighs would be delicious, too.
Cube or slice your meat while it's partially frozen. It's easier to cut when it's still slightly firm and not completely defrosted.
I kept the vegetables very simple and just used broccoli florets. Other times, I empty the veggie bin and add thinly sliced cabbage, carrots, snow peas, red bell pepper, and some onions.
It's the delicious sauce that's key. Make sure to make a simple pot of rice as a side dish. The perfect pairing with an Asian stir fry. But noodles or even cauliflower rice work well, too.
How to Stir Fry
The technique of stir-frying is pretty similar to any other stir fry recipe. Here is a step by step review if you're new to this technique:
If you have a wok, it's the perfect pan for stir-frying. But any frying pan with a large surface area works well.
Prep all your ingredients before starting.
Mix together any marinade or sauces.
Marinate the protein if needed.
Start with heating the pan until hot, then adding the oil. Peanut oil works well because of its high smoke point, but vegetable oil is fine.
Cook the meat until browned and remove.
Cook the vegetables from sturdiest like carrots and broccoli to the most delicate, like Napa cabbage.
Aromatics like onion and garlic are usually added at the end, but this can vary depending on the recipe.
Add the sauce and cook until everything is coated.
Serve over rice immediately.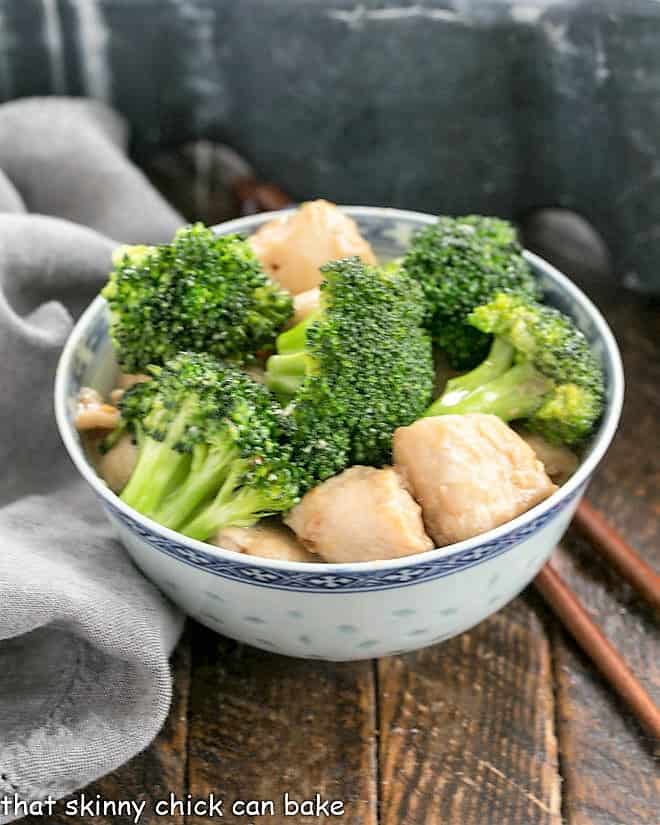 Ingredient Notes
Here is what you need to have on hand to make this stir fry sauce and dish:
Boneless, skinless chicken breasts – Pro-Tip: cut into cubes before the chicken is completely defrosted for nice cubes of chicken.
Minced garlic – Use a garlic press if you have one or jarred chopped garlic for a shortcut
Fresh ginger – Make sure to peel and mince well as ginger is very fibrous
Corn starch – This is needed to thicken your stirfry sauce. Mix with water before adding it to the pan to help with distribution.
Sherry – just like salt, alcohol enhances the flavor of your dish. The alcohol will boil off during the cooking process so it's OK to serve to children.
Toasted Sesame Oil – Adds a lovely nutty flavor that plain sesame oil will not.
Vegetable oil – Has a higher smoke point and more neutral flavor than olive oil, so much better for stir fry.
Broccoli or other vegetables – Make sure they're cut into bite-sized pieces. If you're eating with chopsticks, this is especially important.
Crushed red pepper flakes – Adjust the amount depending on how much heat your family can tolerate.
Oyster sauce – This is key for that true flavor of Chinese carryout.Hoisin can be substituted in a pinch.
Rice -Like mentioned above, you can serve stir fry over your favorite rice, noodles, or even cauliflower rice if watching your carbohydrates.
More Easy Dinner Ideas You'll Love:
If you're a stir fry fan, this Easy Asian Beef with Peppers, Chicken Stir Fry with Oyster Sauce, and Chicken, Broccoli, and Bell Pepper Stir Fry are other winners. This Chicken Chipotle Quesadillas are a delicious Tex-Mex option.
Photo of me with my mom and 3 sisters at what I think is The House of Lum Chinese restaurant in Aspen, Colorado, in the 1970s. Obviously, having our dad take our photo was enough to cause some attitude!!
Don't Forget to Subscribe!
Have you subscribed to my weekly newsletter? You'll get the latest blog recipes plus some seasonal favorites delivered to your inbox every Saturday morning! And as a bonus, you'll receive a series of 5 Tips & Recipes for Leveling Up Your Desserts! Of course, you can unsubscribe at any time!!
SUBSCRIBE HERE—> https://bit.ly/3tLQIcL
This recipe was first shared in January 2013. Photos and text were updated in 2021.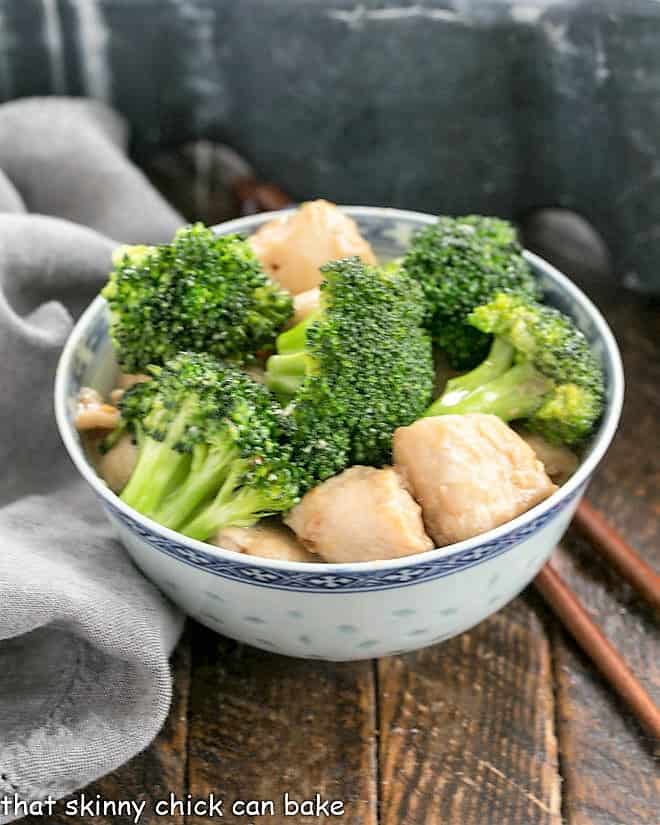 The Recipe:
Chicken and Broccoli Stir Fry
Prep Time 15 minutes
Cook Time 15 minutes
Total Time 30 minutes
Yield 4 servings
An easy, flavorful and speedy dinner with irresistible Asian flavors! Recipe adapted from The Food Network.
Ingredients
4 boneless, skinless chicken breasts, cubed (if they're large use 2-3)
2 cloves garlic, minced
1-inch fresh ginger, peeled and minced
1 tablespoon soy sauce
2 tablespoons sugar
1 tablespoon plus 1 teaspoon cornstarch
1 1/4 teaspoon salt
1 tablespoon dry sherry
1 tablespoon toasted sesame oil
1/3 cup water
3 tablespoons vegetable oil
2 heads broccoli, florets only, cut into bite-sized pieces
1/2-1 teaspoon crushed red pepper flakes, optional, to taste
1 tablespoon oyster sauce
Cooked rice, to serve
Instructions
Marinate the chicken with half the garlic and ginger, the soy sauce, sugar, 1 teaspoon of cornstarch, 1 teaspoon salt, sherry and sesame oil for approximately 15 minutes. Mix the rest of the cornstarch in 1/3 cup water.
Heat a large nonstick frying pan over high heat. Add one tablespoon of the oil, then add broccoli and stir fry for about a minute. Add the remaining ginger, garlic, 2 tablespoons of water and 1/4 teaspoon of salt. Stir fry for about 2 more minutes...broccoli should remain bright green. Remove to plate.
Reheat pan and all the remaining oil. Stir fry chicken with red pepper flakes till chicken is lightly browned on both sides, about 3 minutes. Add oyster sauce, then return broccoli to pan. Stir in remaining cornstarch and cook till thickens. Add water if sauce is too thick.
Serve with rice.
Notes
This recipe can be made with other protein sources. Try beef, pork, or even tofu.
Other vegetables can be added. Red bell peppers or snow peas would be delicious.
No oyster sauce? You can substitute the smokier hoisin sauce if available.
This can be served over noodles or even cauliflower rice instead of white rice.
Recommended Products
As an Amazon Associate and member of other affiliate programs, I earn from qualifying purchases.
Nutrition Information:
Yield:
4
Serving Size:
1
Amount Per Serving:
Calories: 413
Total Fat: 18g
Saturated Fat: 3g
Trans Fat: 0g
Unsaturated Fat: 14g
Cholesterol: 102mg
Sodium: 1124mg
Carbohydrates: 21g
Fiber: 1g
Sugar: 7g
Protein: 39g
Note: This post may contain affiliate links; view
my Disclosure Policy
for details. I earn a small percentage from any purchase you make by clicking on these links at no extra cost to you.