Creamy Hummus from Scratch
My Hummus from scratch takes a creamy, Mediterranean dip to a whole new level of deliciousness and has become my favorite hummus recipe. In the past, I have even peeled chickpeas by hand, but a simple, much easier trick resulted in this delectable, creamy hummus.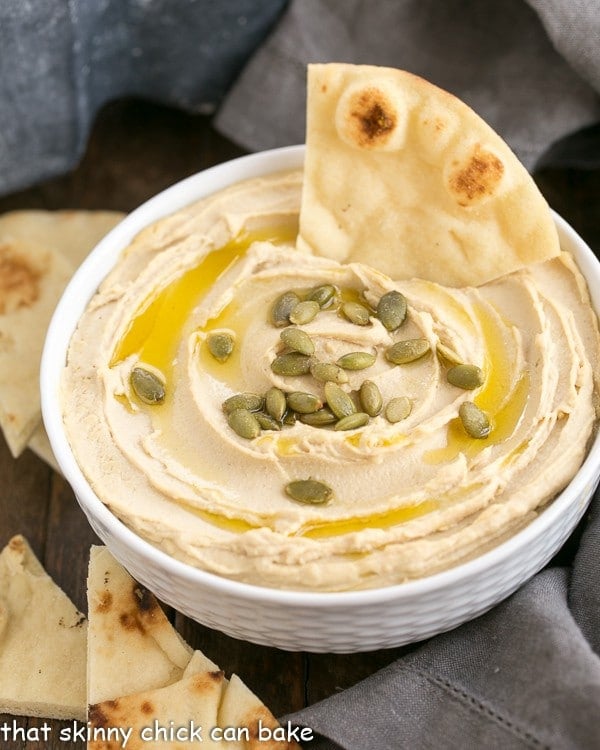 Why You Must Make
I've made loads and loads of hummus. I love my friend Mim's super easy hummus recipe which utilizes canned and rinsed garbanzo beans or chickpeas. Her ratios are spot on and it's been my go-to hummus for years.
After making Yotam Ottolenghi's recipe out of his Jerusalem cookbook, I knew I found a winner!
There was no need to peel the garbanzo beans to get a creamy hummus.
The flavor profile was PERFECT!
Expert Tips
Lori's first advice was to never use canned chickpeas. Well, I can't say I won't ever, because sometimes I don't have time to make anything but my 10-minute version. But I was willing to try making hummus with dried chickpeas.
After soaking them in water until they doubled in size, the next step was definitely unusual. I drained them, added some baking soda, and cooked the rehydrated legumes with the soda to rough up the skins.
Then when I added water to cook them up, the skins started to peel away on their own. A little skimming helped remove the little buggers.
From there, the process was not much different than my easy hummus recipe. Mim is a purist, too. Lemon, garlic, tahini, and salt are the only additional ingredients.
Mim was the one to teach me to thin with water, not the thick liquid from the chickpea cans.
Anyway, the results were awesome. If you're looking for the ultimate Lebanese hummus recipe, try this creamy hummus from scratch. Incidentally, that "thick liquid" from canned chickpeas is very popular in the vegan food community. It creates a healthy, sugar-free whipped cream called Aquafaba. I think we need to make some of that!
Shop the Recipe:
To make this hummus from scratch recipe, you will need:
Frequently Asked Questions
What Are Chickpeas?
Chickpeas or Garbanzo Beans are round, tan-colored legumes, slightly larger than regular peas. They are firm with a mild, nut-like taste. They're used in many Mediterranean recipes like hummus.
Is It Better to Make or Buy Hummus?
Making is always better. It's more economic plus you can adjust the consistency and seasonings to your palate.
Is Hummus Good for You?
Yes, hummus is very healthy. It's full of plant-based protein, high in fiber, plus contains iron, folate, phosphorus, and B vitamins.
You May Also Like:
Stay in touch through social media @ Instagram, Facebook, and Pinterest. Don't forget to tag me when you try one of my recipes! And if you love the results, please give it a 5-star rating in the recipe card. Note: As an Amazon Associate, I earn from qualifying purchases. Visit my Amazon Store for my favorite products.
The Recipe:
Creamy Hummus from Scratch
Prep Time 20 minutes
Cook Time 40 minutes
Total Time 1 hour
Yield 8 servings
Taking a cue from Ottolenghi's cookbook, Jerusalem, I made a this marvelous, extra creamy hummus.
Ingredients
1 1/4 cups dried chickpeas
1 teaspoon baking soda
6 1/2 cups water
1 jar (11 ounces) Soom brand tahini
1/4 cup freshly squeezed lemon juice
3-4 cloves garlic, crushed and chopped
1-1 1/2 teaspoons kosher salt
6 1/2 tablespoons ice water
Extra virgin olive oil, to serve
Pepitas, to serve
Instructions
Soak the chickpeas overnight (or at least 6 hours) in cold water until they double in size.
Drain the chickpeas and place them in a saucepan with the baking soda. Cook over high heat for about 3 minutes, stirring constantly. Add water and bring to a boil.
Reduce heat to a simmer and cook for 20-40 minutes, skimming off any foam or skins from the top, or until chickpeas are very tender, but not mushy.
Drain and place chickpeas in a food processor. Process for a minute or two, until a paste forms.
Then, with the processor running, add the tahini, lemon juice, garlic, and 1 teaspoon of salt.
Slowly add in the ice water and process for a full 5 minutes until the hummus is smooth and creamy.
Taste and add another ½ teaspoon salt if desired.
Scrape into a bowl, cover, and let rest for 30 minutes. To serve, drizzle with olive oil if desired. I sprinkled with pepitas for some color and crunch.
Nutrition Information:
Yield:
8
Serving Size:
1
Amount Per Serving:
Calories: 156
Total Fat: 11g
Saturated Fat: 2g
Trans Fat: 0g
Unsaturated Fat: 8g
Cholesterol: 0mg
Sodium: 569mg
Carbohydrates: 11g
Fiber: 3g
Sugar: 2g
Protein: 7g
Note: This post may contain affiliate links; view
my Disclosure Policy
for details. I earn a small percentage from any purchase you make by clicking on these links at no extra cost to you.