Quinoa Tabbouleh Recipe
Quinoa tabbouleh is a classic Middle Eastern salad updated with the addition of the tasty superfood, quinoa. This Tabbouleh Recipe is sporting a lot of green, making it a healthy option for the St. Patrick's Day dinner table.
This Quinoa Salad Recipe offers a plant-based source of protein, plus the healthy additions of fresh tomatoes, lemon juice, and olive oil. Plus, it's delicious!!!!
Why You Should Make Quinoa Tabbouleh
My palate has matured since I had my first sample of tabbouleh. I think I was in high school and my mom was experimenting. All I could taste was the parsley and I was not impressed. Since then, I have become a fan, and have cooked up the classic bulgur version numerous times, but this quinoa recipe is definitely my favorite.
I'm definitely a quinoa devotee because of its fluffy consistency, nutty flavor, and protein content, and I love this quinoa tabbouleh. I tend to focus on rich green or booze-laden desserts like chocolate Guinness cake for St. Patrick's Day. This "green" tabbouleh recipe helps to keep things healthy.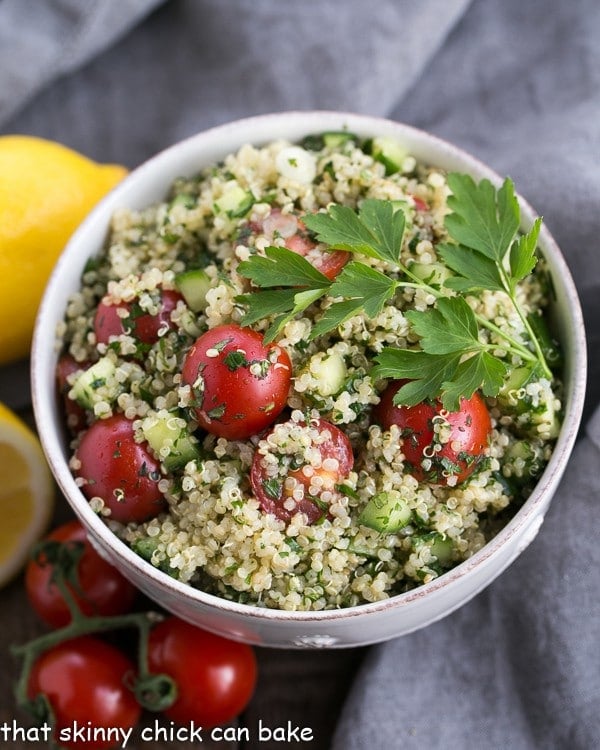 What is Quinoa?
Move over bulgar wheat, the original tabbouleh grain. Quinoa is one of the superfoods of the 21st century and a marvelous substitution. Known as the Mother Grain by the ancient Incas, it has more protein than any other grain. It is a complete protein since quinoa contains all eight essential amino acids. Lower in carbohydrates than other grains, it also is higher in unsaturated fats.
It cooks like rice, expanding to 4 times its original size, has a bland taste similar to couscous. It can be used as a rice substitute in dishes like soup, salad, entrees, and more.
An Adaptable Quinoa Salad
You can shake up this quinoa salad even more by adding crumbled feta cheese, diced bell pepper, or even Kalamata olives. This recipe is just a starting point. Add Greek or Italian ingredients to put your own twist on this recipe. Olives are a MUST for my next batch!
Healthy Green Recipes for St. Patrick's Day
Of course, you know I'll be baking up something sweet and green for the holiday, but it's nice to balance out the desserts with some healthy dishes.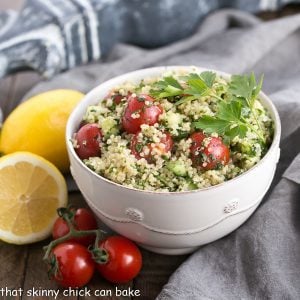 The Recipe:
Quinoa Tabbouleh Recipe
Prep Time 15 minutes
Cook Time 15 minutes
Total Time 30 minutes
Yield 4 servings
An updated, classic Middle Eastern salad made with the super food, quinoa
Ingredients
1 cup quinoa, rinsed well
1 1/4 cups chicken broth (may substitute vegetable broth or salted water)
3-4 tablespoons fresh lemon juice
1 garlic clove, minced
1/4 cup extra-virgin olive oil
Kosher salt, to taste
Freshly ground black pepper
1 large English cucumber, cut into 1/4" pieces
1 pint cherry tomatoes, halved or quartered
2/3 cup chopped flat leaf (Italian) parsley
1/4 cup chopped fresh mint
2 scallions, thinly sliced
Instructions
Bring quinoa and chicken broth to a boil in a medium saucepan over high heat. Reduce heat to medium-low, cover, and simmer until quinoa is tender, about 10 minutes. Remove from heat and let stand, covered, for 5 minutes. Fluff with a fork.
Meanwhile, whisk lemon juice and garlic in a small bowl. Gradually whisk in olive oil. Season dressing to taste with ½ teaspoon salt and pepper.
Place cooled quinoa in a large bowl and toss with ¼ cup dressing.
Add cucumber, tomatoes, herbs, and scallions to bowl with quinoa and stir to combine. Drizzle with the remaining dressing. Check for seasoning. Add pepper and more salt if needed. Chill before serving.
Nutrition Information:
Yield:
4
Serving Size:
1
Amount Per Serving:
Calories: 212
Total Fat: 15g
Saturated Fat: 2g
Trans Fat: 0g
Unsaturated Fat: 12g
Cholesterol: 2mg
Sodium: 445mg
Carbohydrates: 18g
Fiber: 3g
Sugar: 4g
Protein: 4g
Note: This post may contain affiliate links; view
my Disclosure Policy
for details. I earn a small percentage from any purchase you make by clicking on these links at no extra cost to you.