Triple Chocolate Terrine Recipe
This elegant, decadent Triple Chocolate Terrine is a special occasion dessert with layers of 3 kinds of luscious whipped ganache! Plus it's gluten-free!
With a layer of whipped semi-sweet, milk, and white chocolate ganache, there's a type of Chocolate Mousse for all the chocolate lovers in your life, no matter their preference!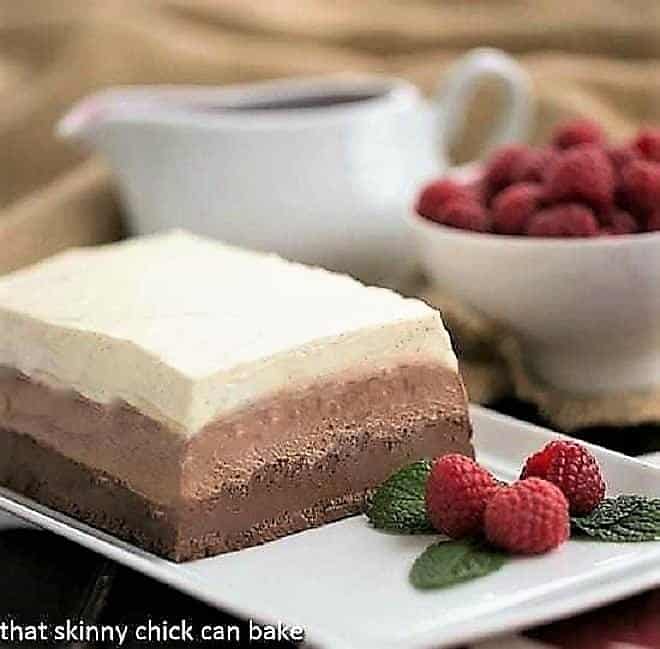 Why You Must Make
I've been making this winner for nearly 2 decades.
It's from the beloved series of cookbooks by Julee Rosso and Sheila Lukins. Found in their New Basics Cookbook (affiliate link), this a volume worth adding to your collection.
There are three delicious layers of whipped chocolate ganache, starting with semisweet chocolate, then milk chocolate, and finally white chocolate.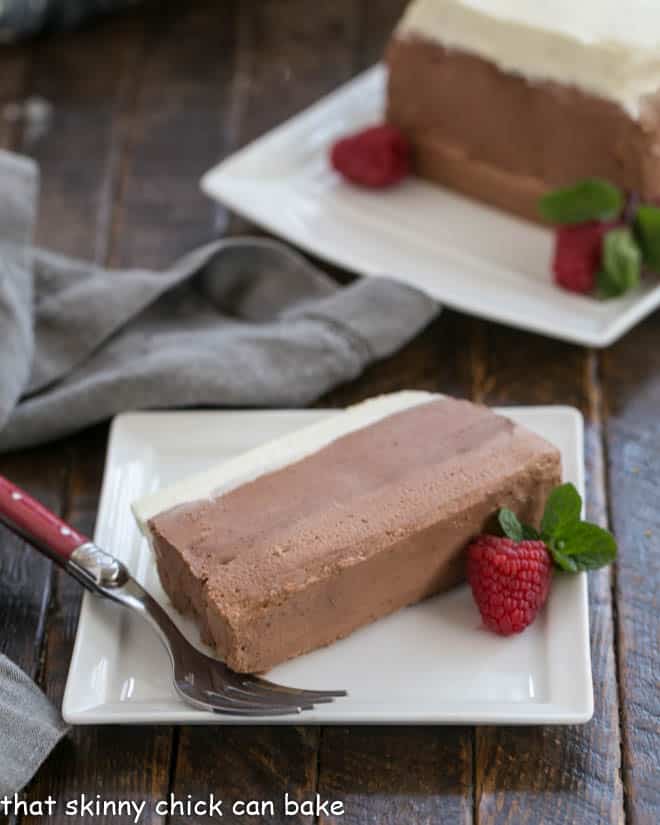 Expert Tips
You may wonder what a terrine is. Well, it's basically a dish that's deep, rectangular with straight sides. Most terrines are made of cooked meat, fish, or vegetable mixtures that are placed in this specialty dish to set or cool, then sliced to serve. This one just happens to be a dessert!
I used a loaf pan for my terrine. I lined it with non-stick foil to help slide it out of the dish after it was frozen. The non-stick element of the foil may have helped a little, but the sides weren't perfectly smooth upon release.
To make this dessert terrine, 3 types of chocolate are each melted with some cream. After whisking until smooth, each bowl of ganache is chilled before being whipped into mousse.
The white chocolate mousse is smoothed out across the bottom of the pan, then the milk chocolate mousse, followed by the dark chocolate mousse. Using an offset spatula helps to level the layers.
The terrine is then chilled until serving time. I recommend freezing for an hour or so before removing the foil and cutting to allow for easier slicing.
To serve, invert the pan onto a serving tray, then remove the foil. Again, use an offset spatula to smooth the sides.
Slice and serve with fresh berries or a dessert sauce. You have the option of serving slices over raspberry coulis or a homemade fudge sauce, such a tough decision.
Serving Tips
I served very thin slices to my girlfriends over the holidays…and they oohed and ahhed. To make an elegant presentation, place slices on a puddle of chocolate or raspberry sauce.
The raspberry sauce I made to garnish it was simple. I just simmered a bag of frozen raspberries with a scant half cup of sugar and the juice of half a lemon. I whisked in a slurry of cornstarch (a heaping teaspoon mixed in a tablespoon or so of water) to thicken it slightly. After it came to a boil, I strained the mixture to remove the seeds and cooled it to room temperature. It would also be delicious with a strawberry or cherry sauce or for an even more decadent treat, a puddle of hot fudge sauce!
I found it difficult to slice this chocolate terrine for photos, so popping the dessert in the freezer for about an hour helped solidify it for easier serving.
I would also suggest using just slightly less cream in the white chocolate layer, as it's the least firm component and, again, it makes for difficult slicing and removal from the pan. I'm extra picky since I take photos, but to be honest, the original recipe works well, too.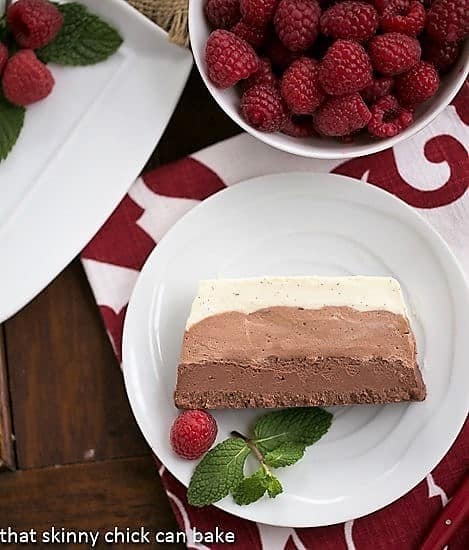 Frequently Asked Questions
What is a Terrine?
A terrine is typically a pate made of cooked meat or vegetables, then sliced to serve. It's also the name of the dish, often shaped like a loaf pan, in which the terrine recipe is served.
This layered chocolate dessert is made in a terrine like-dish. Though not a terrine per se, this chocolate terrine does meet a couple of the parameters!
How Do You Store a Chocolate Terrine?
It should be kept covered in the refrigerator due to the perishable ingredients in the recipe.
Can You Freeze this Terrine?
Yes, if you cannot eat it all within 3-4 days, you can store leftovers in the freezer for about 2 months. Freeze it for a couple of hours until it's firm, then wrap well. Unwrap before defrosting in the refrigerator to serve or the plastic wrap will stick to the defrosted dessert.
How Do You Slice a Terrine?
I recommend freezing the terrine for about an hour before cutting. This will help firm up the mousse and allow for cleaner slices. Use a hot, dry knife and clean it between slices as needed.
You May Also Like
I got an email requesting the recipe later in the day from our luncheon's hostess. She wanted to make it for her Christmas dinner. I think you'll want to add this Triple Chocolate Terrine to your menu as well.
Stay in touch through social media @ Instagram, Facebook, and Pinterest. Don't forget to tag me when you try one of my recipes! And if you love the results, please give it a 5-star rating in the recipe card. Note: As an Amazon Associate, I earn from qualifying purchases. Visit my Amazon Store for my favorite products.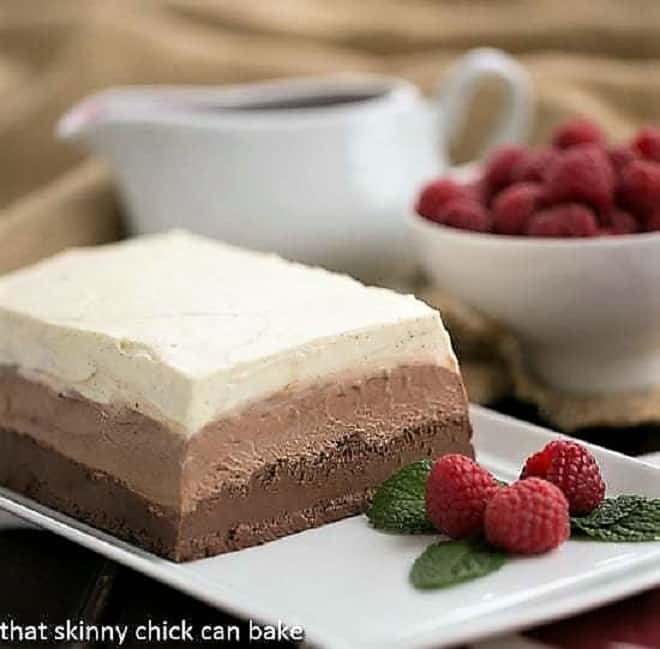 The Recipe:
Triple Chocolate Terrine
Prep Time 30 minutes
Cook Time 5 minutes
Total Time 35 minutes
Yield 16 servings
This elegant, decadent Triple Chocolate Terrine is the perfect special occasion dessert! 
Ingredients
3 cups heavy or whipping cream
7 ounces good-quality semi-sweet chocolate, chopped
6 ounces good-quality milk chocolate, chopped
4 ounces good-quality white, chopped
1/2 vanilla bean
2 cups chocolate fudge sauce or raspberry sauce and fresh raspberries, to serve
Instructions
Heat the cream almost to a simmer in a heavy medium-size saucepan. Remove the cream from the bowl, and divide it among three mixing bowls into these amounts: 1-1/4 cups, 1 cup, 3/4 cup (I'd use slightly less to allow for a firmer white chocolate layer).
Stir the semi-sweet chocolate into the 1-3/4 cups cream, whisking until smooth. Stir the milk chocolate into the 1 c. cream, whisking until smooth. Stir the white chocolate into the 3/4 .cup cream, and add the seeds from the vanilla bean; stir until smooth. Cover the three bowls loosely and refrigerate until the mixtures are thick but still pourable, 3 hours.
Line an 8-1/2 x 4-1/2 in. loaf pan with aluminum foil (use non-stick if available), leaving some
foil above the edge of the pain.
Pour the white chocolate mixture into a mixer bowl, and beat until it forms soft peaks (mixture should be thick and firm). Scrape it into the prepared pan, smooth the top, and chill it in the freezer for 5 minutes.
Repeat the beating process with the milk chocolate mixture and spread it over the white chocolate mixture in the loaf pan. Smooth the top, and freeze for 5 minutes.
Repeat again with the semi-sweet chocolate. Spread it over the milk chocolate mixture, smooth the top, and cover with plastic wrap. Refrigerate until firm, 3 hours.
Lift up the foil to unmold the terrine. Remove the foil and cut the terrine into 1/2-in. thick slices. If the terrine needs to be a little firmer to cut, pop the whole thing into the freezer before slicing for up to an hour. Spoon a pool of chocolate or raspberry sauce onto each plate, and arrange a slice on top.
Notes
Adapted from the New Basics Cookbook
Recommended Products
As an Amazon Associate and member of other affiliate programs, I earn from qualifying purchases.
Nutrition Information:
Yield:
16
Serving Size:
1
Amount Per Serving:
Calories: 339
Total Fat: 22g
Saturated Fat: 14g
Trans Fat: 1g
Unsaturated Fat: 7g
Cholesterol: 57mg
Sodium: 70mg
Carbohydrates: 32g
Fiber: 1g
Sugar: 30g
Protein: 3g
Note: This post may contain affiliate links; view
my Disclosure Policy
for details. I earn a small percentage from any purchase you make by clicking on these links at no extra cost to you.