Cranberry Pistachio White Chocolate Shortbread
If you're a shortbread fan, this Holiday Shortbread Recipe is perfect for the season with its festive pops of red and green!
The dried cranberries and green pistachios provide a pop of festive red and green to each cookie! These Cranberry Pistachio White Chocolate Shortbread Cookies are winners!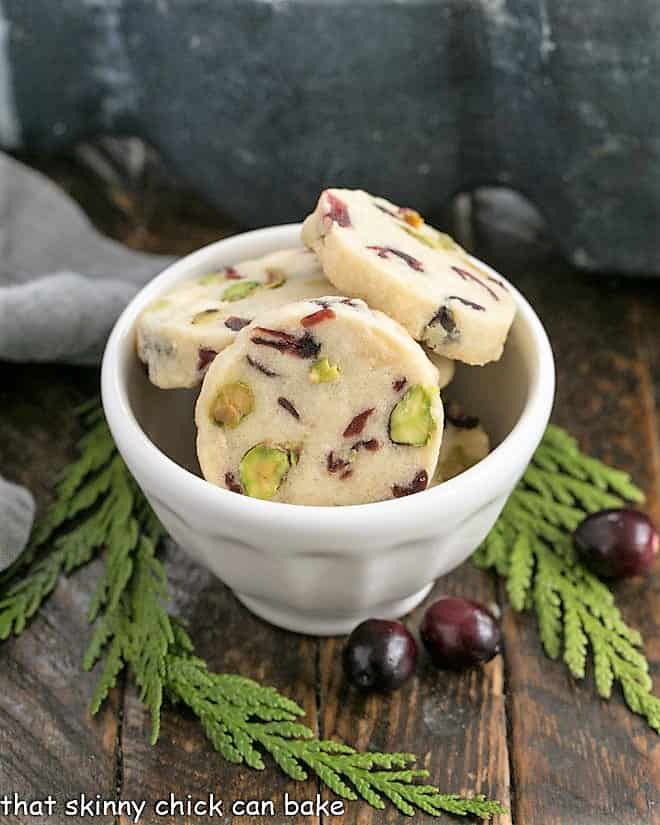 Why You Must Make these Christmas Shortbread Cookies
They're super tasty and the red cranberries and green pistachios make them perfect for Christmas.
Shortbread is very traditional for the holidays!
These freeze beautifully so you can make them up to 3 months ahead of time.
We used to gather for our neighborhood Christmas cookie exchange in the morning, sipping on a cup of tea or coffee with a few nibbles, then gathering a few cookies from each sweet laden platter before heading out to lunch. One year, we shook it up a bit and met later in the day with wine and appetizers (my kind of dinner!). This holiday shortbread recipe was my contribution in 2013.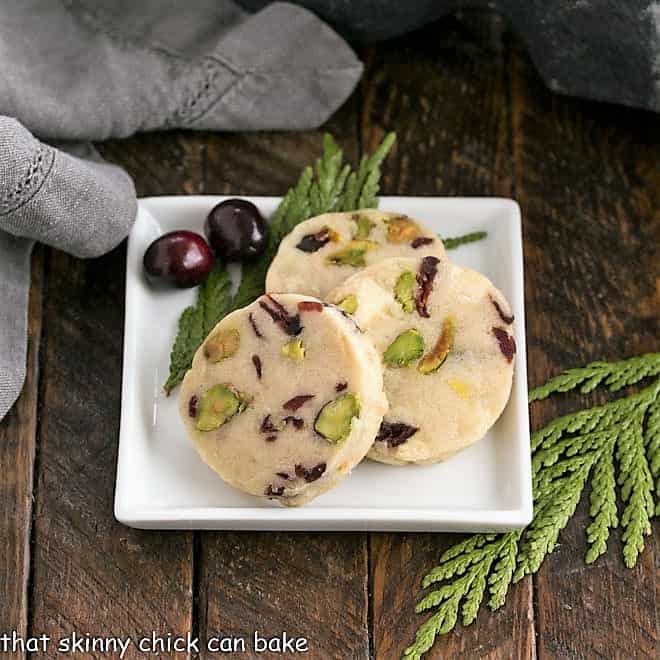 How Does Shortbread Differ from Sugar Cookies?
When some friends on a foodie board were looking for cookie exchange ideas, this recipe for Chocolate Shortbread was mentioned. The red cranberries and green pistachios make them festive without any extra effort. I added white chocolate just because I am a fan. They were perfect for our annual holiday cookie exchange.
If you love shortbread or if you love pistachios or, heck, if you just love cookies, you need to bake up a batch of these babies. The dough freezes well, so you can keep a roll of it in your freezer for those unexpected guests. A couple of my neighbors are shortbread aficionados, and these garnered high praise. I know you'll become a quick fan of this holiday shortbread, too.
If you're wondering how the shortbread is different from other types of sugar cookies, you're not alone!
Shortbread Cookies have a higher butter to flour recipe, making them more delicate than roll-out sugar cookies. They also bake at a lower temperature and are very tender. These are more buttery than sweet.
Traditional Sugar Cookies have less butter than shortbread cookies, making them more sturdy and better for rolling and cutting. They contain more sugar than shortbread cookies, so they are sweeter. If packed correctly, your typical sugar cookies are better for shipping than the more crumbly shortbread cookies.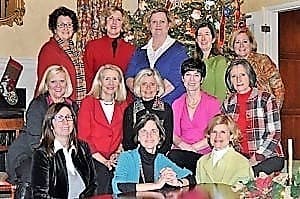 2013 Cookie Exchange
Slice and Bake Cookie Tips for these Holiday Shortbread Cookies
Roll the cookie dough into two logs, each with a 2-inch diameter.
Wrap them well in plastic wrap and chill for at least 2 hours. The dough can also be frozen.
When ready to bake, pull the dough out of the fridge and gently roll the logs back and forth so there is no flat side.
PRO-Tip: Storing the dough logs in an old paper towel tube helps keep the cylindrical shape.
Since the dough is full of nuts and chocolate, a serrated knife works best for cutting.
If your dough gets too warm, you may find your rounds get misshapen when slicing. Pop your logs back into the refrigerator or freezer if this happens to rechill the dough. If any of the dough slices need reshaping, feel free to nudge them into rounds again.
PRO-Tip: Since this dough is packed full of add-ins, it may be hard to get it to come together. If needed, add up to 2 teaspoons of water to help moisten the dough (especially if there's low humidity where you store your flour).
More Shortbread Cookies You'll Love
This recipe was first shared in January 2013. Photos and text were updated in 2020.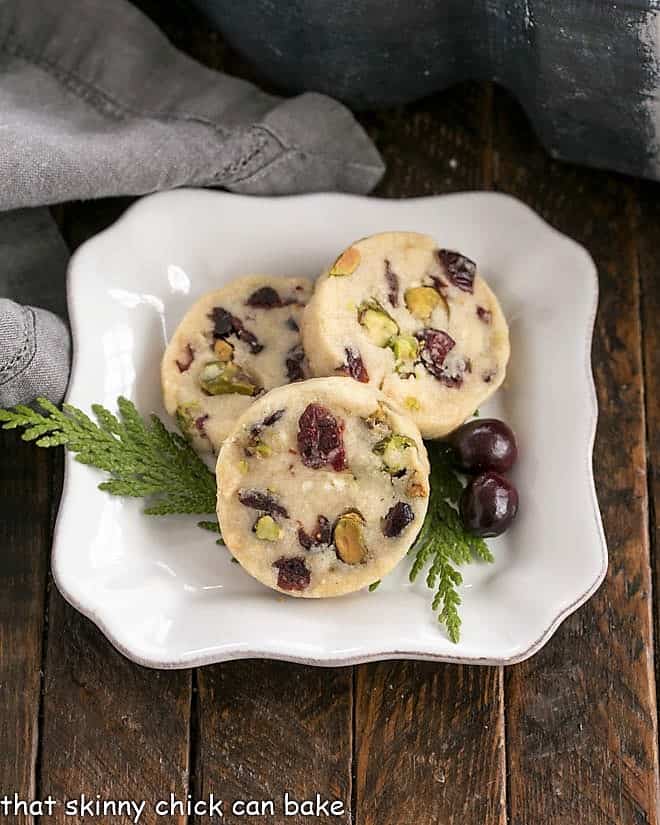 The Recipe:
Cranberry, Pistachio, White Chocolate Shortbread
Prep Time 20 minutes
Cook Time 20 minutes
Total Time 40 minutes
Yield 4 dozen cookies
Shortbread cookies with holiday colors from the cranberries and pistachios
Ingredients
2 1/3 cups all-purpose flour
1/2 teaspoon salt
1 cup butter at room temperature
2/3 cup granulated sugar
1 teaspoon vanilla extract
3/4 cup pistachios, lightly toasted
1 cup dried cranberries
1/2 cup white chocolate, chopped into tiny pieces
1-2 teaspoons water, optional if dough does not hold together
Instructions
Whisk together the flour and salt in a bowl and set aside.
Using a stand mixer, cream the butter and sugar until light and creamy, about 3 minutes. Add the vanilla.
Add the dry ingredients and stir till just mixed. Fold in the pistachios, cranberries, and white chocolate into the dough until well distributed.
If your dough does not hold together, add a teaspoon or 2 of water and mix well.
Shape the dough into 2 logs about 2 inches in diameter then chill for at least 2 hours and up to 3 days.
Preheat oven to 325º and line baking sheets with parchment paper.
Slice the cookies 1/4 to 1/2 inch thick and place about 1 inch apart on prepared pans. Bake for 16-20 minutes. The cookies are ready when they begin to brown around the edge.
Notes
Total time does not reflect chilling time.
Adapted from Grand Central Bakery.
Recommended Products
As an Amazon Associate and member of other affiliate programs, I earn from qualifying purchases.
Nutrition Information:
Yield:
24
Serving Size:
2 cookies
Amount Per Serving:
Calories: 208
Total Fat: 11g
Saturated Fat: 6g
Trans Fat: 0g
Unsaturated Fat: 5g
Cholesterol: 21mg
Sodium: 115mg
Carbohydrates: 25g
Fiber: 1g
Sugar: 14g
Protein: 3g
Note: This post may contain affiliate links; view
my Disclosure Policy
for details. I earn a small percentage from any purchase you make by clicking on these links at no extra cost to you.