Triple Chocolate Chip Cookies
Triple Chocolate Chip Cookies are filled with white, milk, and semisweet chocolate chips baked into a rich, delicious chocolate-laden dough. Every bite will satisfy your deepest chocolate cravings.
These Chewy Chocolate Cookies are an easy way to get your chocolate fix. My family could hardly wait until they were cool to dive in, and I bet yours will be thrilled with them, too.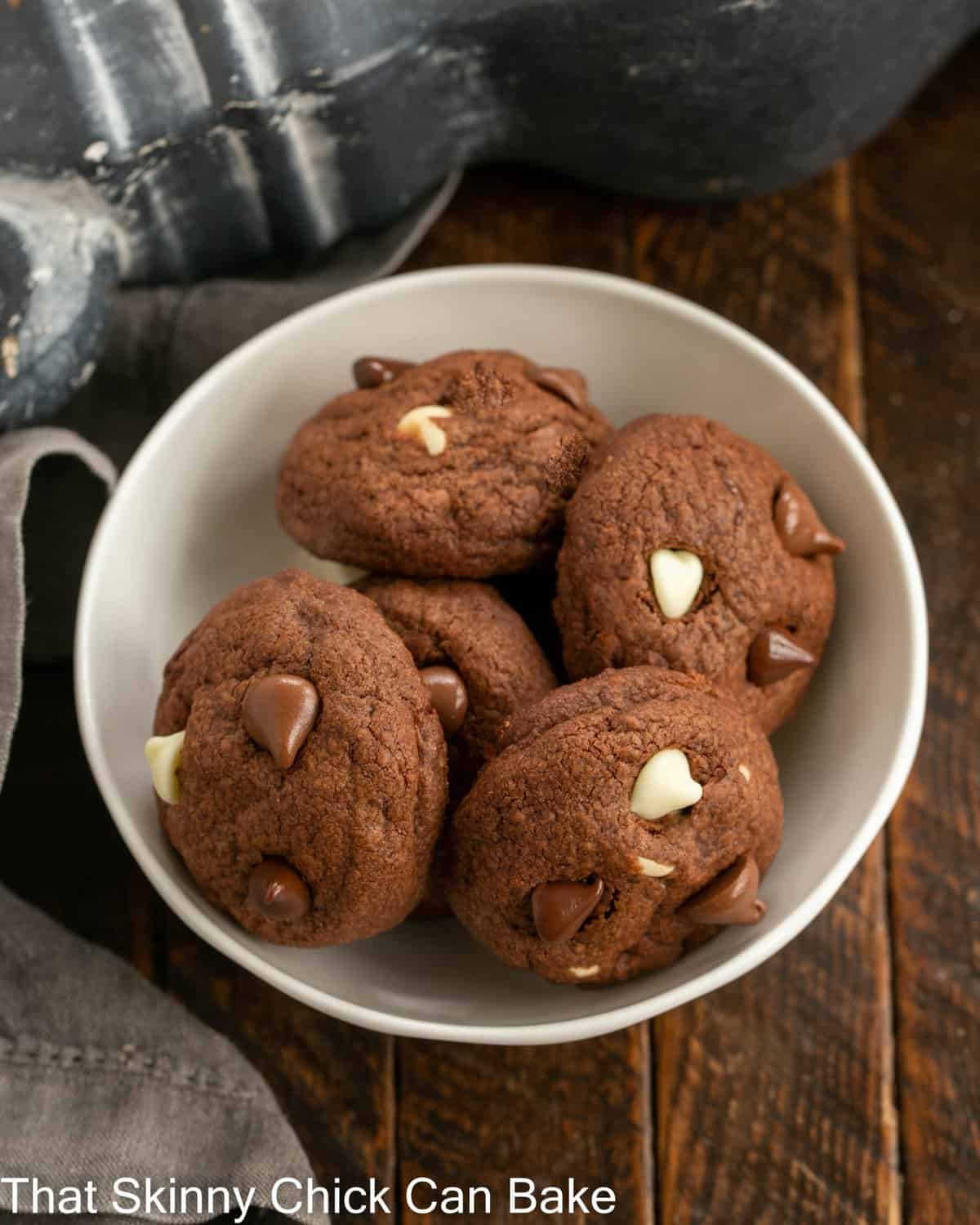 Why You Must Make
They are packed full of chocolate chips so you'll get milk, semisweet and white chocolate in every bite!
They're soft, chewy, and delicious warm from the oven and at room temperature.
These gems freeze well, so you'll always have an easy way to satisfy your chocolate cravings.
Then I had a TV gig on our local CBS affiliate (chatting about indoor grilling) and I needed to share treats with the crew. Chocolate seems to be a universally loved flavor, so these triple chocolate wonders looked perfect. In fact, you might even call them quintuple chocolate cookies since the dough contained melted semi-sweet AND cocoa powder along with the three chocolate chips/chunks/discs.
Though my youngest, not a white chocolate fan, reminded me that white chocolate wasn't officially chocolate. He's so literal. Call them what you will, but I bet decadent and delicious will come to mind with your first bite.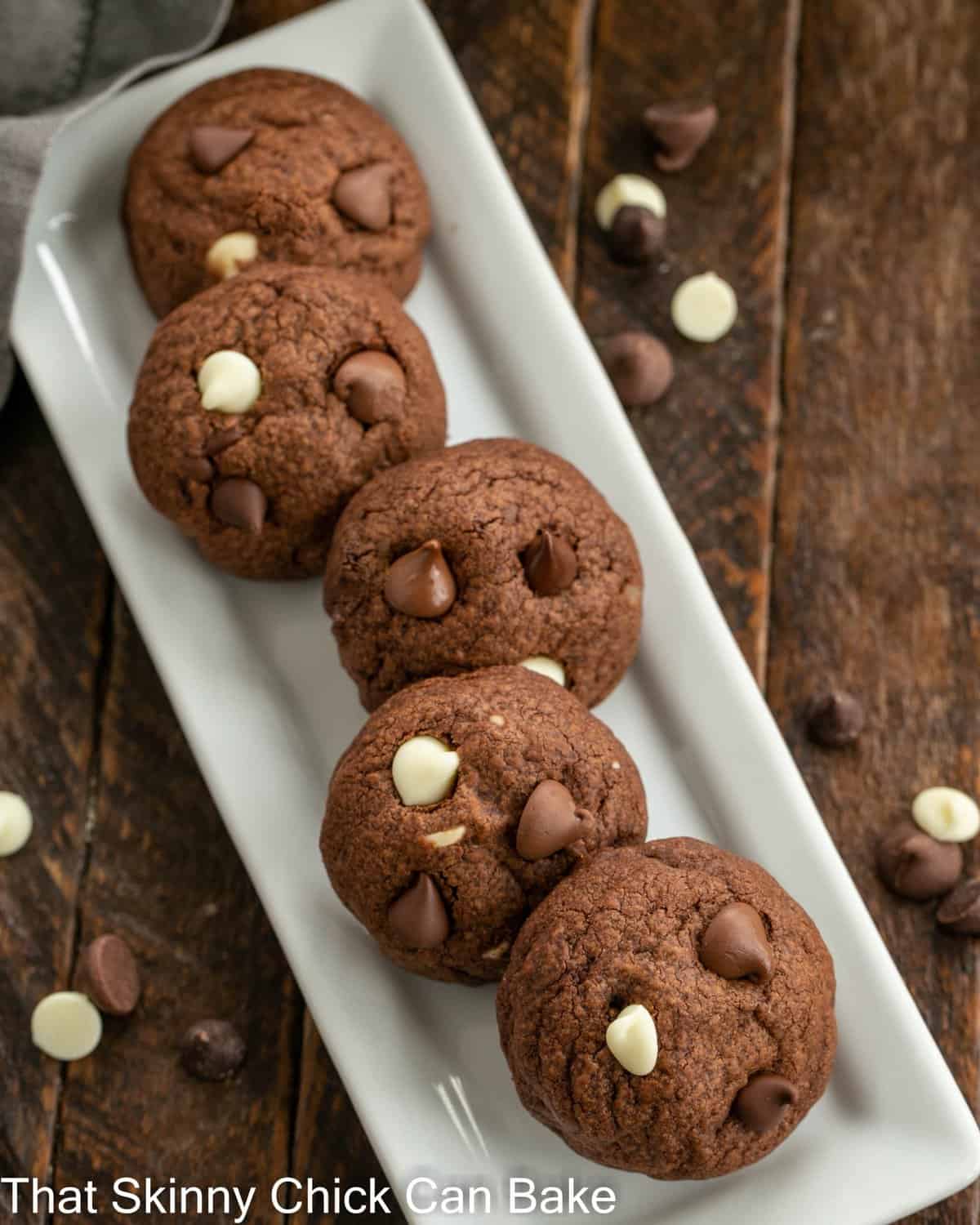 Expert Tips
Use a paddle attachment when making cookies. This will prevent air from being beaten into the batter which makes for cakier than chewy cookies.
Use room-temperature eggs and butter for easier incorporation.
PRO-Tip: Make sure your baking powder is fresh. It has an expiration date on the package and if old, it will not leaven the cookies. Note that baking powder is not the same as baking soda.
To check if your baking powder is still active, put a spoonful in a bowl of very hot water. If it bubbles vigorously, it's fresh. If not, replace before baking.
Use decent-quality chocolate to flavor the dough. Ghirardelli bars work well. I also used Ghirardelli chocolate chips.
PRO-Tip: Don't chill your dough too long or it will be very difficult to scoop the dough. If you do refrigerate overnight, let it warm up at room temperature for about an hour to let it soften.
Use a medium cookie disher to make consistent-sized cookies, then roll them between your palms to make nice dough balls.
If you're making these as a gift or for a special occasion, you can press a few more chocolate chips into the hot cookies when they come out of the oven for a professional appearance. Use an oven mitt as needed to stabilize the pan so you don't burn yourself.
Frequently Asked Questions
What is the Secret to Chewy Cookies?
First, make sure not to overbake. But also look at the recipe. Using brown sugar instead of or in addition to white sugar adds moisture, therefore helping to make chewier cookies.
Extra fat like chocolate or an additional egg yolk, also makes moister chewier cookies. If you see cornstarch in the recipe, it takes the place of some of the flour, lowering the amount of gluten in the recipe, and resulting in softer cookies.
What Does Baking Powder Do for Cookies?
The baking powder adds carbon dioxide due to a chemical reaction, which encourages "forceful" rising. Often this causes cookies with baking powder to have a crackled surface because of the rising and subsequent falling. It's often used when a lighter, airy result is desired.
When Do You Use Baking Soda instead of Baking Powder?
Baking soda is used when there is an acid in the dough or batter. It is 3-4 times as powerful a leavening agent as baking powder. Baking powder already contains acid so will leaven without any extra needed in the recipe.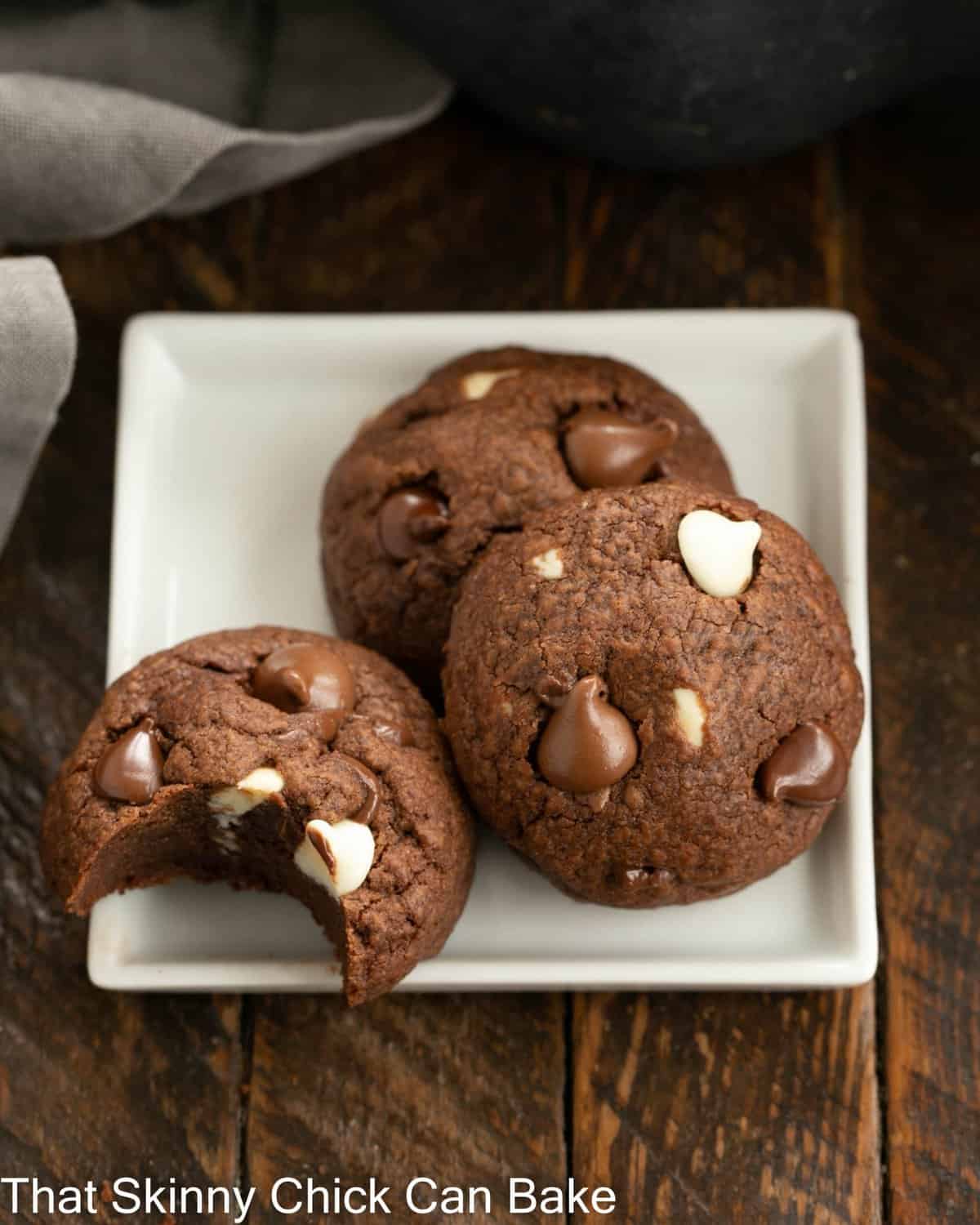 You May Also Like:
Thanks again to my lovely friend, Danielle for another magnificent cookie recipe! She is my go-to blogger for decadent treats. My family adored these Triple Chocolate Chip Cookies–no surprise there!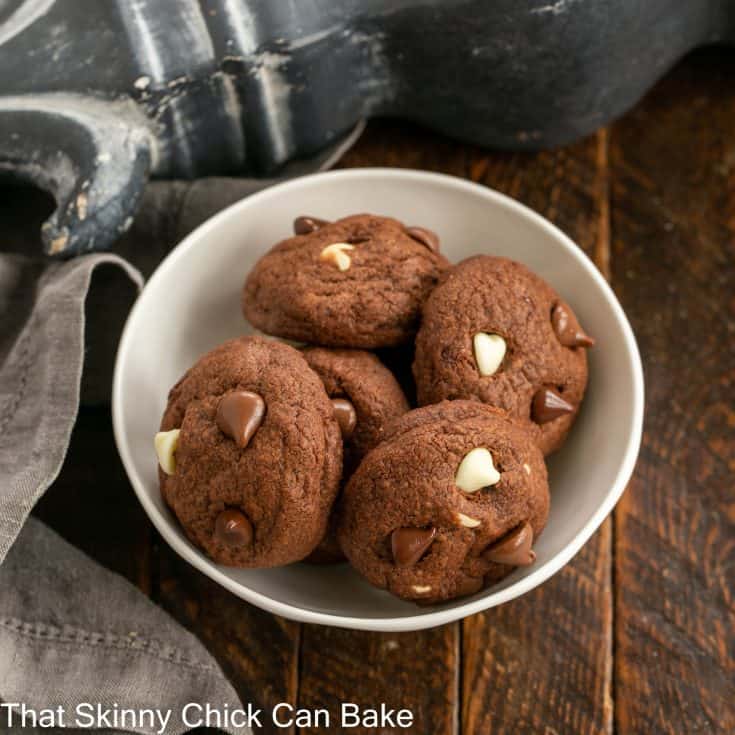 The Recipe:
Triple Chocolate Chip Cookies
Prep Time 15 minutes
Cook Time 12 minutes
Total Time 27 minutes
Yield 42 cookies
Double chocolate cookie dough with melted chocolate and cocoa filled with 3 kinds of chocolate chips and baked to fudgy perfection!
Ingredients
8 ounces semi-sweet chocolate, melted
2¼ cups flour
½ cup cocoa powder
1 teaspoon baking powder
½ teaspoon kosher salt
1 cup butter, at room temperature
1¼ cups sugar
2 eggs
1 teaspoon vanilla extract
1 cup milk chocolate chips
1 cup semi sweet chocolate chips
½ cup white chocolate chips or disks
Instructions
Melt the semisweet chocolate in the microwave and let cool.
In a mixer, beat butter and sugar until fluffy. Pour in the melted chocolate and mix till combined.
Add eggs and vanilla and mix till incorporated. Add the dry ingredients and mix just till combined. Stir in chocolate chips.
Chill dough for an hour.
Preheat oven to 350°. Line baking sheets with parchment.
Using a cookie scoop drop rounded tablespoons of dough onto a sheet and bake 10-12 minutes. Cool on pan a few minutes, then remove to a cooling rack to finish cooling.
Notes
Total time does not include chilling time.
Nutrition Information:
Yield:
42
Serving Size:
1 cookie
Amount Per Serving:
Calories: 172
Total Fat: 9g
Saturated Fat: 6g
Trans Fat: 0g
Unsaturated Fat: 3g
Cholesterol: 22mg
Sodium: 81mg
Carbohydrates: 21g
Fiber: 1g
Sugar: 14g
Protein: 2g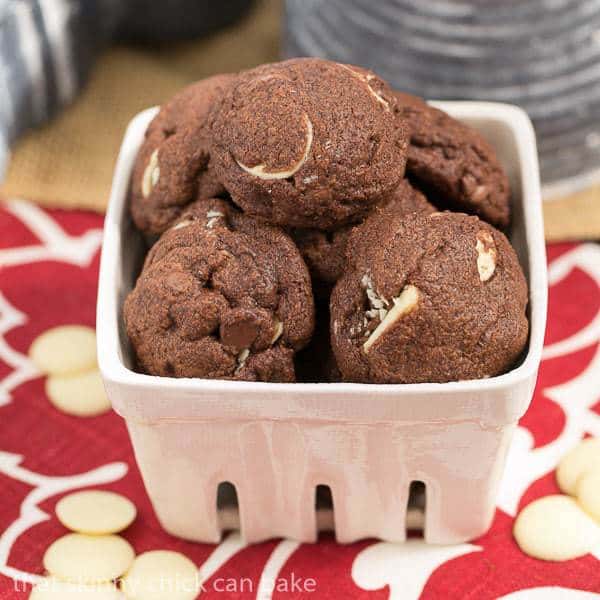 Note: This post may contain affiliate links; view
my Disclosure Policy
for details. I earn a small percentage from any purchase you make by clicking on these links at no extra cost to you.