Plaited Easter Bread with Cream Cheese Filling
Holidays deserve a special treat. This buttery, Plaited Easter Bread with Cream Cheese Filling was the perfect holiday indulgence for my family!
This spectacular Easter Recipe is a sublime bedtime snack after Easter Vigil Mass and then again for breakfast or brunch on Easter morning.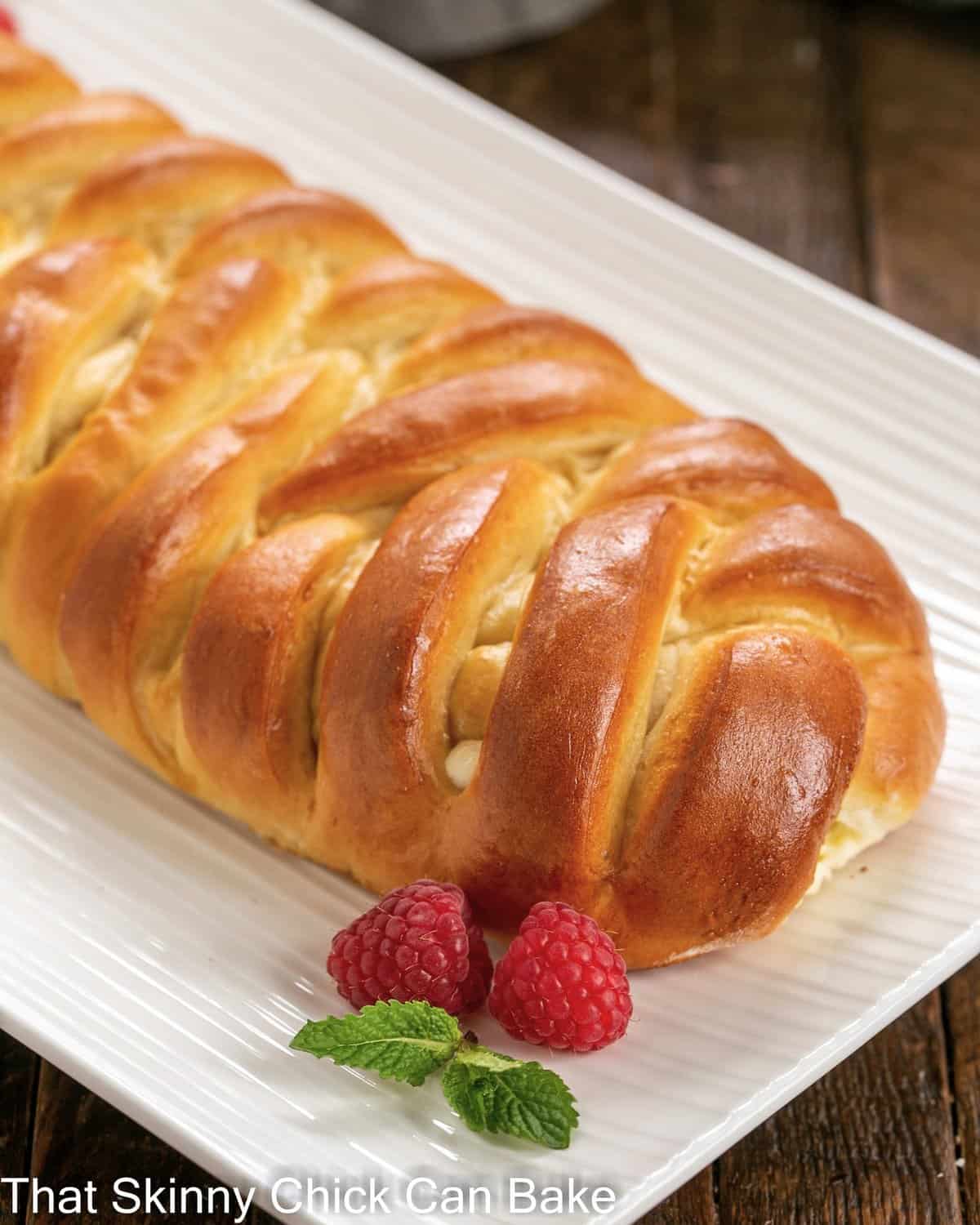 Why You Must Make
The dough is soft, buttery, and easy to work with!
Even if you don't know how to braid, this method just involves crossing one strip over another. Super simple, plus it looks impressive.
Adding cream cheese filling makes it worthy of a special occasion. It's ideal for a holiday breakfast or brunch!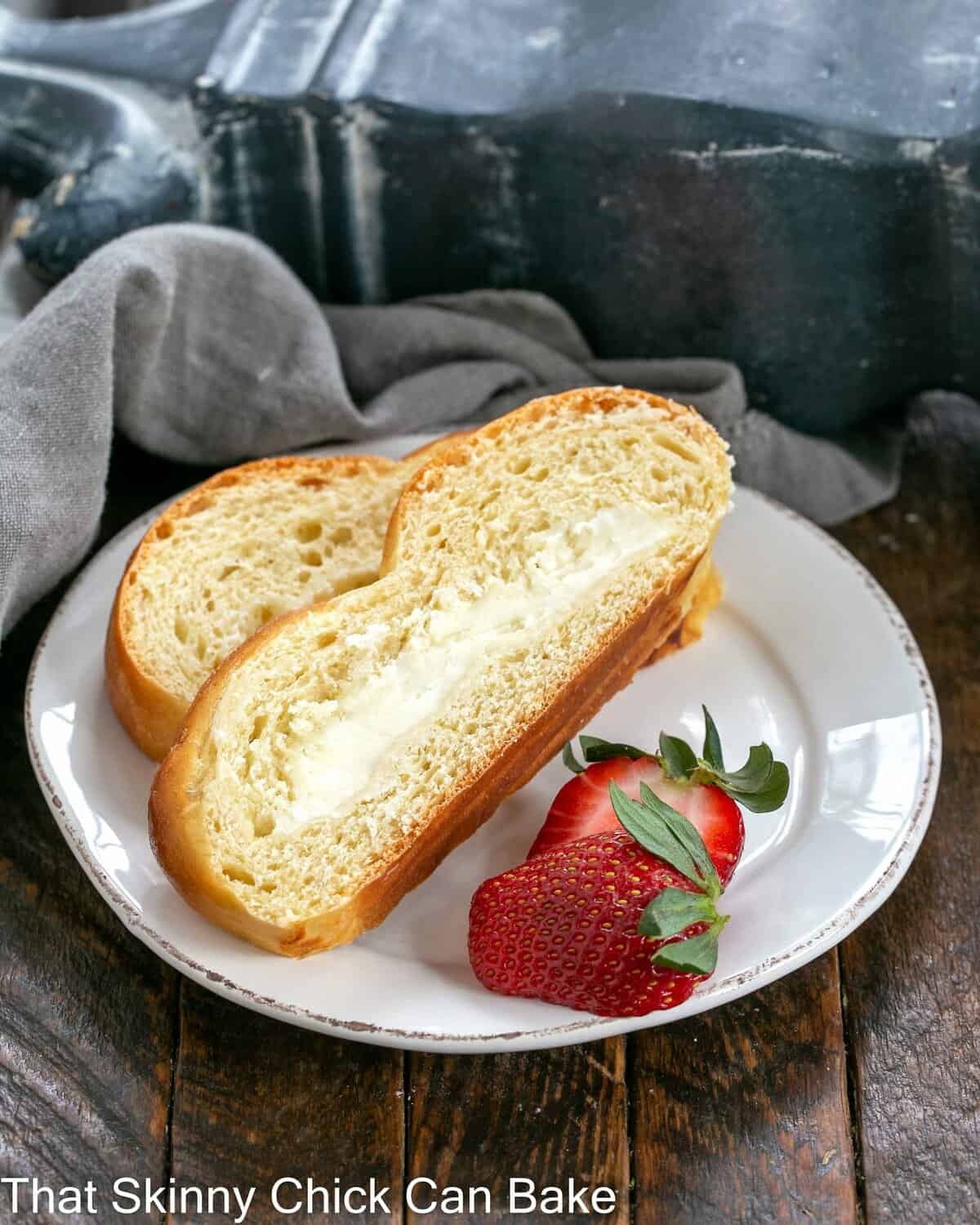 Tester Endorsement:
From my friend, Kathy, via Facebook: So delicious – verified taster!
How to Make
So when I think of Easter, my thoughts travel back to the freshly baked rolls drizzled with frosting that we tore into before heading to bed. With full stomachs we excitedly headed upstairs, knowing there would still be leftovers for breakfast. So as Easter approached, I wanted to make a rich egg bread and fill it with cream cheese. I broke open my Artisan Bread in Five Minutes a Day (affiliate link) and vacillated between brioche and challah until the challah won out.
After mixing all the ingredients together in a stand mixer fitted with a dough hook, the dough has an initial 2-hour resting period.
Then it can be refrigerated for up to 5 days or used immediately.
Only half the dough is needed and it's rolled into an 8 x 12-inch rectangle.
Make the filling and spread down the middle 3 inches of the dough, leaving wide borders on each side.
Cut slits along each side, each about 1 1/2-inches wide either at a slight angle or straight.
Starting at one end fold one strip over the filling, then repeat on the other side, working back and forth from one end to the other until all the filling is covered.
Let the dough rest again, then bake for a half-hour. This is one of those amazing Easter Recipes that is destined to become a tradition.
Cut strips on each side leaving the middle intact. Place filling down the center, then criss-cross the strips over the filling.
Frequently Asked Questions
What's the Significance of Easter Bread?
The rising of leavened Easter bread reflects Jesus rising from the dead. Plus the eggs in the dough and/or inserted in some Easter bread celebrate rebirth and a new season with Lent's departure.
The wreath shape of many Easter bread recipes is often said to represent Jesus' crown of thorns and also eternal life as there's no beginning or end. There is a lot of symbolism in a simple Easter bread.
What Types of Bread are Served on Easter?
So many nationalities have their own version of Easter bread. Here are some of them: Babka (Poland and other Central and Eastern European Countries), Zozukak (Bulgaria), Pinea (Croatia), Pane de Pasqua (Italy), Kalich (Russia), Osterbrot (Germany), Pasca (Ukraine).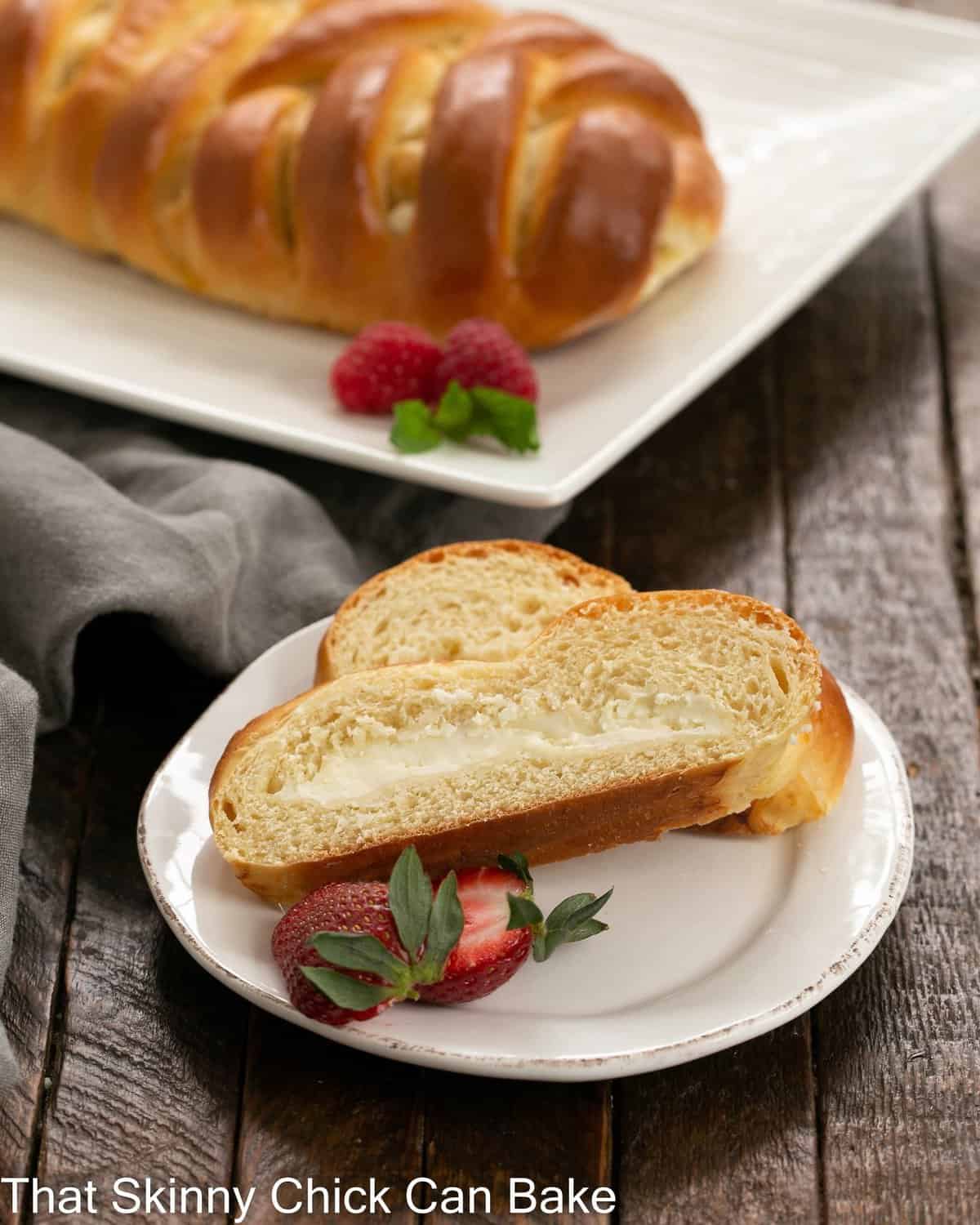 You May Also Like:
Stay in touch through social media @ Instagram, Facebook, and Pinterest. Don't forget to tag me when you try one of my recipes! And if you love the results, please give it a 5-star rating in the recipe card. Note: As an Amazon Associate, I earn from qualifying purchases. Visit my Amazon Store for my favorite products.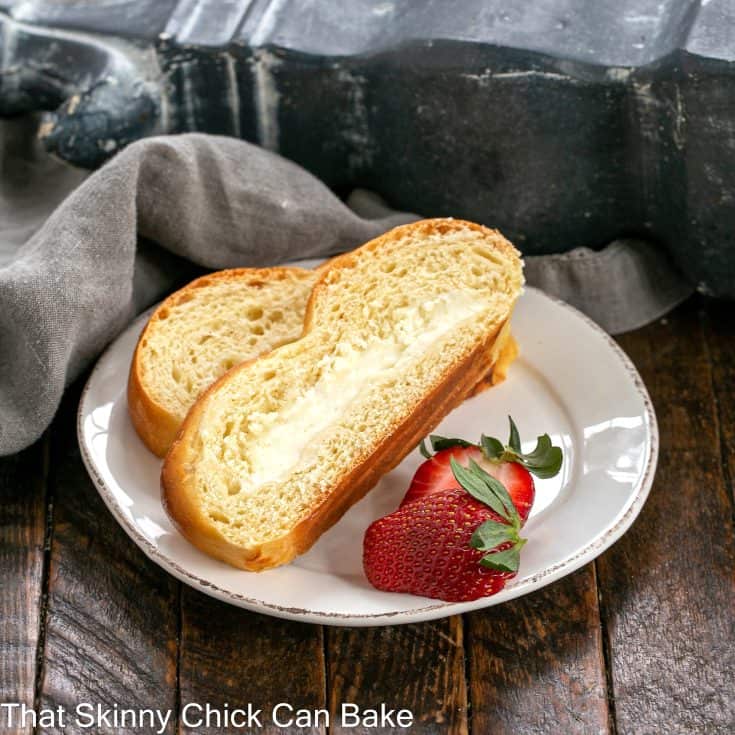 The Recipe:
Plaited Easter Bread with Cream Cheese Filling
Prep Time 45 minutes
Cook Time 30 minutes
Total Time 1 hour 15 minutes
Yield 1 braided loaf plus dough for another loaf
Bread recipe from Artisan Bread in Five Minutes a Day by Jeff Hertzberg and Zoe Francois
Ingredients
Dough:
1/2 cup + 1/4 cup + 2 tablespoons lukewarm water
2 1/4 teaspoons dry active yeast (1 packet)
2 1/4 teaspoons salt
2 eggs, lightly beaten
1/4 cup honey
1/4 cup unsalted butter, melted
3 1/2 cups unbleached all-purpose flour
Egg wash:
1 egg beaten with 1 tablespoon of water
Filling:
8 ounces cream cheese, at room temperature
1/4 cup sugar
1 tablespoon butter, at room temperature
1 teaspoon fresh lemon juice
Icing:
Powdered sugar, butter, milk and vanilla to make icing
Instructions
Mix the yeast, salt, eggs, honey, and melted butter with the water in the bowl of your stand mixer.
Mix in the flour and with a dough hook attachment, mix till flour is all incorporated.
Cover the dough with a cloth and allow it to rest at room temperature for approximately 2 hours.
The dough can be used immediately or stored in the refrigerator for up to 5 days (after that, freeze).
When ready to bake, line the baking sheet with parchment and dust the dough with flour.
Roll half of the dough into a rectangle 8 inches by approximately 12 inches. Return the other half of the dough to a covered container in the refrigerator for later use.
Cut slits along both longer sides towards the middle at about 1 1/2 inch increments...leaving a strip of uncut dough about 3 inches wide, down the middle of the rectangle.
See photo. I cut out and removed a little extra dough on both ends for easier braiding, but that's totally optional.
Mix cream cheese, sugar, butter, and lemon juice till smooth. Spread down the middle of the dough, then plait (braid) the strips by crossing one over the other at a slight angle, to cover the filling.
Cover with a dishcloth and let rest for 1 hour and 20 minutes. Add more time if your dough is cold.
Preheat the oven to 350º. Brush loaf with egg wash.
Bake on the center rack of the oven for about 30 minutes. Cool and ice as desired with a mixture of powdered sugar, butter, milk, and vanilla.
Notes
Yield: 1 loaf plus 1 pound bread dough for a second loaf.
Total time does not include proofing times.
Nutrition Information:
Yield:
12
Serving Size:
1 slice
Amount Per Serving:
Calories: 361
Total Fat: 14g
Saturated Fat: 8g
Trans Fat: 0g
Unsaturated Fat: 5g
Cholesterol: 79mg
Sodium: 529mg
Carbohydrates: 52g
Fiber: 1g
Sugar: 24g
Protein: 8g
My nutrition calculator took into account the other half of the bread dough that's not used. Therefore, the calories are higher than they should be.
Note: This post may contain affiliate links; view
my Disclosure Policy
for details. I earn a small percentage from any purchase you make by clicking on these links at no extra cost to you.