Italian Pizza Rustica
This Italian Pizza Rustica is a savory pie, made with a slightly sweet pastry and stuffed with a filling of ricotta, eggs, mozzarella, and prosciutto.
Rustico Pizza or Italian Easter Pie is encased in a tender pastry crust. This out-of-the-ordinary pie makes a delicious statement the second you have your first bite!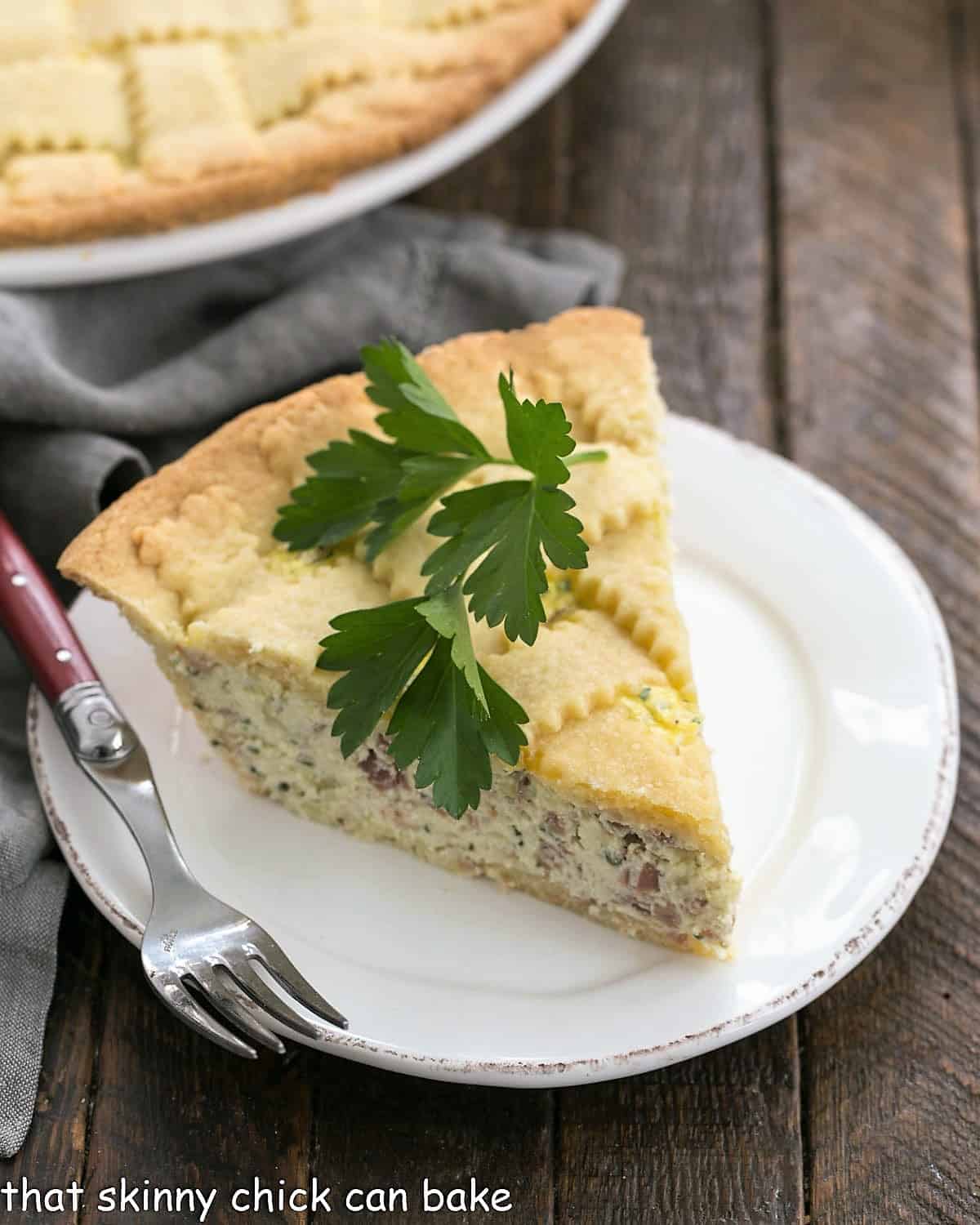 Why You Must Make
The recipe comes from Nick Malgieri, one of my baking gurus. Over the years, I've used his tips to perfect my apple pie and cheesecake recipes.
This Napoli classic is made for Easter and served as an appetizer, but we enjoy it for breakfast, too.
The buttery crust is a breeze to roll due to the addition of eggs, plus the filling with Mozzarella and Prosciutto is fabulous!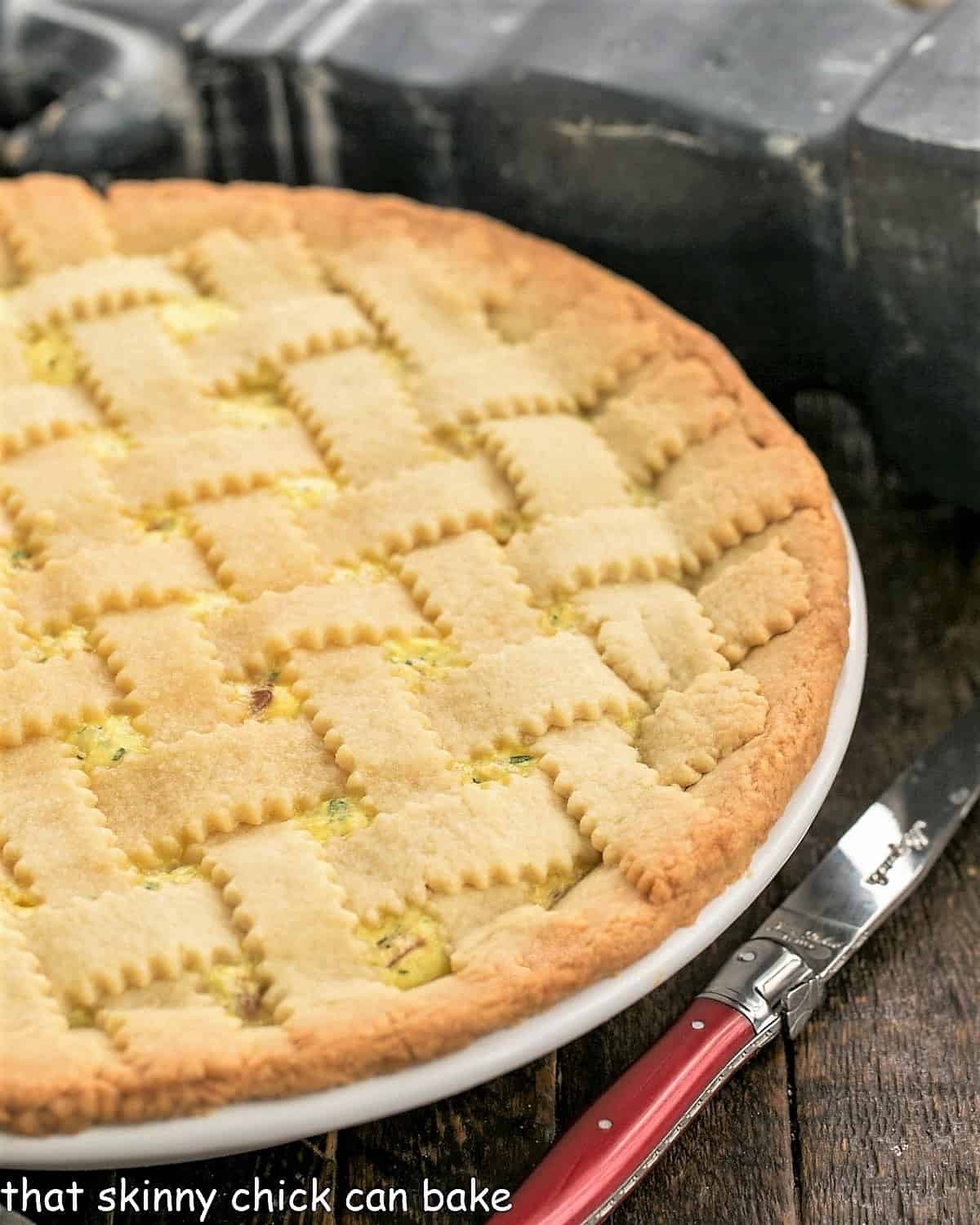 Expert Tips
You can make the crust ahead of time. Just wrap well and store in the refrigerator for a day or so. Bring to room temperature before rolling.
The original recipe called for 1/3 cup of sugar, but I only used 1/4 cup. Either amount works well, but for a savory pie, I prefer less sugar.
Using a crimp pastry cutter makes this Easter pie even more festive, but a straight edge is very pretty, too.
A traditional pizza rustica can have sausage, pepperoni, soppressata, etc. So add any of your favorite Italian meats.
Provolone is a delicious alternative to Mozzarella, and although Pecorino Romano is traditional, Parmesan will work also.
Bake until the filling looks puffed and set in the middle. This is a perk of a lattice crust as you can see the filling.
How to Make a Rustico Pizza
Make the crust in a food processor. Knead, divide, wrap in plastic, and let rest.
Mix the filling ingredients together with a rubber spatula.
Prep your pie plate.
Roll out the bottom crust and fit it into the pie plate and trim.
Add the filling to the pie shell and level the top.
Roll out the rest of the pie crust and cut into 12-14 strips.
Place half the strips going one direction, then arrange the remaining strips perpendicular or at a slight diagonal to those topping the pie. Weave them over and under. Here is a link on how to weave a lattice crust.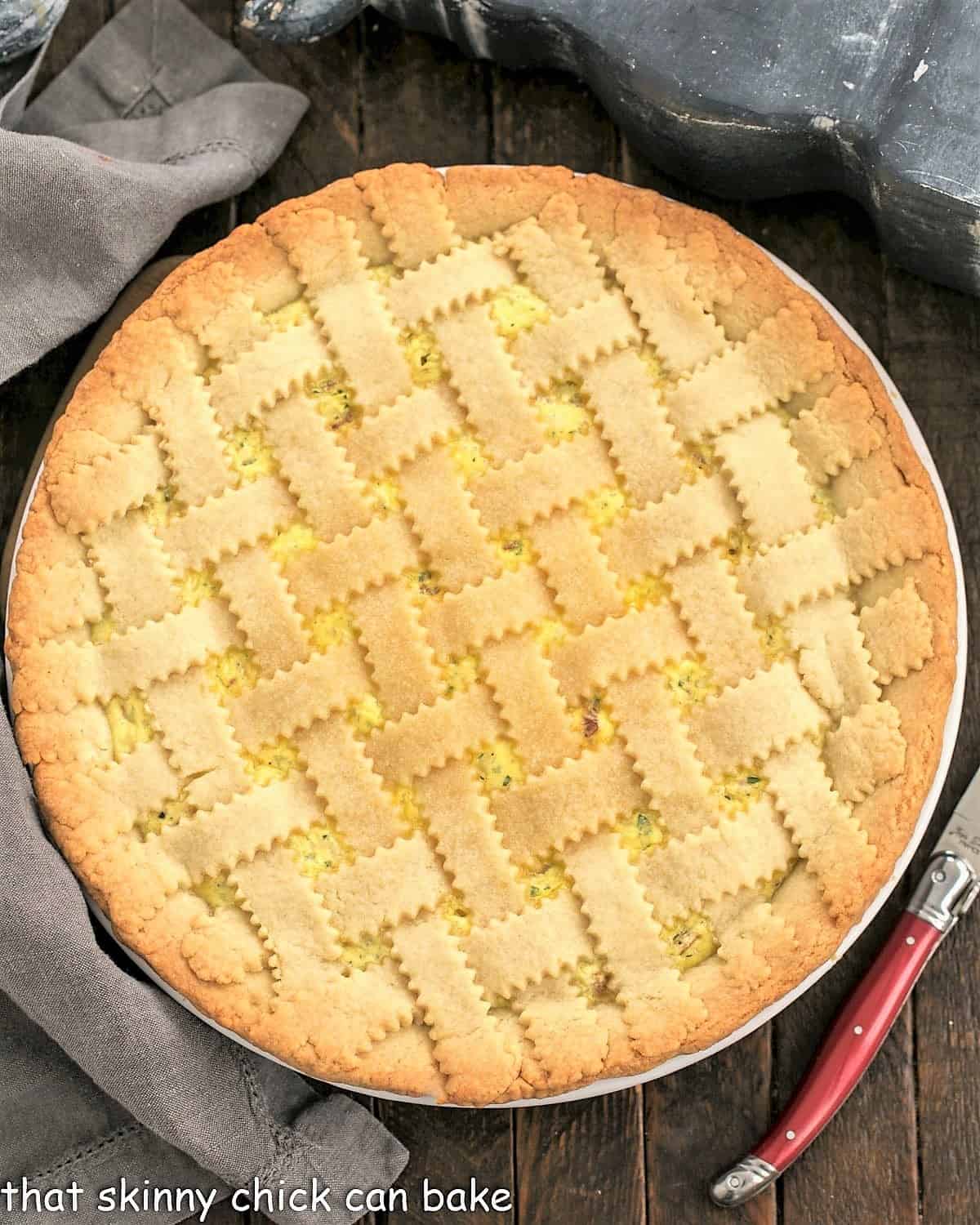 Frequently Asked Questions
What is Pizza Rustica?
Pizza Rustica refers to a stuffed pizza and is an Italian Easter Pie made with a flaky pastry crust, sausage, smoked ham, pepperoni, ricotta, mozzarella, and pecorino romano.
What are Other Names for Pizza Rustica?
Pizza Rustica is also known as an Italian Easter Pie, Rustico Pizza, Pizzagaina, Pizza Ripiena, or Pizza Chiena.
Where Did Pizza Rustica Originate?
This Easter pie originated in Naples and can be traced back to the 17th century.
How Do You Serve Pizza Rustica?
This pizza rustica recipe can be served cold, room temperature, or warm. Traditionally, it's served at room temperature as an appetizer.
How Long Does Pizza Rustica Keep?
If pizza rustica is not left at room temperature longer than 2 hours, it will keep for 4-5 days. Keep it covered with plastic wrap or foil and store it in the refrigerator.
You May Also Like:
Stay in touch through social media @ Instagram, Facebook, and Pinterest. Don't forget to tag me when you try one of my recipes! And if you love the results, please give it a 5-star rating in the recipe card. Note: As an Amazon Associate, I earn from qualifying purchases. Visit my Amazon Store for my favorite products.
The Recipe:
Italian Pizza Rustica
Prep Time 30 minutes
Cook Time 40 minutes
Total Time 1 hour 10 minutes
Yield 8 servings
A ricotta, mozzarella and Prosciutto filled pie!
Ingredients
For the Dough
2 cups all-purpose flour
⅓ cup sugar
½ teaspoon baking powder
¼ tsp salt
1 stick (4 oz) cold, unsalted butter or 4 oz cold lard, cut into 8 pieces
2 large eggs, lightly beaten
For the filling:
1 pound whole milk ricotta
3 large eggs
¼ cup freshly grated Pecorino Romano cheese
¼ pound mozzarella cheese, grated
¼ pound thinly sliced prosciutto, shredded
2 tablespoons chopped fresh parsley
¼ teaspoon freshly ground black pepper
Instructions
Put the flour, sugar, baking powder, and salt into the work bowl of a food processor, fitted with the metal blade; pulse a few times just to mix the ingredients.
Add the butter and plus 15 to 20 times, or just until the mixture resembles fine cornmeal. With the machine running, add the eggs and process until the dough forms a ball on the blade, about a minute or so.
Remove the dough from the processor and knead it, folding it over on itself until smooth, 1 to 2 minutes. Wrap the dough in plastic and set aside. (If you're not going to make the pizza now, warp the dough well and refrigerate for up to 3 days)
Scoop the ricotta into a medium bowl and stir until smooth with a rubber spatula. Add the rest of the filling ingredients one at a time, stirring until each addition is incorporated and the mixture is well blended.
Position a rack in the lower third of the oven and preheat the oven to 350º, butter a 9-inch glass pie plate. (If you don't have a glass pie plate, use, metal, but increase the oven temp to 375º)
Divide the dough into two pieces, one twice as large as the other. Working with the large pieces, knead it into a disk and roll it out on a lightly floured work surface into a 12-inch circle.
Transfer the dough to the pie plate and press gently against the bottom and up the sides of the plate. Don't worry if the dough tears, just press it back together. Use the dull side of a knife to trim the excess dough even with the rim.
Scrape the filling into the pie shell and smooth the top.
Knead and shape the remaining piece of dough into a block and roll it into a 9-inch square. Using a pizza or pastry cutter or a thin charm knife, cut the dough into 12 even strips. To form the lattice, lay 6 of the strips across the pie at 1 1/4-inch intervals, then crisscross the strips, placing the remaining strips diagonal across the first. Trim the ends of the strips even with the edge of the pan and pinch to seal.
Bake for 35 to 40 minutes, or until the crust in golden and the filling is firm and slightly puffed. Transfer the pie to a rack to cool completely before serving.
Leftovers can be kept well-covered in the refrigerator for up to 4 days
Nutrition Information:
Yield:
8
Serving Size:
1 slice
Amount Per Serving:
Calories: 510
Total Fat: 31g
Saturated Fat: 15g
Trans Fat: 0g
Unsaturated Fat: 15g
Cholesterol: 186mg
Sodium: 703mg
Carbohydrates: 35g
Fiber: 1g
Sugar: 9g
Protein: 21g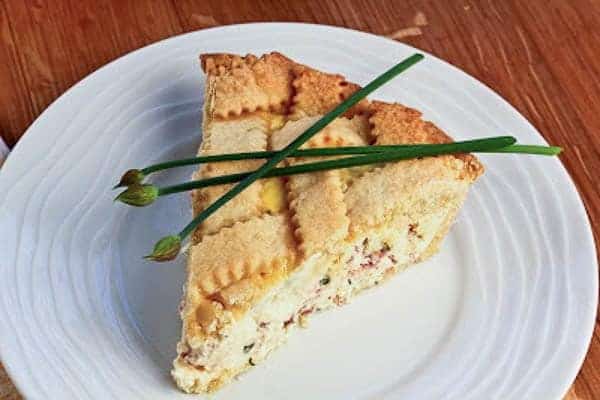 Note: This post may contain affiliate links; view
my Disclosure Policy
for details. I earn a small percentage from any purchase you make by clicking on these links at no extra cost to you.