Braided Easter Bread Recipe
This Braided Easter Bread Recipe is a tender, slightly sweet, vanilla-scented bread that is perfect to serve at a holiday brunch. Delicious with butter and jam or even as toast, it's a homemade bread destined to become an Easter tradition.
This recipe for Easter Bread creates such a tender loaf of egg bread that everyone will have everyone scrambling for the last piece. It's a spectacular addition to your holiday menu.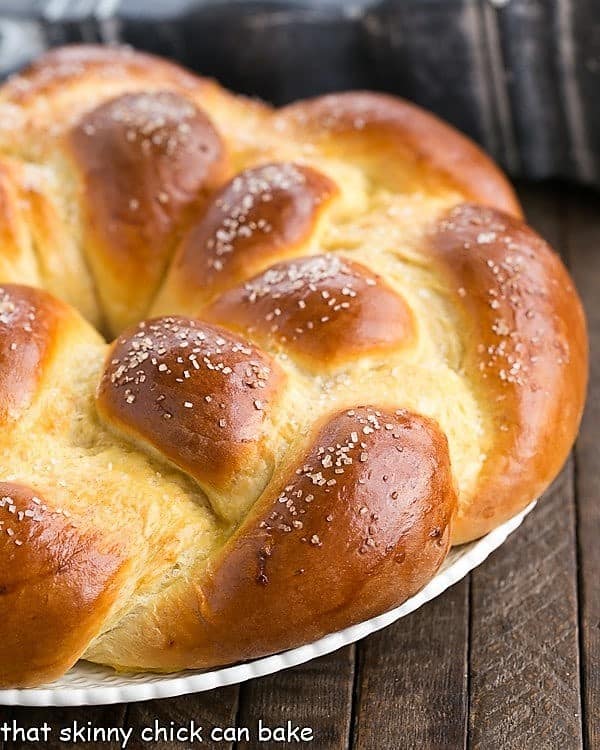 Why You Must Make
When I decided to make a braided Bread for Easter morning, my first thought was to plait in some dyed Easter eggs for a festive touch. Nick would be coming home for the holiday, but 16 servings would still take more than a couple of days to disappear. Plus, I was a bit concerned that those hard-boiled eggs could go funky. So I nixed that addition and made a simple, delicious holiday bread.
Make this recipe to enjoy on Easter and if your family is like mine, they'll want it every year!
This sweet braided bead is soft and delicious!
It freezes well, so if you can't eat it all, it's super easy to save some for later. It also makes excellent French toast!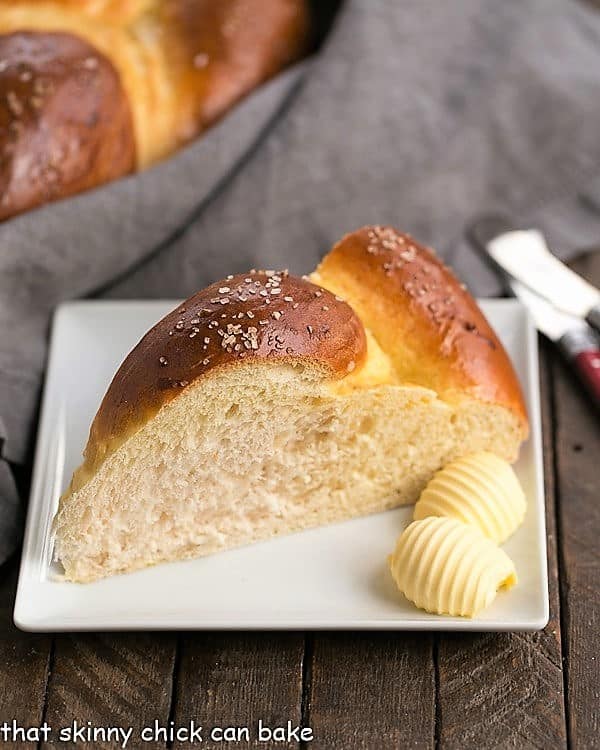 Expert Tips for Plaiting or Braiding Dough
I love braiding dough, but once again, pulling off a wreath gave me some pause. The last round, braided loaf I baked up was a Finnish Pulla. A bow made of dough covered the juncture where the 6 strands joined, nicely camouflaging the amateur finishing. No such luck this time as a bow was apropos for Christmas, but not so much for Easter. I did my best and will admit to weaving and unweaving the strands a couple of times! I think it turned out OK. Definitely a massive loaf!
To make a 3-stranded braided loaf, divide your dough into three equal-sized pieces using a kitchen scale. Do this after it has proofed for the first time.
Then roll each strand into a 24-inch rope. It should be the same diameter from one end to the other, though the ends can be tapered.
Line the 3 ropes on a lightly floured surface (only enough flour so the dough does not stick) side by side.
Usually, I pinch the 3 ends at the top together when plaiting bread dough, but just have them touching for this bread.
If you can braid hair, this process will come more naturally, but here's how I do it. Start with the strand on the right and cross it over the middle strand, landing it between the center strand and the strand on the left. Next, take the strand on the left and cross it over the middle, having it land between the center strand and the strand on the right. Go back and forth, from right to left, forming a long braid. You may need to do some tweaking as you go along so that there are no big gaps in the braid.
Once this process is done, you form a ring with your braid and try your best to join up the loose ends from each end of the braid. If you need to trim a little dough, that's OK. I promise it will taste terrific even if it's not picture-perfect!
After the final rise, brush the dough with an egg and water glaze which gives the bread a wonderful sheen.
I sprinkled with coarse sugar, but you could use Easter-colored sugar, sesame seeds, or leave it plain.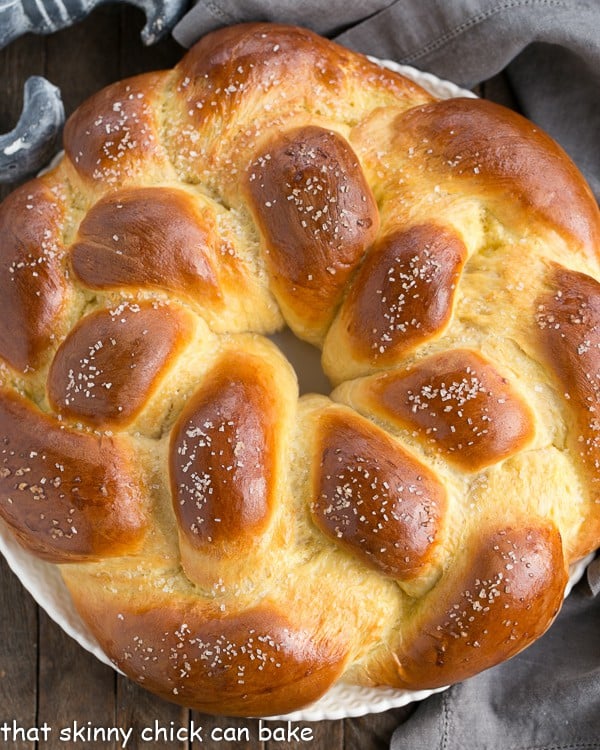 How to Make
This recipe is no different than any other yeast bread.
Make the dough, then let it proof.
Make 3 strands of equal diameters and lengths.
Braid the 3 strands, then bring the ends together into a ring.
Connect the ends together as best as you can.
Proof again, glaze, and bake. Being someone with 3 sisters, I'm undaunted when it comes to braiding. The video in the recipe card should help if you're a newbie to this technique.
My kitchen filled with the yeasty scent of freshly baked bread as the braided Easter bread dough puffed up to its gargantuan size! When Bill declared his first slice was "ridiculously good," I had my verdict. Even with my haphazard connection of the strands, this slightly sweet Easter egg bread was a home run! And we're making some awesome French toast with the leftovers.
P.S. If your family can polish this off in a day or two, feel free to literally make this an Easter "Egg" Bread. Just tuck some hard-boiled, colored Easter eggs into the dough after it's braided. Let the dough rise and bake as directed. If the shells happen to crack, just call it a rustic loaf—that excuse works every time!
Frequently Asked Questions
What is the Significance of Easter Breads?
Easter Breads are filled with symbols. The ring of bread resembles the crown of thorns Jesus wore at his crucifixion. Plus the three braids each resemble part of the Holy Trinity, the Father, Son, and Holy Spirit.
What Kind of Bread is Associated with Easter?
Different cultures have their own versions of sweetened, leavened bread to celebrate Easter. The Russian Paska, which is also popular in Ukraine, is a sweet, molded yeast bread. The Koach is a Czech bread made for holidays, with 3 stacked rings representing the Holy Trinity. Plus, the Scandinavians, also have braided bread, like Finnish Pulla, that's perfect for Easter.
You May Also Like:
Stay in touch through social media @ Instagram, Facebook, and Pinterest. Don't forget to tag me when you try one of my recipes! And if you love the results, please give it a 5-star rating in the recipe card. Note: As an Amazon Associate, I earn from qualifying purchases. Visit my Amazon Store for my favorite products.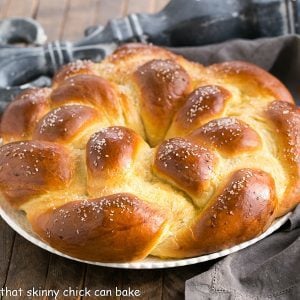 The Recipe:
Braided Easter Bread Recipe
Prep Time 30 minutes
Cook Time 30 minutes
Total Time 1 hour
Yield 1 loaf or 16 servings
A braided Easter egg bread formed into a wreath. Dough recipe adapted from Allrecipes.com.
Ingredients
½ cup sugar
2 packages* instant yeast (I use Red Star Platinum yeast)
1 tablespoon vanilla
1 teaspoon salt
6 to 6½ cups all-purpose flour
1½ cups milk
6 tablespoons butter, cubed (plus extra to grease your bowl)
4 eggs, divided (3 for the bread, one for the egg wash)
2 tablespoons water
Sanding sugar, optional
Instructions
In the bowl of your stand mixer fit with the whisk attachment, mix sugar, yeast, salt, and 2 cups of flour.
In the microwave, heat milk and butter to about 120 degrees (if it gets too hot, just let cool before adding). Add to the dry ingredients and mix until they are incorporated. Add 3 of the eggs and vanilla then beat on high for 2 minutes.
Switch the whisk for the dough hook. Mix in enough remaining flour to form a soft, sticky dough. Knead with the dough hook for about 4-5 minutes or knead by hand for up to 8 minutes.
Place dough in a greased bowl, turning once to grease the top. Cover the bowl with plastic wrap and let rise in a warm place (85° is ideal) until doubled, about 45 minutes.
Punch down dough. Turn onto a lightly floured surface; divide into thirds (I weighed my pieces on a kitchen scale to divide evenly).
Roll each portion into a 24-inch long rope. Place ropes side by side on a parchment-lined baking sheet and braid. Bring ends together to form a ring. Pinch ends together to seal.
Cover with a tea towel and let rise in a warm place until doubled, about 20 minutes.
Preheat oven to 375°.
In a bowl, whisk the remaining egg and water and carefully brush over the dough.
Bake 25-30 minutes or until golden brown. (If you'd like, at the halfway point, brush with more glaze to get any areas that have risen up from the heat).
Notes
*Yeast packets contain ¼ ounce or 2¼ teaspoons yeast each.
Total time does not include proofing times.
Recommended Products
As an Amazon Associate and member of other affiliate programs, I earn from qualifying purchases.
Nutrition Information:
Yield:
16
Serving Size:
1 slice
Amount Per Serving:
Calories: 158
Total Fat: 6g
Saturated Fat: 4g
Trans Fat: 0g
Unsaturated Fat: 2g
Cholesterol: 60mg
Sodium: 201mg
Carbohydrates: 20g
Fiber: 1g
Sugar: 7g
Protein: 5g
Note: This post may contain affiliate links; view
my Disclosure Policy
for details. I earn a small percentage from any purchase you make by clicking on these links at no extra cost to you.