Spritz Cookie Recipe
A Spritz Cookie Recipe can be used to make festive, buttery cookies that everyone loves! With loads of cookie press disks from which to choose, color, and sprinkle options, they can be tailored for any holiday or event!
These rich Buttery Spritz Cookies are easy to make once you learn a few tricks about how to make the dough and use the cookie press.
Why You'll Love Spritz Cookies
The batter is super easy to make and with my tips, you'll be able to make spritz cookies for any occasion!
Adding gel food coloring is a simple way to jazz them up! Plus there are scads of discs that come with your cookie press to make flowers, Christmas trees, wreaths, snowflakes, etc.
These are perfect for those with picky palates—the sweet buttery flavor is enhanced with vanilla extract and a smidgen of almond extract.
My dear mother-in-law gave me a cookie press many moons ago. She was a kind and thoughtful gift giver and she knew I loved kitchen gadgets. But this is one gadget that is lost somewhere in my house. Probably deep in one of my pantries. Which is just one of the reasons I was delighted to partner with OXO again this year for their #OXOGoodCookies campaign. OXO has been my go-to brand for quality kitchen tools for years.
Bill, AKA the picky hubby, raved, and I mean raved about these vanilla spritz cookies. I think I've finally found the perfect spritz recipe, rich, buttery and so easy to pop a dozen in your mouth in record time!
Tips for Making the Best Spritz Cookie Recipe
Start with a good, tried and true recipe that uses butter, real vanilla extract, etc.
Remember that the dough must be soft and tacky for it to stick to the baking sheet, meaning at room temperature.
Have your butter and egg at room temperature for the best incorporation into the dough, and so they don't cool down the dough.
Have your cookie sheet cold which will help the room temperature dough stick.
Use smooth, metal cookie sheets. OXO makes a metal textured cookie sheet that works well, too.
Do not grease or place a parchment sheet on your baking sheet. The dough needs to go directly on the baking sheet.
When you make the dough, make sure to cream the butter and sugar well. It will be easiest to do in a stand mixer since you'll be beating for 3-4 minutes.
Use gel food coloring, not liquid as this recipe was not calibrated for any extra liquid in the dough. Plus, gel food coloring will be more vibrant.
Use a toothpick to add gel coloring to the dough. Add, then mix in and repeat until you get the depth of color desired.
If you don't plan to glaze your cookies after baking, apply any sprinkles before baking as they won't stick to the baked cookies.
Frequently Asked Questions
What Does Spritz Mean?
The word spritz comes from the German word, Spritzen, which means to squirt. You are essentially squirting the dough through the cookie press when making spritz cookies.
How Do You Decorate Spritz Cookies?
Color your dough with gel food coloring instead of liquid food coloring. The color will be deeper and the gel will not water down the cookie dough which can affect how the cookies look when pressed and how they bake. Also, you may also decorate the cookies before baking with sprinkles or colored.
How Do You Use a Spritz Cookie Gun?
Remove the bottom ring from your cookie press and insert your desired cookie disk and reattach the ring to the barrel of the gun.
Pull up the plunger, then remove the top of the cookie press so you can fill the barrel with cookie dough.
Load the cookie dough into the barrel and reattach the top of the cookie press.
Press down on the lever until the dough is visible coming out of the disk. Remove excess dough so that there is none on the exterior of the disk.
Hold the cookie press flat against the cold baking sheet. Press on the lever to release the first cookie (which usually is a bit misshapen. Just save that dough to reuse).
Continue pressing out cookies until your cookie sheet is filled.
Note: Spritz cookies don't spread much so they can be placed close to each other on the baking sheet.
Why Won't My Spritz Cookies Stick to the Pan?
There are a few reasons. The dough must be warm enough that it's tacky/sticky so it will stick to the cookie sheet. A cold cookie sheet will adhere to the room temperature dough best, so pop a couple in the freezer while you're making the dough.
Can You Freeze Spritz Cookies?
Yes, they freeze well for up to 3 months. Cool completely and store in an airtight container or a freezer-safe Ziploc bag with any excess air removed.
Can You Make Spritz Cookies without a Cookie Gun?
Yes, you can always use a piping bag and tip to make stars or wreath shapes.
You May Also Like
Stay in touch through social media @ Instagram, Facebook, and Pinterest. Don't forget to tag me when you try one of my recipes! And if you love the results, please give it a 5-star rating in the recipe card. Note: As an Amazon Associate, I earn from qualifying purchases. Visit my Amazon Store for my favorite products.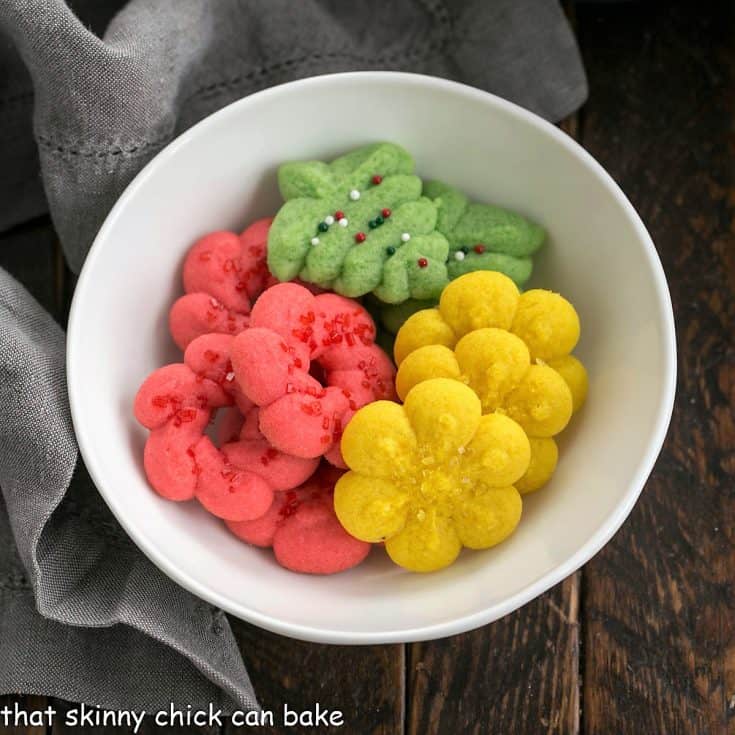 The Recipe:
Best Spritz Cookie Recipe
Prep Time 20 minutes
Cook Time 12 minutes
Total Time 32 minutes
Yield 6 dozen
Classic spritz cookies that can be jazzed up for any occasion.
Ingredients
1 cup butter, at room temperature
¾ cup sugar
1 egg
1 teaspoon vanilla extract
½ teaspoon almond extract
2 ¼ cups flour
¼ teaspoon salt
Gel food coloring, optional
Sprinkles and colored sugar, optional
Instructions
Preheat oven to 350 degrees.
Place one or two smooth metal baking sheets in the freezer.
With the whisk attachment, beat the butter and sugar together until light and fluffy, scraping the inside of the bowl as needed, for about 4 minutes.
Add the egg and mix until incorporated.
Mix in the vanilla and almond extracts.
Replace the whisk attachment with the paddle attachment (or use a wooden spoon)
Mix in the salt, then the flour with the paddle attachment, just until combined (do not overmix).
If using gel food coloring, divide the dough into separate bowls, one for each color. Use a toothpick to remove some of the gel coloring and add it to one of the bowls of dough. Mix to incorporate, adding more food coloring as needed to reach the desired color. Repeat with the rest of your dough.
Fill your cookie press and pipe cookies about 1 ½ inches apart.
Wipe out your press and repeat if using more than one colored dough.
Decorate with sprinkles or sugars if desired.
Bake for 5-8 minutes. Let cool on baking sheet for about 5 minutes before removing to cooling rack.
Notes
Use gel food coloring, not liquid.
Decorate before baking.
Do not chill the dough.
Recommended Products
As an Amazon Associate and member of other affiliate programs, I earn from qualifying purchases.
Nutrition Information:
Yield:
64
Serving Size:
3 cookies
Amount Per Serving:
Calories: 113
Total Fat: 8g
Saturated Fat: 5g
Trans Fat: 0g
Unsaturated Fat: 2g
Cholesterol: 29mg
Sodium: 72mg
Carbohydrates: 10g
Fiber: 0g
Sugar: 6g
Protein: 1g
Note: This post may contain affiliate links; view
my Disclosure Policy
for details. I earn a small percentage from any purchase you make by clicking on these links at no extra cost to you.