Homemade Reese's Bars
These Homemade Reese's Bars will make you swoon, especially if you love Reese's Peanut Butter Cups! Super easy to make, and the perfect no-bake indulgence. Whip up a batch when it's too hot to turn on the oven or anytime you have a Reese's craving. They're even better than your favorite Chocolate Peanut Butter Cups!
If you're addicted to Reese's, these No-Bake Peanut Butter Bars are made for you! With only a handful of ingredients, it won't take long before you dig in! You won't want to share, they're just that delicious!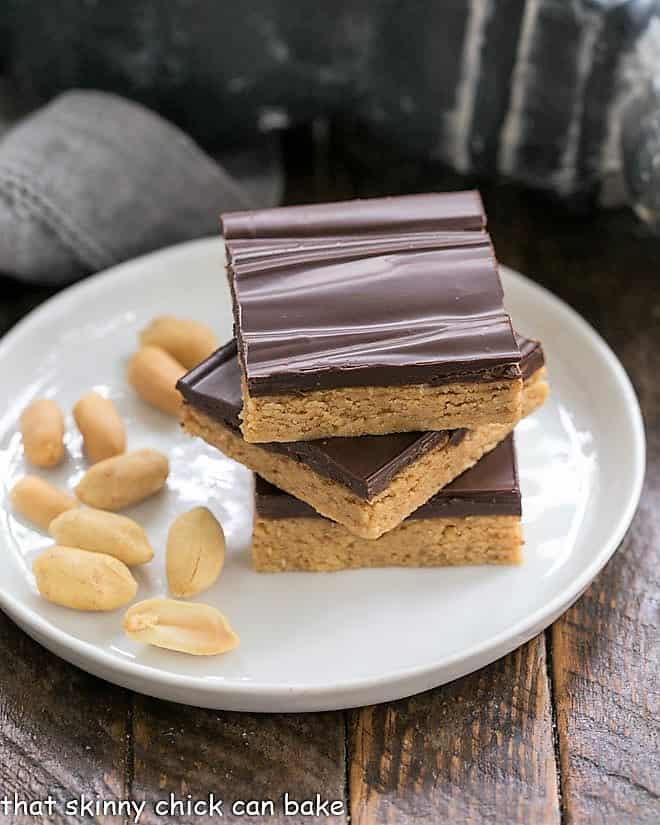 Why You Must Make
If you love peanut butter cups, these bars will be your new best friend!!
This is a no-bake recipe so it comes together easily.
If you're worried that you'd eat the whole batch in one sitting, they do freeze well. Though, I've been known to eat frozen cookies and bars right from the freezer!!! But out of sight can be out of mind, right?
Do you adore the chocolate peanut butter combination? Are you a Reese's fan? Two out of three of my children must have pb cups in their stockings and Easter baskets (yes, I still buy my grown kids holiday treats!). And though I've only eaten one courtesy bite of a peanut butter sandwich at age 6 (I was not a fan), I cannot resist peanut butter sweets, especially when it's one of those super simple No-Bake Desserts.
Well, neither can Danielle, my foodie friend who writes the blog Hugs and Cookies XOXO. I had to whip up her Chocolate Topped Peanut Butter Bars. They did not disappoint!! If you'd like to double the filling, check out my Better Than Reese's Bars, which is this exact recipe but with twice the peanut butter filling. You decide which recipe is calling your name!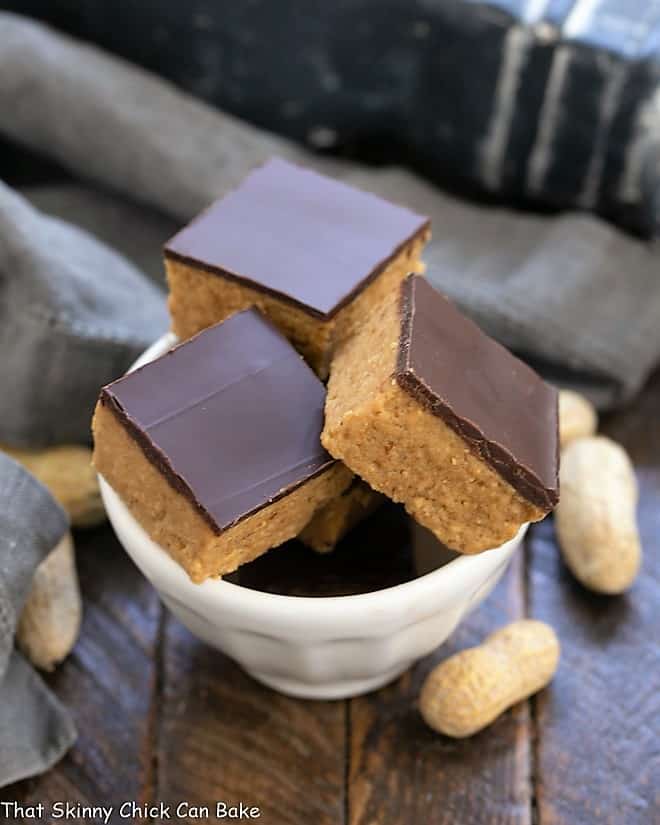 How to Make
I cut up these irresistible chocolate peanut butter bars and took them to two events. I was not surprised that these were the first to fly off my goodie trays. There's something about Reese's fans–they cannot get enough of this sublime combination of chocolate and peanut butter. As a bonus, these Homemade Reese's Bars are no bake. Who doesn't love a No Bake Dessert?
Just mix melted butter, graham cracker crumbs, powdered sugar, and peanut butter and pat then mixture into a pan.
Then top with a simple combination of melted chocolate and a touch of oil. That's it! There's no excuse not to make these for the Reese's lovers in your life!
PRO-Tip: Cut your bars with a hot dry knife. The heat will help the knife glide right through the chocolate topping. Check the two methods below in my tips. See my post on How to Cut Perfect Bar Cookies for more tips.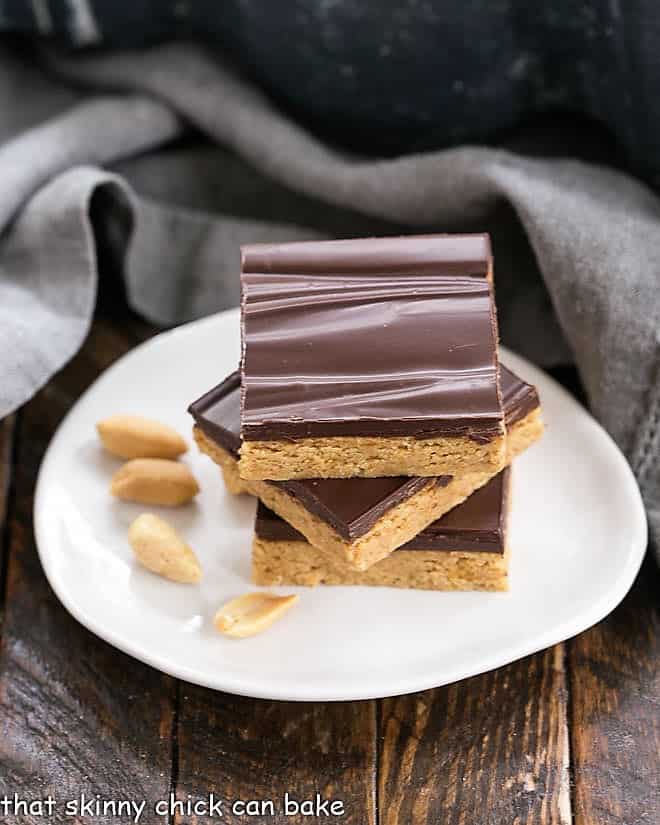 Recipe Tips
Make sure you use smooth peanut butter as chunky would make these difficult to slice. I use Jif brand.
Top with semisweet or milk chocolate. Milk chocolate will taste even more like Reese's, but semisweet gives a nice contrast to the very sweet peanut butter layer.
Use an offset spatula to spread the chocolate layer over the bars.
Adding the oil may seem strange, but it gives a glossy look to the topping and makes the chocolate a little more pliable.
Slicing chilled bars can be difficult as the chocolate tends to crack. Let the bars sit at room temperature before slicing, and use a hot dry knife to help glide through the chocolate layer.
The peanut butter layer can be crumbly when slicing, but even imperfect slices taste amazing. Plus, you can press any crumbs back onto the base of the bars using your offset spatula.
PRO-Tip: I like to carefully hold my knife over the flame of my gas burner to warm up the knife. Do this carefully so as not to burn yourself or ruin your knife.
Alternatively, run your knife under very hot water, then dry the knife blade and slice.
PRO- Tip: These bars freeze wonderfully. Just layer with wax or parchment paper in an airtight container.
These bars will keep for 3+ months in the freezer and 3-4 days in the fridge when kept in an airtight container. Though, I think they'd still be tasty for up to a week in the refrigerator.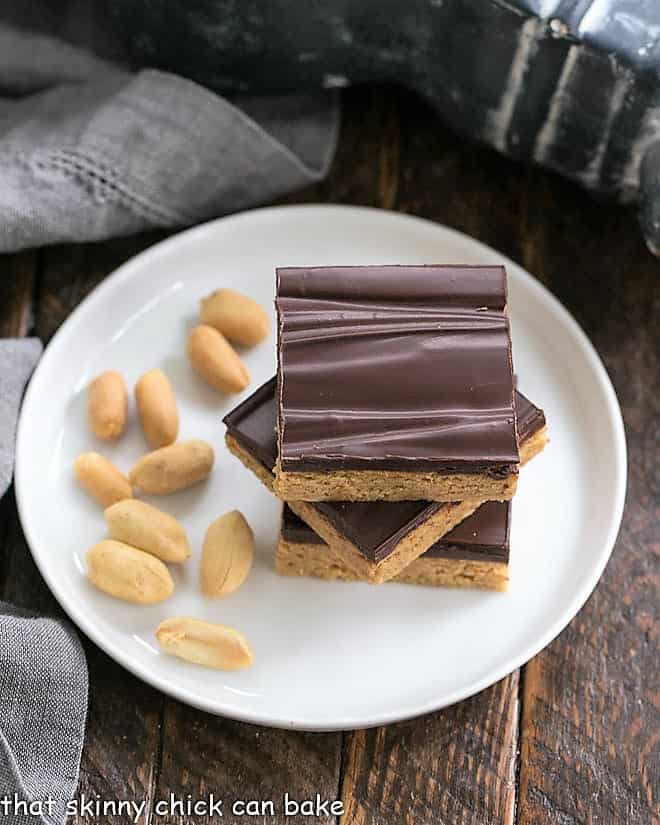 Frequently Asked Questions
When Did the Chocolate Peanut Butter Combination Become Popular?
This combination of flavors was made popular by Harry Reese, a dairy farmer, who happened to work on a property owned by Milton Hershey, in the 1920s. In 1928, Mr. Reese thought of mixing peanut butter and chocolate in cups. Then in 1963 Hershey's purchased Reese's business. The Hershey name helped propel these peanut butter cups into popularity.
Why Do Chocolate and Peanut Butter Go Well Together?
It's due to something called natural affinity, meaning there is something similar about each food that makes them taste great when eaten with each other. Like peanut butter and jelly, wine and cheese, and on and on.
You May Also Like:
If you're one of those people who can never resist a Reese's Peanut Butter Cup, try out some of these amazing Peanut Butter Dessert Recipes. They'll knock your socks off!!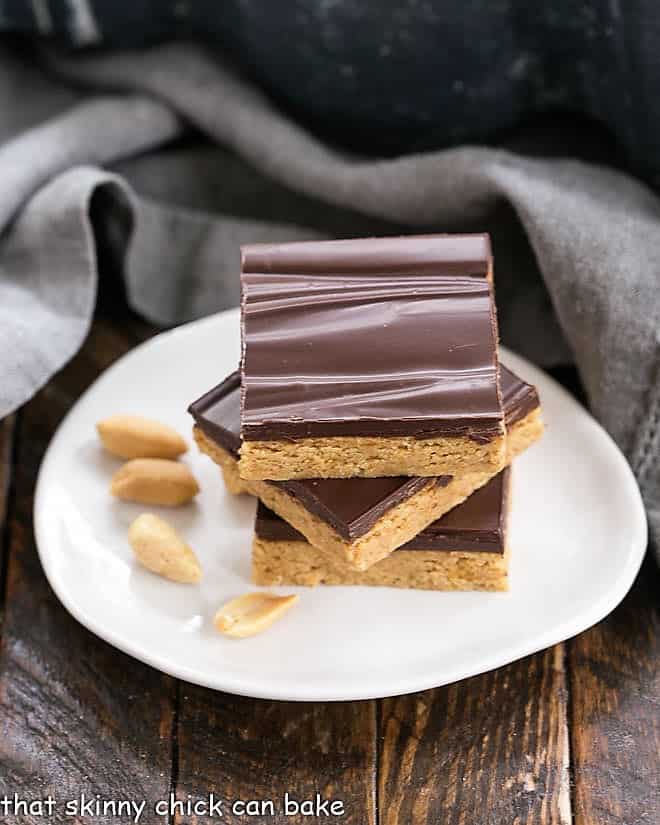 The Recipe:
Homemade Reese's Bars Recipe
Prep Time 30 minutes
Total Time 30 minutes
Yield 16 bars
A homemade version of the classic Reese's Peanut Butter Cup in bar form.
Ingredients
6 tablespoons butter, melted
1 cup graham cracker crumbs
1 cup powdered sugar
½ cup smooth peanut butter
1 cup semi-sweet chocolate chips
1 teaspoon vegetable oil
Instructions
Combine butter, graham cracker crumbs, powdered sugar, and peanut butter in a medium bowl.
When well combined, pat into a well-greased or non-stick foil-lined 8 x 8-inch pan. Refrigerate while preparing topping.
Melt chocolate chips and oil together in the microwave, stirring every 30 seconds or until smooth.
Spread over the top of the peanut butter layer with an offset spatula.
Refrigerate at least an hour before cutting.
Notes
Use a hot knife to cut bars to minimize cracking the chocolate layer. Recipe from Hugs and Cookies.
Recommended Products
As an Amazon Associate and member of other affiliate programs, I earn from qualifying purchases.
Nutrition Information:
Yield:
16
Serving Size:
1
Amount Per Serving:
Calories: 325
Total Fat: 21g
Saturated Fat: 9g
Trans Fat: 0g
Unsaturated Fat: 10g
Cholesterol: 23mg
Sodium: 195mg
Carbohydrates: 33g
Fiber: 2g
Sugar: 23g
Protein: 5g
This recipe was first shared in January, 2015. The text and photos were updated in 2019.
Note: This post may contain affiliate links; view
my Disclosure Policy
for details. I earn a small percentage from any purchase you make by clicking on these links at no extra cost to you.